Walt Disney World Resort WiFi Guide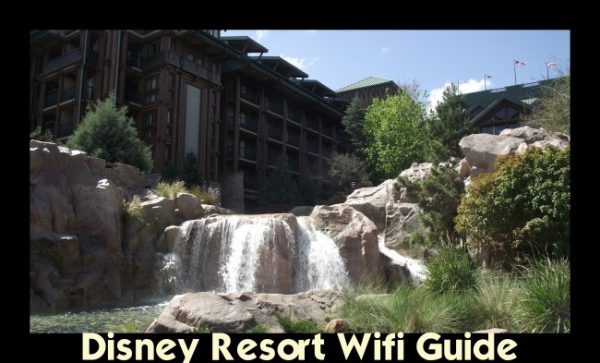 AT&T is the official wireless provider for Walt Disney World and Disneyland.  Free WiFi service is available throughout the resort hotels as well as the theme parks, water parks, and Disney Springs. This wireless service allows guests to utilize the My Disney Experience app throughout their vacation experience. Overall, the Wifi is very useful, but can sometimes be spotty.
Theme Park WiFi Information
Disney has installed property-wide WiFi at the Walt Disney World resort. Complimentary WiFi is now available in the Magic Kingdom Park, Epcot, Disney's Hollywood Studios, Animal Kingdom, both water parks and Disney Springs. In general, WiFi is available on public access walkways, attraction queues, restaurants (table and quick service), merchandise locations, nighttime spectacular viewing locations (such as Fantasmic!) and bus and monorail platforms. Wi-Fi service is not currently available in the following areas of the parks: backstage areas, select shows, animal exhibits, and restrooms. Wi-Fi is also not available at Walt Disney World miniature golf locations, or while on Walt Disney World transportation.
To connect in the theme parks with your mobile device look for Disney-Guest as the network name. Once the network is selected and terms accepted, guests won't have to log-in again. Wireless-enabled devices using AT & T, MetroPCS, Sprint, T-Mobile and Verizon will be able to connect to WiFi access. To connect using apple devices, you will need an iPod touch version 4 or greater and iPhones need to be 3GS or newer with 3.0 operating system or newer.
Guests can also recharge electronic and mobile devices for free in the Magic Kingdom. Charging stations are located in the seating area next to the Rapunzel bathrooms in Fantasyland (look in the log stumps for electrical outlets & USB ports) and in the gift shop at the end of Space Mountain.  Outside of these areas, if you see a plug-in in a wall, you can try to charge here, however these are fairly rare across the parks. It is recommended to use a portable battery, or Disney's Fuel Rod service. With this service guests purchase a potable battery and have the opportunity to exchange it an unlimited number of times for a charged battery. The Fuel Rods come with both types of cords to charge apple devices and a USB for charging android devices. Many Disneyworld buses now also have USB plugs in the seats for you to charge in between locations.
Resort WiFi Information
Complimentary WiFi high speed wireless Internet connectivity is also available in guest rooms and public areas of all Walt Disney World Resort hotels. Wifi is now available at Fort Wilderness Campground as well. Complimentary wired Internet access is available to guests as well. In addition to guest rooms, complimentary WiFi can also be found in the following common areas of resorts:
Porte Cochere (covered entrance or porch)
Main Lobby
Bus stops
Full-service, Disney-owned Restaurants
Quick Service Restaurants and Food Courts
Merchandise Locations
Feature Pool
Arcades
Concierge Lounges
DVC Member Lounges and Community Halls (except for Disney's Boardwalk Resort)
Convention Center Lobbies and Hallways
The network can be accessed using any wireless-enabled device such as a laptop or cell phone. From guest rooms, under network options on your wireless device, select In-room Guest WiFi (Disney). From the lobby, pool and other public areas, choose Public Space Guest WiFi (Disney) under network options. You will be taken to a screen that outlines terms and conditions. You must accept the terms to connect to free WiFi. AT & T, MetroPCS, Sprint, T-Mobile and Verizon cell phone carriers are covered for WiFi access. Technical Support is available for guests 24 hours a day, 7 days a week by touching 56 on the in-room phone or contacting Walt Disney World Telecom at 407-827-2732. You will be connected to the Internet Access Guest Support team. If your device does not have a wireless interface card installed, one is available for purchase in each resort's business center.
Below is a list of WiFi locations at each resort. Click the specific resort to be brought to that resort's information.
Disney's All Star Resorts
Disney's Animal Kingdom Lodge
Disney's Art of Animation Resort
Disney's Beach Club Resort
Disney's Boardwalk Resort
Disney's Caribbean Beach Resort
Disney's Contemporary Resort
Disney's Coronado Springs Resort
Disney's Fort Wilderness Cabins
Disney's Fort Wilderness Campgrounds
Disney's Grand Floridian Resort & Spa
Disney's Old Key West Resort
Disney's Polynesian Village Resort
Disney's Pop Century Resort
Disney's Port Orleans Resort
Disney's Riviera Resort
Disney's Saratoga Springs Resort & Spa
Disney's Wilderness Lodge Resort
Disney's Yacht Club Resort
Disney's All Star Resorts
Lobby, Bus Stop, Guest Rooms, Feature Pool, Food Court, Arcade
Disney's Animal Kingdom Lodge Resort
Entrance, Lobby, Bus Stops, Guest Rooms, Uzima Pool
Jiko
Boma
The Mara
Sanaa
Bus stop at Kidani
Lobby and villas at Kidani
Disney's Art of Animation
Lobby, Bus Stop, Guest Rooms, Feature Pool, Food Court, Arcade
Disney's Beach Club Resort
Entrance, Lobby, Bus Stops, Guest Rooms, Stormalong Bay Pool
Cape May Cafe
Beaches & Cream
Marketplace
Arcade
Convention Center lobby and porte cochere
Meeting rooms and pre-function rooms (Convention Center)
Disney's Boardwalk Resort
Entrance, Lobby, Bus Stops, Guest Rooms, Luna Park Pool
Arcade
The Boardwalk (from ESPN to Atlantic Dance, not inside the locations on The Boardwalk)
Conference Center lobby and porte cochere
The Attic
Meeting rooms and pre-function rooms (Conference Center)
Disney's Caribbean Beach Resort
Entrance, Lobby, Bus Stops, Guest Rooms, Fuentes del Morro Pool
Sebastian's Bistro
Centertown Market
Spyglass Grill
Goombay Games
Calypso Trading Post
Straw Market (CBR)
Disney's Contemporary Resort
Entrance, Lobby, Bus Stops, Guest Rooms, main Pool
California Grill (including private rooms)
Chef Mickey's
The Wave
Contempo Cafe
Arcade
Convention Center lobby and porte cochere (as well as 2nd floor common areas)
Meeting rooms and pre-function spaces (Convention Center)
Rooms, lobby and Porte Cochere of Bay Lake Tower
Disney's Coronado Springs Resort
Entrance, Lobby, Bus Stops, Guest Rooms, Dig Site Pool
Three Bridges Bar & Grill
Toledo – Tapas, Steak, and Seafood
Maya Grill
El Mercado de Coronado
Food Court
Arcade
Convention Center lobby and porte cochere
Meeting rooms and pre-function rooms (Convention Center)
Disney's Fort Wilderness Cabins
Guest Rooms, select locations throughout the resort
Disney's Fort Wilderness Campground
Reception Outpost
Meadows
Crockett's Tavern
Campsites
Disney has also expanded wifi throughout the grounds
Disney's Grand Floridian Resort & Spa
Entrance, Lobby, Bus Stops, Guest Rooms, Beach Pool
Narcoossee's
Victoria & Albert's
Citricos
1900 Park Fare
Grand Floridian Cafe
Gasparilla Grill & Games
Feature pool enabled is the Beach Pool (Not the courtyard pool)
Convention Center lobby and porte cochere
Convention Center parking lot
Convention Center courtyard/patio
Meeting rooms and pre-function rooms (Convention Center)
Disney's Old Key West Resort
Entrance, Lobby, Bus Stops, Guest Rooms, main Pool
Olivia's
Turtle Shack
Disney's Polynesian Village Resort
Entrance, Lobby, Bus Stops, Guest Rooms, Nanea Volcano Pool
'Ohana
Kona Cafe
Captain Cooks
Luau Cove
Arcade
Bungalows
Disney's Pop Century Resort
Lobby, Bus Stop, Guest Rooms, Feature Pool, Food court, Arcade
Disney's Port Orleans Resort
Entrance, Lobby, Bus Stops, Guest Rooms, Doubloon Lagoon & Ol' Man Island Pools
Boatwrights
Riverside Mill food court
Arcade
Disney's Riviera Resort
Entrance, Lobby, Bus Stops, Guest Rooms
Topolino's Terrace
Le Petit Café
Primo Piatto
Riviera Pool
Disney's Saratoga Springs Resort & Spa
Entrance, Lobby, Bus Stops, Guest Rooms
Turf Club
Arcade
High Rock Springs Pool is enabled (not Paddock pool)
Treehouses (Guest rooms)
Disney's Wilderness Lodge Resort
Entrance, Lobby, Bus Stops, Guest Rooms, Copper Creek Springs Pool
Whispering Canyon Cafe
Artist Point
Roaring Forks
Geyser Point Bar & Grill
Lobby and rooms in the Boulder Ridge and Copper Creek Villas
Copper Creek Cabins
Disney's Yacht Club
Entrance, Lobby, Bus Stops, Guest Rooms, Stormalong Bay Pool
Ale & Compass
Yachtsman Steakhouse
Arcade
Convention Center lobby and porte cochere
Meeting rooms and pre-function rooms (Convention Center)