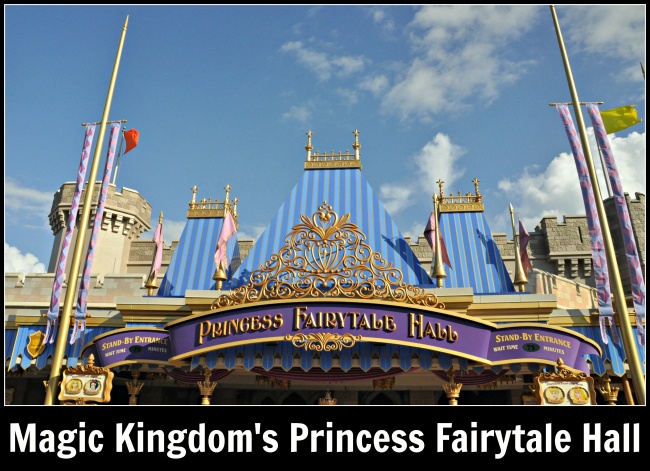 At Princess Fairytale Hall, kids and kids at heart can meet some of Disney's legendary princesses at this Hall afforded Cinderella by the King.
Ride Information Restrictions Accessibility Location Fun Facts Top 5 Tips
Ride Information
Opening Day: September 18, 2013
Type of Ride: Character-greeting location
Age Recommendation: All ages
Duration of Ride: About 10 minutes
Typical Queue Time: Long; usually upwards of one hour
Single Rider Line: No
Chicken Exit Available: No
Baby Swap Available: No
Type of Vehicle: None
Type of Restraint: None
Attraction Open During Extended Evening Hours: No. See our Extended Evening Hours page for more information.
Ride Photo Available For Purchase: No

Planning a Walt Disney World Vacation?
For a Free no-obligation quote, contact our sponsor
The Magic For Less Travel
. Services are provided free of charge and their expert planning advice will help you make the most of your vacation time and money.
Ride Restrictions
Height Requirements: None
Flash Photography or Video Allowed: Yes
Safety, Accessibility, and Guest Policies
Accessibility: Guests may Remain in Wheelchair/ECV
Location
Park Map of Magic Kingdom:
Other Rides/Attractions In the Area:
This attraction is located in the Magic Kingdom's Fantasyland.
Shopping: A plethora of Disney merchandise including t-shirts, hats, figurines, and plush dolls, is available for purchase nearby at "Fantasy Faire."
Dining/Refreshment: Guests can enjoy a counter service lunch or dinner nearby at Pinocchio Village Haus. This eatery specializes in Italian offerings including flatbread pizzas, a meatball hero, and garlic knots. Also in Fantasyland, Friar's Nook seasonally offers macaroni and cheese, and Storybook Treats is the place to go for ice cream sundaes. Guests preferring a full service meal may consider eating either dinner at Be Our Guest Restaurant or any meal at Cinderella's Royal Table. Cinderella and other princesses entertain guests at the latter restaurant, situated in Cinderella Castle. ADRs are strongly recommended for any meal at Be Our Guest Restaurant or Cinderella's Royal Table.
Restroom: Restrooms convenient to Princess Fairytale Hall are situated near Pinocchio Village Haus and Cheshire Café, respectively.
Smoking Location: Smoking is permitted in designated smoking areas only. Disney parks are smoke free.
Princess Fairytale Hall Fun Facts
Did you know?
Princess Fairytale Hall was developed as the main character-greeting location for New Fantasyland. From the Magic Kingdom's opening day, October 1, 1971 until 2012, Princess Fairytale Hall's real estate was occupied by "Snow White's Scary Adventures," a track ride that took guests through dioramas retelling Snow White and the Seven Dwarfs (1937). Disneyland's version of Snow White's Scary Adventures still operates.
Cinderella and Tiana are the respective protagonists of Disney's Cinderella (1950) and Princess and the Frog (2009).
Guests can join two queues at Princess Fairytale Hall, one for Cinderella and the other for Tiana. Guests will additionally meet a visiting princess with both Tiana and Cinderella.
Princess Fairytale Hall is beautifully decorated with stained glass windows, chandeliers, royal insignia and Cinderella's glass slipper. Additionally, portraits of Disney princesses including Aurora, Jasmine, Mulan, Rapunzel, Snow White, and Tiana adorn the walls.
In June 2016, the duo of Anna and Elsa from Frozen (2013) relocated from Princess Fairytale Hall to the Royal Sommerhaus at Epcot's Norway pavilion.
Top 5 Tips for Princess Fairytale Hall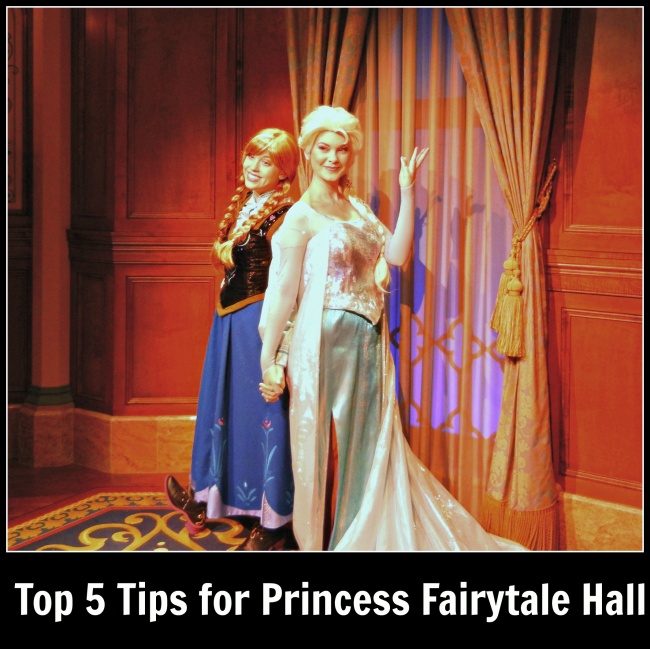 Bring your camera to take photographs with the princesses!
Take in the details throughout the attraction.
Consider watching the corresponding princess films before you visit in order to enhance your appreciation of the attraction.
Say something unique to each Princess.  For example, ask Elsa if it will snow today.  Ask Cinderella if the mice helped make her gown.
Have your autograph book open and a pen ready to go!