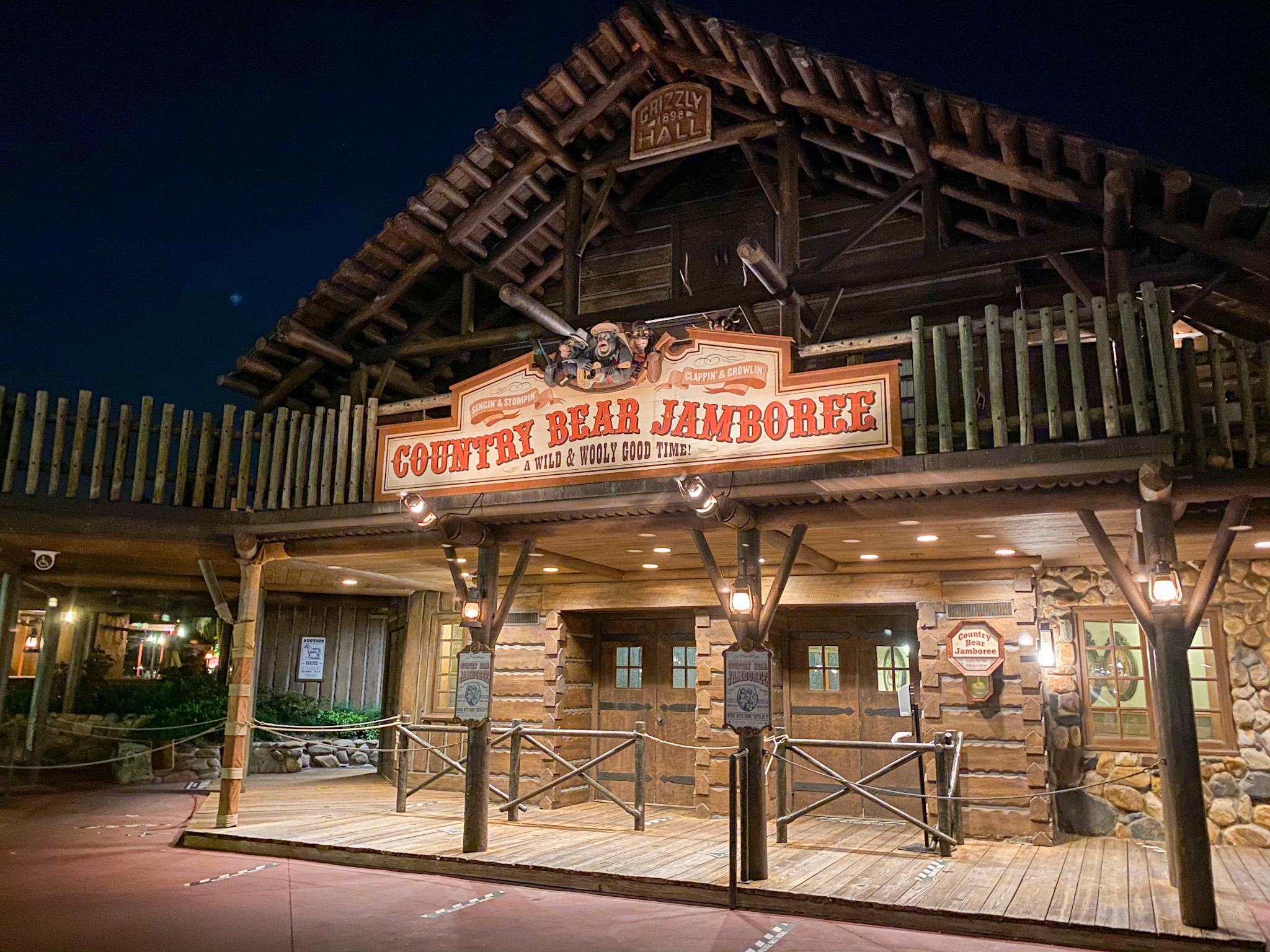 The singing animatronic bears of this opening day attraction continue to delight guests nearly a half-century later.  Country music pervades the building during the continuously-running shows. Country Bear Jamboree is a great place to relax and enjoy a show.
Ride Information  Restrictions  Accessibility  Location  Fun Facts  Top 5 Tips
Ride Information
Opening Day: October 1, 1971
Type of Ride: Show
Age Recommendation: All ages
Duration of Ride: 11 minutes
Typical Queue Time: Short; typically less than 10 minutes, when the next show starts
Single Rider Line: No
Chicken Exit Available: No
Baby Swap Available: No
Type of Vehicle: None. Guests sit on benches, and guests can remain in their wheelchairs and ECVs
Type of Restraint: None
Attraction Open During Extended Evening Hours: Yes. See our Extended Evening Hours page for more information.
Ride Photo Available For Purchase: No

Planning a Walt Disney World Vacation?
For a Free no-obligation quote, contact our sponsor
The Magic For Less Travel
. Services are provided free of charge and their expert planning advice will help you make the most of your vacation time and money.
Ride Restrictions
Height Requirements: None
Flash Photography or Video Allowed: No
Safety, Accessibility, and Guest Policies
Accessibility: 
Guests May Remain in Wheelchair/ECV
Audio Description
Handheld Captioning
Location
Park Map of Magic Kingdom:
Other Rides/Attractions In the Area:
This attraction is located in the Magic Kingdom's Frontierland.
Shopping: Frontier Trading Post sells old west-themed attire, including cowboy hats and sheriff badges, as well as pins and Vinylmation
Dining/Refreshment: Golden Oak Outpost and Pecos Bill Tall Tale Inn and Café are located nearby in Frontierland and serve loaded waffle fries and Tex-Mex options, respectively.
Restroom: Nearby restrooms are located at the Frontierland borders with Adventureland and Liberty Square, respectively
Smoking Location: Smoking is permitted in designated smoking areas only. Disney parks are smoke free.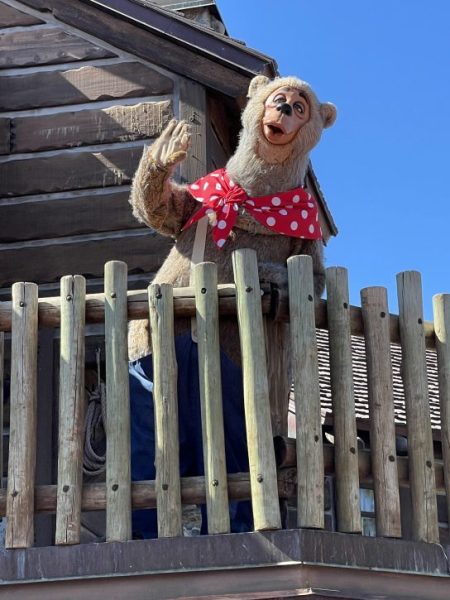 Country Bear Jamboree Fun Facts
Did you know?
Country Bear Jamboree takes place in "Grizzly Hall."
Country Bear Jamboree is one of 14 attractions remaining in some form from the Magic Kingdom's opening day, October 1, 1971. The others are "Cinderella's Golden Carrousel" (now Prince Charming Regal Carrousel), "Dumbo the Flying Elephant," "Frontierland Shootin' Arcade," "Hall of Presidents," "Haunted Mansion," It's a Small World, "Jungle Cruise," "Mad Tea Party," "Peter Pan's Flight," "Swiss Family Treehouse,"  "Tropical Serenade" (now Enchanted Tiki Room), "Grand Prix Raceway" (now Tomorrowland Speedway), and "Walt Disney World Railroad."
24 animatronic animals feature in Country Bear Jamboree.
During a 2012 refurb, Country Bear Jamboree was shortened from 16 minutes to 11 minutes, and two songs,  "Fractured Folk Song" and "Pretty Little Devilish Mary," were cut.
Country Bear Jamboree was one of the last theme park attractions with Walt Disney's personal touch, though he did not intend it to be a theme park attraction. The originally concept planned as an entertainment option for Mineral King, an aborted California ski resort project considered by Disney in the early 1960s.
The original version of Country Bear Jamboree was preempted by a new version of the show, "Country Bear Vacation Hoedown," from 1986-1992.
Country Bear Jamboree was the first attraction to debut at the Magic Kingdom before it premiered at Disneyland. It operated in California from March 1972 through September 2001, when "The Many Adventures of Winnie the Pooh" replaced it. From 1986 until its closing, the Disneyland version permanently changed to the Hoedown version called "Country Bear Playhouse."
From 1984 through 2005, a special holiday version of the Country Bear Jamboree, "Country Bear Christmas," was featured.
In 2002, Disney released a movie based on Country Bear Jamboree, The Country Bears.
Hidden Mickeys:
A Hidden Mickey can be found atop a bear portrait above the stage.
Sponsored Ad: Learn more about Hidden Mickey details and location throughout Walt Disney World in A Field Guide to Walt Disney World's Best Kept Secrets
.
Top 5 Tips for Country Bear Jamboree
The bears enjoy it when you clap along and enjoy the show!
This show is a must-see for Disney history buffs.
Enjoy the show during the afternoon, when the air conditioning will likely be appreciated.
Do not expect a politically correct show.
Notice the details!  Look down at the floor in the waiting area, and you'll see scratches from bear nails.