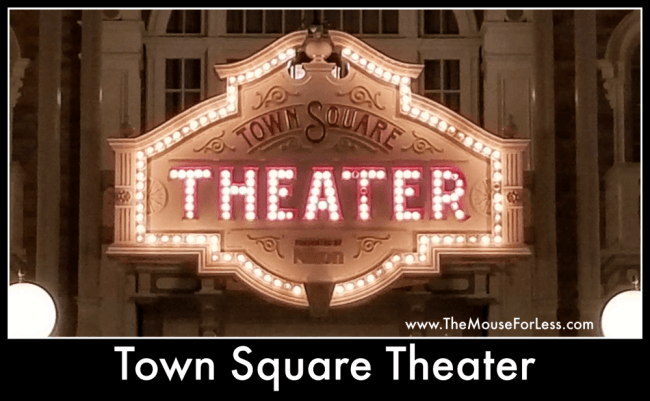 At Town Square Theater, guests can meet Mickey and Minnie Mouse as well as the illuminating fairy Tinker Bell from Peter Pan (1953) at this character greeting location.
Ride Information Restrictions Location Fun Facts Top 5 Tips
Ride Information
Opening Day: April 1, 2011
Type of Ride: Character meet-and-greet
Age Recommendation: All ages; best for children
Duration of Ride: About 3 minutes of character interaction
Typical Queue Time: About 1 hour to 90 minutes for Mickey; about 30 minutes to 1 hour for Tinker Bell
Single Rider Line: No
Chicken Exit Available: Yes
Baby Swap Available: No
Type of Vehicle: None
Type of Restraint: None
Attraction Open During Early Theme Park Entry: No. See our Early Theme Park Entry page for more information.
Ride Photo Available For Purchase: Yes

Planning a Walt Disney World Vacation?
For a Free no-obligation quote, contact our sponsor
The Magic For Less Travel
. Services are provided free of charge and their expert planning advice will help you make the most of your vacation time and money.
Ride Restrictions
Height Requirements: None
Flash Photography or Video Allowed: Yes
Location
Park Map of Magic Kingdom:
Other Rides/Attractions In the Area:
This attraction is located on the Magic Kingdom's Main Street U.S.A.
Shopping: Numerous shops are situated near Town Square Theater, including "Box Office Gifts," "The Chapeau," and the "Emporium." "Box Office Gifts" sells camera supplies; "The Chapeau" sells Mickey Mouse Ears; and the "Emporium," the Magic Kingdom's largest gift shop, sells an assortment of souvenirs.
Dining/Refreshment: Guests can enjoy a casual Italian lunch or dinner at the adjacent Tony's Town Square Restaurant, and assorted snacks are sold at the adjacent Main Street Confectionery.
Guests can dine with Mickey for breakfast and dinner at the Contemporary Resort's Chef Mickey's buffet restaurant; for breakfast, lunch, and dinner at Epcot's Garden Grill Restaurant; and for dinner at Disney's Hollywood Studios' Hollywood and Vine buffet.
Restroom: Facilities convenient to Town Square Theater are located near City Hall.
Smoking Location: Smoking is permitted in designated smoking areas only. Disney parks are smoke free.
Meet Mickey Mouse and Tinker Bell at Town Square Theater Fun Facts
Did you know?
Town Square Theater is located immediately to the right after you pass through the Magic Kingdom's turnstiles and walk under the railroad tracks.
Mickey Mouse has been greeting guests at Town Square Theater since April 1, 2011. From June 18, 1988 to February 12, 2011, Mickey greeted guests at his own house in what is now the Magic Kingdom's New Fantasyland. Before its closure to prepare for construction of New Fantasyland, Mickey's House was part of the park's "Mickey's Toontown Fair" section, which existed from October 1, 1996 to February 12, 2011; this land was previously termed "Mickey's Birthdayland" from 1988 to 1990, "Mickey's Starland" from 1990 to 1995, and "Mickey's Toyland" during the 1995 holiday season.
At Town Square Theater, Mickey portrays a magician, and related paraphernalia dots his dressing room.
While Mickey at Town Square Theater had at one time been able to vocally interact with guests, he now only interacts with Guests by gesture.
Tinkerbell has entertained guests at Town Square Theater since May 20, 2014. Guests wishing to meet Tinkerbell use a different queue than those wishing to meet Mickey. Prior to greeting Tinkerbell, guests are ceremoniously shrunk to pixie size amidst colorful flowers, trees, and lights. Previously, Walt Disney World guests were "shrunk" at the "Honey, I Shrunk the Audience!" 4-D show, which entertained visitors to Epcot's Imagination! Pavilion from 1994 to 2010, and at the "Honey, I Shrunk the Kids: Movie Set Adventure," a playground that existed at Disney's Hollywood Studios from 1990 to 2016.
Before Tinker Bell became Mickey's neighbor at Town Square Theater, assorted Disney princesses, including Aurora, Cinderella, Belle, and Rapunzel, appeared from April 1, 2011 to September 18, 2013. Magic Kingdom guests can now interact with Disney princesses at New Fantasyland's Princess Fairytale Hall.
Prior to becoming a character meet-and-greet location, Town Square Theater was called the "Hospitality House" and later "Town Square Exposition Hall." These locations housed the biographical "The Walt Disney Story" film from 1973 to 1992 and featured periodic exhibits related to upcoming events and attractions, such as Epcot, the then-Disney-MGM Studios, Walt Disney World's 25th anniversary, Disney Cruise Line, Disney's Animal Kingdom, and Walt Disney's 100th birthday, throughout its run.
Top 5 Tips for Meet Mickey Mouse and Tinker Bell at Town Square Theater
Keep in mind that guests must wait in two lines if they wish to visit both Mickey and Tinker Bell.
Strike up a conversation with Tinker Bell; she is a "face character" and can readily interact with guests.
Prepare younger guests for Talking Mickey; the size of the character and the talking might frighten very young children.
Take some pictures with Mickey and/or Tinker Bell.