Select Nights August – November, 2017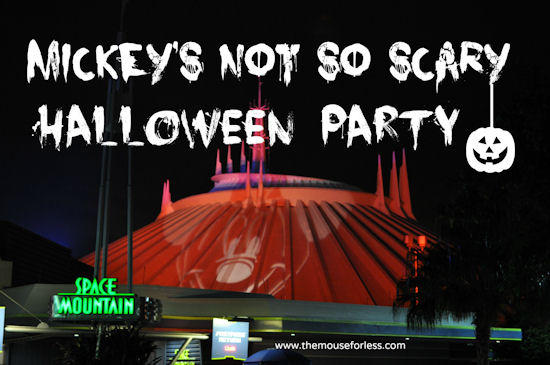 2017 Mickey's Not-So-Scary Info
Mickey's Not-So-Scary Party is a special event held each fall on select nights at Magic Kingdom theme park. Purchase of an event admission ticket is required to attend Mickey's Not-So-Scary Halloween Party. Advance savings of $5-$6 per ticket are available for select dates. Separate theme park admission is not required to attend the party, nor is your party ticket connected to your Magic Your Way admission ticket in any way. Purchasing your tickets in advance is strongly recommended, particularly for parties that occur on the weekends in October.
If you are looking for a way to celebrate Halloween Disney Style, Mickey's Not-So-Scary Halloween Party is the event for you. Adults and children can Trick-or-Treat their way through the Magic Kingdom while experiencing Halloween magic at every turn. Guests of all ages are encouraged to dress up in their favorite Halloween costumes. Attendance for Mickey's Not So Scary Halloween Party is limited, though, so plan to purchase tickets early if you're going to go.
The evening includes Mickey's Boo-to-You Halloween Parade led by the infamous Headless Horseman, live shows, dance parties, meet-and-greets with rarely seen Disney characters, unique merchandise and a special Halloween-themed fireworks display, Happy HalloWishes. "Grim Grinning Ghosts Come Out To Socialize" while this green and orange show lights up the sky above Cinderella Castle.
You won't want to miss the special character greeting opportunities that feature some of your favorite characters dressed up for Halloween. Many favorite Disney Villains will appear throughout the park and during the parade and special shows. On Main Street, U.S.A., you may even see a barbershop quartet of dead cowboys who sing songs in the style of the Dapper Dans.
Halloween lighting, music and theming effects, not featured on non-party nights, will transforms special areas of Magic Kingdom theme park into happy haunted hollows. This party is definitely more fun than scary!
Ticket Sales for 2017 Started May 10, 2017.
Additional information for 2017 will be added as it becomes available.

Ticket Information 2016 Guide Map New for 2017 Essential Info for Attending Entertainment Schedule Entertainment Highlights Treat & Character Locations Tips
Mickey's Not-So-Scary Halloween Party Tickets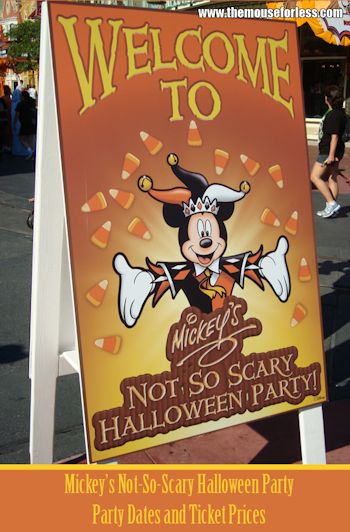 2017 Dates
August 25 and 29
September 1, 7, 10, 12, 15, 17, 19, 22, 24, 26 and 29
October 1, 3, 5, 6, 9, 10, 12, 13, 15, 17, 19, 20, 22, 24, 26, 27, 29 and 31
November 1
Tickets are scheduled to go on sale in early May. Disney has not yet released any pricing information for the party yet.
Time: All parties are from 7:00 p.m. to 12:00 am with Mickey's "Boo-to-You" Halloween Parade at 8:15 p.m. and 10:30 p.m. and Happy HalloWishes fireworks at 9:30 p.m. Guests may link their special-event tickets in their My Disney Experience accounts. Typically, party-goers can enter the park as early as 4 p.m. on the day of the party using just their party ticket or linked-MagicBands. While Disney does not generally publicize this information, for years it has had an "early entry" policy as a means of staggering the crowd entering the Magic Kingdom on party nights and preventing a backup at the gates at the start of the party. While you are not "technically" guaranteed early entry with your party ticket, to date, we have not heard of a single person with only a party ticket for admittance being turned away after 4 p.m. Wrist bands are distributed at the gate and can also be picked up at various other park locations after 4:00 p.m. During party hours from 7 p.m. to midnight, FASTPASS+ service is not available. The party goes on rain or shine, and there are no refunds for inclement weather.
2017 General Public Tickets Mickey's Not-So-Scary Halloween Party Prices (tax not included):
August 25, 29, September 1, 7, 10, 12, 17, 24
$74 Adult (Ages 10+) | $69 Child (Ages 3-9)
September 19, 26
$79 Adult (Ages 10+)  | $74 Child (Ages 3-9)
September 15, 22, 29 and October 1
$88 Adult (Ages 10+) | $83 Child (Ages 3-9)
October 4, 5, 9, 10, 12, 15, 17, 19, 22, 24, 26 and November 1
$99 Adult (Ages 10+) | $94 Child (Ages 3-9)
October 31 (Halloween)
$115 Adult (Ages 10+) | $94 Child (Ages 3-9)
Annual Passholder Tickets Prices (tax not included)
Annual Passholder Member – Start at $69 plus tax (Ages 10+) and $64 (Ages 3-9). Prices vary by night
Military Tickets Prices (tax not included)
Military pricing is available on select dates. Be sure to ask for further information when placing your order for tickets.
Most tickets can be ordered by calling 407-W-Disney (407-934-7639) or online on Disney's Web site. Payment in full is required at time of purchase and tickets are non-refundable after purchase. Party tickets ordered online from the 'My Disney Experience' website or app will be automatically linked to your 'My Disney Experience' account. If for any reason your tickets are not linked, they can linked manually. A linked party ticket allows you to use your RFID ticket or MagicBand for admission to the party. Guests ordering by phone can pickup a plastic souvenir ticket at their resort concierge, theme park, or other ticket sales location. You must present the original credit card used during your purchase, a valid government-issued photo ID, and confirmation number at the time of pick up. There is also an option to have the tickets mailed as plastic souvenir tickets if time allows. Mailing cost for tickets is as follows: $5 USPS (7 to 14 days), $15 Fedex (up to 7 days) or $25 for International Fedex (up to 12 days).
Ticket Types and Discounts
General Tickets: Generally, the Halloween night party is not only the most expensive Mickey's Not-So-Scary Halloween Party ticket, but will also be the most crowded. Tickets are offered both in advance (typically at a discounted rate and must be purchased at least 1 day in advance) and at the gate on the date of the party. If you are looking for a discount, purchasing in advance is the best possible discount for the general public. The number of tickets for each party is limited and events often sell out early.  All tickets purchased within 10 days of event will be available for pick up at the Will Call Window at Guest Relations or emailed as an e-ticket. Day of event tickets are offered at the gate only if the party has not sold out in advance and are often not available.
Annual Passholder and DVC Member Discount Tickets are available for advance purchase for select dates and this discount will not be available the day of the event. Specially priced tickets are available for Passholders with the following Annual Passes: Premier Annual Passport, Premium Annual Pass, Annual Pass, Seasonal Pass, Weekday Select Pass, and Epcot After 4pm Annual Pass. Annual Passholders can call (407) 560-PASS for additional information. Annual Passholders who purchased online must show a valid Passholder ID at park entrance for each ticket or pass purchased. Disney Vacation Club members must call Member Services at (800) 800-9800 to purchase.
-Passholders can purchase for themselves and up to 3 Guests.
-DVC Members can purchase for themselves and up to 5 Guests.
Active Duty, Retired, and Permanently Disabled US Military, including members of the U.S. Coast Guard and active members of the National Guard or Reservists (with current military ID) can purchase discounted tickets for themselves and up to 5 family members and/or friends for select dates. The tickets may be purchased at any theme park ticket window or Guest Relations Office. Tickets are NOT available online, by phone, at Shades of Green or MWR/ITT locations.
New for 2017
At this time, nothing new has been announced for 2017 Mickey's Not-So-Scary Halloween Parties.
Essential Info for Attending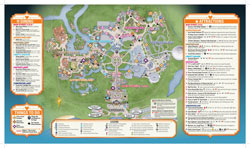 Take a look at the 2016 Mickey's Not-So-Scary Halloween Party guide map to see locations of all of the events from the past.
Rides
Guests have unlimited use of popular attractions such as The Haunted Mansion, Big Thunder Railroad, Pirates of the Caribbean, Dumbo, Seven Dwarf's Mine Train, Space Mountain, Buzz Lightyear's Space Ranger Spin, Under the Sea~Journey of The Little Mermaid and many more. Not all attractions will be open during the party, and Hall of Presidents, Jungle Cruise, and Tom Sawyer Island have been closed the past few years. FastPass+ reservations are not available during the party since lines are usually pretty short. Lines will be the shortest during the two parades and after the Happy HalloWishes Fireworks when many families with young children leave the park.
Food
Dining is available at select counter service and snack locations throughout the park, but is very limited once the party begins. It's probably wise to eat your main evening meal prior to attending the party. Halloween-themed specialty treats have been available at the following locations:
Gaston's Tavern
Storybook Treats
Main Street Bakery
Plaza Ice Cream Parlor
The Friar's Nook
Throughout the Park
Candy Corn Cotton Candy, Vampire Mickey Popcorn Bucket, Halloween Popcorn Bucket, Halloween Hot Mug, Poison Apple Stein
Guests may also choose to take part in the Happy HalloWishes Dessert Premium Package. With this package, Guests can enjoy a private dessert party with views of the Happy HalloWishes fireworks show. Guests will be able to dine on Halloween-themed cupcakes and desserts, chocolate-dipped strawberries, chocolate mousse, ice cream, cheeses and fresh, seasonal fruits. Beverages will include sparkling cider, signature lemonades, specialty Halloween drinks, hot chocolate, coffee or tea.  The Happy HalloWishes Dessert Premium Package costs $79 for adults or $47 for children (ages 3 to 9), plus tax. Call (407) 939-3463 to reserve your premium package or book online. The Desert Party begins at 9:15 p.m. and the fireworks start at 10:15 p.m. Guests may check-in directly at Tomorrowland Terrace Restaurant beginning at 4:00 p.m. All Guests will receive identification credentials upon check-in and must present them for entry to the dessert party. Pre-assigned seating is available at the dessert party, however every table has great views of Cinderella Castle. Also, Disney Dining Plan entitlements may not be redeemed for this event.
Merchandise
Items like limited-edition Mickey's Not-So-Scary Halloween Party trading pins, event t-shirts, a special edition MagicBand, and other collectibles can go quickly and should be purchased first. And, of course the golden rule of Disney shopping always applies: If you see something you "must" have, purchase it then and there; you may not find it again and this is especially true for seasonal merchandise. Otherwise, save the shopping for last or another day.
For 2017, there will be special merchandise highlighting the Hocus Pocus Villains Spelltacular including ornaments, tote bags, shirts, a MagicBand that glows in the dark, pins, and more. In addition, there will be Mickey's Not-So-Scary Halloween Party specific merchandise including a MagicBand that smells like chocolate, apparel, light up ornaments, and a limited release pin.
Party-exclusive merchandise is available at the following locations:
Emporium, Main Street, U.S.A. (Apparel and MagicBands)
Frontier Trading Post, Frontierland (Pins)
Big Top Souvenirs, Fantasyland's Storybook Circus (Pins, Apparel, Ornaments)
Note: Annual Passholders can purchase exclusive merchandise to commemorate the event. Don't forget to use your merchandise discount!
There will also be some Halloween merchandise that is available throughout the Halloween season and is not unique to the parties.
Costumes
Guests, both children and adults, are welcome to wear costumes, but costumes are not require to participate in or attend Mickey's Not-So-Scary-Halloween Party. About half of those attending will dress up. Although Mickey's Not-So-Scary-Halloween party is the one time of year Disney relaxes rules about costumes in the park for anyone over the age of 14, there are a few rules that must be followed.
General
Disney reserves the right to deny admission to or remove any person wearing attire that is considered inappropriate or attire that could detract from the experience of other Guests.
All Guests may dress as their favorite character, but may not pose for pictures or sign autographs for other Guests.
Costumes must be family-friendly and may not be obstructive, offensive, objectionable or violent.
Costumes may not contain any weapons that resemble or could easily be mistaken for an actual weapon.
Costumes may not contain sharp objects, pointed objects or materials that may accidentally strike another Guest.
For Guests Ages 13 and Under
Costumes and some masks may be worn, as long as the mask does not cover the entire face and eyes are visible.
For Guests Ages 14 and Older
Layered costumes or costume props that surround the entire body are strongly discouraged and may be subject to additional security screening.
Costumes may not reach or drag on the ground. (e.g. full-length Princess dresses)
Capes may be worn if the length does not go below the waist.
Themed T-shirts, blouses, sweatshirts, and hats are acceptable.
Acceptable accessories include: transparent wings, plastic light sabers, toy swords, and tutus. Headwear may be worn as long as it does not cover the face.
May not wear masks of any kind.
Guests who do not adhere to these guidelines may be refused entry into the park unless the costume can be modified to meet the above standards. For more information on these guidelines, please visit Disney's website.
Lastly, if you're going to dress up, remember that the weather can be quite hot and humid in Florida during both September & October. Try to choose a light-weight costume that doesn't require a stuffy overcoat, mask, wig, etc. You'll be glad that you did. Also be sure to check the Orlando weather a few days before your visit. The party goes on rain or shine, you'll want to be prepared if rain is in the forecast. Visit our TheMouseForLess Tip section below for even more costume suggestions.
The Pirates League and Bibbidi Bobbidi Boutique: What look should you dress up as this year? There's no better place to start than with a Disney transformation. The Pirates League offers Pirate or Pirate Princess makeovers, while Bibbidi Bobbidi Boutique is brewing up something a little more bewitching for little princesses and valiant knights, including a new Minnie Mouse "witch"-inspired look. Reservations for the Bibbidi Bobbidi Boutique (407-WDW-STYLE or 407-939-7895) and The Pirates League (407-WDW-CREW or 407-939-2739) should be made as far in advance as possible. These locations book up fast, especially on Mickey's Not So Scary Halloween Party nights!
For addition essential info, visit our MFL Tip Section
2017 Mickey's Not-So-Scary Halloween Party Entertainment Schedule
• Mickey's Boo-To-You Halloween Parade (including ride of the Headless Horseman) — 9:15 p.m. & 11:15 p.m.
• Cadaver Dans—7:15 p.m., 8:00 p.m., 8:50 p.m., 9:55 p.m., 10:50 p.m.
• Happy HalloWishes Fireworks—10:15 p.m.
• Hocus Pocus Villain Spelltacular (Castle Stage)—8:15 p.m., 10:45 p.m., 12:00 a.m.
•Scream-o-Ween Character Dance Party (Rockettower Plaza Stage)—7:00 p.m.– 12:00 a.m.
• Character Meet-and-Greets—7:00 p.m. – 12:00 a.m. (times may vary)
Entertainment Highlights
Mickey's Boo-To-You Halloween Parade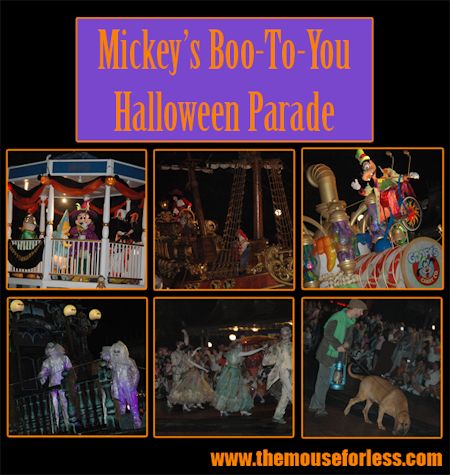 "Mickey's Boo-To-You Halloween Parade" is arguably one of the best parades at Walt Disney World. The parade is shown twice nightly during Mickey's Not-So-Scary Halloween Party, once at 9:15 p.m. once at 11:15 p.m. and begins with the can't-miss Headless Horseman, who rides immediately before the parade.
The "Boo-To-You" parade features a collection of frightful floats featuring Disney Characters in Halloween costumes. Appearances will b-e made by Disney villains, trick-or-treating Disney characters in costume, pirates (including Captain Jack Sparrow), skeletons, Goofy's giant candy machine, and much more! Of course the cornerstone portion of the parade is the section themed around the popular attraction The Haunted Mansion. Spooks will include the marching Haunted Mansion butlers, dancing hitchhiking ghosts, undead ballroom dancers, the Caretaker and his dog, and the gravediggers who scrape their shovels along the asphalt, creating a light spray of sparks. The parade
features one of the catchiest songs you'll ever hear, and of course guests will be able to get candy along the parade route. The candy handed out at the end of the parade is usually a variety that cannot be obtained anywhere else in the park. Unlike the Christmas parade, the "Boo-To-You" parade is only available during Mickey's Not-So-Scary Halloween Parties, so you won't want to miss it.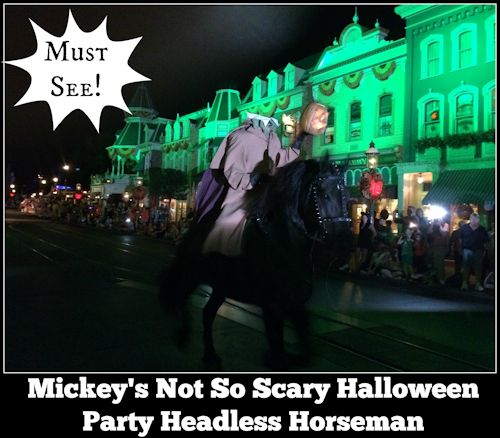 Viewing areas in Frontierland or Liberty Square are less crowded than Main Street U.S.A., but if you choose to sit away from Main Street, you may have to reposition yourself after the first parade to get a good view of the fireworks. The second parade tends to be less crowded then the first.
Happy HalloWishes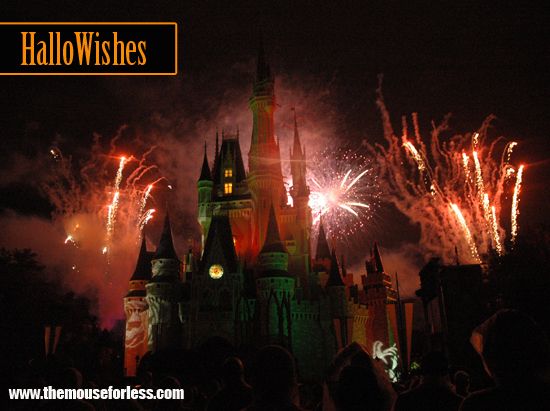 "Happy HalloWishes" is a fireworks spectacle during Mickey's Not-So-Scary Halloween Party featuring those dastardly and devious Disney villains, who arrive to wreak havoc on Magic Kingdom.
This spooktacular fireworks show begins with the Ghost Host from the Haunted Mansion welcoming you to "drop in" as Disney Villains light up the night sky with fantastic fireworks and a wicked soundtrack. Cruella de Vil, Jafar, Ursula, and Oogie Boogie are just some of the villains who participate in the fun. While Disney fireworks finales are always fantastic, this one is kicked up a notch, as it features 360 degree fireworks that completely surround you; and they are incredible. HalloWishes is possibly the best firework show offered at the Walt Disney World Resort.
The show takes place each evening at 10:15 p.m. Of course views are always best from Main Street USA, but at the very least, try to stand somewhere so that you have an unobstructed view of the sky around the Magic Kingdom. New Fantasyland is a less crowded location from which to view HalloWishes and offers an excellent view, sans the castle projection show.
"Hocus Pocus Villain Spelltacular" Show
The Hocus Pocus Villain Spelltacular will feature The Sanderson Sisters from the cult Disney classic, Hocus Pocus who will be returning to the mortal world to celebrate their favorite time of year, Halloween.  The show will take place on the Cinderella Castle Forecourt Stage, where Winifred, Mary and Sarah decide to use their magic to host a decidedly wicked fun fest and will attempt to cast a spell on everyone. The show will incorporate the Disney villains, dancers, projections, and special effects.
During the show, the sisters will enlist the help of the Disney villains and use the nefarious powers of their frightening colleagues to conjure the ultimate Hocus Pocus Party Potion.  Look for appearances from Dr. Facilier, Oogie Boogie and Maleficent. The Hocus Pocus Villain Spelltacular is a not-to-be-missed Halloween treat! Showtimes are 8:15 p.m., 10:45 p.m., 12:00 a.m.
The Scream-o-Ween Dance Party
For even more than usual character interaction during Mickey's Not-So-Scary Halloween Party, be sure to attend the ever popular dance party located in Tomorrowland at the Rockettower Plaza Stage. Dare to scare this Halloween as you kick up your feet with Mike, Sulley and other favorite friends from Monstropolis from the Disney·Pixar films Monsters, Inc. and Monsters University.
The Cadaver Dans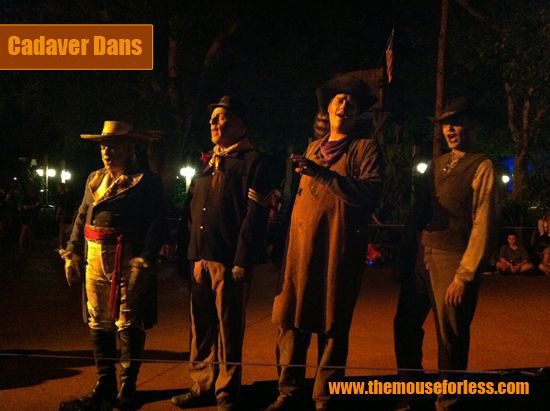 Venture into Frontierland and you just might encounter the ghostly group known as the Cadaver Dans. The Cadaver Dans dressed as dead Frontiersmen in Frontierland. (They are more commonly known as The Dapper Dans who typically perform on Main Street U.S.A. during the daylight hours.)
Their showtimes are:
7:15 p.m.
8:00 p.m.
8:50 p.m.
9:55 p.m.
10:50 p.m.
Treat & Character Locations
About Trick-or-Treating
Trick-or-treat bags are provided at the gate as you enter Mickey's Not-So-Scary Halloween Party or at any of the candy stations; guests may also bring their own. Trick-or-treating locations, both candy stations & treat trails with multiple candy stops, are marked on the party guide maps. You can pick up a map as you enter the park. Both children and adults are welcome to participate.
When you arrive for Mickey's Not-So-Scary Halloween Party, see a Cast Member to pick up a teal treat bag. (Teal is the official color of food allergy awareness.) Official Allergy-Friendly Centers are located at Town Square Theater and Heritage House. Then, when you trick-or-treat with your teal bag, Cast Members will give you a teal token at each treat station. Later on, you can redeem your teal tokens at our Allergy-Friendly Centers to receive your special treats!
Treat locations for 2017 can be found:
Main Street USA
Town Square Theater – Allergy-Friendly Center
Liberty Square
Heritage House – Allergy-Friendly Center
Disney gives out a pretty nice selection of candy at Mickey's Not-So-Scary Halloween Party and there is no shortage – collect as much as you want! If sugary candy is not your thing, there are healthy options available, too. You can exchange all your goodies, collected at the treat locations, for candy that fits your dietary needs, such as sugar-free candy, treats without nuts or healthy options. Simply bring your candy to City Hall, and they'll exchange it. A few healthy treats can also be found at select candy stops; in the past raisins and Chiquita bananas were handed out.
About Characters
Guests will find many of their favorite characters dressed up in costume for the event. In addition, there are also a few uncommon (and therefore extremely popular) meet and greets including all Seven Dwarfs appearing in one place in Fantasyland. In addition, look for appearances by Jack and Sally from Tim Burton's The Nightmare Before Christmas, Disney villains such as the Queen of Hearts near Mad Tea Party, Gaston outside Gaston's Tavern, and Lotso over in Tomorrowland.
Main Street, U.S.A.
Mickey Mouse at Town Square Theater
Tinker Bell
Adventureland
Aladdin, Princess Jasmine, Jafar and Abu
Tarzan, Jane and Terk
Captain Jack Sparrow
Liberty Square
Jack Skellington and Sally
Fantasyland
Belle and Gaston
Alice, the Mad Hatter and the Queen of Hearts
Ariel
Merida
Pooh, Tigger, Eeyore and Piglet
Cinderella
Rapunzel
Princess Tiana
Storybook Circus
The Seven Dwarfs
Donald and Daisy
Minnie Mouse
Goofy
Cruella De Vil
Tomorrowland
Buzz Lightyear and Lots-o'-Huggin' Bear
Sorcerers of the Magic Kingdom
Guests who visit Mickey's Not-So-Scary Halloween Party will be able to pick up a new, event exclusive, Sorcerers of the Magic Kingdom card. This special cars is distributed in addition to the regular Sorcerers of the Magic Kingdom card packs (meaning you can pick up both while attending the party). In order to get one of these exclusive cards, Guests must show their party ticket and event wristband at the Firehouse on Main Street U.S.A.
Mickey's Not-So-Scary Halloween Party Tips

Check our Rehab and Closure Schedule as some attractions designated as open may be closed for refurbishment during select parties.

Do a little advance planning before and after purchasing Mickey's Not-So-Scary Halloween Party tickets. The Halloween night party is not only the most expensive, but will also be the most crowded party. Other dates offer a savings with advance purchase, so plan accordingly. Generally parties in September are less crowded than parties in October, and Tuesday parties tend to be less crowded than parties that occur on other days of the week. If you're on the fence about attending, consider that the Magic Kingdom usually closes earlier during party dates, and this may be one of your few opportunities to be in the Magic Kingdom after 9 p.m. during your trip. Since you can enter the Magic Kingdom as early as 4 p.m. with your party ticket, you may want to make Advance Dining Reservations at a Magic Kingdom restaurant for dinner. Table Service restaurants book up early on party nights so book as far in advance as possible. You can book up to 190 days out if you are staying at a Walt Disney World resort, and 180 days in advance otherwise. Allow yourself enough time to finish eating before the party begins. If you're planning on eating at a Quick Service restaurant prior to the party, be aware that some restaurants may close earlier than expected. This is especially true for Quick Service restaurants that will not be opened during the party – some closing as early as 5-5:30 p.m. on party nights. If your children will be having a makeover at Pirates League or Bibbidi Bobbidi Boutique prior to the party, be sure to make those reservations well in advance too.

To help prepare for the late night, try to relax or even take a nap in the afternoon before the party. Then arrive a little early to dine or to review the special party map and guide and decide what everyone in your party would enjoy doing. If you've booked dinner at one of the park restaurants and plan on changing in the restroom prior to Mickey's Not-So-Scary Halloween Party, allow time. Many people have the same idea and restrooms will be busy.

Dress up! It's part of the fun, but definitely not a requirement. Costumes can be as elaborate or as simple as you like and something the whole family can do. Last minute costumes could include a funny t-shirt or Disney hat and perhaps some face paint. The Emporium in the Magic Kingdom and Mouse Gear at Epcot usually have a selection of costume items for both children and adults. The same costumes are also carried on DisneyStore.com for about $20 less. During normal operating hours, Disney does not allow anyone over the age of 9 to wear costumes to the park, but it seems to relax this policy on Mickey's Not-So-Scary Halloween Party days, which is good news for those who are dressing up for the evening party but want to go to the park early. Generally, costumes may be worn in the park anytime after 4 p.m. on party nights.

Those attending Mickey's Not-So-Scary Halloween Party will be given a wrist band as they enter the park through a designated turnstile. If you entered the park prior to wrist bands being distributed, you may also obtain a wrist band after 4 p.m. at the Rose Garden near the hub by showing your Mickey's Not-So-Scary Halloween Party ticket. There are different color bands for each party night. Make sure you do not remove your wrist band. Cast members do check for wrist bands, and without one, you will not be able to get on rides, meet characters, get candy, enter stores, purchase food or do anything else after 7 p.m. If you are spotted without a wrist band, you will be asked to leave the park once the party has started. There are no exceptions. If you don't have a ticket but would like to stay in the park and attend the party, you can check at City Hall to see if tickets are available for that particular evening. Some parties do sell out in advance, but if tickets are available, they may be purchased at City Hall without having to leave the park.

Trick-or-treat bags are provided at any of the candy stops or at the gate as you enter the party. The bags are on the small side and fill up very quickly. You may want to bring your own bag to avoid carrying several of Disney's bags. If you'll be using the Disney bag(s), be sure to get them as early as possible as, unlike candy, Disney tends to run out of bags early. As an alternative, you can purchase larger trick-or-treat bags or plastic pumpkin buckets with Mickey ears at the Emporium to gather treats or buy popcorn in one of the Hitchhiking Ghost or Hatbox Ghost Mickey popcorn bucket (available at popcorn carts) to enjoy during the parade and then use the empty bucket to trick-or-treat afterwards.

Trick or treating locations are marked on the Mickey's Not-So-Scary Halloween Party guide and map. You can pick up a guide as you enter the park. A small flashlight will help to read the map at night. You can also look for lighted Mickey pumpkin balloon-like globes throughout the park to find the trick-or-treat locations. You may want to save trick-or-treating until the end of the night as Disney never runs out of candy. Try to do as many character meet-and-greets as you can and catch the special shows and parade first. Plus, as the night goes on, the lines for treats gets much shorter and handouts are often more generous. And be sure to have your candy bags ready has you exit the park as this is often a place to get even more candy.

Disney gives out a pretty nice selection of candy at the party, including "fun-sized" Snickers, Twix, Milkyway, Almond Joy, Hershey bars, Heath bars, Nestle Crunch bars, Reese's cups, Kit-Kat, M&Ms, Skittles, SweetTarts, Smarties, gummy "Toy Story" characters, SweetTarts, Tootsie Rolls, Starburst, Now & Later, Twizzlers, Bottle Caps, Mike & Ikes, Bit 'o Honey, Jolly Rancher, Goofy Candy Co. lollipops, Werthers caramels, Candy Corn and more. You can collect as much as you want! Those with special dietary needs can do a "candy swap" at City Hall; they'll exchange your goodies for treats that meet your dietary restrictions. Just ask to see a list of your options which included Jelly Belly (sugar, dairy, egg and nut free), Chocolate Pumpkin and Bat Suckers (gluten, sesame, egg & nut free), Mixed Fruit buttons (sugar, dairy, egg & nut free) and Butterscotch Buttons (sugar free).

When trick-or-treating, you don't have to worry about Disney running out of candy! So, consider hitting up the candy stops towards the end of the night, rather than at the beginning. (Disney has been known to often hand out more candy to each Guests the later the night goes.)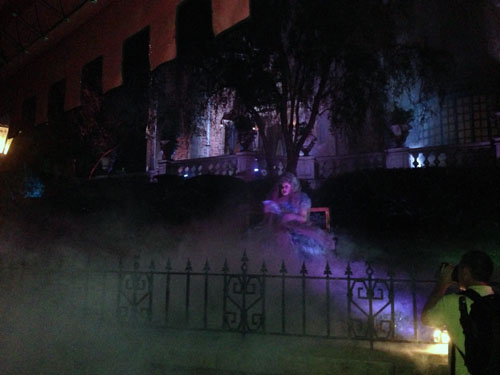 If you're not into meeting characters or Dance Parties, Mickey's Not-So-Scary Halloween Party is a great time to ride as many rides as possible. Most of the best ones will be operating and since Disney limits attendance to the parties (unofficially, we hear attendance is capped at 25,000), lines are usually short throughout most of the night—even when the party is a sellout. The one "must do" attraction is the Haunted Mansion. Cast members are made up to be even spookier on party nights and the graveyard gets a special Halloween fog and lighting treatment too. On the front lawn of the Mansion, you'll find either Madame Carlotta or Madame Renata, seated and illuminated, eager to share a tale with guests. These two ethereal spirits alternate performances and are extra-eerie, and quite interactive with the crowd and fun to watch.

Photopass photographers are out in force at Mickey's Not-So-Scary Halloween Party. In the past, special Halloween "magic" photos with the the Hitchhiking Ghosts digitally added are available near the Tiana meet and greet in Liberty Square. Plus, don't miss a special shot with the hearse ghost driver at the carriage and invisible horse in front of the Haunted Mansion. Guests will also want to take advantage of the Animated Magic Shots too! There is usually a special Halloween photo spot in the Town Square area where you can have your photo taken with some whimsical pumpkins. You can add the MNSSHP PhotoPass photos to your PhotoPass card or Memory Maker package via your MagicBand and when you get home view and share your photos online.

The areas where PhotoPass photographers take photos can get quite crowded, especially the character meet & greets. Town Square is particularly busy between 5:30 p.m. and 7:30 p.m. with people in line to meet characters. And speaking of characters, this will be your opportunity to get photos with some rare Disney characters, such as the Seven Dwarfs; Captain Jack Sparrow; the Disney Princesses with their Princes; Eeyore, Winnie the Pooh, Tigger, and Piglet (all together in one photo); Jane & Tarzan, Lotso and, of course, the Disney Villains. Plus, Jack Skellington and Sally (most popular) from Tim Burton's The Nightmare Before Christmas will make appearances. Some characters will be in their Halloween costumes. Lines for some of the most popular characters can begin forming by 6 p.m. Try to get a few photos done when the party first starts and other towards the end of the night. And don't forget to bring your own camera so you don't miss that special shot in case there is no PhotoPass photographer around.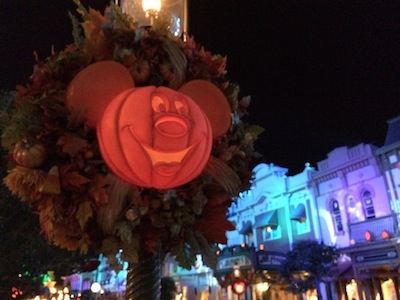 During Mickey's Not-So-Scary Halloween Party, take time to notice the little details. There are several forms of spooky pavement art, some projected by lighting effects, others are chalk art and even cast members get in on the act with fleeting water sketches created with a broom and dustpan. Look for the skull and cross bones projection on Big Thunder Mountain or Pirates of the Caribbean or the spiders and webs projected on rocks and pavement throughout Tomorrowland. Main Street U.S.A. is awash in eerie changing color. In Adventureland, colorful Tikis laugh as they attempt to scare guests away and Pirates of the Caribbean and Haunted Mansion are bathed in fog. And of course, there is spooky music throughout the park. Specific effects will vary from year to year.
---
For additional information on Mickey's Not So Scary Halloween Party, visit Disney's web site.
Save
Save
Save
Save
Save
Save
Save
Save
Save