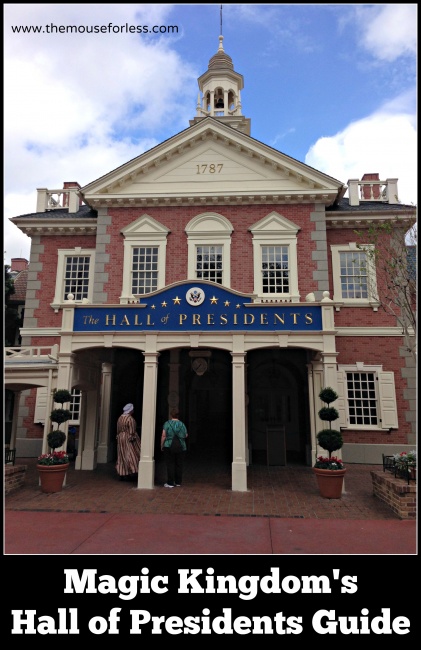 The Hall of Presidents allows guests to enjoy a patriotic tribute to American history in general and the United States' presidents in particular at this elaborate theater presentation.
Ride Information  Restrictions  Location  Fun Facts  Top 5 Tips
Ride Information
Opening Day: October 1, 1971
Type of Ride: Theater presentation
Age Recommendation: Adults and history buffs of all ages
Duration of Ride: 23 minutes
Typical Queue Time: Short; usually less than 30 minutes or the beginning of the next show
Single Rider Line: No
FastPass+: No. Visit our FastPass+ Guide for more information on FastPass+.
Chicken Exit Available: No
Baby Swap Available: No
Type of Vehicle: Seats; theater presentation
Type of Restraint: None
Attraction Open During EMH: No. See our Extra Magic Hours page for more information.
Ride Photo Available For Purchase: No

Planning a Walt Disney World Vacation?
For a Free no-obligation quote, contact our sponsor
The Magic For Less Travel
. Services are provided free of charge and their expert planning advice will help you make the most of your vacation time and money.
Ride Restrictions
Height Requirements: None. "Assistive Listening," "Reflective Captioning," and "Language Translation Devices" are available.
Flash Photography or Video Allowed: No
Location
Park Map of Magic Kingdom:
Other Rides/Attractions In the Area:
This attraction is located in the Magic Kingdom's Liberty Square.
Shopping: Though Gilbert Stuart isn't at the Magic Kingdom, guests can sit for silhouette drawings or portraits at "Liberty Square Portrait Gallery."
Dining/Refreshment: In Liberty Square, guests can enjoy seafood entrees at the counter service Columbia Harbour House and waffle sandwiches at Sleepy Hollow. Another counter service establishment, Liberty Square Market, serves sandwiches, hearty sides, and assorted fruits. Additionally, those preferring a table service meal can relax for lunch and dinner at the Colonial Williamsburg-inspired Liberty Tree Tavern.
Restroom: No restrooms are situated in Liberty Square, but Tangled-themed facilities are located at the Fantasyland border.
Smoking Location: Smoking is permitted in designated smoking areas only. Disney parks are smoke free.
The Hall of Presidents Fun Facts
Did you know?
The Hall of Presidents reopened after a 6 month closure in August 2021 to include the United States' forty-sixth president, Joe Biden.
The concept for Hall of Presidents evolved from a wax museum exhibit to a stunning audio animatronic show in the years following the success of "Great Moments with Mr. Lincoln" at the 1964 New York World's Fair. Mr. Lincoln continues to delight Disneyland visitors at the Main Street USA attraction "The Disneyland Story Presenting Great Moments with Mr. Lincoln."
The Hall of Presidents is one of 14 attractions remaining in some form from the Magic Kingdom's opening day, October 1, 1971. The others are "Cinderella's Golden Carrousel" (now Prince Charming Regal Carrousel), Country Bear Jamboree, Dumbo the Flying Elephant, "Frontierland Shootin' Arcade," Haunted Mansion, It's a Small World, Jungle Cruise, Mad Tea Party, Peter Pan's Flight, Swiss Family Treehouse, "Tropical Serenade" (now Enchanted Tiki Room), "Grand Prix Raceway" (now Tomorrowland Speedway), and "Walt Disney World Railroad."
The Hall of Presidents' theater is modeled after Philadelphia's legendary Independence Hall. The 1787 inscribed atop the facade denotes the year the Constitution was drafted and signed at Independence Hall.
The Hall of Presidents' lobby features assorted presidential artifacts and memorabilia, including paintings, documents, and dresses worn by First Ladies on inauguration day.
The Hall of Presidents is updated each time a new president takes office. Gerald R. Ford was the first new president added following the show's debut.
The show commences with a video recapping United States history from the Revolutionary War through the present. Highlighted presidents in the film include George Washington, Thomas Jefferson, Andrew Jackson, Abraham Lincoln, Theodore Roosevelt, Franklin Delano Roosevelt, Dwight D. Eisenhower, John F. Kennedy, Lyndon B. Johnson, Jimmy Carter, Ronald Reagan, Bill Clinton, George W. Bush, and Barack Obama. The video is followed by a roll call of the presidents, with each animatronic nodding when his corresponding leader is mentioned.
The animatronics of George Washington, Abraham Lincoln, and Joe Biden are afforded speaking roles.
Although Joe Biden is the United States' 46th president, only 44 names are mentioned during the roll call because Grover Cleveland served two non-consecutive terms, as the 22nd president and the 24th president, respectively. Benjamin Harrison, the 23rd president, defeated Cleveland in the latter's initial bid for reelection in 1888 despite losing the popular vote. Cleveland then defeated Harrison in 1892 to reclaim the presidency.
John Quincy Adams, the sixth president, was the son of John Adams, the second president; and Benjamin Harrison was the grandson of William Henry Harrison, the ninth president, who served the shortest term of any president in American history: one month. Harrison, who at 68 years of age was the oldest president until Ronald Reagan, caught pneumonia while delivering his inauguration speech on March 4, 1841, and he died on April 4, 1841. William Henry Harrison's father and Benjamin Harrison's great-grandfather, also named Benjamin Harrison, signed the Declaration of Independence as a delegate to the Second Continental Congress from Virginia.
Theodore Roosevelt and Franklin Delano Roosevelt were fifth cousins. Franklin Roosevelt's wife, Eleanor, was Theodore Roosevelt's niece, being the daughter of Theodore's brother Elliott.
Hidden Mickeys:
There is a Hidden Mickey on the sword held by George Washington in one of the paintings in the lobby.
Sponsored Ad: Learn more about Hidden Mickey details and location throughout Walt Disney World in A Field Guide to Walt Disney World's Best Kept Secrets
.
Top 5 Tips for The Hall of Presidents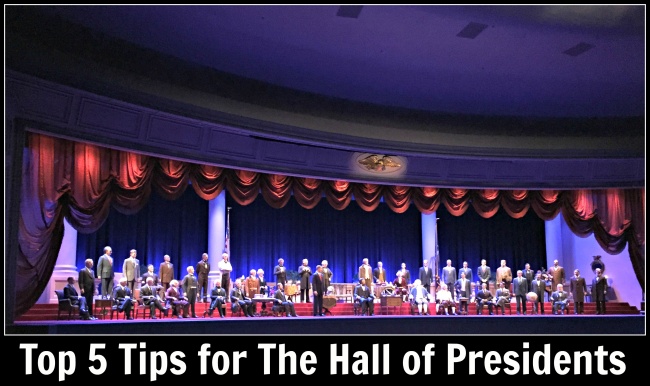 The Hall of Presidents is the premier attraction at the Magic Kingdom for history buffs.
Enjoy The Hall of Presidents during the afternoon, when the air-conditioned theatre will be appreciated.
Look at the memorabilia in the lobby.
If possible,  sit close to the stage to get a better view of the animatronics.
If you enjoy The Hall of Presidents, be sure to see Walt Disney World's other US history-inspired attraction, "The American Adventure" at Epcot.
Video