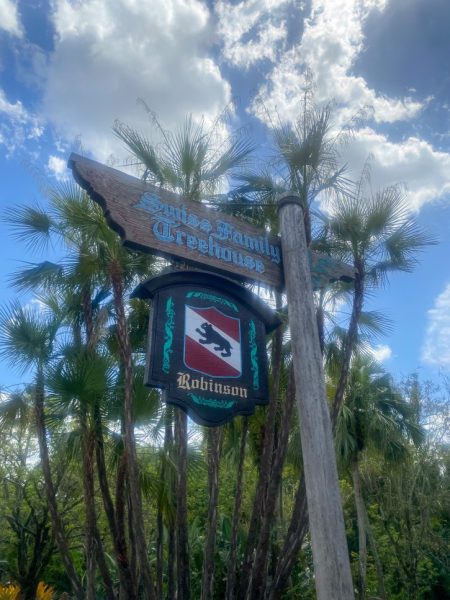 At Swiss Family Treehouse, guests can climb and explore this exotic treehouse, a longtime Adventureland staple.
Ride Information  Restrictions  Accessibility  Location  Fun Facts  Top 5 Tips
Ride Information
Opening Day: October 1, 1971
Type of Ride: Walk-through
Age Recommendation: All ages
Duration of Ride: Unlimited
Typical Queue Time: Short
Single Rider Line: No
Chicken Exit Available: No
Baby Swap Available: No
Type of Vehicle: None
Type of Restraint: None
Attraction Open During Extended Evening Hours: Yes. See our Extended Evening Hours page for more information.
Ride Photo Available For Purchase: No

Planning a Walt Disney World Vacation?
For a Free no-obligation quote, contact our sponsor
The Magic For Less Travel
. Services are provided free of charge and their expert planning advice will help you make the most of your vacation time and money.
Ride Restrictions
Height Requirements: None.
Flash Photography or Video Allowed: Yes
Safety, Accessibility, and Guest Policies
Accessibility: Must Be Ambulatory. Attraction is a unique "climb-through" experience that includes stairs and raised platforms.
Guest Policies: Children under age 7 years must be accompanied by a person age 14 years or older.
Location
Park Map of Magic Kingdom:
Other Rides/Attractions In the Area:
This attraction is located in the Magic Kingdom's Adventureland.
Shopping: Near Swiss Family Treehouse, guests can purchase a variety of goods and souvenirs among Adventureland's five shops: "Agrabah Bazaar," "Island Supply by Sunglass Hut," "La Princesa de Cristal – Caribbean Plaza," "Plaza del Sol Caribe Bazaar," and "Zanzibar Trading Co."
Dining/Refreshment: Several counter service restaurants are located nearby in Adventureland. The popular Aloha Isle and Sunshine Tree Terrace establishments specialize in ice cream, the former serving the cult-favorite Dole Whip and the latter the Citrus Swirl. Additionally, Mexican cuisine, including burritos and rice bowls, are served seasonally at Tortuga Tavern. The closest table-service restaurants are the Jungle Skipper Canteen, which features a blend of Asian, Latin and African flavors, and the Crystal Palace buffet which is on Main Street USA near the Adventureland bridge.
Restroom: A pair of restrooms are located in Adventureland, one near Tortuga Tavern and another near Pirates of the Caribbean.
Smoking Location: Smoking is permitted in designated smoking areas only. Disney parks are smoke free.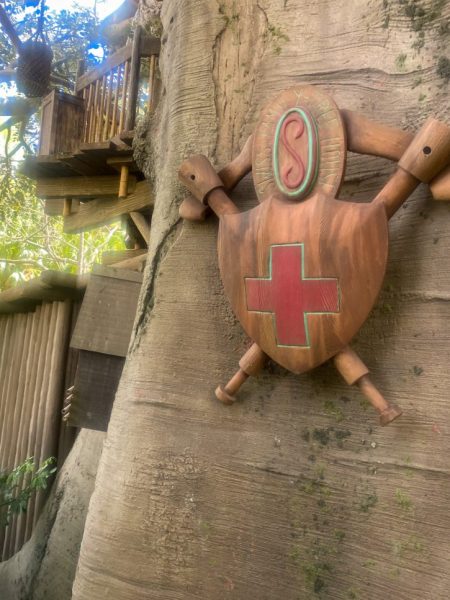 Swiss Family Treehouse Fun Facts
Did you know?
Swiss Family Treehouse is one of 13 attractions remaining in some form from the Magic Kingdom's opening day, October 1, 1971. The others are "Cinderella's Golden Carrousel" (now Prince Charming Regal Carrousel), Country Bear Jamboree, "Dumbo the Flying Elephant," "Frontierland Shootin' Arcade," Hall of Presidents, Haunted Mansion, It's a Small World, "Jungle Cruise," "Mad Tea Party,"  "Tropical Serenade" (now Enchanted Tiki Room), "Grand Prix Raceway" (now Tomorrowland Speedway), and "Walt Disney World Railroad."
Swiss Family Treehouse is based on Disney's 1960 live-action film Swiss Family Robinson.
According to the attraction's backstory, construction of the Treehouse by the shipwrecked Robinsons commenced on July 17, 1805.
From opening day until 1989, Swiss Family Treehouse was entitled "Swiss Family Island Treehouse."
From their opening in 1972 until their closure in 1983, the "Swan Boats" sailed around the Swiss Family Treehouse.
In the Magic Kingdom's early years, before the Jungle Cruise's foliage grew, the Seven Seas Lagoon and even the Polynesian Village Resort could be seen from Swiss Family Treehouse.
Concrete covered steel and vinyl create the illusion of the tree for the treehouse. However, the moss on the tree is actual moss.
Elements of Swiss Family Treehouse include ship oars and sails, an elaborate bamboo waterwheel with connecting pipes to distribute the water, a coat of arms, a pump organ, hammocks, a map of the Indian Ocean, and a stove constructed with volcanic rocks. Rooms that you will encounter include a living room, two bedrooms, a library, and a kitchen.
Hidden Mickeys: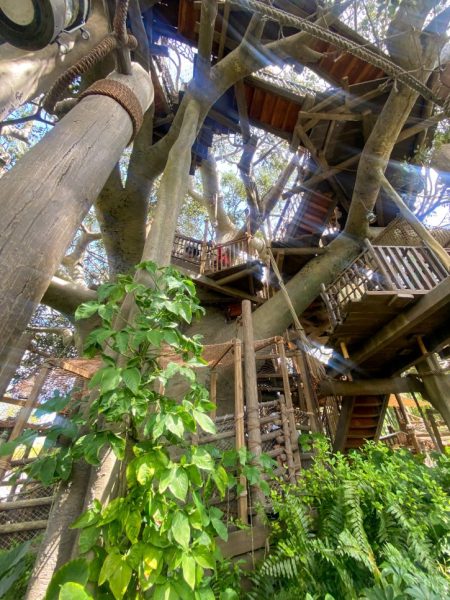 Top 5 Tips for Swiss Family Treehouse
Watch Swiss Family Robinson prior to your trip as it might enhance your appreciation of the attraction.
Guests should expect to climb stairs in order to experience this attraction.
Admire the details prevalent throughout the Treehouse.
Experience Swiss Family Treehouse after enjoying the Magic Kingdom's headliner attractions.
Take some photographs near the tree.