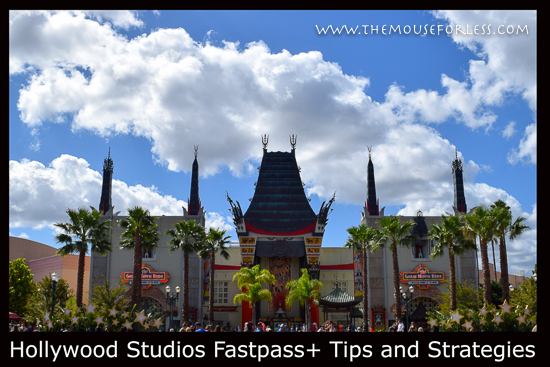 Hollywood Studios FastPass + General Information
FastPass+  is a great system that lets you reserve up to 3 attractions or entertainment experiences in advance for each day of your Walt Disney World vacation. You can find out more details about the FastPass+ system, including when and how you can make your reservations, in our FastPass+ Guide.
FastPass+ Attractions at Disney's Hollywood Studios
Tips for Using Fastpass+ at Disney's Hollywood Studios
Attractions
Currently, Disney's Hollywood Studios FastPass+ is available for the following rides, shows, and experiences:
Group 1 (select one)
Group 2 (select two)
Disney's Hollywood Studios FastPass + Tips and Strategies
You may have noted above, Disney's Hollywod Studios Fastpasses come in two groups, or tiers. When you make your initial reservations, you can select a maximum of one attraction from group one, and then two selections from group two. Here are a few tips to help you decide which three experiences you will choose.
General Strategy
If your group wants to experience all that the park has to offer, you will want to make a FastPass+ reservation for one of the new Toy Story Land attractions. Due to the newness, as well as the thrill of Slinky Dog Dash, that will be the hardest FastPass+ reservation to get, followed by Alien Swirling Saucers, and then Toy Story Mania!.
If you choose either Alien Swirling Saucers or Slinky Dog Dash, you won't be able to choose Toy Story Mania! until you've used your first three FastPss+ reservations. To save you maximum time waiting in line, prioritize your second and third FastPass+ reservations for either Star Tours – The Adventures Continue, The Twilight Zone Tower of Terror and Rock n' Roller Coaster. From there, you can start to utilize the fourth rolling FastPass+ option/standby queue for Toy Story Mania and the other Toy Story Land attraction you didn't initially make your FastPass for.
Groups with Small Children
When visiting Disney's Hollywood Studios with small children, Toy Story Midway should still be your first priority. After that, however, you have a few choices, mostly involving shows. Some of these decisions will, of course, be made based on the interests of your family, but in general the two shows where you are likely to save the most time by using Fastpass+ are Disney Junior Dance Party! and For the First Time in Forever – A Frozen Sing-Along Celebration.
Thrill Seekers
While the current total number of attractions at Disney's Hollywood Studios might seem a little small, this park is often a favorite for the thrill seekers visiting Walt Disney World. To maximize your time as a thrill seeker, your should use your reservation from the first group for Slinky Dog Dash instead of Toy Story Midway Mania! However, if you really want to ride both or this attractions, you will likely be able to ride Toy Story Mania! with either the rolling fourth FastPass or by waiting in line.
For your thrill seeking selections from the second tier, the choices should include Rock n' Roller Coaster, Star Tours – The Adventures Continue or the Twilight Zone Tower of Terror.
Shows
Disney's Hollywood Studios features several fantastic shows, and you may choose to schedule one with a FastPass+ reservation. If you do so, there are a few things you need to know as you are planning the rest of the day.
First, the FastPass+ time listed for the show will be your arrival time, not the show time. For example, you may have FastPass+ time of 10:35am-10:50am for Beauty and the Beast – Live on Stage. This means you need to arrive between those times and will get seating for the 11am show. The show then lasts 25 minutes, so even though your FastPass+ time ends at 10:50, you will be busy until almost 11:30am.
Second, this shorter FastPass+ time allows you to schedule your FastPass+ closer to each other, or finish your third FastPass+ earlier, thus allowing you to schedule additional FastPasses more quickly. Especially with the number of shows available in Disney's Hollywood Studios, you need to be careful not to accidentally book Faspasses on top of each other.
Fantasmic! is kind of a special case for Hollywood Studios FastPass+ planning. This "30-minute fireworks and water extravaganza" occurs once or twice on select nights at Disney's Hollywood Studios. If you select Fantasmic! as a FastPass+ in your initial booking, that means you will not be able to potentially make additional rolling FastPass+ selections for additional Toy Story Land attractions (among others). Moreover, having a Disney's Hollywood Studios FastPass + that you would not use until the very end of the night means that you would not have the opportunity to add additional Fastpasses after using your original three are used.
Some situations where this still might make sense, however include:
You are arriving to the park late in the day and Fantasmic! is one of your top priorities.
Fantasmic! is an important part of your day, but your family is not able to wait in line for extended periods of time.
You don't want to ride any rides, just see shows.
If you don't fall into any of those categories, but still would really like to gain access to Fantasmic! with less of a wait, there is still one more option for you – the Fantasmic! Dinner Package, where you can buy a meal in the park and gain seating for Fantasmic! Visit our page for more details.
Pin It For Later