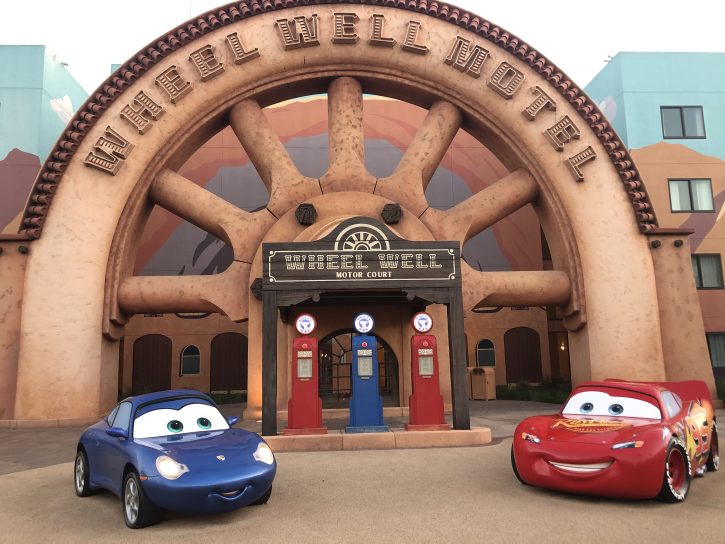 There is so much to do at Walt Disney World outside of the parks that many people choose to have a non-park day to take a break while on their Disney vacation. Others find themselves with a considerable amount of free time on arrival and departure days and do not choose to pay for an expensive ticket for only a partial day. This article outlines some really fun things to do at Walt Disney World without a ticket. Everything listed here can be experienced on Disney property without entering the theme parks. For more information, check out our Free Stuff at Walt Disney World Outside the Parks page.
Disney Springs  Resorts  Fort Wilderness  Boardwalk  Golf
Disney Springs
Disney Springs is vast, beautiful, and full of fun! There is so much to do that guests can spend hours here and still not see everything. This area is easy to access via resort bus or boat and offers convenient free parking to guests who choose to drive.  A visit to Disney Springs can fill a non-park day at Walt Disney World with a lot of fun and a little magic.

Shopping
There are hundreds of shops at Disney Springs! The World of Disney Store, the largest Disney store in the world, is impressive to behold and overwhelming to explore. Also, there are hundreds of other stores to visit, including everything from high-end shops to the World of Coca-Cola store and the LEGO store. There are so many offerings that there is likely a shop that will interest nearly everyone at Disney Springs! It is a shop-a-holic's dream location. All of the fun shopping options make this an excellent destination for the entire family.
Dining
Disney Springs is home to many varied and delicious dining options. There are more affordable restaurants like the Earl of Sandwich or Chicken Guy, and there are places to splurge like the BOATHOUSE or Homecomin'. If you are looking for sweets, there are several options, including the Gideon's Bakehouse, Sprinkles cupcake bakery, Amorette's Patisserie, the Ganachery, and Ghiradelli Soda Fountain. For an interesting tasting experience, guests can sample Coke flavors from all over the world at the World of Coca-Cola Store. There are a ton of options for dining all around Disney Springs!
Entertainment
Disney Springs is home to some great streetmosphere performers that range from living statues to musical acts. There are also frequent performances from dance groups and bands. All of these performances are free for guests at Disney Springs to enjoy. There are other entertainment options, in addition to these free acts, that require a fee or ticket. Among these is the unique Cirque de Soleil show, which features impressive acrobatics. Another option is to take a ride on the Characters in Flight hot air balloon or an Amphicar. Both of these experiences have become iconic to Disney Springs. For some indoor fun, you can check out the Splitsville Bowling alley ( also a great place to stop if you have a rainy day at Disney).
Resorts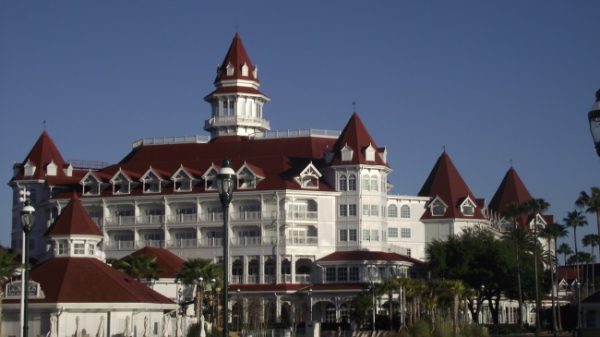 The Walt Disney World resorts are so varied and interesting that it is possible to spend an entire day just exploring the different and immersive themes. The Deluxe resorts are the most immersive, and visiting at least a few of these beautiful places is a must-do. There are a lot of great offerings available at the resorts, including dining and shopping, but it is a lot of fun to explore the various themed areas.
Many of the resorts offer great spots to view the nightly fireworks without having to have a park ticket. The resorts generally decorate for each major holiday, but at Christmas, all of the resorts become absolutely stunning with over the top decorations. At various times of the year, some of the resorts also offer extra activities and magic, including character meet and greets and free resort tours. These offerings change frequently, but it is possible to check when they are offered on our resort activities page.
If you are staying at a Disney resort, be sure to check out the resort's pool area and any activities offered on your non-park day.
Here is a list of a few highlights to check out when touring the resorts of Walt Disney World without tickets to the theme parks:
Resort Extras
These experiences cost an extra fee, but most of these recommendations cost less than a park ticket, making them viable options for saving money on a day at Walt Disney World without a ticket. Be sure to check with the resort you are visiting to see what else may be offered in addition to these suggestions.
Spa experience: Most deluxe resorts include a spa. Reservations are recommended.
Fishing and Boating Excursions: Reservations can be made by calling Disney reservations.
Surrey Bike Rentals: Several resorts offer surrey bike rentals, including The Boardwalk, Yacht and Beach Clubs, Port Orleans, and Old Key West.
Fort Wilderness
This resort area offers outdoor fun to be had by all. Guests can visit with the horses that pull Cinderella's carriage, a magical experience to be sure! There are also other farm animals to visit and enjoy. Guests can make reservations to ride in a horse-drawn carriage or go on a trail ride. After all of that outdoor fun, the Hoop-Dee-Doo Revue and P&J's Southern Takeout restaurants are available for dining. In addition, there are creatively decorated campsites to explore; these are especially fun to look at during a holiday. If you do happen to be at Fort Wilderness on a holiday, don't miss the golf cart parade. Many guests of the campsites decorate golf carts to show off their creativity and holiday spirit.
The most highly recommended thing to do at Fort Wilderness on a non-park day at Walt Disney World is to check out Chip and Dale's campfire and movie. Guests can roast marshmallows for the cost of the materials or bring their own supplies. Roasting marshmallows around the campfire, visiting with Chip and Dale, singing campfire songs, and watching an outdoor movie make for a really fun evening! Be sure to check the resort activity schedule to see if this event is offered on your non-park day.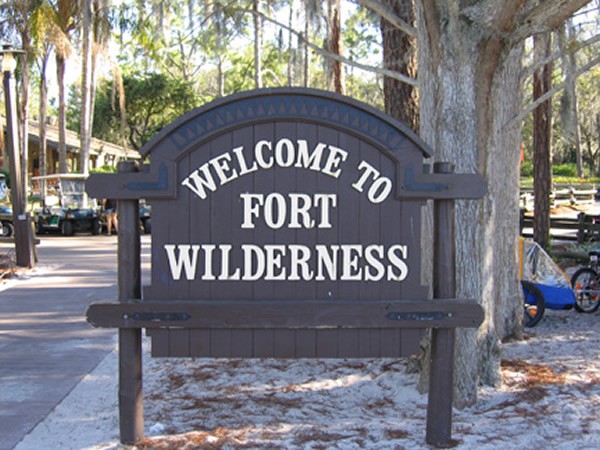 Boardwalk
The Boardwalk in the Epcot resort area is a huge and fantastic place to explore. Around the Boardwalk, there are 5 resorts to explore in addition to shops and restaurants. Many people enjoy Jellyrolls piano bar; however, be forewarned that this location does not allow children. Be sure to check out the ice-cream shop, Boardwalk Ice Cream Parlor, for some delicious homemade treats. Rarely will you walk around this area without spotting someone enjoying a ride on a surrey bike, which is available for rent. This entire area is themed to a turn of the century boardwalk and is not to be missed on a day at Walt Disney World without a ticket to the parks.
Golf
Golf Courses
Walt Disney World is home to four championship-level golf courses. These courses offer guests the opportunity to play through a few holes, or to take a class. To set up a tee time call (407) WDW-GOLF or visit the Walt Disney World Golf webpage. For more information about golf at Walt Disney World, visit our Recreation page.
Footgolf
Disney's Oak Trail Golf Course offers Footgolf. A game played on the golf course in which you kick a soccer ball into a hole rather than hitting a golf ball. This game typically takes around 2 hours to play and is fun for the whole family. For tee times and more information, call (407) WDW-GOLF.
Miniature Golf
If real golf is not your thing, there are two miniature golf courses at Walt Disney World. Fantasia Gardens and Winter Summerland are both highly themed courses with lots of fun for everyone. For more information, visit our Miniature Golf at Walt Disney World page.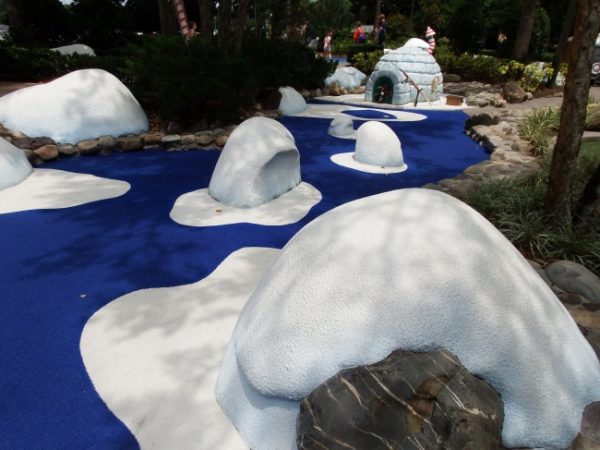 Planning a Walt Disney World Vacation?
For a Free no-obligation quote, contact our sponsor,
The Magic For Less Travel
. The Magic For Less Travel is an Authorized Disney Vacation Planner and has been helping guests plan magical vacations since 2002. Receive the best prices and free travel planning services. Their fee-free services will help you save time, money, and stress while planning a vacation designed around you and your needs!