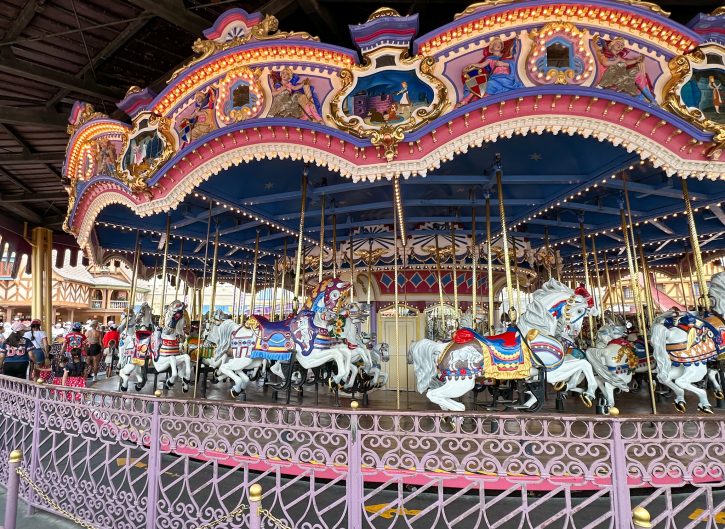 At Prince Charming Regal Carrousel, guests hop aboard a steed on this beautiful carrousel designed by Prince Charming for the enjoyment of the kingdom.
Ride Information  Restrictions  Accessibility  Location  Fun Facts  Top 5 Tips
Ride Information
Opening Day: October 1, 1971
Type of Ride: Carrousel
Age Recommendation: All ages
Duration of Ride: About 2 minutes
Typical Queue Time: Short; typically less than 10 minutes except on the busiest days
Single Rider Line: No
Chicken Exit Available: No
Baby Swap Available: No
Type of Vehicle: Horses and chariot
Type of Restraint: Seat belt
Attraction Open During Extended Evening Hours: Yes. See our Extended Evening Hours page for more information.
Ride Photo Available For Purchase: No

Planning a Walt Disney World Vacation?
For a Free no-obligation quote, contact our sponsor
The Magic For Less Travel
. Services are provided free of charge and their expert planning advice will help you make the most of your vacation time and money.
Ride Restrictions
Height Requirements: None
Flash Photography or Video Allowed: Yes
Safety, Accessibility, and Guest Policies
Accessibility: 
Must Transfer to Wheelchair
Service Animals Permitted with Caution
Guest Policies: Children under age 7 years must be accompanied by a person age 14 years or older.
Location
Park Map of Magic Kingdom: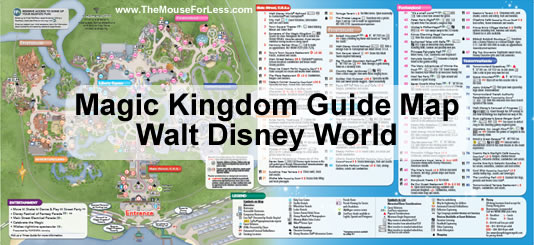 Other Rides/Attractions In the Area:
This attraction is located in the Magic Kingdom's Fantasyland.
Shopping: Guests can purchase a variety of souvenirs nearby at "Sir Mickey's."
Dining/Refreshment: Several restaurants of varying styles and offerings are situated near Prince Charming Regal Carrousel. Guests seeking a counter service lunch or dinner can dine at Pinocchio Village Haus in Fantasyland. Pinocchio Village Haus serves Italian dishes, including flatbread pizzas, a meatball hero, and garlic knots.
The extremely popular Be Our Guest Restaurant is a counter service establishment during lunch hours with upscale sandwiches, soups, and salads dominate the menu, a full service restaurant for dinner and a hybrid between the two at breakfast. If your party would rather have a full service meal in Fantasyland, be sure to make an ADR up to 180 days in advance for all meals at Cinderella's Royal Table and Be Our Guest Restaurant. Cinderella interacts with guests before all meals at Cinderella's Royal Table.
Guests craving ice cream sundaes and floats can find them at Storybook Treats.
Restroom: Find facilities convenient to Prince Charming Regal Carrousel behind Pinocchio Village Haus.
Smoking Location: Smoking is permitted in designated smoking areas only. Disney parks are smoke free.
Prince Charming Regal Carrousel Fun Facts
Did you know?
Disneyland's Carrousel is named "King Arthur Carrousel," though King Arthur did not receive his own movie, The Sword in the Stone, until 1963. Unlike the horses on Prince Charming Regal Carrousel, the steeds on King Arthur Carrousel have names.
Seven of Disney's 11 theme parks worldwide feature carrousels. Only Disney's Hollywood Studios; Epcot; and Disney's Animal Kingdom at Walt Disney World and Walt Disney Studios Park in Paris operate sans a carrousel.
Prince Charming Regal Carrousel is based on Disney's 1950 film Cinderella. The attraction originally entitled "Cinderella's Golden Carrousel" from opening day until 2010, received a renaming for the princess's lover in order to incorporate a story based on the history of carrousels.
A series of 18 paintings on the Carrousel's canopy depict the story of Cinderella to riders.
Classic Disney music, such as "When You Wish Upon a Star" from Pinocchio (1940), is pumped from an organ to complement Prince Charming Regal Carrousel.
A carrousel was the inspiration for Disneyland and, in turn, all of Disney's theme parks. One day while watching his daughters ride the Griffith Park Merry-Go-Round in Los Angeles, Walt Disney ruminated on a destination where parents and children could have fun together. That utopia became Disneyland.
Cinderella greets guests throughout the day at the adjacent "Princess Fairytale Hall."
History
Prince Charming Regal Carrousel is one of 14 attractions remaining in some form from the Magic Kingdom's opening day, October 1, 1971. The others are Country Bear Jamboree, "Dumbo the Flying Elephant," "Frontierland Shootin' Arcade," Hall of Presidents, Haunted Mansion, It's a Small World, Jungle Cruise, Mad Tea Party,  Peter Pan's Flight, Swiss Family Treehouse, Tropical Serenade (now Enchanted Tiki Room), Grand Prix Raceway (now Tomorrowland Speedway), and "Walt Disney World Railroad."
The Carrousel is among six current Magic Kingdom attractions to have debuted in corresponding designs with both Disneyland Park and the Magic Kingdom, on July 17, 1955 and October 1, 1971, respectively. The others attractions include the Speedway (Autopia at Disneyland), Jungle Cruise, Mad Tea Party, Peter Pan's Flight, and the Railroad.
Disney purchased Prince Charming Regal Carrousel in 1967 from the defunct Olympic Park located in Maplewood, New Jersey and refurbished for its Magic Kingdom debut. The Carrousel was originally crafted and constructed in 1917 by the Philadelphia Toboggan Company for the defunct Detroit Palace Garden Park. The Carrousel's original moniker was "Liberty."
Prince Charming Regal Carrousel has featured 86 horses since 1997, when four horses were removed in favor of a chariot for guests unable to mount a steed for whatever reason. Each of the horses is unique.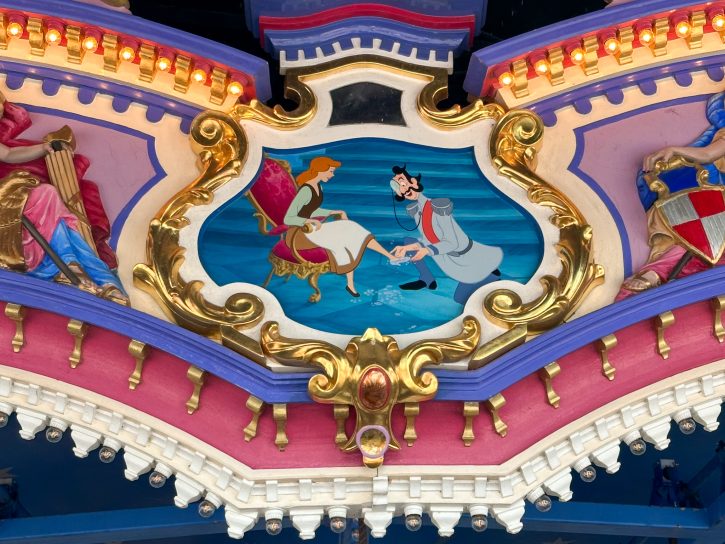 Top 5 Tips for Prince Charming Regal Carrousel
The line for this ride normally moves quicker than the bigger attractions, so ride it after experiencing the Magic Kingdom's headliner attractions.
Behold Prince Charming Regal Carrousel at night, when over 2,000 lights enhance the merry-go-round's beauty.
Prince Charming Regal Carrousel is a must-ride attraction for Disney history buffs and fans of carrousels in general.
Take in the details of the carrousel, including the craftsmanship of the horses.
Consider watching Cinderella prior to your visit such as to better appreciate the attraction.