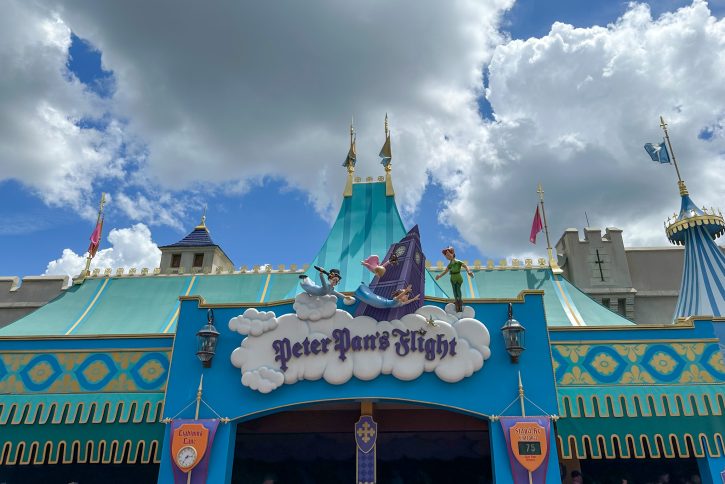 You can fly, you can fly, you can fly!  Indeed, on Peter Pan's Flight, guests can fly over detailed dioramas in the company of Peter Pan, Tinker Bell, and the Darling children.
Ride Information Restrictions  Accessibility  Location Fun Facts Top 5 Tips
Ride Information
Opening Day: October 1, 1971
Type of Ride: Mild adventure
Age Recommendation: All ages
Duration of Ride: 3 minutes
Typical Queue Time: Long; often upwards of one hour, even on slower days
Single Rider Line: No
Chicken Exit Available: No
Baby Swap Available: No
Type of Vehicle: Suspended pirate ship
Type of Restraint: Lap bar
Attraction Open During Extended Evening Hours: Yes. See our Extended Evening Hours page for more information.
Ride Photo Available For Purchase: No

Planning a Walt Disney World Vacation?
For a Free no-obligation quote, contact our sponsor
The Magic For Less Travel
. Services are provided free of charge and their expert planning advice will help you make the most of your vacation time and money.
Ride Restrictions
Height Requirements: None.
Flash Photography or Video Allowed: No
Safety, Accessibility, and Guest Policies
Accessibility:
Must Be Ambulatory
Audio Description
Handheld Captioning
Service Animals Not Permitted
Guest Policies: Children under age 7 years must be accompanied by a person age 14 years or older.
Location
Park Map of Magic Kingdom: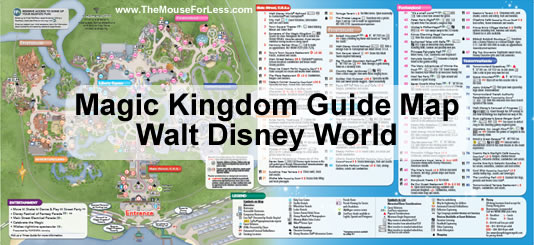 Other Rides/Attractions In the Area:
This attraction is located in the Magic Kingdom's Fantasyland.
Shopping: Located adjacent to Peter Pan's Flight, "Fantasy Faire" offers a wide selection of souvenirs.
Dining/Refreshment: Several restaurants of varying styles and offerings are situated near Peter Pan's Flight. Guests seeking a counter service lunch or dinner can dine at Columbia Harbour House in adjacent Liberty Square or at Pinocchio Village Haus in Fantasyland. The former establishment specializes in seafood, while the latter serves Italian dishes. The extremely popular Be Our Guest Restaurant is a counter service establishment during lunch hours with upscale sandwiches, soups, and salads dominate the menu, a full service restaurant for dinner and a hybrid between the two at breakfast. If your party would rather have a full service meal in Fantasyland, be sure to make an ADR up to 180 days in advance for all meals at Be Our Guest Restaurant and Cinderella's Royal Table.
Restroom: Facilities themed after Tangled (2010) are situated across from Peter Pan's Flight in Fantasyland.
Smoking Location: Smoking is permitted in designated smoking areas only. Disney parks are smoke free.
Peter Pan's Flight Fun Facts
Did you know?
Peter Pan's Flight is one of 14 attractions remaining in some form from the Magic Kingdom's opening day, October 1, 1971. The others are "Cinderella's Golden Carrousel" (now Prince Charming Regal Carrousel), Country Bear Jamboree, "Dumbo the Flying Elephant," "Frontierland Shootin' Arcade," Hall of Presidents, Haunted Mansion, It's a Small World, Jungle Cruise, "Mad Tea Party,"  Swiss Family Treehouse, Tropical Serenade (now Enchanted Tiki Room), Grand Prix Raceway (now Tomorrowland Speedway), and "Walt Disney World Railroad."
Peter Pan's Flight is among six current Magic Kingdom attractions to have debuted in corresponding designs with both Disneyland Park and the Magic Kingdom, on July 17, 1955 and October 1, 1971, respectively. The others are the Carrousel, the Speedway (Autopia at Disneyland), Jungle Cruise, Mad Tea Party, and the Railroad.
Peter Pan's Flight is named and themed after Disney's 1953 film Peter Pan.
On Peter Pan's Flight, guests ride in suspended pirate ships over scenes from Peter Pan.
Though a mermaid in the attraction looks like Ariel from The Little Mermaid (1989), said mermaid was actually in Peter Pan.
Between late 2014 and early 2015, a new indoor, interactive queue for Peter Pan's Flight opened in space previously occupied by the main Fantasyland restrooms. This queue is set in the Darling family's home and incorporates shadow effects and lots of Pixie Dust from Tinker Bell.
A calendar in the queue has the date December 27, 1904 circled, a reference to the day when the original Peter Pan play by James Barrie commenced performances in London.
The volcano in the attraction creates its flow via aluminum foil. The effects are rudimentary, but they work.
Versions of Peter Pan's Flight exists overseas at the Disneyland parks in Tokyo and Paris.
Hidden Mickeys:
Find a Hidden Mickey near Nana's doghouse as the ship departs the Darling's house. Another Hidden Mickey is embedded in the moon during the London scene.
Sponsored Ad: Learn more about Hidden Mickey details and location throughout Walt Disney World in A Field Guide to Walt Disney World's Best Kept Secrets
.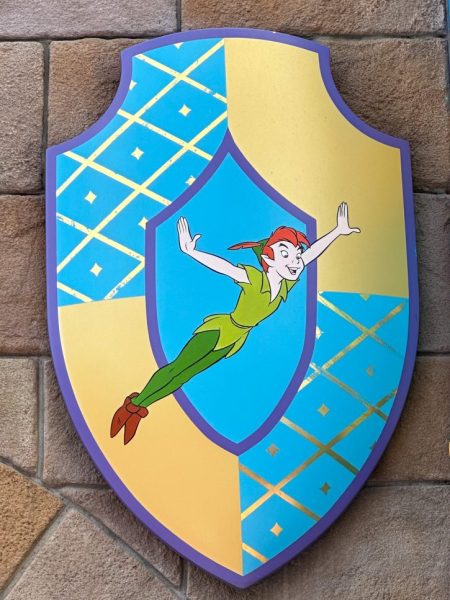 Top Tips for Peter Pan's Flight
Enjoy the details in both the interactive queue and the attraction proper.
Consider riding earlier in the day to avoid long lines as this ride is very popular.
Disney Parks buffs should make sure to ride Peter Pan's Flight and enjoy this historic ride.
Look for Hidden Mickeys.
Consider watching Peter Pan before your trip to enhance your appreciation of the attraction.