The Enchanted Tiki Room allows guests to sing along with a plethora of animatronic birds in this classic Disney experience.
Ride Information  Restrictions  Accessibility  Location  Fun Facts  Top 5 Tips
Ride Information
Opening Day: October 1, 1971
Type of Ride: Theater presentation
Age Recommendation: All ages
Duration of Ride: About 16 minutes
Typical Queue Time: Short; typically less than 20 minutes, or the duration until the next show
Single Rider Line: No
Chicken Exit Available: No
Baby Swap Available: No
Type of Vehicle: None; guests sit on benches
Type of Restraint: None
Attraction Open During Extended Evening Hours: Yes. See our Extended Evening Hours page for more information.
Ride Photo Available For Purchase: No

Planning a Walt Disney World Vacation?
For a Free no-obligation quote, contact our sponsor
The Magic For Less Travel
. Services are provided free of charge and their expert planning advice will help you make the most of your vacation time and money.
Ride Restrictions
Height Requirements: None
Flash Photography or Video Allowed: No
Safety, Accessibility, and Guest Policies
Accessibility: 
May Remain in Wheelchair/ECV
Handheld Captioning
Audio Description
Assistive Listening
Location
Park Map of Magic Kingdom: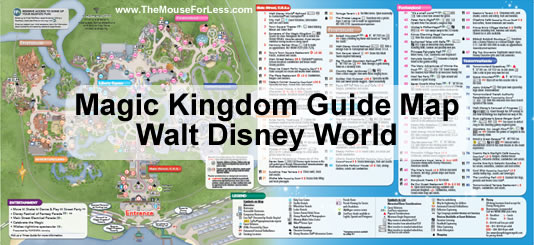 Other Rides/Attractions In the Area:
This attraction is located in the Magic Kingdom's Adventureland.
Shopping: Find an array of souvenirs among these shops in Adventureland: "Agrabah Bazaar," "Island Supply by Sunglass Hut," "La Princesa de Cristal – Caribbean Plaza," "Plaza del Sol Caribe Bazaar," and "Zanzibar Trading Co."
Dining/Refreshment: Guests can savor some divine Polynesian-inspired ice cream treats nearby at Aloha Isle and Sunshine Tree Terrace, respectively. The former establishment offers the cult-favorite Dole Whip, while the latter eatery features the Citrus Swirl.
Restroom: Lavatories in Adventureland are situated near Tortuga Tavern and Pirates of the Caribbean, respectively.
Smoking Location: Smoking is permitted in designated smoking areas only. Disney parks are smoke free.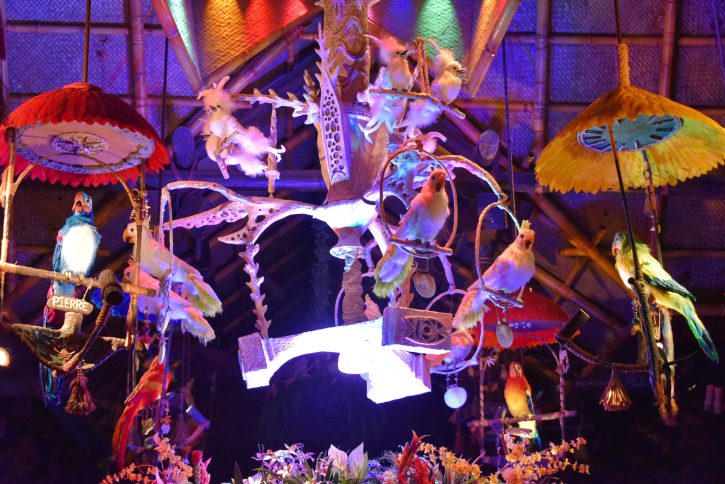 Walt Disney's Enchanted Tiki Room Fun Facts
Did you know?
Before the current iteration of the show, Walt Disney envisioned Enchanted Tiki Room as a restaurant with the birds adding entertainment.
The four main birds in the Enchanted Tiki Room are parrots named Jose, Michael, Pierre, and Fritz. While waiting in line, guests are entertained by a pair of toucans, Clyde and Claude, who reference "Tropical Serenade," the attraction's original moniker, at the end of the preshow.
Enchanted Tiki Room takes place in a pagoda called "Sunshine Pavilion."
More than 225 animatronics, including birds, flowers, tiki statues, and masks, feature in Enchanted Tiki Room.
The show consists of five musical numbers, most notably the catchy "The Tiki Tiki Tiki Room," sung by the assorted animatronics. The final song is a parodied rendition of "Heigh Ho" from Snow White and the Seven Dwarfs (1937).
Tokyo Disneyland Park features a unique version of Enchanted Tiki Room based on Lilo and Stitch (2002): "The Enchanted Tiki Room: Stitch Presents Aloha e Komo Mai!"
History
Walt Disney's Enchanted Tiki Room is one of 14 attractions remaining in some form from the Magic Kingdom's opening day, October 1, 1971. The others are "Cinderella's Golden Carrousel" (now Prince Charming Regal Carrousel), Country Bear Jamboree, "Dumbo the Flying Elephant," "Frontierland Shootin' Arcade," Hall of Presidents, Haunted Mansion, It's a Small World, Jungle Cruise, "Mad Tea Party," "Peter Pan's Flight," Swiss Family Treehouse, "Grand Prix Raceway" (now Tomorrowland Speedway), and "Walt Disney World Railroad."
Upon its 1963 debut, Disneyland's Enchanted Tiki Room became the first attraction to utilize advanced audio animatronics, in this case robotic birds that moved, talked, and sang. The birds and other animatronics in the attraction were controlled in a sophisticated computer room, which, to the delight of guests, mandated an air-conditioned building, the first such edifice at Disneyland Park. Other Disneyland attractions, such as the Jungle Cruise, had previously featured simple animatronics, capable of limited motion.
The current incarnation debuted in 2011 and features a slightly shortened version of the original Disneyland show.
Originally named "Tropical Serenade" from opening day until 1997, the ride featured the same performance offered at Disneyland. In 1998, Disney added Iago from Aladdin (1992) and Zazu from The Lion King (1994) to the show, which was rechristened "Enchanted Tiki Room: Under New Management." This version lasted until 2011.
Hidden Mickeys:
Find a Hidden Mickey in the berries on a stem near the entrance.
Sponsored Ad: Learn more about Hidden Mickey details and location throughout Walt Disney World in A Field Guide to Walt Disney World's Best Kept Secrets
.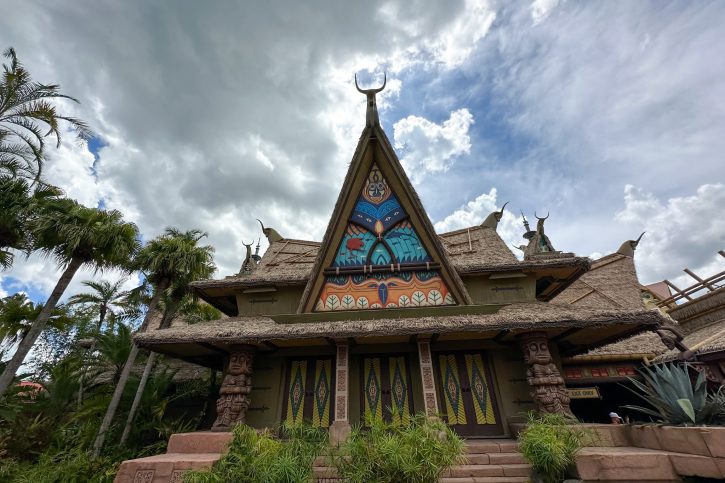 Top 5 Tips for Walt Disney's Enchanted Tiki Room
Walt Disney's Enchanted Tiki Room is a good attraction for the afternoon because of its short waits and air conditioning.
Enchanted Tiki Room is a must-see attraction for Disney history buffs.
Enjoy the lush scenery outside the theater.
A simulated thunderstorm towards the end of the show may frighten young children.
Prepare to have "The Tiki Tiki Tiki Room" stuck in your head for a few hours.