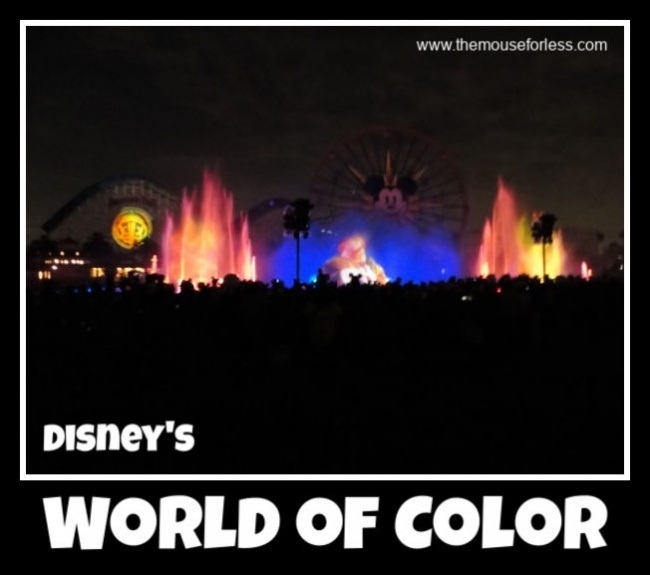 World of Color features more than 1,200 fountains erupt together to create elaborate patterns, dancing to music. Together with fire effects, fog, lasers and animation projected on the water screens create a spectacular display across the lagoon of Paradise Pier. Since "World of Color" made its debut back in 2010, the show has featured occasional updates and surprises, ranging from "TRON: Legacy" to "Prep & Landing" to another new sequence, inspired by the Disney*Pixar film "Brave.'
**World of Color is currently presenting Villainous! as a part of Halloween at Disneyland Resort.**
Disneyland's World of Color
Type of Attraction: Show – Hydrotechnic
Duration of Attraction: 27 minutes
Show Times: Typically, First Show starts between 8:00 p.m. and 9:00 p.m. and the Second Show starts between 9:15 p.m. and 10:15 p.m.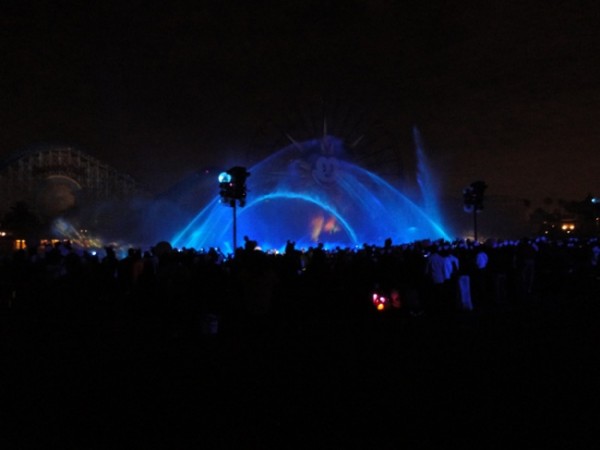 Type of seating: A FASTPASS will be needed to enter the viewing area for the show unless reserved seating voucher is obtained through a World of Color dining package. The FASTPASS machine for World of Color is located at Grizzly River Run.
World of Color Dinner Packages with Preferred Viewing
Those wishing to access preferred reserved viewing to the "World of Color" may select the "World of Color" prix fixe dinner at Wine Country Trattoria or at Carthay Circle Restaurant. Make your reservation ahead of time by calling 714-781-DINE to enjoy lunch or dinner. Check below for information on specific venues.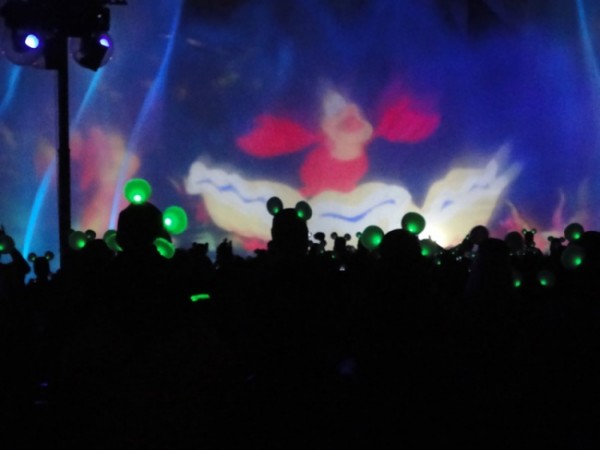 Did You Know? There are 6 dome projection screens. It took 15 months to transform Paradise Bay for World of Colors. The underwater grid has over 18,000 point of control! At 50ft high and 380ft wide (19,000 sq. ft. in all) World of Color has one of the world's largest projected water screens. The score of World of Color spans 8 decades of classic Disney music and songs. It took 5 months to program the show and 6 technical directors to run the show.
 The Mouse For Less Tips

Each night, before "World of Color," guests can log on to play the Fun Wheel Challenge on their mobile devices. Competing against other park guests to match the color patterns, the winner gets to control the lights on Mickey's Fun Wheel! So the next time you're waiting to watch "World of Color," just join the PierGames Wi-Fi network from your mobile device, play the game within your device's web browser – there are no apps to download. This special Wi-Fi network is available 45 minutes before the start of the first "World of Color" show each evening.

Dine at Carthay Circle Restaurant before 7 p.m. and receive a ticket to center stage viewing area for FIRST show.

Dine at Carthay Circle Restaurant between 7 p.m. and 9 p.m. and receive a ticket to center stage viewing area for SECOND show.

You may request an earlier or later show, but it is not guaranteed that you will get it. To request reservations at Carthay Circle Restaurant, call 714-781-DINE, 7 a.m. to 9 p.m., or email reservation requests to dine@disneyland.com with a name, phone number, date, time, and number of adults and children.

Planning a Disneyland Vacation?
For a Free no-obligation quote, contact our sponsor
The Magic For Less Travel
. Services are provided free of charge and their expert planning advice will help you make the most of your vacation time and money.

Get your FASTPASS for World of Color as soon as you arrive at the park! Passes are available on a first-come, first-served basis outside Grizzly River Run in the Golden State area of the park. Remember that every member of your party must enter Disney California Adventure park and present their tickets at the kiosk to receive a FASTPASS. This attraction will likely run out of tickets early for quite some time to come. Guests staying at Disneyland Resort Hotels can take advantage of Extra Magic Hour on select days, during which time you may enter Disney California Adventure park one hour before it opens to guests. Take advantage of this extra time by picking up your "World of Color" FASTPASS! If you can't get to the park early, reserved premium seating.

Here's a special tip for viewing "World of Color" in a new way. Try watching "World of Color" from Goofy's Sky School in the Paradise Pier section of the park. It's so much fun learning how to fly with Goofy as the night sky is filled with every color of the rainbow.

Using the latest interactive technology, these special iridescent ear hats will let you "Glow with the Show." The ears change to complement and harmonize with what's happening around you, allowing you to become a part of the World of Color. "Glow With the Show" Mouse Ears can be purchased for $25 (tax included) at locations throughout the park, including Los Feliz Five & Dime, Off the Page, Seaside Souvenirs and many merchandise carts. And be sure to keep your "Glow With the Show" Ears after the show, because they also interact with many other shows and areas in Disneyland and Disney California Adventure parks.