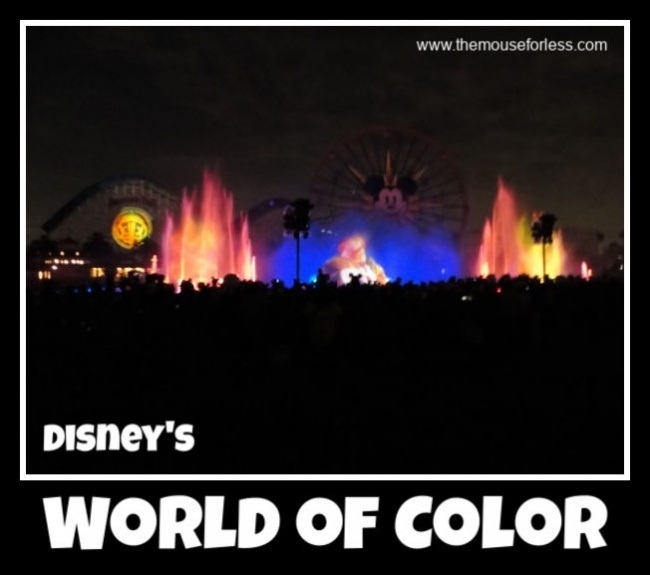 World of Color features more than 1,200 fountains erupt together to create elaborate patterns, dancing to music. Together with fire effects, fog, lasers and animation projected on the water screens create a spectacular display across the lagoon of Paradise Pier. Since "World of Color" made its debut back in 2010, the show has featured occasional updates and surprises, ranging from "TRON: Legacy" to "Prep & Landing" to another new sequence, inspired by the Disney*Pixar film "Brave.'
**World of Color is currently presenting World of Color – Season of Lights.**
Disneyland's World of Color
Type of Attraction: Show – Hydrotechnic
Duration of Attraction: 22 minutes
Show Times: Typically, First Show starts between 8:00 p.m. and 9:00 p.m. and the Second Show starts between 9:15 p.m. and 10:15 p.m.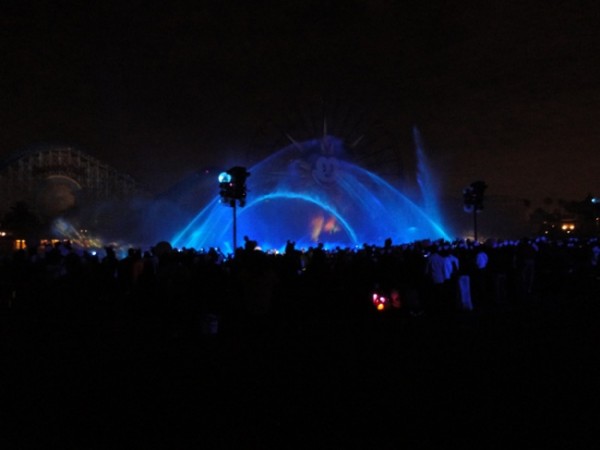 Viewing Areas
Another way to enjoy reserved/preferred viewing is to obtain your voucher through the World of Color Dining Packages. Dining packages include a 3 course dinner, 1 non-alcoholic beverage, and 1 voucher to the preferred viewing area.
Non-reserved viewing is available on a first come, first serve basis around Parrots Bay.
Did You Know?

There are 6 dome projection screens. It took 15 months to transform Paradise Bay for World of Colors. The underwater grid has over 18,000 point of control! At 50ft high and 380ft wide (19,000 sq. ft. in all) World of Color has one of the world's largest projected water screens. The score of World of Color spans 8 decades of classic Disney music and songs. It took 5 months to program the show and 6 technical directors to run the show.
During the holidays guests can enjoy a cheerful twist on the classic show. World of Color – Season of Light originally debuted in 2016 and has captivated audiences ever since. Using over 800 individual light fixtures, more than 1,200 water fountains, and almost 20 high definition projectors this show is magically spectacular. It includes the lovable Elsa and Anna of Frozen plus 120 different Disney and Pixar characters.
The Mouse For Less Tips

Guests are not able to select specific show times for this particular show.

Beginign Jan 6, 2020 Carthay Circle Restaurant is closing for refurbishements and will not be available for the World of Color Dining Packages.

Storyteller's Café has recently been added to the dining package options. Enjoy a delicious buffet dinner as opposed to a sit down 3 course meal before the show.

Remember that viewing areas are standing only (including preferred viewing). The show is roughly 22 minutes, but for a young child or elderly presoln this might be tiring. Keep in mind those you are visiting with and everyone's physical needs.