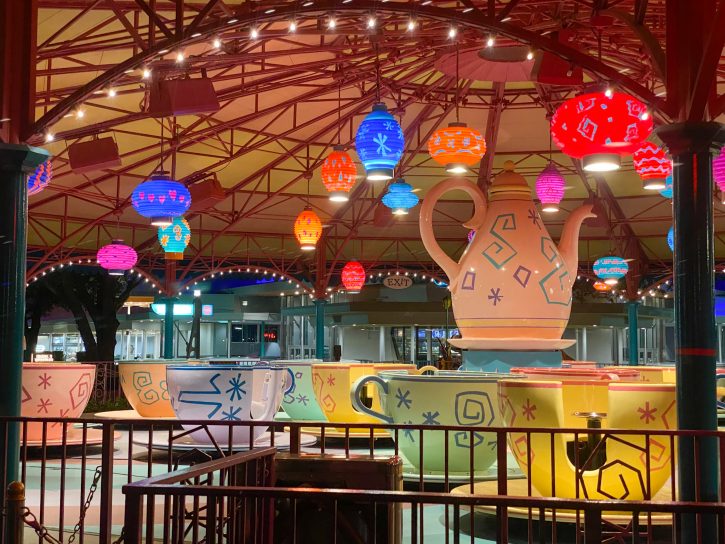 Is today your unbirthday?  Well, even if it isn't, be sure to celebrate the day by taking a spin, or 50, on the Magic Kingdom's classic teacups!  Be sure to watch for The Dormouse as you  spin around in this Mad Tea Party!
Ride Information Restrictions  Accessibility  Location Fun Facts Top 5 Tips
Ride Information
Opening Day: October 1, 1971
Type of Ride: Spinning teacups
Age Recommendation: All ages
Duration of Ride: About 1 minute
Typical Queue Time: Short to moderate; peaks at about 35 minutes on the busiest days
Single Rider Line: No
Chicken Exit Available: No
Baby Swap Available: No
Type of Vehicle: Teacup
Type of Restraint: None
Attraction Open During Extended Evening Hours: Yes. See our Extended Evening Hours page for more information.
Ride Photo Available For Purchase: No

Planning a Walt Disney World Vacation?
For a Free no-obligation quote, contact our sponsor
The Magic For Less Travel
. Services are provided free of charge and their expert planning advice will help you make the most of your vacation time and money.
Ride Restrictions
Height Requirements: None
Flash Photography or Video Allowed: Yes
Safety, Accessibility, and Guest Policies
Accessibility: Must Transfer from Wheelchair/ECV
Guest Policies: Children under age 7 years must be accompanied by a person age 14 years or older.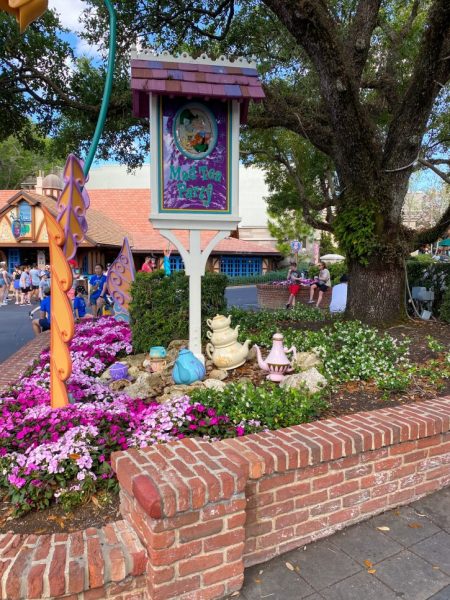 Location
Park Map of Magic Kingdom: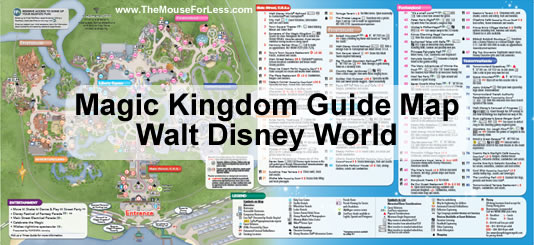 Other Rides/Attractions In the Area:
This attraction is located in the Magic Kingdom's Fantasyland.
Shopping: Guests can purchase Winnie the Pooh merchandise at "Hundred Acre Goods."
Dining/Refreshment: Close by in adjacent Tomorrowland, guests can enjoy a counter service lunch or dinner at Cosmic Ray's Starlight Café. Cosmic Ray's offers an expansive menu, which includes burgers, hot dogs, and chicken and rib combo meals. For parties preferring to eat a full service meal in Fantasyland, be sure to make an ADR up to 180 days in advance for any meal at Be Our Guest Restaurant or Cinderella's Royal Table.  Even though Be Our Guest Restaurant is a counter service restaurant at lunch and utilizes a hybrid service style at breakfast, ADRs are strongly recommended.
Restroom: Facilities convenient to Mad Tea Party are situated behind Cheshire Café.
Smoking Location: Smoking is permitted in designated smoking areas only. Disney parks are smoke free.
Mad Tea Party Fun Facts
Did you know?
Mad Tea Party is based on and themed after the "unbirthday" scene of Disney's 1951 film Alice in Wonderland. The attraction features tea cup vehicles perched atop corresponding dishes of varying colors, hanging lanterns, and a centralized teapot with The Dormouse from the movie popping out of the top.
Mad Tea Party is located at each of the five Disneyland-style parks around the globe. The attraction is entitled "Mad Tea Party" at the Magic Kingdom and Disneyland Park, "Alice's Tea Party" at Tokyo Disneyland, "Mad Hatter's Tea Cups" at Disneyland Paris, and "Mad Hatter Tea Cups" at Hong Kong Disneyland. Anaheim's Mad Tea Party is the only version of the attraction sans a protective roof or canopy.
Disneyland has a second attraction, "Alice in Wonderland," based on Alice in Wonderland. This dark ride transports guests in caterpillar-shaped vehicles through dioramas retelling the movie's story.
Alice and the Mad Hatter usually, though not always, dine with guests at the Grand Floridian Resort's 1900 Park Fare restaurant during breakfast and the afternoon Wonderland Tea Party. The latter offering, open to guests ages 4 to 12, is the quintessential serene tea party. ADRs are strongly recommended for both offerings.
History
Mad Tea Party is one of 14 attractions remaining in some form from the Magic Kingdom's opening day, October 1, 1971. The others are "Cinderella's Golden Carrousel" (now Prince Charming Regal Carrousel), Country Bear Jamboree, "Dumbo the Flying Elephant," "Frontierland Shootin' Arcade," Hall of Presidents, Haunted Mansion, It's a Small World, Jungle Cruise, "Peter Pan's Flight,"  Swiss Family Treehouse, Tropical Serenade (now Enchanted Tiki Room), Grand Prix Raceway (now Tomorrowland Speedway), and "Walt Disney World Railroad."
Mad Tea Party is among six current Magic Kingdom attractions to have debuted in corresponding designs with both Disneyland Park and the Magic Kingdom, on July 17, 1955 and October 1, 1971, respectively. The others are the Carrousel, the Speedway (Autopia at Disneyland), Jungle Cruise, Peter Pan's Flight, and the Railroad.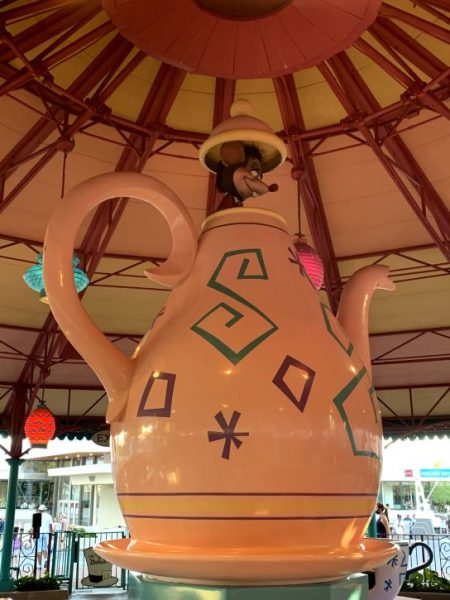 Top Tips for Mad Tea Party
Guests prone to motion sickness should avoid Mad Tea Party.
Turn the wheel in the center of the vehicle to control the teacup's spin. Be aware, though, that this attraction is dizzying regardless of the spin because the teacups swiftly crisscross the centralized platform.
Take in the details of the attraction.
Look out for dormouse in the center teapot of the ride.
Consider watching Alice in Wonderland prior to your visit to better appreciate the attraction.