Celebrating an Anniversary at Walt Disney World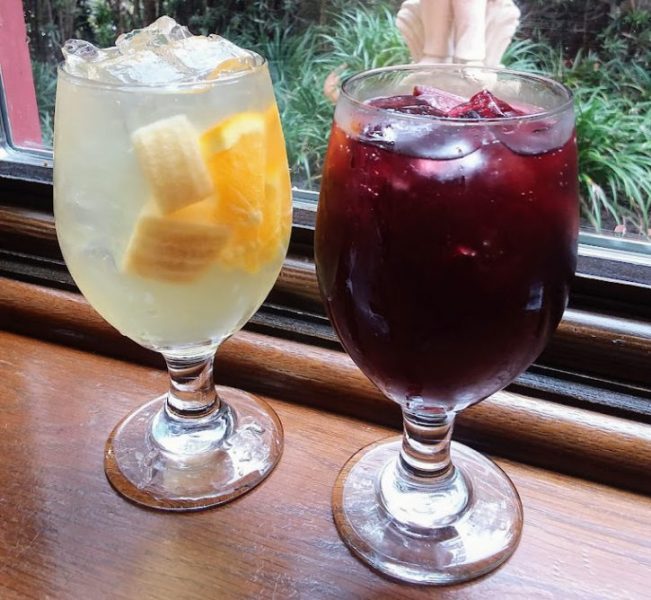 Dinner     Button     Tour     Deluxe Resort     Floral and Gifts     Spa Day     Special Experiences     Photography Session     Movies     Fireworks Cruise     Dessert Party     Weddings
Eat at a Table Service Restaurant
There is nothing like a nice dinner to celebrate your true love! While celebrating an anniversary at Walt Disney World, there are many choices of places in which to share a romantic meal. The most expensive and extravagant dinner option is Victoria and Albert's signature dining experience. If this is out of your price range, there are many other restaurants around Walt Disney World that make excellent choices for an anniversary dinner. There are other signature dining experiences such as Narcoosee's and Jiko which are fantastic choices for a romantic evening. Stepping down to regular table service restaurants, romantic places to eat include: Be Our Guest, Le Chefs de France, and Boma. You could even eat at Tony's Town Square restaurant and re-enact the iconic scene from Lady and the Tramp by sharing a spaghetti plate. More information about restaurant choices can be found here.
Get a Button
Disney offers free celebration buttons. All you have to do is stop by guest relations and tell the cast members that you are celebrating.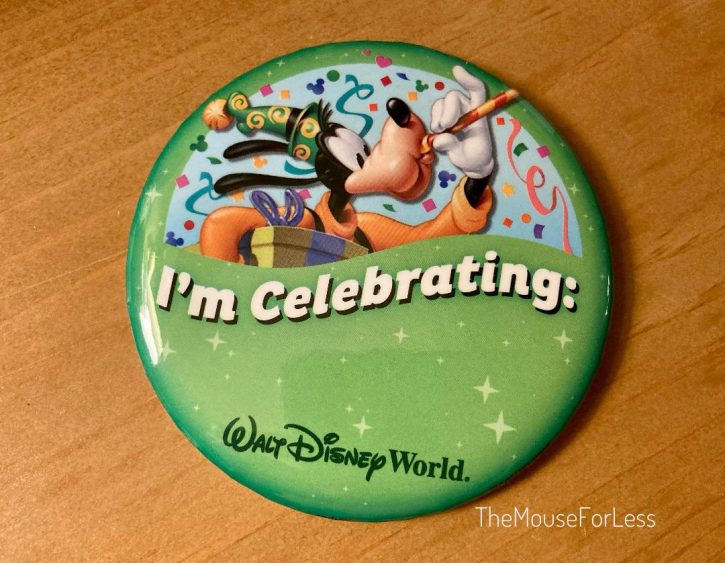 Take a Tour
If you and your significant other share a love for all things Disney, a tour may be the perfect splurge for celebrating an anniversary at Walt Disney World. Tours at Disney vary in price dramatically, from the affordable Behind the Seeds Tour, to more expensive tours like the immersive Wild Africa Trek. There are a lot of options for tours at Walt Disney World; for more help in choosing the one that's right for you, click here.
Stay at a Deluxe Resort
There is nothing more immersive than staying at a Deluxe resort on property at Walt Disney World. What better way to celebrate than to stay in a room with a view of Cinderella's castle? There are many advantages to staying at a Deluxe resort including: convenient transportation to the parks, table service restaurants in the resort, and extravagant swimming pools. To really make this a special trip consider staying Club Level.
Disney Floral and Gifts
If you are really looking to spoil your significant other while celebrating an anniversary at Walt Disney World, then look no farther than Disney Floral and Gifts. This service will set up a celebratory package in you Disney resort room for you to find upon check-in. The options are endless, as Disney Floral and gifts offers custom packages that are unique to your needs.
Spa day
What could be nicer than a couples spa treatment? Walt Disney World is home to some extremely nice spas that offer packages to suit your needs. To learn more about spas at Walt Disney World click here.
Special Experiences
If you would like to do something unique for your anniversary celebration Walt Disney World offers some great options. You could rent a horse-drawn carriage for a romantic drive or take a boat out onto the water for some fun on the lagoon. You could even rent an amphicar at Disney Springs or a surrey bike on the Boardwalk. There are many special experiences that could take your anniversary celebration to the next level. Check out our list of Recreation options at Disney.
Get pictures made
Record your special milestone with a photography session with your own private photographer. Your anniversary pictures will be divine when taken by a Disney Fine Arts photographer. I mean, who wouldn't want their anniversary pictures taken in the gorgeous Walt Disney World parks? If you don't want to splurge quite that much, consider getting Memory Maker for your trip.
Buy some Bride and Groom mouse ears for your photos, and opt to wear matching shirts for some of your days in the parks.
See a movie
Disney Springs can elevate your typical date night with AMC theaters. These special movie theaters offer the option to eat while watching a movie. This can take your classic date to a whole new level.
Fireworks Cruise
Floating on the water with your true love with fireworks exploding into the night sky has got to be one of the most romantic experiences offered at Walt Disney World. This splurge could be the perfect way to celebrate you Anniversary. To elevate the experience further, you can even order a food package to celebrate your love.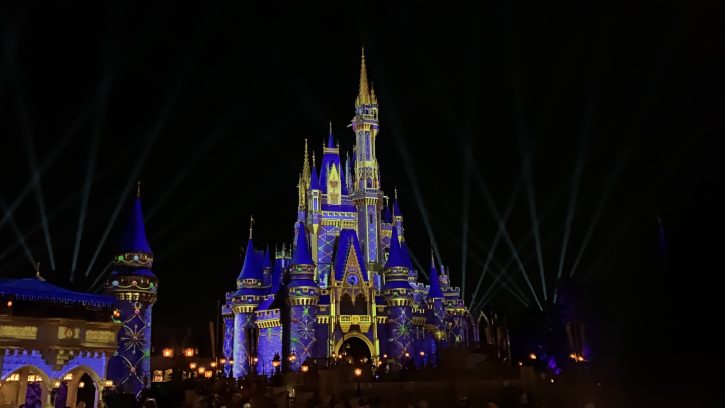 Dessert Party
Enjoying sweets and fireworks in the evening at a Disney park could be the perfect way to celebrate your anniversary. Unlimited desserts and a private viewing area for fireworks seems like an excellent idea for a special anniversary date.
Disney Weddings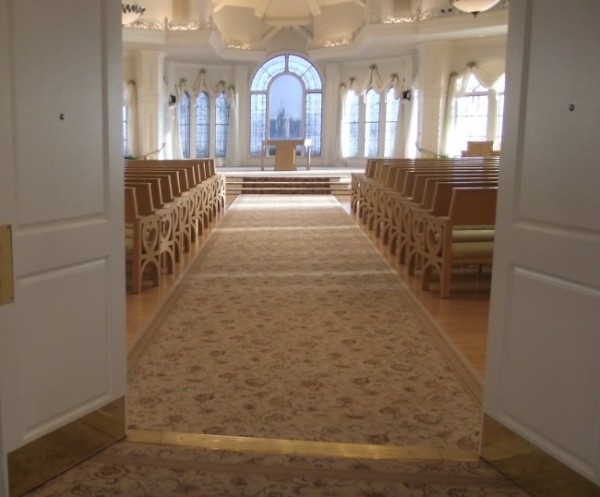 If none of these other options seemed to exactly suit your needs, there is one more thing that may do the trick. Disney's Wedding services specialize in making you trip the most romantic trip of all time. If you are celebrating an anniversary it is likely that you are already married, but a fairy tale, dream come true, vow renewal may be the perfect extravagant celebration for your special anniversary. Disney's Fairy Tale Weddings service will work ceaselessly to make your dream of a romantic event come true.