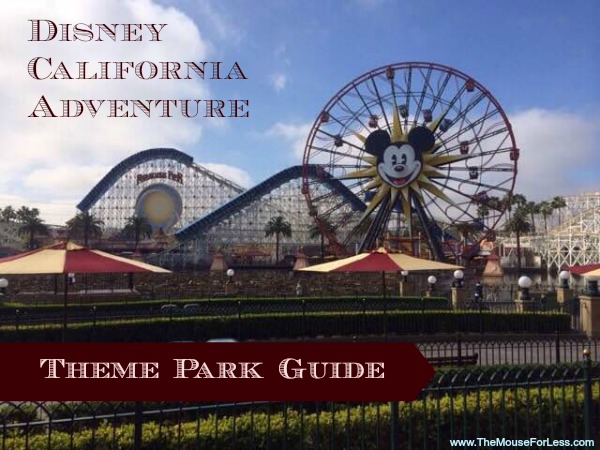 Explore the history and culture of California in a fun, unique setting. Although Disney California Adventure opened in 2001, it receive a major redesign and expansion that was completed in 2012.The most recent addition to the park was the completion of Avengers Campus when the Disneyland Resort reopened in mid-2021, after being closed for over a year due to the COVID-19 pandemic.
Admission  Rides & Attractions  Dining   Early Theme Pary Entry  Child Care  Stroller & Locker Rentals  Fireworks  Parades  Tours  Wheelchair Accessibility   Transportation   Contact Numbers
Admission
Unlike Walt Disney World in Florida, the Disneyland Resort features two parks in very close proximity of each other. It is as simple as walking across the esplanade to get from one park to the other, which can make the park hopper an attractive option.
More park admission details and money saving options can be found on our Disneyland Tickets page.
Guests under the age of 14 years must be accompanied by a guest age 14 years or older in order to enter the park. To board an attraction, children under age 7 must be accompanied by a person age 14 years or older.
To access the Wi-Fi hot spots at Disneyland park visit our Disneyland Resort Wi-Fi Guide for hot spot locations as well how to connect. 
An official list of park rules and prohibited items can be found on Disney's website.

Planning a Disneyland Vacation?
For a Free no-obligation quote, contact our sponsor
The Magic For Less Travel
. Services are provided free of charge and their expert planning advice will help you make the most of your vacation time and money.
Attractions
There are 7 different themed areas, or lands, at Disney California Adventure. Each land has its own unique feel from the rides and attractions to the cast member costumes and background music.
Buena Vista Street
Five & Dime
Red Car Trolley
Cars Land
DJ's Dance n' Drive
Luigi's Rollickin' Roadsters
Mater's Junkyard Jamboree
Radiator Springs Racers
Grizzly Peak
Grizzly River Run
Redwood Creek Challenge Trail
Soarin' Around the World
Hollywood Lands
Animation Academy
Disney Junior Dance Party
Monsters Inc. Mike & Sulley to the Rescue!
Sorcerer's Workshop
Turtle Talk with Crush
Pacific Wharf
The Bakery Tour
Mariachi Divas
Paradise Gardens Park
Golden Zephyr
Goofy's Sky School
Jumpin' Jellyfish
The Little Mermaid: Ariel's Undersea Adventure
Operation Playtime! Featuring the Green Army Men
Silly Symphony Swings – Single
Silly Symphony Swings – Tandem
World of Color
Pixar Pier
Incredicoaster
Pixar Pal-A-Round – Non Swinging
Pixar Pal-A-Round – Swinging
Toy Story Midway Mania!
Avenger Campus
Guardians of the Galaxy – Mission: Breakout!
Web Slingers: A Spider-Man Adventure
The Ancient Sanctum

Throughout the park Disney PhotoPass photographers will capture guests caught up in the Disney experience. Disney's PhotoPass gives guests the opportunity to have great high-resolution photos taken by Disney Photographers using state-of-the-art digital equipment at picturesque locations. Even better, your photos can be accessed, shared, and ordered online. Visit our Disney's PhotoPass Guide for more information on Disney's PhotoPass service.
Dining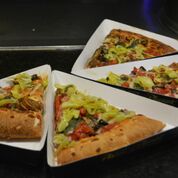 There is no shortage of food options at Disney California Adventure Park. Guests wishing to bring their own meals may find seating in the picnic area just outside Disneyland's main entrance. Here guests will find tables, chairs, shade umbrellas and storage lockers.
Coolers larger than a 6-pack size are not allowed into the theme parks. Lockers are available near the picnic area just outside the Disneyland entrance. The lockers can accommodate coolers up for 18″ wide x 25″ high x 37″ deep. Lockers are not refrigerated and are limited. In addition, alcoholic beverages and glass containers are not permitted.
For those who prefer to leave the cooking to Disney, the following selections are available. Click on the name below for menu. Visit our Disneyland Menu Page for a complete list of menus available for Disney California Adventure.
Avenger's Campus
Pym Tasting Lab
Pym Test Kitchen
Buena Vista Street
Fiddler, Fifer & Practical Cafe (sponsored by Starbucks)
Clarabelle's Hand-Scooped Ice Cream
Carthay Circle Restaurant
Carthay Circle Lounge
Cars Land
Fillmore's Taste-In
Cozy Cone Motel
Flo's V8Cafe
Grizzly Peak
Smokejumpers Grill
Hollywood Land
Award Wieners,
Schmoozies,
Fairfax Market
Studio Catering Co.
Pacific Wharf
Magic Key Terrace
Cocina Cucamonga Mexican Grill,
Lucky Fortune Cookery,
Mendocino Terrace
Rita's Baja Blenders,
Pacific Wharf Cafe,
Ghirardelli Soda Fountain and Chocolate Shop,
Wine Country Trattoria at the Golden Vine Winery,
Sonoma Terrace at the Golden Vine Winery
Paradise Gardens Park
Bayside Brews,
Boardwalk Pizza & Pasta
Paradise Garden Grill
Corn Dog Castle
Pixar Pier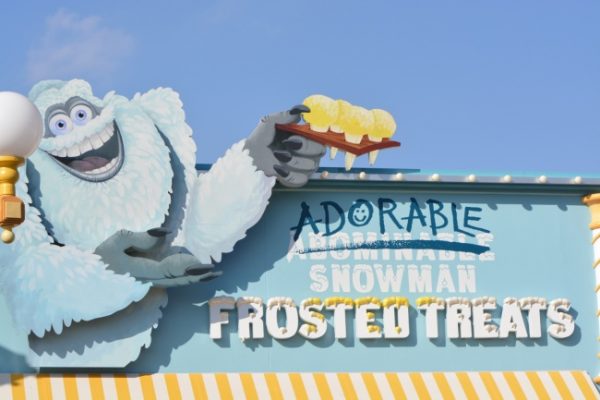 Adorable Snowman Frosted Treats
Angry Dogs
Jack-Jack Cookie Num Nums
Lamplight Lounge
Poultry Palace
Senor Buzz Churros
Genie+
Genie+ is a great system that lets you "eliminate the wait" at the many popular park rides and attractions. Nothing feels better than being able to bypass the wait and jump straight to the front of the line. Guests schedule their Lightning Lane selection through their Disneyland app after purchasing Genie+ for the day. Check out the available Return Time. Make the selection then just come back to the ride during the designated return time and you will allowed into a special Lightning Lane return queue.
Lightning Lane is offered on the following Disney California Adventure rides and attractions:
Goofy's Sky School
Grizzly River Run
Guardians of the Galaxy – Mission: BREAKOUT!
Guardians of the Galaxy – Monsters After Dark (During Halloween season)
Incredicoaster
Soarin'
Toy Story Midway Mania!
Monster's Inc Mike & Sulley to the Rescue!
Web Slingers
Radiator Springs Racers (individual Lightning Lane purchase)
Also included with Disneyland's Genie+ is the availability of digital downloads of PhotoPass photos taken for the day including any ride photos.
Early Theme Park Entry
Guests staying at one of the Disneyland Resort hotels can take advantage of admission to Disneyland Park or Disney California Adventure Park 30 minutes early to enjoy select attractions, dining and shopping locations.
Valid hotel stay, theme park admission and park reservation are required.  Park reservations are limited, subject to availability and not guaranteed.
Child Care
Baby Care Center
Parents with infants can visit Disney California Adventure worry free with the services of the Baby Care Centers. The baby care centers are located next to the Ghirardelli Soda Fountain and across from The Bakery Tour in Pacific Wharf. The following is a list of all the amenities offered at Disney's California Adventure Park baby care center.
Nursing room with chairs.
Changing room with changing tables.
Highchairs and feeding area.
Kitchen with microwave and sink.
Main room includes tables, chairs, & television.
Vending machine offering formula, juice, diapers, wipes, sunscreen, pacifiers, and over the counter medication.
*Items in vending machine available for purchase.
Lost Children
In the case of a lost child the California Adventure Park follows strict protocol. A cast member will take them to the baby care center where he or she will be looked after until their family arrives.
In the event that you lose your child or come across a lost child report this to a cast member. Then Disneyland Resort security will assist you further.
There's nothing more frightful to parents than the thought of losing their child in the ocean of people inside a theme park. There are many fascinating distractions at Disneyland and children can wander off in a blink of an eye. Have a plan, before your vacation, make and print some Kids Travel IDs. There are many designs to choose from, they're easy to make and children love to have their own ID cards. Before you start your touring for the day, take a picture of your child from your camera, phone or by a Disney Cast Member on your Photopass so that you can readily show a Cast Member what your child is wearing and what he/she looks like if you should become separated from your child. Set up a meeting area in the park.
Strollers & Locker Rental
Strollers
Stroller rentals are available for single day rentals outside the Disneyland Park Main entrance. Stroller rental is $15 per day for one stroller or $25 per day for two strollers. Strollers may be brought into Disneyland and Disney California Adventure (just not Downtown Disney). The convenience of not having to take your child out of the stroller as you switch parks is very nice for families.
Strollers larger than 36″ x 52″ and wagons are not permitted.
For guests who would like to customize their stroller tags to make identifying their rental stroller easier they create their personalized tags with many design choices from The Mouse For Less' Stroller Tags page.
Lockers
Lockers are located inside Disney California Adventure on Buena Vista Street.  Rental includes unlimited access throughout the day at one price.
Small 12″w x 18″h x 12.5″d
Large 12.5″ x18 " x 19″
X-Large 15″ x 25 " x 19 "
Jumbo 15″ x 25″ x 25″
Super Jumbo 18″ x 25″ x 37″ (Inside picnic area only)
Lockers are also available at Disneyland and the Esplanade between the parks.
Fireworks
Disney's World of Color is a nighttime spectacular like none other. Animation is projected on water screens, 1,200 fountains erupt in time to your favorite Disney music, and special effects abound.
Parades
Disney California Adventure is home to many parades throughout the year. Many are temporary and only last a few weeks. Make sure to check a Times Guide to see which parade is showing during your trip.

Tours
VIP touring is available to make your family's trip extra special. VIP Services has a minimum requirement of 6 hours.
To reserve and tours or for more information including dates, call (714)781-TOUR (8687). Separate park admission is required for all tours. Magic Key holders receive a discount on  guided tours.
Wheelchair Accessibility and Service Animals
For the convenience of Guests with disabilities, wheelchairs and Electric Conveyance Vehicles (ECVs) are available for rent at the Disneyland Resort.  Quantities are limited and subject to availability. Reservations are not available. Wheelchairs and ECVs may be used at both Disneyland and Disney California Adventure. Rentals are not permitted at Downtown Disney. Guests are welcome to bring their own ECVs and wheelchairs throughout the resort.
Trained service animals are welcome at Disneyland and are allowed in most locations. Not all attractions can accommodate service animals. In those instances a member of the Guest's party must remain with the animal. All service animals must remain on a leash or harness at all times. Service animals are welcome to use any open outdoor area for relief, provided the owner picks up after the animal. In addition, there are designated Relief Areas in Frontierland (Frontierland/Fantasyland transition area), Fantasyland (planter across from "it's a small world,") and in New Orleans Square (fountain are planter near train station).
Most restrooms are designed for access by Guests using wheelchairs. Companion-assisted restrooms are also available in select locations including City Hall and Tom Sawyer's Island.
Transportation
Disneyland is a pedestrian resort. The two theme parks—Disneyland Park and Disney California Adventure— are an easy walk across the Esplanade from each other. Guests can walk through Downtown Disney to easily reach the three Disneyland Resort Hotels.
For guests arriving via car, there are complimentary trams available from the Mickey and Friends Parking structure to the theme park.
For guests staying at an offsite hotel, check the distance with your hotel's reservations department. Some hotels are with walking distance of the Disneyland Resort, but most offer a shuttle service. Guests may also opt to use the Anaheim Resort Transportation system (ART) to shuttle through the area.
Contact Numbers
Dining Reservations – (714) 781-DINE; (714) 781-3463
Guest Information – (714) 781-4565
Lost and Found– (714) 817-2166
Merchandise (800) 362-4533
Reservations – (714) 520-5060 or call your favorite travel agent at The Magic For Less Travel at (888) 330-6201
Ticketing – (714) 781-4565