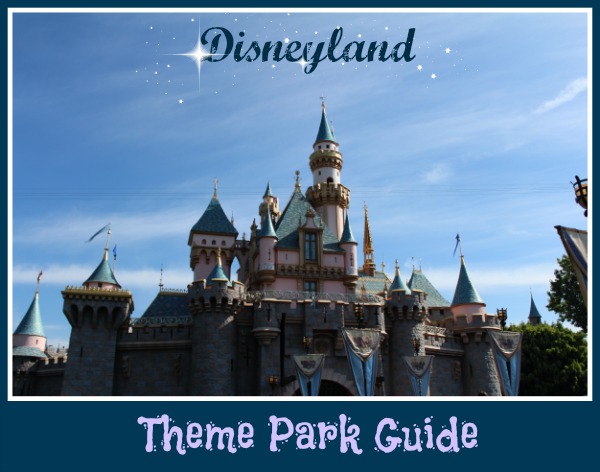 This is where the magic began. Disneyland, which opened in 1955 is the park the Walt Disney himself built. This is the place where families and friends come to play together. The sense of history and the amazing planning of this park are evident in every corner. That being said, Walt once commented that, "Disneyland will never be completed. It will continue to grow as long as there is imagination left in the world." So there is always something new and fun to see at Disneyland as well.  Let our Disneyland theme park guide help you plan your visit!
Admission Rides & Attractions Dining
Shopping Genie+ Early Theme Park Entry
Child Care Stroller & Locker Rentals Fireworks & Parades
Tours Wheelchair Accessibility Transportation
Admission
Disneyland has one day, one park tickets or park hoppers.  There are 5 tiers of pricing depending on the date you choose to visit.  The tiers range from value/weekday to holiday/weekend.  Choosing the right ticket for your visit is fairly straight forward. Guests simply need to choose the number of days for the ticket and select single park or the hopper option. Park hopping allows guests admission to both Disneyland Park and Disney California Adventure. Pricing for the park hopper.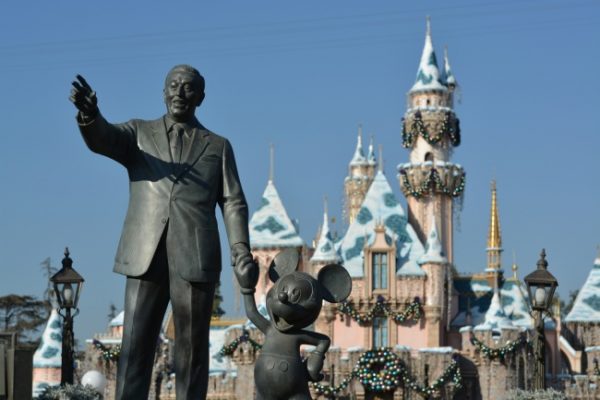 Unlike Walt Disney World in Florida, the Disneyland Resort features two parks in very close proximity of each other. It is as simple as walking across the esplanade to get from one park to the other, which can make the park hopper an attractive option.
More park admission details and money saving options can be found on our Disneyland Tickets page.
Guests under the age of 14 years must be accompanied by a guest age 14 years or older in order to enter the park. To board an attraction, children under age 7 must be accompanied by a person age 14 years or older.
To access the Wi-Fi hot spots at Disneyland park visit our Disneyland Resort Wi-Fi Guide for hot spot locations as well how to connect.
An official list of park rules and prohibited items can be found on Disney's website.

Planning a Disneyland Vacation?
For a Free no-obligation quote, contact our sponsor
The Magic For Less Travel
. Services are provided free of charge and their expert planning advice will help you make the most of your vacation time and money.
Attractions
There are eight different themed areas, or lands, at Disneyland. Each land has its own unique feel from the rides and attractions to the cast member costumes and background music.
Adventureland
Enchanted Tiki Room
Indiana Jones Adventure
Jungle Cruise
Adventureland Treehouse
Critter Country
Splash Mountain (Closing soon to make way for Tiana's Bayou Adventure)
The Many Adventures of Winnie the Pooh
Davey Crockett's Explorer Canoes
Fantasyland
Alice in Wonderland
Casey Jr. Circus Train
Dumbo the Flying Elephant
"it's a small world"
King Arthur Carrousel
Mad Tea Party
Matterhorn Bobsleds
Mr. Toad's Wild Ride
Peter Pan's Flight
Pinocchio's Daring Journey
Sleeping Beauty Castle Walkthrough
Snow White's Enchanted Wsih
Storybook Land Canal Boats
Frontierland
Big Thunder Mountain Railroad
Pirate's Lair on Tom Sawyer Island
Frontierland Shootin' Exposition
Mark Twain Riverboat
Sailing Ship Colombia
Main Street U.S. A.
The Disney Gallery
Main Street Cinema
Main Street Vehicles
The Disneyland Story presenting Great Moments with Mr. Lincoln
Mickey's Toontown
Chip 'n' Dale Treehouse
Donald's Boat
Gadget's Go Coaster
Goofy's Playhouse
Mickey & Minnie's Runaway Railway
Mickey's House & Meet Mickey
Minnie's House
Roger Rabbit's Car Toon Spin
New Orleans Square
Haunted Mansion
Pirates of the Caribbean
Tomorrowland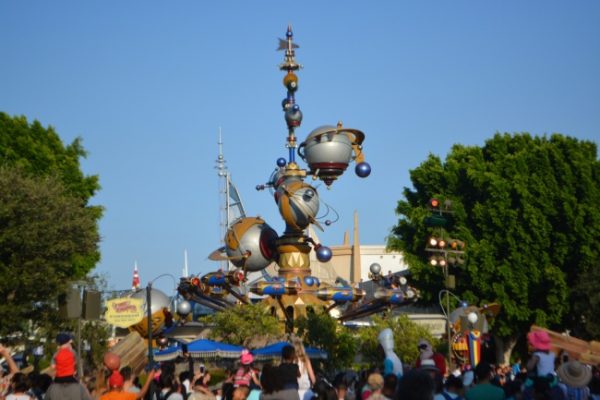 Astro Orbitor
Autopia
Buzz Lightyear Astro Blaster=
Disneyland Monorail
Finding Nemo Submarine Voyage
Space Mountain
Star Tours – The Adventures Continue
Star Wars: Galaxy's Edge
Millennium Falcon: Smugglers Run
Star Wars: Rise of the Resistance
Dining
There is no shortage of food options at Disneyland Park. Guests wishing to bring their own meals may find seating in the picnic area just outside Disneyland's main entrance. Here guests will find tables, chairs, shade umbrellas and storage lockers.
Coolers larger than a 6-pack size are not allowed into the theme parks. Lockers are available near the picnic area just outside the Disneyland entrance. The lockers can accommodate coolers up for 18″ wide x 25″ high x 37″ deep. Lockers are not refrigerated and are limited. In addition, alcoholic beverages and glass containers are not permitted.
For those who prefer to leave the cooking to Disney, the following selections are available. Click on the name below for menu. Visit our Disneyland Menu Page for a complete list of menus available for Disneyland and Disney California Adventure Park.
Adventureland
Tiki Juice Bar
Bengal Barbecue
Tropical Imports
Tropical Hideaway
Critter Country
Harbour Galley
Hungry Bear Restaurant
Fantasyland
Maurice's Treats
Red Rose Taverne
Troubador Tavern
Edelweiss Snacks
Frontierland
River Belle Terrace
Stage Door Cafe
The Golden Horseshoe
Rancho del Zocalo Restaurante
Main Street, U.S.A.
Carnation Cafe
Gibson Girl Ice Cream Parlor
Refreshment Corner
Plaza Inn
Jolly Holiday Bakery Cafe
Market House
Mickey's Toontown
Cafe Daisy
New Orleans Square
Royal Street Veranda
Blue Bayou Restaurant
Cafe Orleans
Mint Julep Bar
Tiana's Palace
Tomorrowland
Galactic Grill
Alien Pizza Planet
Star Wars: Galaxy's Edge
Docking Bay 7 Food and Cargo
Milk Stand
Kat Saka's Kettle
Ronto Roasters
Oga's Cantina
Shopping
Shopping at Disneyland park is great for personal souvenirs, gift giving, makeovers, and more! Of course everyone's favorite boutique would be the Bibbidi Bobbidi Boutique located in Fantasyland, but there are a number of gift shops to explore.
Critter Country
The Briar Patch
Pooh's Corner
Fantasyland
Bibbidi Bobbidi Boutique
Fairy Tale Treasures
The Mad Hatter
Royal Reception
Frontierland
Pioneer Mercantile
Westward Ho Trading Company
Main Street, U.S.A.
20th Century Music Company
Candy Palace and Candy Kitchen
Crystal Arts
Disneyana
Disney Showcase
Emporium
The Mad Hatter
Main Street Photo Supply Co.
Silhouette Studios
Mickey's Toontown – Under Renovation
Tomorrowland
Little Green Men Store Command
The Star Trader
Star Wars: Galaxy's Edge
Black Spire Outfitters
Creature Stall
Dok-Ondar's Den of Antiquities
Droid Depot
First Order Cargo
Resistance Supply
Savi's Workshop – Handbuilt Lightsabers
Toydarian Toymaker
Disney Genie+
Disney Genie+ is a great system that lets you "eliminate the wait" at the many popular park rides and attractions. Nothing feels better than being able to bypass the wait and jump straight to the front of the line. Guests purchase Genie+ for the day and make reservations to the Lightning Lane through their Disneyland app.
Individual Lightning Lane
Mickey & Minnie's Runaway Railway
Star Wars: Rise of the Resistance
Genie+ is offered on the following Disneyland rides and attractions:
Autopia
Big Thunder Mountain
Buzz Lightyear Astro Blasters
Haunted Mansion (Holiday)
Indiana Jones Adventure
"it's a small world" (Holiday)
Millennium Falcon: Smugglers Run
 Matterhorn Bobsleds
Roger Rabbits Car Toon Spin
Space Mountain
Splash Mountain
Star Tours – The Adventures Continue
Also included with Disneyland's Genie+ is the availability of digital downloads of PhotoPass photos taken for the day including any ride photos.
Disney PhotoPass
Throughout the park Disney PhotoPass photographers will capture guests caught up in the Disney experience. Disney's PhotoPass gives guests the opportunity to have great high-resolution photos taken by Disney Photographers using state-of-the-art digital equipment at picturesque locations. Even better, your photos can be accessed, shared, and ordered online. Visit our Disney's PhotoPass Guide for more information on Disney's PhotoPass service.
Early Entry
Guests staying at one of the Disneyland Resort hotels can take advantage of admission to Disneyland Park or Disney California Adventure Park 30 minutes early to enjoy select attractions, dining and shopping locations.
Valid hotel stay, theme park admission and park reservation are required.  Park reservations are limited, subject to availability and not guaranteed.
Child Care
Baby Care Center
Parents with infants can visit Disneyland worry free with the services of the Baby Care Centers. The Baby Care Center is located on Main Street USA next to First Aid. The facility offers guests the following amenities to feed, change, and nurse babies.
Nursing room with chairs
Changing room with changing tables
Highchairs & feeding area
Kitchen with microwave & sink
Main room including tables, chairs, and television
Vending machine offering formula,  juice, diapers, wipes, sunscreen, pacifiers and over-the-counter medication
*Vending machine items available for purchase.
Lost Children
In the case of a lost child the California Adventure Park follows strict protocol. A cast member will take them to the baby care center where he or she will be looked after until their family arrives.
In the event that you lose your child or come across a lost child report this to a cast member. Then Disneyland Resort security will assist you further.
There's nothing more frightful to parents than the thought of losing their child in the ocean of people inside a theme park. There are many fascinating distractions at Disneyland and children can wander off in a blink of an eye. Have a plan, before your vacation, make and print some Kids Travel IDs. There are many designs to choose from, they're easy to make and children love to have their own ID cards. Before you start your touring for the day, take a picture of your child from your camera, phone or by a Disney Cast Member on your Photopass so that you can readily show a Cast Member what your child is wearing and what he/she looks like if you should become separated from your child. Set up a meeting area in the park.
Locker & Stroller Rentals
Lockers
Lockers are located inside Disneyland Park as well as outside of the park. Inside the park lockers can be rented.
Lockers are also available outside of the park.
Strollers
Stroller rentals are available for single day rentals outside the Disneyland Park Main entrance.  Strollers may be brought into Disneyland and Disney California Adventure (just not Downtown Disney). The convenience of not having to take your child out of the stroller as you switch parks is very nice for families.
Strollers larger than 36″ x 52″ and wagons are not permitted.
For guests who would like to customize their stroller tags to make identifying their rental stroller easier they create their personalized tags with many design choices from The Mouse For Less' Stroller Tags page.
Fireworks & Parades
No one puts on a nighttime fireworks display like Disney. The fireworks show above Sleeping Beauty Castle changes seasonally, so there is always something new to experience.
Fireworks
Fantasmic!
This is more than just a fireworks show. Witness a battle of good verses evil in Mickey's dream. The special effects abound in this spectacular. There is video projected on water, pyrotechnics, lasers, and even a 45-foot fire breathing dragon! Guests can enjoy the show with one of Disneyland's special dining experiences.
This show, which helps to celebrate the 100th anniversary of the Walt Disney Company features nods to all 60 Walt Disney Animation Studios films to date. It takes Guests on a journey filled with artistry, music, storytelling and heart. The show even features a new song called "It's Wondrous."
During the holiday season at Disneyland guests can view a festive display of fireworks, music, and holiday cheer with the "Believe.. in Holiday Magic" show. For more annual shows such as fourth of July or new years displays click here.
Parades
Mickey leads a cavalcade of fabulous Magic Happens floats, whimsically performers and Disney pals around the park to a high-energy contemporary musical score that puts a spin on classic Disney hits. In addition, a stirring song co-composed by singer-songwriter Todrick Hall is also be present as part of the parade. Floats include Moana in her voyager canoe, Miguel joined by his dog Danté from the film Coco, an the enchanted forest from Frozen 2 as Anna, Elsa, Olaf, Kristoff and Sven pass by. The parade's grand finale commemorates memorable moments from Disney classics in an incredible procession that's not to be missed.
Much like the fireworks, Disneyland holds specially themed parades during its holiday and Christmas season. To view different parades performed throughout the year click here.
Tours
VIP touring is available to make your family's trip extra special. VIP Services has a minimum requirement of 6 hours.
To reserve and tours or for more information including dates, call (714)781-TOUR (8687). Separate park admission is required for all tours. Magic Key holders receive a discount on  guided tours.
Transportation
Disneyland is a pedestrian resort. The two theme parks—Disneyland Park and Disney California Adventure— are an easy walk across the Esplanade from each other. Guests can walk through Downtown Disney to easily reach the three Disneyland Resort Hotels.
The Disneyland monorail runs between Tomorrowland in Disneyland Park and Downtown Disney for those guests looking to give their feet a little break.
For guests arriving via car, there are complimentary trams available from the Mickey and Friends Parking structure to the theme park.
For guests staying at an offsite hotel, check the distance with your hotel's reservations department. Some hotels are with walking distance of the Disneyland Resort, but most offer a shuttle service. Guests may also opt to use the Anaheim Resort Transportation system (ART) to shuttle through the area.
Wheelchair Accessibility and Service Animals
For the convenience of Guests with disabilities, wheelchairs and Electric Conveyance Vehicles (ECVs) are available for rent at the Disneyland Resort. Quantities are limited and subject to availability. Reservations are not available. Wheelchairs and ECVs may be used at both Disneyland and Disney California Adventure. Rentals are not permitted at Downtown Disney. Guests are welcome to bring their own ECVs and wheelchairs throughout the resort.
Trained service animals are welcome at Disneyland and are allowed in most locations. Not all attractions can accommodate service animals. In those instances a member of the Guest's party must remain with the animal. All service animals must remain on a leash or harness at all times. Service animals are welcome to use any open outdoor area for relief, provided the owner picks up after the animal. In addition, there are designated Relief Areas in Frontierland (Frontierland/Fantasyland transition area), Fantasyland (planter across from "it's a small world,") and in New Orleans Square (fountain are planter near train station).
Most restrooms are designed for access by Guests using wheelchairs. Companion-assisted restrooms are also available in select locations including City Hall and Tom Sawyer's Island.
Contact Numbers
Dining Reservations – (714) 781-DINE; (714) 781-3463
Fantasmic! Premium Viewing – (714) 781-7469
Guest Information – (714) 781-4565
Lost and Found– (714) 817-2166
Merchandise (800) 362-4533
Reservations – (714) 520-5060 or call your favorite travel agent at The Magic For Less Travel at (888) 330-6201
Ticketing – (714) 781-4565