Guests enjoy a multi-sensory experience based on Pixar's 1998 film A Bug's Life.  A 4D extravaganza, It's Tough to Be a Bug, is brilliantly situated inside the Animal Kingdom's icon, the Tree of Life.
Ride Information  Restrictions  Accessibility  Location  Fun Facts  Top 5 Tips
Ride Information
Opening Day: April 22, 1998
Type of Ride: 3D show
Age Recommendation: Older children and adults
Duration of Ride: About 9 minutes
Typical Queue Time: Usually none; duration until the next show
Single Rider Line: No
Chicken Exit Available: Yes
Baby Swap Available: No
Type of Vehicle: None
Type of Restraint: None
Attraction Open During Early Theme Park Entry: Yes. See our Early Theme Park Entry page for more information.
Ride Photo Available For Purchase: No

Planning a Walt Disney World Vacation?
For a Free no-obligation quote, contact our sponsor
The Magic For Less Travel
. Services are provided free of charge and their expert planning advice will help you make the most of your vacation time and money.
Ride Restrictions
Height Requirements: None
Flash Photography or Video Allowed: None
Safety, Accessibility, and Guest Policies
Accessibility: 
Guests permitted to stay in wheelchair
Audio Description
Assistive Listening
Handheld Captioning
Service animals permitted with caution
Guest Policies: Children under age 7 years must be accompanied by a person age 14 years or older.
Location
Shopping: Purchase a plethora of souvenirs, including plush dolls and Disney-themed apparel nearby at "Island Mercantile." In addition, find clothing, watches, jewelry, baskets, masks, and pottery sold at "Disney Outfitters."
Dining/Refreshment: Situated nearby on Discovery Island are two counter service restaurants: Flame Tree BBQ and Pizzafari. Flame Tree BBQ offers an array of barbecue favorites, including St. Louis Ribs, chicken, a pulled pork sandwich, and onion rings. Meanwhile, Pizzafari serves personal pizzas, pasta, a meatball hero, and garlic knots. In addition, visit "Tiffins" located on Discovery Island for an upscale sit-down restaurant.
Restroom: Find restrooms convenient to this attraction situated at Pizzafari and Flame Tree BBQ.
Smoking Location: Smoking is permitted in designated smoking areas only. Disney parks are smoke free.
Fun Facts
Did you know?
It's Tough to Be a Bug is housed in perhaps the most beautiful theater in all of Walt Disney World: the Animal Kingdom's gargantuan icon, the Tree of Life. Although the Tree of Life looks like a tree, an oil rig serves as its base. Meanwhile, flexible fiberglass forms the branches of the tree. Imagineers developed the leaves to withstand the varied elements of Florida's climate. The tree features over 8,000 branches.
There are nearly 400 animals, including a rhino, a rattlesnake, a bison, a bear, an owl, a woodpecker, and a horse, carved into the Tree of Life's façade. David Greybeard, the famed chimpanzee of primatologist Jane Goodall's research, is the only such carving based on a real animal.
It's Tough to Be a Bug's queue meanders around the Tree of Life, allowing guests to observe its many details. The display includes several punny posters including "Termite-ator: The explosive soldier termite," "Claire De Room: The scent-illating stinkbug," and "The Dung Brothers: A dynamic 'doo doo' duo."
The indoor preshow waiting area for It's Tough to Be a Bug contains punny movie posters, such as "Web Side Story," "The Grass Menagerie," and "Beauty and the Bees." Music related to the actual films plays in the background via kazoo.
The 3D glasses for It's Tough to Be a Bug are called "Bug Eyes." Additionally, the audience plays the part of "honorary bugs."
The host of It's Tough to Be a Bug is an animatronic Flik, the ant from A Bug's Life. Flik humorously explains the role of insects. Additionally, an impressive animatronic of Hopper, the grasshopper from A Bug's Life, provides suspense.
4D effects, such as "bugs" crawling under your seat, a "bee" stinging you in the back, and a "stink bug" unleashing his gas, highlight the show.
History
Top 5 Tips for It's Tough to Be a Bug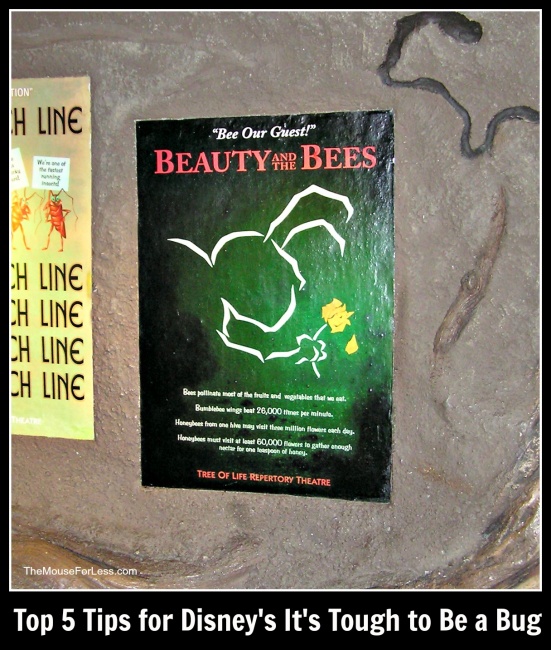 Although there is no height restriction, the show may scare guests afraid of bugs.
Before entering the theater, take some photographs of the various features of the exterior of the Tree of Life.
Consider watching A Bug's Life before your visit such as to better appreciate this attraction.
A great way to escape the harsh Florida heat, especially during the middle of the day.
If you enjoyed It's Tough to Be a Bug, consider experiencing Walt Disney World's other 3D shows, Mickey's PhilharMagic at the Magic Kingdom, Disney & Pixar Short Film Festival at Epcot, and Muppet Vision 3D at Disney's Hollywood Studios.