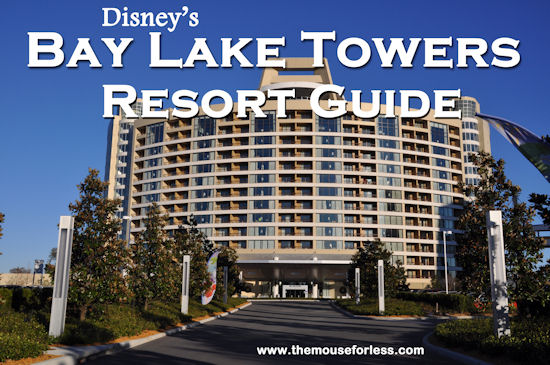 4600 N. World Drive
Lake Buena Vista, 32830
Phone: (407) 824-1000
Fax: (407) 824-3539
Refurbishment   Theme   Rooms   Dining   Recreation   Shopping
Transportation   Childcare   Resort Rates   Resort Map   Reviews
Activities   Top 10 Resort Tips   MFL Tips   Photos
Deluxe Resort Classification
Located in the Magic Kingdom resort area
Check In: 4:00 p.m. / Check Out: 11:00 a.m.
Crescent-shaped Bay Lake Tower has been designed to complement the fabled styling of its classic neighbor, the Contemporary Resort. Rising 15 stories just outside the gates of the Magic Kingdom, it delivers some of the most dramatic views available anywhere at Walt Disney World Resort. The largest suites have windows two stories tall. The exterior mimics the original resort's A-frame structure, while the two-story lobby is filled with woven woods and glass-wrapped columns. The pool has a unique water slide, wrapped in glass block.
Bay Lake Tower, like all Disney resorts, is smoke-free. Designated outdoor smoking areas are indicated on the Resort Map.
Resort Refurbishment
Check our Rehabs and Closures schedule for any refurbishments or work taking place at the Bay Lake Tower Resort during your visit.
Note: Guests check in at Bay Lake Towers via the lobby (instead of at the Contemporary Resort). In addition to handling check-in and check-out, the Bay Lake Tower lobby will be able to provide dining reservations, recreation, ticket sales, and planning assistance. The lobby front desk will be staffed from 7 a.m. to 10 p.m. daily.
Resort Theme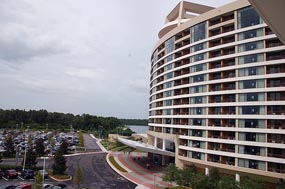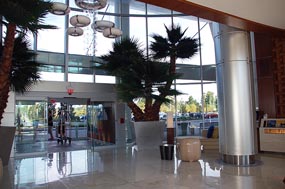 Bay Lake Tower has a modern theme with innovative features and a warm, luxurious feel.
Resort Rooms
There are two sections of this resort, the Bay Lake Tower, and the adjacent Contemporary Resort. Accommodations are located in Bay Lake Tower, while shops, dinning, recreation and monorail transportation are accessible via the convenient Sky Way Bridge to the Contemporary Resort. Guests must have a Bay Lake Tower room key to access the Sky Way Bridge. Room types consist of studios (sleep 4), one and two bedroom units (sleep 5 & 9), and 3-bedroom Grand Villas (sleep 12). Views include Standard View, Bay Lake View and Magic Kingdom View.
One-bedroom villas and larger include full kitchens that feature a full-size refrigerator, oven, stove, sink, dishwasher, dinnerware, glassware and flatware, pots and pans, and toaster. They also feature extra bathroom(s), sleeper sofa, sleeper chair, laundry area w/stacked washer and dryer, and whirlpool tub. Studios include smaller kitchenettes that feature a mini-refrigerator, wet bar, and paper & plastic dinnerware.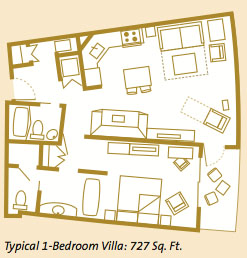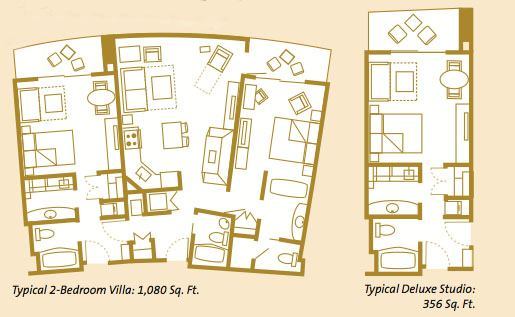 295 two-bedroom equivalent villas (428 rooms)
Building offers elevators and interior corridors
Disabled accessible rooms available
Private Balcony or Patio
Ceiling Fan
Clock Radio
Microwave
Coffeemaker & Setup
Telephone with Voicemail
Complimentary wireless Internet (Wi-Fi) (click link for specific details)
Flat-panel Satellite TV with Disney programming (in each bedroom and living room)
DVD Player
Hair Dryer
In-Room Wall Safe
Iron and Board
Ice bucket
Vacuum cleaner
Fire extinguisher
High chair (except Studios)
Pack 'N Play portable crib
Table & Chairs
Vanity Area
Other Services:
Self service laundry facilities
Valet laundry service
Business Center
Convention/meeting space
Salon/barber services
Valet parking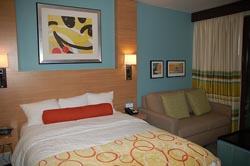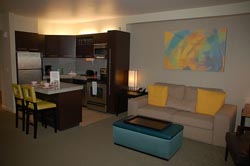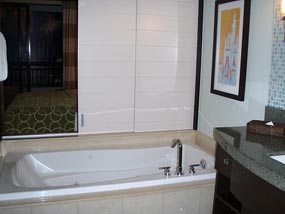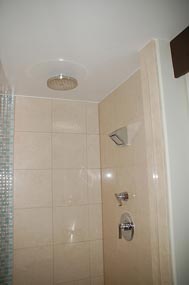 Whirlpool Tub w/sliding window & Shower w/standard shower head & overhead rain shower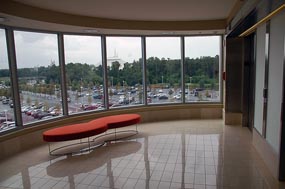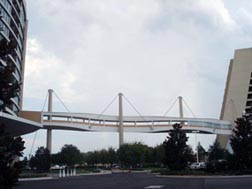 Resort Dining
Two Quick Service locations
Contemporary Grounds Coffee Bar at the Contemporary Resort
Contempo Cafe at the Contemporary Resort
2 Lounges (including Top of the World Lounge at Bay Lake Tower)
2 Pool bars (including Cove Bar at Bay Lake Tower)
Three Full Service restaurants:
California Grill at the Contemporary Resort
Chef Mickey's Character Dining at the Contemporary Resort
The Wave at the Contemporary Resort
In-Room Dining: Available 24 hours
Refillable mugs are available for purchase at Contempo Cafe for $15.49 plus tax.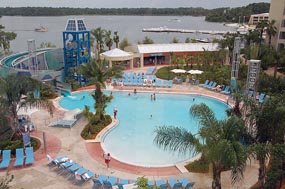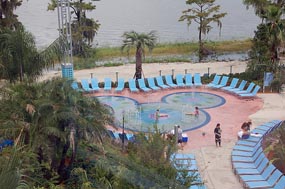 Resort Recreation
3 Pools
Bay Lake Tower at Disney's Contemporary Resort boasts its own beautiful Bay Cove Pool, a zero-entry pool, exclusively for Guests of Bay Lake Tower. The main feature of Bay Cove Pool is a 20-foot high and 148-foot long water slide. Guests of Bay Lake Tower also have access to Bay Lake Pool, a round, quiet pool which is shallow on the outside and deeper in the center, and to the larger pool at Disney's Contemporary Resort, which includes a 17-foot high curving slide.
Interactive water play area
2 whirlpool spas
Children's playground
Arcade
Tennis Courts
Shuffleboard and Bocce Ball Courts
Marina/boat rental
Water cruises
Water sports
Fishing
Beach area
Volleyball
Jogging trail
Health club
Massage/spa services
Electrical Water Pageant view
Barbecue Pavilion
Nightly Disney movies under the stars on the lawn near the Sky Way Bridge
Community Hall (Bay Lake Tower Guests)- Designed for all ages with many options to choose from including video games, foosball, ping pong, and arts and crafts. With your room key, you may rent DVD movies or sign out a board game to enjoy with your family.
Pool Side Cabanas:
There are 4 poolside Cabanas for rent located in the four corners of the Contemporary Resort pool. Cabanas include 2 chaise lounge chairs, 2 chaise beds, locking cabinet, DVD Player (upon request), LCD TV with cable, ipod docking station, mini-frig w/complimentary sodas & water, and complimentary fruit basket. Morning (10 am-2 pm) or Afternoon (3 pm-7pm) rentals cost $100 per session. All day rental is $185. Maximum accommodation is 6 people. Private dining and massages are available upon request at an additional cost.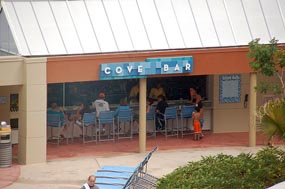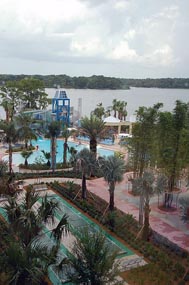 Resort Shopping
Fantasia stocks Disney character apparel and souvenirs as well as logo merchandise. You can also find a large assortment of Disney pins
Fantasia Market is a new sundries shop that carries cigars, cigarettes, beer, wine, liquor, food items and more.
Bayview Gifts offers homewares, art collectibles, jewelry, clothings watches and assort chocolates and fudge.
Resort Transportation
Disney's monorail service is available to the Magic Kingdom and via transfer to Epcot. The monorail station is on the 4th floor of the resort. Disney's bus service is available to and from this resort to Animal Kingdom, Disney's Hollywood Studios, Epcot, Downtown Disney and the water parks. The bus locations are to the right of the lobby as you exit the hotel. A walking path to the Magic Kingdom is also available as you walk past the bus stops.
Transportation Times Between Bay Lake Tower/Contemporary Resort and Disney Destinations
These times are approximate, provided to give you an idea of average travel times. Please plan on up to a 20 minute wait for Disney transportation in addition to walking time to resort or theme park transportation stops.
Magic Kingdom – 12 minutes by walking, 19 minutes by monorail
Epcot – 22 minutes by monorail, 22 minutes by car
Disney's Hollywood Studios – 22 minutes by bus, 23 minutes by car
Disney's Animal Kingdom – 25 minutes by bus, 20 minutes by car
Downtown Disney – 30 minutes by bus, 19 minutes by car
Blizzard Beach Water Park – 24 minutes by bus, 18 minutes by car
Typhoon Lagoon Water Park – 25 minutes by bus, 20 minutes by car
Resort Childcare
In-room child care is available at all resorts.
Resort Rates
Bay Lake Tower Photo Gallery
Click photos for larger image or slide show
Looking for a discounted rate for your Disney Vacation? Let The Magic for Less Travel, an Authorized Disney Vacation Planner, work for you. Their concierge services are always provided free of charge, and The Magic for Less Travel will help you find the best published or unpublished discount for your vacation. Already have a vacation booked directly with Disney? Contact The Magic for Less Travel to see if they can help you find a lower rate.

GET A FREE QUOTE NOW!
Tips from TheMouseForLess Members
TheMouseForLess Interesting Facts about the Resort
Most areas at Bay Lake Towers are only accessible to Guests possessing a room key. Another interesting fact is that access to the Contemporary Resort is via the Skyway Bridge, which is on the 5th floor of Bay Lake Tower but joins on the Contemporary Resort side on the 4th floor.
This resort has no restaurants of its own, but there is a great pool! – Betsy
TheMouseForLess Room Request Tips
Request as high as you can, that way you have a better view of the castle at night and in the morning, it is truly beautiful. The top 2 floors house the grand villa's. – Betsy
TheMouseForLess Hidden Treasures
Fireworks music in your room! Yep, just tune your TV to channel 20 and if you are lucky enough to have a Magic Kingdom view, you can get the entire "Wishes" experience right from your room.
The back walk way from the pool to the resort boat has a great view of bay lake, and is relatively quiet as well. – Betsy
TheMouseForLess Tips for Romance
There is a small beach area next to the pool area with a limited number of lounge chairs. The area is somewhat private and looks to be a great spot for couples to head to after a dip in the hot tub.
The 1 BR villa gave my husband and I just enough privacy (but not that much!), while the kids were in the other room either sleeping or watching TV. – Betsy
TheMouseForLess Tips for Families
The Cove poolside bar has limited quick service food options, as well as a private dining option available by phone order. Food is delivered poolside from room service for a few dollars fee plus 18% gratuity. Disney Dining Plan credits can not be used, but cash, credit card or room charge are accepted as payment. If you are planing to spend a day by the pool with your family, it would be good idea to first stop by the Tempo Grab and Go at the Contemporary Resort and put together a picnic lunch of sorts. Refillable mugs are available at the Cove Bar with a soda station. For storing belongings, there are a number of quarter lockers located near the pool.
Felt very safe letting the 12 year old go and fill up all of the resort mugs or to get her own order of french fries… Also,the rooms were really soundproofed. I never heard our neighbors unless we were out on the balcony. Also, LOVED having the kids have their own bathroom, but be prepared for them to want to use your whirlpool tub and shower. – Betsy
TheMouseForLess Tips forLarge Travel Groups
The 1 BR was just enough room for the 4 of us, even though it is supposed to be able to accomodate 5, that would have been tight. – Betsy
TheMouseForLess Tips for Guests with Special Needs
As with all Disney resorts, all rooms are non-smoking. BLT offers elevators and stairs with interior corridors. Disabled accessible rooms are available.
If you have difficulty walking, it is a bit of a distance between the two hotels. If I had it to do over again, I would have rented a scooter from outside WDE and utilized it the entire time I was there, rather than just in the parks. – Betsy
TheMouseForLess Tips for WDW Newbies
While all rooms facing the Magic Kingdom are sold as Magic Kingdom view rooms, you won't really have a good view of the MK, unless your room is located on one of the higher up floors. Also, make sure to keep your room key on you at all times (even children). As mentioned before you can't go anywhere in this resort without it, not even to the pool area.
Don't let those snack credits go to waste, we stocked up on micky rice crispie treats and are planning to use them as stocking stuffers. – Betsy
Beware of credit card scammers! Several scams have been perpetrated on unsuspecting tourists staying at hotels or resorts in the Orlando area in recent years, including Disney resorts. The first involves a phone call to your resort room in which you are informed that there is a problem with the credit card info you provided the hotel; you are then asked to give your card information again, including name and address. If you receive such a call, inform the caller that you will talk to the front desk personally about the problem and hang up. If you are convinced the call may be legitimate, call the front desk from your resort phone or visit the front desk to inquire. The second scam involves flyers left on your resort room door advertising cheap pizza for delivery. Those who call the number and give the requested credit card info with their order soon find that not only does no pizza arrive, but a huge string of unauthorized purchases show up on their credit card.
TheMouseForLess Tips for Budget Travelers
The full kitchen would have been great if we were not on the dining plan. They supply the silverware, drinking glasses and cooking utinsils, and they even do the dishes! – Betsy
TheMouseForLess Tips for Luxury Travelers
It doesn't get any more luxurious than the view from the 16th floor "Top of the World" lounge. You'll have to spend some dough to get the view, though. As of this writing, only Disney Vacation Club members staying on points and guests staying in their rooms may access the lounge. If you are paying cash for your room, you will not be admitted to the lounge. There are two covered outdoor viewing areas on either side of the lounge, and when fireworks at the Magic Kingdom take place, music is piped to both the outdoor viewing areas and inside the lounge.
This was great as a one time splurge, if staying again, I would book in the Tower. – Betsy