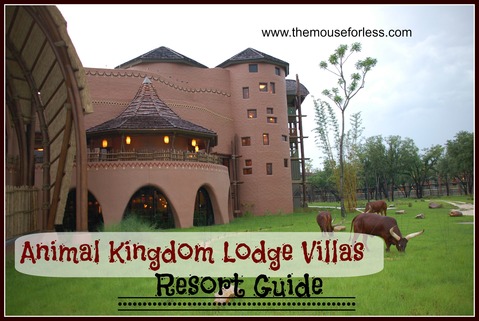 Disney's Animal Kingdom Villas
2901 Osceola Parkway
Bay Lake, Florida 32830
Phone: 407-938-3000
Fax: 407-938-4799
Rooms   Dining   Recreation   Shopping Transportation   Childcare   Resort Rates   Resort Map

  Reviews Activities

  Top 10 Resort Tips   VIP Tips
Disney Deluxe Villas Resort Classification
Located in the Animal Kingdom resort area
Check In: 4:00 p.m. / Check Out: 11:00 a.m.
Disney's Animal Kingdom Villas is a part of the Disney Vacation Club and Disney Deluxe Villas resorts, and likely the closest thing to a true African journey without crossing the ocean. Disney's Animal Kingdom Villas has an elaborate African safari theme. Throughout the hotel, there are alcoves with glass windows that provide views of the savannas and its wildlife. Each area has its own savannahs, and guests staying in a savannah view room can literally view the animals from their balconies.
Check our Rehabs and Closures schedule for any refurbishments or work taking place at the Animal Kingdom Villas Resort during your visit.
Make your Disney vacation planning
more magical
. Book your vacation with an Authorized Disney Vacation Planner and save time, money and stress.
The Magic For Less Travel
offers guest-driven, concierge planning services
free of charge
so you can focus on the fun.

Disney's Animal Kingdom Villas Rooms
In addition to standard rooms, there are two views available, pool and savannah (which overlooks one of the exclusive Lodge savannahs). Kidani Village offers more spacious accommodations than rooms available as part of Disney's Animal Kingdom Lodge. 492 villas in Kidani Village (separate building from Animal Kingdom Lodge)
216 villas on the 5th and 6th floors in the main Disney's Animal Kingdom Lodge
All Villas Include:
Alarm Clock
DVD player
Complimentary wireless Internet (WiFi)
Telephone
Coffee Maker & Setup
Hair Dryer
Fire extinguisher
In-Room Wall Safe
Iron and Board
Refrigerator
Private balcony
Ceiling fan
Table and chairs
Pack 'n Play
Flat Panel TV – ABC, Disney Channel, Check the TV channel guide for more
Deluxe Studios sleep four (plus a crib)
1 queen bed
1 double sleeper sofa
Toaster
Microwave
Hair Dryer
DVD Player
Iron & ironing board
High Chair
Pack 'n Play Crib
Coffee Maker
Mini-refrigerator
In room safe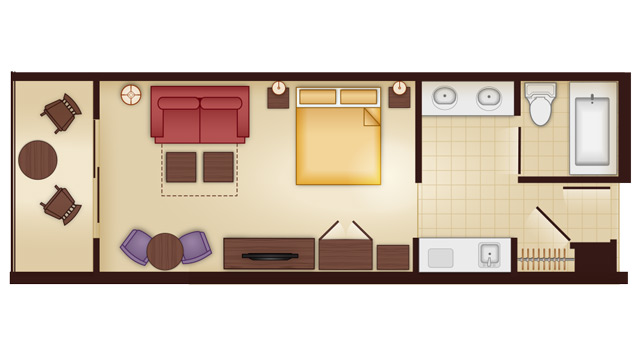 One-bedroom villas sleep up to four (plus a crib)
1 King Bed
1 double sleeper bed
Toaster
Fully Equipped Kitchen With Refrigerator
Microwave
Hair Dryer
DVD Player
High Chair
Iron & ironing board
Coffee Maker
Pack 'n Play Crib
In room safe
Whirlpool Tub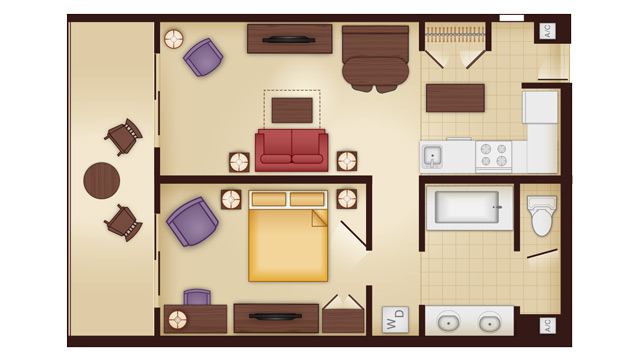 Two-bedroom villas sleep up to eight (plus a crib)
1 king Bed
1 queen bed
1 queen sleeper sofa
1 double sleeper sofa
Toaster
Fully Equipped Kitchen With Refrigerator
Microwave
Hair Dryer
DVD Player
High Chair
Iron & ironing board
Coffee Maker
Pack 'n Play Crib
In room safe
Whirlpool Tub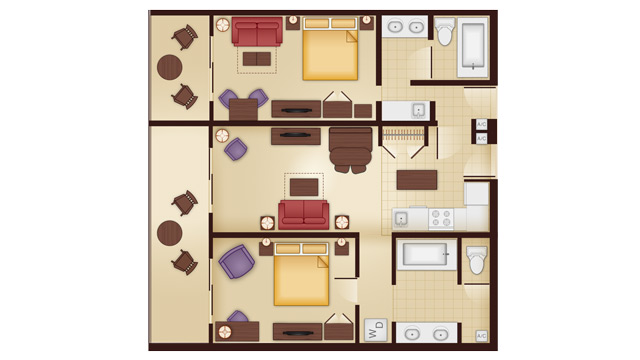 Three-bedroom villas sleep up to twelve (plus a crib)
1 king bed
4 queen beds
1 queen sleeper sofa
Fully equipped kitchen
Dishwasher
Dishes, glasses, and utensils
Pots and pans
Refrigerator
Stove and oven
Toaster
Microwave
Washer and dryer
Whirlpool tub
Coffeemaker
DVD player
Iron and ironing board
Hair dryer
In-room safe
Portable crib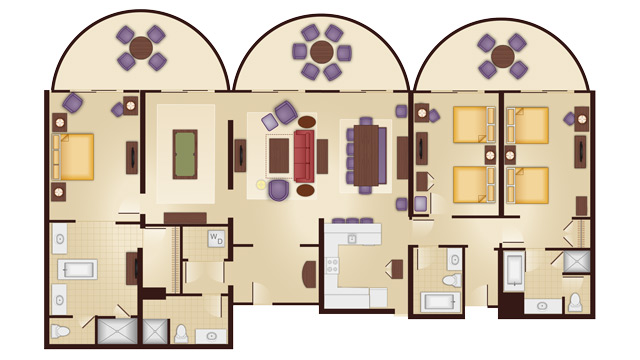 Disney's Animal Kingdom Villas Dining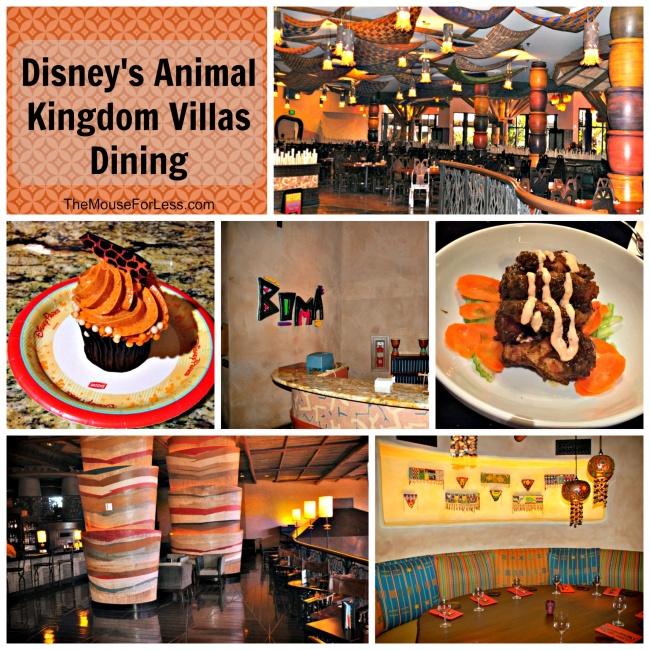 Jambo House
Boma – Flavors of Africa – Full Service buffet-style restaurant
Jiko – The Cooking Place – Full Service restaurant
The Mara – Quick Service Location
Uzima Springs Pool Bar
Two Lounges
In-Room Dining Available 6am to midnight
Kidani Village
Saana Restaurant – Full Service restaurant serves African cuisine with Indian flavors for lunch and dinner
One Lounge
Maji Pool Bar – with limited quick service food options, as well as a private dining option available by phone order; food is prepared in the Sanaa kitchen and delivered poolside for a $3 fee plus 18% gratuity. Disney Dining Plan credits can not be used, but cash, credit card or room charge are accepted as payment.
In-Room Dining available 6am to midnight
Refillable mugs are available for purchase at The Mara and locations in Kidani Village for $15.49 plus tax. There is also a convenient soda refilling station located by Maji Pool Bar.
Sponsor:
Save money on Disney dining, by ordering drinks, snacks and other items that are delivered to your Disney Resort. Garden Grocer has over 5000 products including milk, cases of water, baby care items, breakfast items and even beer and wine.

Disney's Animal Kingdom Villas Recreation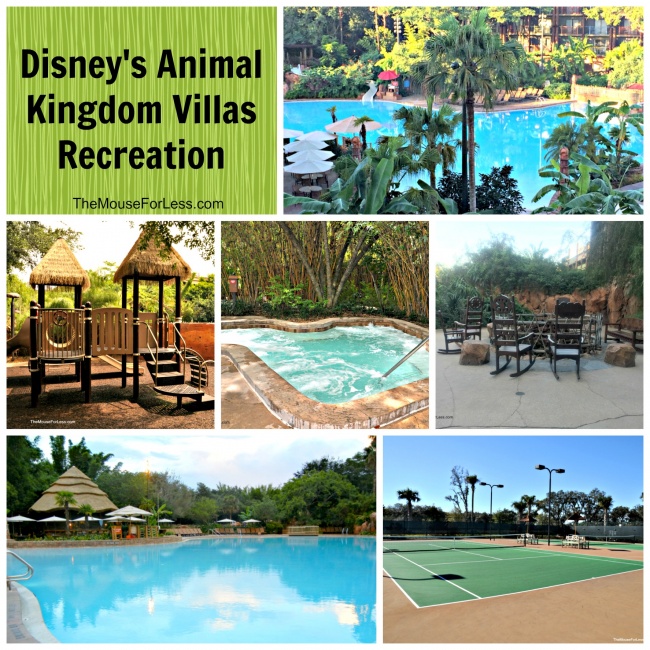 Jambo House Recreation
1 Pool featuring zero-depth entry and 67 ft long water slide
Child pool
2 whirlpool spas
Children's playground
Arcade
Fitness Center
Massage Services
Animal Programs
Nightly movies under the stars
Kidani Village Recreation
1 Pool featuring zero-depth entry and 128 ft long water slide
2 whirlpool spas
Arcade
Fitness Center
Animal Programs
Community Hall
Basketball (Half Court) and Shuffleboard Court
2-lighted Tennis Courts
Barbecue Pavilion
Nightly Movies Under The Stars
Uwanja Camp – Located near Samawati Springs Pool, is an animal observation site-themed water playground that includes 3 interactive areas for kids of all ages.
Observation Station: For children ages 4 and younger, this play space invites kids to unscramble animal images, cross a rope bridge and frolic through a geyser and shallow pool.
Departure Zone: For kids ages 5-7, this area includes a water tower, pulleys and squirting gardens.
Base Camp: For kids 8 and older, this play area includes water canons and overflowing water buckets.
Disney's Animal Kingdom Villas Pool and Recreation
Disney's Animal Kingdom Villas Shopping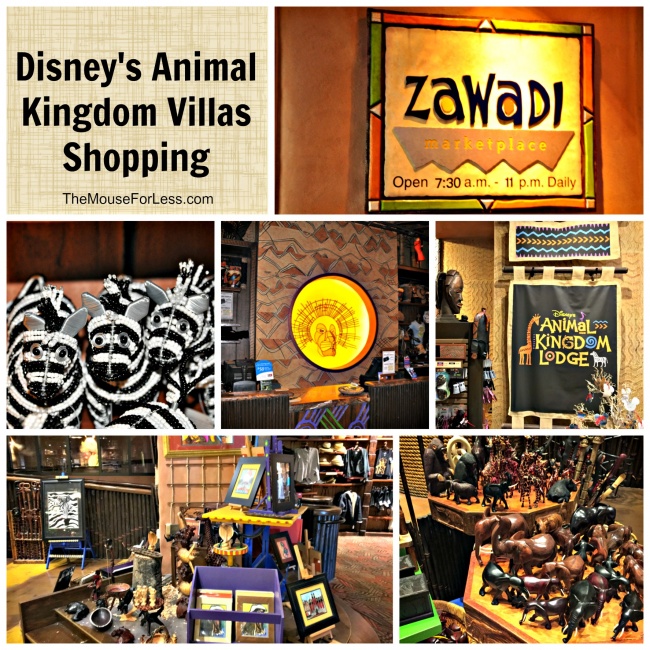 Zawadi Marketplace at Jambo House stocks Disney character apparel and souvenirs as well as Animal Kingdom Lodge and Villas logo merchandise. In addition, there is a large variety of African treasures that are fun and unexpected. You can also find snack foods, beverages (including adult beverages), magazines and books, and other general sundries.
Johari Treasures at Kidani Village offers authentic African-themed merchandise including Zulu baskets, hand-loomed clothing and hand-carved masks, snack food and breakfast options. Open from 7:30 a.m. to 11:00 p.m., Johari Treasures also sells Disney-branded items like apparel, toys and Disney Character plush.
Look at all your vacation photos by visiting the Photopass page. These professional pictures can make a great souvenir for home!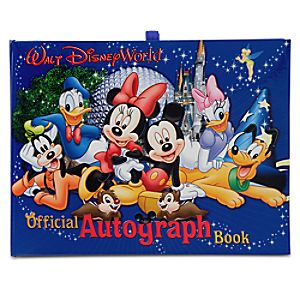 Save money and buy official Disney Park merchandise and souvenirs before you leave home.
Disney Shopping
has autograph books, character plush, travel accessories and many items that will make your vacation even more magical. Shop before you leave home to save time and money!
Disney's Animal Kingdom Villas Transportation
Disney's bus service is available to the Disney's Hollywood Studios, the Magic Kingdom and the Animal Kingdom, as well as Disney Springs and the Disney water parks. There are two bus stops for this resort outside of the lobby area of AKL and one at Kidani Village.
Transportation Times Between Disney's Animal Kingdom Villas Jambo House and Disney Destinations
These times are approximate, provided to give you an idea of average travel times. Please plan on up to a 20 minute wait for Disney transportation in addition to walking time to resort or theme park transportation stops.
Magic Kingdom – 22 minutes by bus, 35 minutes by car (with transfers)
Epcot – 18 minutes by bus, 18 minutes by car
Disney's Hollywood Studios – 15 minutes by bus, 16 minutes by car
Disney's Animal Kingdom – 11 minutes by bus, 7 minutes by car
Disney Springs – 20 minutes by bus, 18 minutes by car
Blizzard Beach water park – 18 minutes by bus, 14 minutes by car
Typhoon Lagoon water park – 25 minutes by bus, 17 minutes by car
Disney's Animal Kingdom Villas Childcare
Simba's Cubhouse
Hours: 4:30 pm to 12 midnight
Reservations: (407) WDW-DINE
Supervised activities including toys by Hasbro, free play arcade games (2), arts and crafts, games, Disney movies, and Sony Playstations.  Price is $11.50 USD per hour, per child with a two-hour minimum. Advance reservations recommended.
Simba's Cubhouse provides a complimentary dinner for children in the Cubhouse.  Guests can order meals for their children when they check in.  Menu items include: peanut butter and jelly sandwich, chicken fingers, mini burger, hotdog, macaroni and cheese.  No outside food allowed.
In-room child care is also available at all resorts.
Disney's Animal Kingdom Villas VIP Top Tips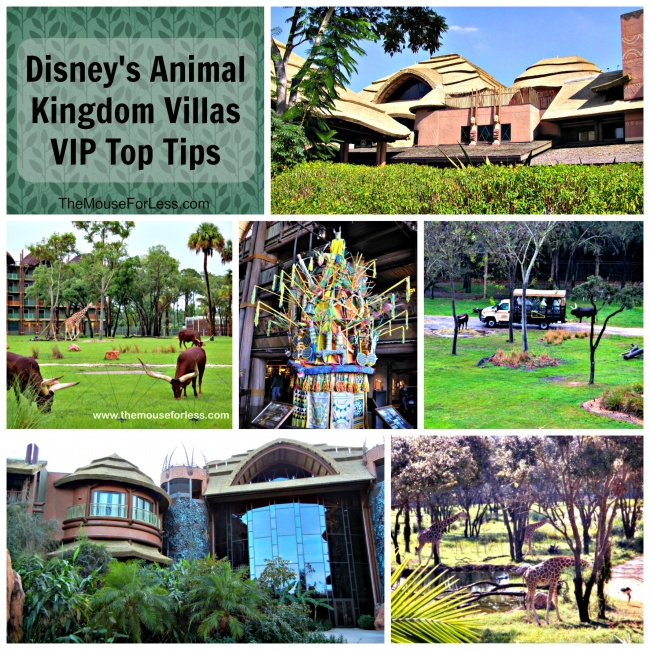 This section is sponsored by the Disney experts at The Magic for Less Travel, Authorized Disney Vacation Planner
Take time to walk around the resorts, including down the halls. Notice the artwork displayed throughout. At the end of the halls in Jambo House there are outdoor stairways; they are great places to watch animals from two different savannas at the same time.
Be sure to check the schedule for many extra activities including bead art, story time, night-vision viewing, and more.
Strike up conversations with the Cast Members working here. Most of them enjoy talking about their country and it can be a very interesting experience. Many are on a cultural exchange program and it is like having your own personal guide into African life and the land. If you get a chance, also talk with the animal keepers, including the ones you see out on the savanna.
Discover all the overlooks throughout the resort. Walk around and explore the hidden wonders that bring you closer to the animals. Each overlook has information about the animals you may see.
Walk the trail around Arusha Rock. You will often find a Cast Member there who can answer questions about the animals.
Request a room close to the lobby. Animal Kingdom Lodge – Jambo House has a U-shaped footprint around the main Arusha Savanna. The farthest rooms at the end of the trails can be a long walk to the lobby and bus transportation.
The Zebra Trail is most convenient for accessing the Uzima Pool, laundry facility and dining options located at Jambo House.
When you check in at the Animal Kingdom Lodge, you should receive an activities and recreation information sheet. Take advantage of the fun and cultural activities offered at the resort. Children can even earn Animal Kingdom beads after they complete each cultural event at the lodge.
Walk past the Uzima pool on the left hand side by the spa to discover flamingos and a great overlook of the Uzima Savanna. Giraffes tend to enjoy eating in this area of the savanna.
The animals on the savanna tend to be more visible during feeding times like early morning and late afternoon.
Animal Kingdom offers transportation between Kidani Village and Jambo House allowing you to explore both areas of the resort, and enjoy both swimming pools and unique dining experiences like Sanaa and Boma.
Explore the artifacts and cultural pieces displayed throughout the resort. It is educational as well as fascinating to see actual pieces from different areas of Africa.
Jambo House offers night viewing of the animals on the safari. Check the resort activities; it is typically offered between 8:30/9:00pm – 11:00pm each evening. Night-vision googles are available to share in limited quantities.
For the safety of the animals, balloons are not allowed inside the Animal Kingdom resorts. Any balloons brought to the resorts will have to be checked with Bell Services for the duration of the guest's stay. They will be returned upon departure.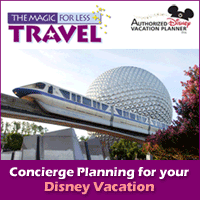 Looking for a discounted rate for your Disney Vacation? Let The Magic for Less Travel, an Authorized Disney Vacation Planner, work for you. Their concierge services are always provided free of charge, and The Magic for Less Travel will help you find the best published or unpublished discount for your vacation. Already have a vacation booked directly with Disney? Contact The Magic for Less Travel to see if they can help you find a lower rate.

GET A FREE QUOTE NOW!