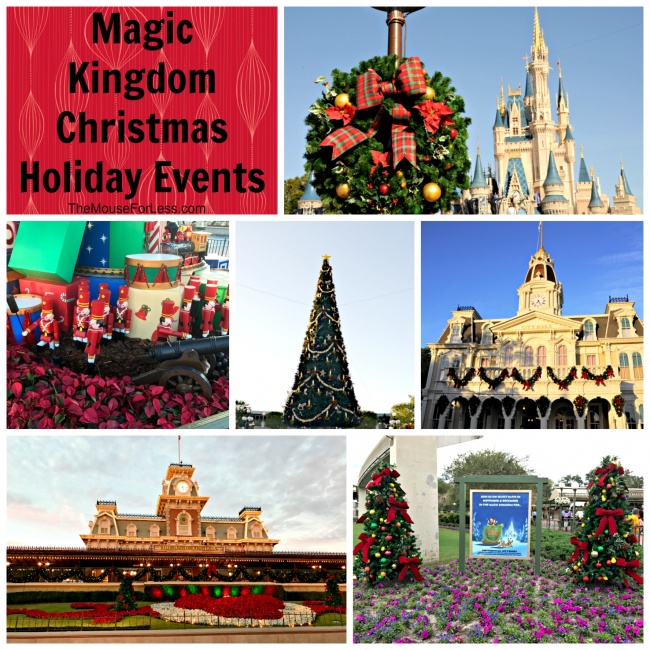 Extra Park Hours  Mickey's Very Merry Christmas Party Mickey's Once Upon a Christmastime Parade A Frozen Holiday Wish Holiday Wishes  Jingle Cruise Meet Santa Christmas Parade Taping MFL Tips
Magic Kingdom Christmas Events
Extra Park Hours
The Magic Kingdom will have extended hours many days through December, particularly in the days after the last Mickey's Very Merry Christmas Party. Look for Extra Magic Hours to be added near the end of the December. The park is usually open later at night the week between Christmas and New Year's Eve with regular closing ranging from 12 a.m. to 2 a.m.
Mickey's Very Merry Christmas Party
Mickey's Very Merry Christmas Party is a very special event held at Magic Kingdom. The evening requires a separate ticket and is only held on select dates. Visit our Mickey's Very Merry Christmas Party page for complete details.
2018 Dates:
November 8, 9, 12, 13, 15, 16, 25, 27, 29 and 30
December 2, 4, 6, 7, 9, 11, 13, 14, 16, 20, and 21
Mickey's Once Upon a Christmastime Parade
This parade and several other holiday events kick off on nights Mickey's Very Merry Christmas party is held in the Magic Kingdom, exclusively for the enjoyment of party-goers. The general public performance of Mickey's Once Upon a Christmastime Parade will run twice daily from December 22-31 at 12:00 p.m. and 3:30 p.m. Watch for toy soldiers, gingerbread boys and dancing reindeer, Disney characters in their holiday attire, and of course, there will be the wonderful aromas of holiday baking as the songs of the season fill the air. Santa makes an appearance at the end of the parade.
A Frozen Holiday Wish & Castle Dream Lights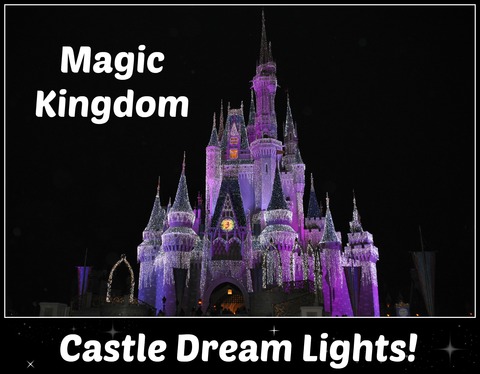 Elsa, Anna, Kristoff, and Olaf take to the Cinderella Castle stage daily at 6:15 p.m. and 7:30 p.m. (on regular park days) for the short "A Frozen Holiday Wish" show. The group, visiting from Arendelle, gives guests a treat when they convince Elsa to use her powers to turn Cinderella Castle into an icy, glittering palace. The result is "Castle Dream Lights", featuring over 200,000 twinkling lights draping the castle to create a shimmering ice palace. A Frozen Holiday Wish and Castle Dream Lights can be seen in the Magic Kingdom each evening from November 4, 2018 through January 8, 2019 and is available for all Magic Kingdom guests to enjoy.
Holiday Wishes – Celebrate the Spirit of the Season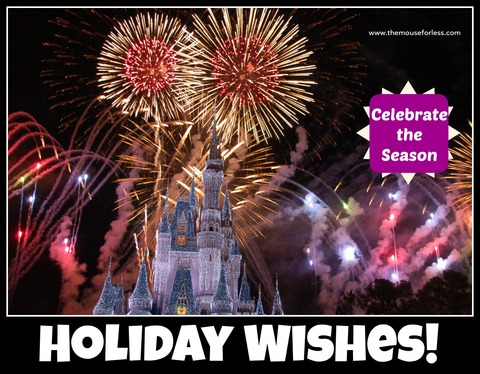 During "Holiday Wishes," the evening is capped with eye-popping fireworks over the castle and around the perimeter of the park – all orchestrated to classic holiday tunes. This fireworks show kicks off on nights Mickey's Very Merry Christmas party is held in the Magic Kingdom, exclusively for the enjoyment of party-goers. The general public debut of "Holiday Wishes" takes place after the last Mickey's Very Merry Christmas party is held and runs until the end of the year. Note: The version of Holiday Wishes shown to the general public takes place at 10 p.m. each night and does not include the perimeter fireworks.
Jingle Cruise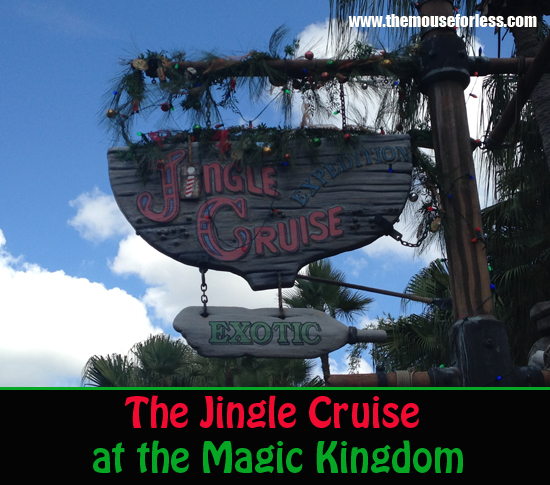 Make sure to make a stop at the Jingle Cruise. This holiday-themed attraction sees the skippers homesick during the holidays. They have decorated the queue house in celebration. In addition, they were planning to have some decorations shipped, but they didn't quite land in the correct destination. The Jingle Cruise boats each are given a unique holiday name, and the Skippers share a slew of seasonal holiday jokes throughout the attraction.
Santa Meet-and-Greet
A meet-and-greet with Santa occurs daily at Candy Cane Garden next to City Hall between 10 a.m. and 5 p.m. Santa will also be available during Mickey's Very Merry Christmas Parties.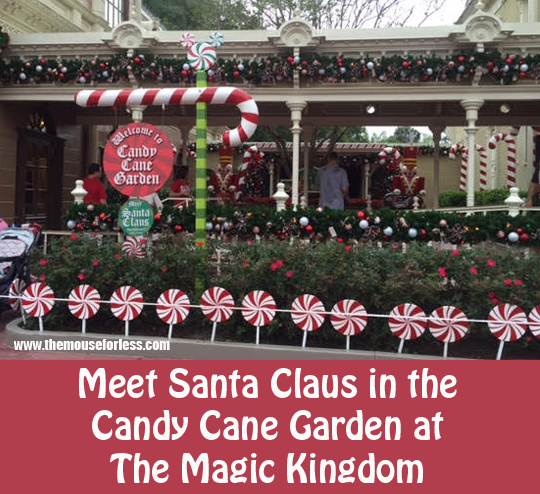 Christmas Parade Taping
The taping of the Walt Disney World segment of the annual ABC televised parade typically takes place at Magic Kingdom  in mid-November, last year the taping was from November 7-11, 2018. Live acts perform in front of Cinderella Castle. The parade portion will be filmed at Disneyland. The production company will be shooting various parade elements and guest star performances on Cinderella's Castle Stage and Main Street USA. Park guests with admission are welcome to view the taping segments from select areas and should arrive as early as possible. This is no guarantee, however that you will be admitted to the roped off prime viewing areas, usually reserved for cast members and pre-selected audience. This is an actual television production, so expect songs to be sung multiple times or additional delays to occur; also the park can be quite crowded on Main Street causing difficulty getting to attractions. Many guests dress in Christmas attire for this occasion. To avoid crowds, if you are not interested in watching the filming, take the train at the entrance of the park to Frontierland and navigate the park from there. Expect schedule changes and cancellations to park entertainment, especially those on Main Street USA, during the weekend filming.
Note: The parade can be seen on ABC Christmas morning at 10 a.m.- noon in the Eastern time zone, and 9-11 a.m. in the Central, Mountain, Pacific time zone. In addition, there will be additional television specials that will be filmed that will air on ABC, Freeform, and Disney Channel.
TheMouseForLess Magic Kingdom Tips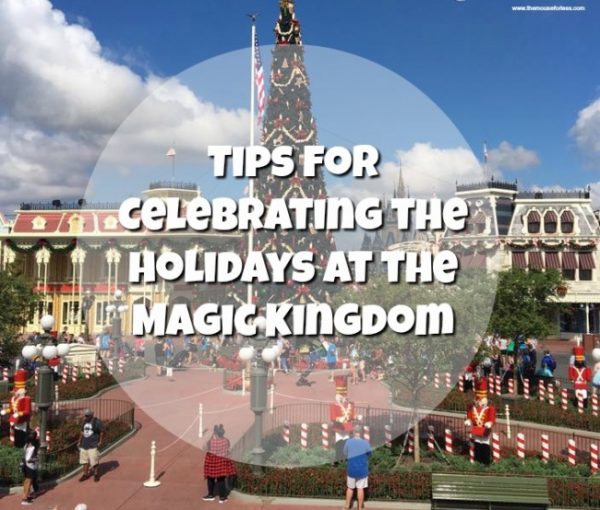 If you'll be visiting the Magic Kingdom during the very busy week between Christmas and New Years, here are a few tips to make your visit go smoother. If you're driving, note where you are parked; parking lots can get jammed-packed during this time of year. If you're staying at a Disney resort, by all means, use Disney transportation to the park. Arrive at the park early; park closures in the early afternoon are highly possible. Use the Walt Disney World Railroad upon entering the park to circumvent the crowds on Main Street USA. Make sure that you've made dining reservations well in advance if you'll be eating a sit-down meal in the park. Even if you're planning on just grabbing quick-service food, eat at off-hours when the crowds are likely to be less. Those staying at Disney resorts may want to plan on returning to their resorts late afternoon for a bite to eat and a nap – then return to the park and enjoy the late hours (into the wee hours of the morning) when crowds are diminished. If you're visiting on New Year's Eve, follow the advice on our New Year's Eve page as it differs slightly. If you are a Walt Disney World guest, make sure to make your FastPass+ selections well in advance so you're assured of enjoying a few of your favorite rides, but don't plan on making your park day all about the rides. It's also a great time of year to enjoy some of the less popular rides like Country Bear Jamboree, Hall of Presidents and Carousel of Progress. Allow plenty of time for restroom visits; there will be lines! Enjoy yourself and take in some of the special entertainment and shows offered this time of year. Be patient and polite, everyone is likely to be a little frazzled by the crowds.

Get into the holiday spirit. Wear that holiday sweater to the park. Guests have even been know to string strollers (and themselves) with battery operated holiday lights. You can even find Mickey ear hats in the park that light up. Lots of fun holiday attire is available in park merchandise shops.

Take the time to check out all of the beautiful Christmas decorations and live afternoon holiday entertainment on Main Street USA. Town Square offers a wonderful photo op with life-size wooden toy soldiers. Plus, following the taping of the Christmas parade a giant tree is erected in Town Square. The Emporium has fantastic holiday-themed windows and the hub area is filled beautiful poinsettia trees. The popular Main Street U.S.A. quartet, The Dapper Dans, add holiday songs to their repertoire. The Main Street Trolley Show also gets a holiday makeover as performers in green and red attire perform holiday songs and the trolley car is decked out in garland, ornaments and bows.

Stop by the Ye Olde Christmas Shoppe in Liberty Square for all of your tree decorating needs, especially if you must have a Disney theme! Pickup a personalized Christmas ornament to commemorate your trip. Plus, during the holiday season, one lucky family will be chosen each day to decorate the Magical Moments Christmas tree at Ye Olde Christmas Shoppe. You can see a video of one family decorating the tree on YouTube.

Mickey's Once Upon a Christmastime Parade and Holiday Wishes will begin running in November for the enjoyment of those attending Mickey's Very Merry Christmas Party, but won't be available for general public viewing until approximately a week before Christmas. The trade off for waiting until after Mickey's Very Merry Christmas Parties to see the special holiday parade and fireworks in the park for free is that you'll be viewing it during one of the busiest times of the year at the Magic Kingdom. In addition, Mickey's Once Upon a Christmastime Parade will run as an afternoon parade. The daytime performance of the parade lacks the special lighting and ambiance watching the parade on Main Street U.S.A. at night lends, as snow gently falls from the sky. If at all possible, try to see this parade at least once during Mickey's Very Merry Christmas Party where it is a completely different experience.

If you'll be visiting the Magic Kingdom during the approximately two weeks between when Mickey's Very Merry Christmas party ends and New Year's Eve, don't overlook special shows such as A Totally Tomorrowland Christmas (Tomorrowland Stage) and Celebrate the Season (Castle Stage). These shows are available to the general public for two weeks only. "Celebrate the Season" takes place on the Castle Stage and is the more popular of the two shows with its classic Disney characters (Mickey, Minnie, Donald, Goofy, Chip, Dale), a salute to "The Nutcracker" and sing-along format. You'll want to arrive early to get a spot for that one. A Totally Tomorrowland Christmas, a high energy Christmas bash with Buzz Lightyear, Mike Wazowski, Stitch, dancers and singers. Check the times guide for times throughout the afternoon and evening.

There are some great photo vantage points to capture the castle all dressed up in holiday "Dream Lights". PhotoPass photographers are generally available from in front of the Castle, on the Tomorrowland Bridge, and in front of the Rose Garden.

Those wishing to view Holiday Wishes fireworks from outside the parks during MVMCP nights can do so from the observation deck on the 4th floor of the Contemporary Resort, from the beaches (piped in music) of the Polynesian Village Resort, from the marina dock (piped in music) at the Grand Floridian Resort and from Transportation and Ticket Center along the walkway to Ferry loading area (breathtaking free views with piped in music), as well as restaurants such as California Grill and Narcoossee's or, for larger groups, one of the private Magic Kingdom firework cruises.

Be on the lookout for some great treats this holiday season at Main Street Confectionery, Big Top Treats, and other locations throughout the park. Spotted previous years were Santa hat cupcakes, snowman or snowflake caramel apples, reindeer cake pops with pretzel antlers and a souvenir Mickey Santa popcorn bucket.
Click if you are curious about holiday events at Epcot, Disney's Hollywood Studios, Disney's Animal Kingdom, Disney Springs, and the Disney Resort Hotels.