Disney's Animal Kingdom Christmas Events
Get wild as you celebrate the holiday season at Disney's Animal Kingdom! Animal Kingdom has the most unique decorations for the holiday season. As you explore the park, take time to look for the creative Christmas decorations.
What's New Asia Africa Pandora Discovery Island Dinoland U.S.A. Character Meets Holiday Decorations Tips
What's New
New decorations and entertainment will be sprinkled all around Disney's Animal Kingdom for the 2019 holiday season.
Asia
The magic of nature will receive a holiday touch with the inclusion of Diwali, the holiday Festival of Lights in India, as part of the new live show UP! A Great Bird Adventure. There will be glowing flowers, lanterns and more that illuminate the square between Anandapur Theater and the waterfront stage.
Africa
In Harambe, there will be new holiday presentation that blend the inspiration and style of western traditions with the colors and textiles of authentic African celebrations. Harambe performers will introduce holiday-inspired enhancements. Finally, Mickey and his pals will spread holiday cheer in Tusker House.
Pandora – The World of Avatar
Here, the ex-pats who are living and working here will bring a little Christmastime fun to their alien home, with a display at Pongu Pongu of kitschy holiday decor. This decor will combine vintage pieces from Earth with items handcrafted from materials indigenous to Pandora.
Discovery Island
When entering Discovery Island, the first thing you will see is sparkling white holiday decorations. There will be colorful, animal-inspired luminaries lining the area rooftops, as well as wire-frame lanterns in the shape of beautiful birds. In addition, during the day, Discovery Island will also feature a holiday gathering of winter animals, realized in the form of life-size, artisan-sculpted puppets in the form of reindeer, foxes, penguins polar bears, and more.
Once the day turns to night, the rooftop luminaries and bird lanterns all around Discovery Island will light up and glow. In addition, the Tree of Life Awakening will include a series of wintry tales projected on the Tree of Life.
Dinoland U.S.A.
Guests will be able to get into the spirit with colorful holiday decorations in the style of Donald Duck and pals all in honor of Donald's Dino-bash, and at night, there will be the Holiday Hoopla Dance Party with Chip 'n Dale at the Truck-O-Saurus.
Character Meet and Greets
Guests can meet Mickey and Minnie in their holiday sweaters at Adventurer Outpost on Discovery Island. A cute photo op for the holidays! To reduce your time in line make a FastPass+ reservation on MyDisneyExperience.
Over at Dinoland, Santa Goofy meets with guests and poses for photos intermittently from 11:00 a.m. through park closing.
Guests can meet other favorite Disney characters dressed in their seasonal best found throughout the park at Disney's Animal Kingdom.
Holiday Decorations
Disney's Animal Kingdom park will be decked out for the holidays through early January 2019. Animal Kingdom has a large range of decorations from tacky and kitschy decor in Dino-land to all natural decor in Africa. Don't miss these very different holiday decorations as you explore the park.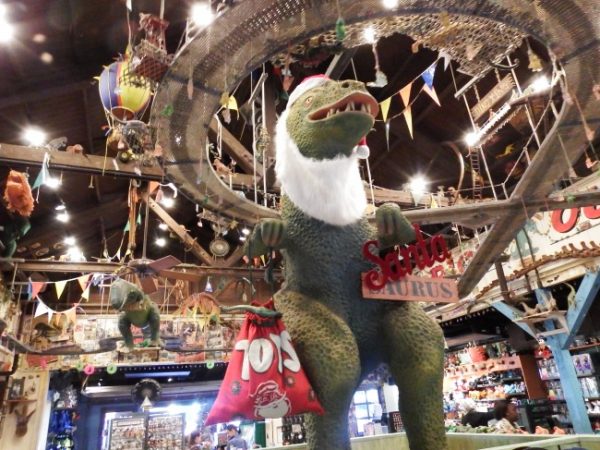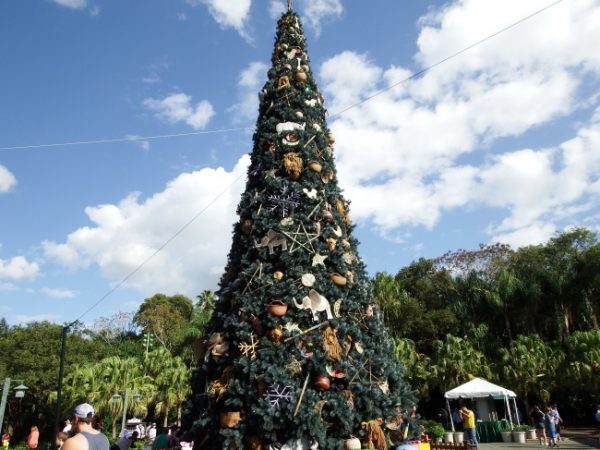 TheMouseForLess Disney's Animal Kingdom Christmas Holiday Tips

Be sure to check out the huge Christmas tree at the park's entrance with its amazing animal-themed decorations.

Look for holiday goodies at Kusafiri Bakery. Every year, among other offerings, this quick service spot serves up an awesome chocolate mousse filled Yule Log.

Check out the three foot long gingerbread holiday display at Tusker House called the Gingerbread African Marketplace. The display contains 8 lbs of honey, 23 lbs of flour, 6 lbs of eggs, 1 lb spices, 5 lbs of white chocolate, 9 lbs of icing, 25 lbs of dark chocolate, 5 quarts of egg whites, and 10 lbs of confectioners' sugar.
Click if you are curious about holiday events at the Magic Kingdom, Epcot, Disney's Hollywood Studios, Disney Springs, and the Disney Resort Hotels.