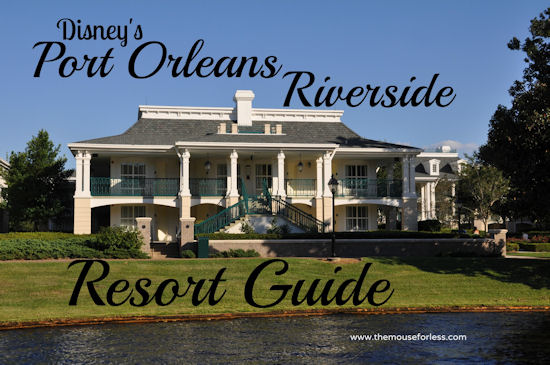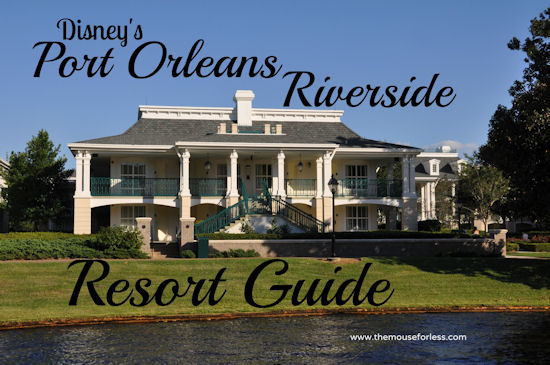 Disney's Port Orleans Riverside Resort
1251 Riverside Drive
Lake Buena Vista, FL 32830-8514
Telephone: (407) 934-6000
Fax: (407) 934-5777
Rooms   Dining   Recreation   Shopping Transportation   Childcare   Resort Rates   Resort Map

  Top 10 Resort Tips   VIP Tips
Moderate Resort Classification
Located in the Disney Springs resort area
Check In: 3:00 p.m. / Check Out: 11:00 a.m.
There's something for everyone at Port Orleans Riverside- a moderately priced Disney resort with rustic retreats and elegant mansions. This resort has a charming swimming pool with slide as well as five quiet pools, a stocked fishing hole, a sit-down restaurant as well as a food court, all set along the Sassagoula River. Bring your Mark Twain novel of choice, and settle in. Disney's Port Orleans Riverside Resort is modeled after a Louisiana town along the Mississipi River, with plantation-style 'mansions' and bayou-themed guesthouses.
Disney's Port Orleans Riverside Resort, like all Disney resorts, is smoke-free. Designated outdoor smoking areas are indicated on the Resort Map.
Check our Rehabs and Closures schedule for any possible refurbishments or work taking place at the Port Orleans Riverside Resort during your visit.
See Current Resort Rates and Seasons
Make your Disney vacation planning
more magical
. Book your vacation with an Authorized Disney Vacation Planner and save time, money and stress.
The Magic For Less Travel
offers guest-driven, concierge planning services
free of charge
so you can focus on the fun.
Disney's Port Orleans Riverside Resort Rooms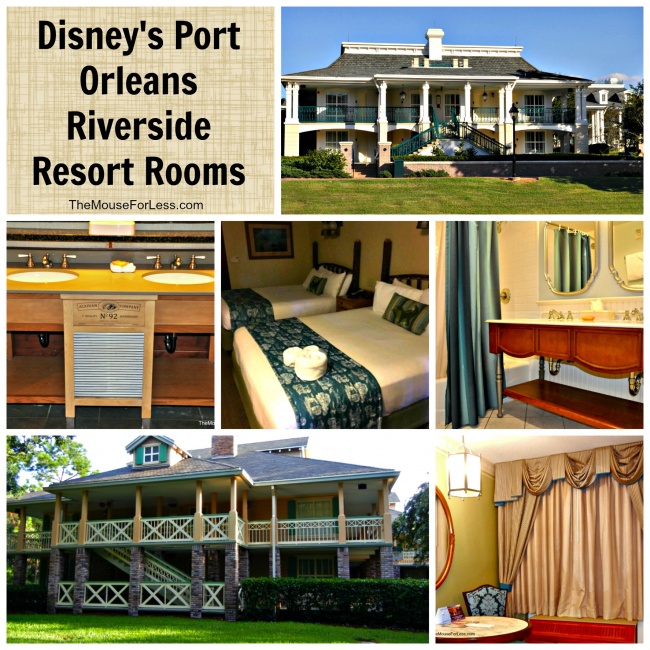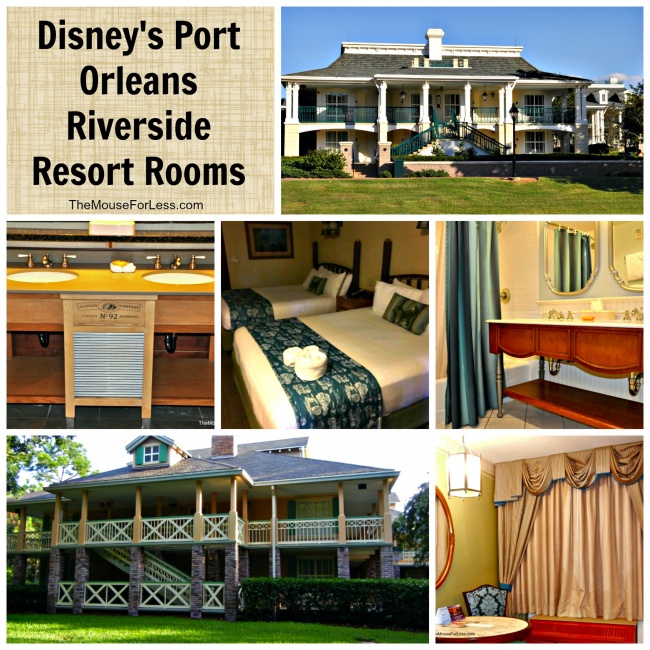 The resort's 2048 rooms are divided between the elegant mansions of Magnolia Bend and the more rustic Alligator Bayou section. Magnolia Bend has four three-story plantation-style buildings, perfect for Gone with the Wind fans. Many rooms of the more intimate two-story faux-log guesthouses of Alligator Bayou have pull-down beds, allowing families of five to comfortably stay in one room.
Water View rooms have views of the Sassagoula River or the pools.
Standard View rooms look out onto the resort grounds.
Standard Guest rooms: Maximum 2-4 Guests (some accommodate 5)
Most rooms have two queen beds.
A limited number of rooms with king-size beds are available.
Disabled-accessible rooms are available.
In-room pizza delivery
Irons and ironing boards
Coffee maker
Alarm clock
Ceiling fan
Hairdryers
In-room refrigerators
In-room wall safes
Dual line phones with voicemail
Flat Panel TV – ABC, Disney Channel, ESPN & more  TV channel guide
Complimentary wireless Internet (Wi-Fi) (click link for specific details)
Convenient self-parking
Laundry facilities (located near the feature pool)
Pak-n-Play Cribs available upon request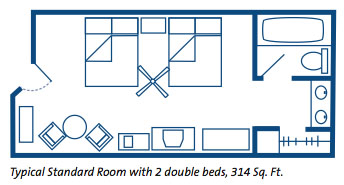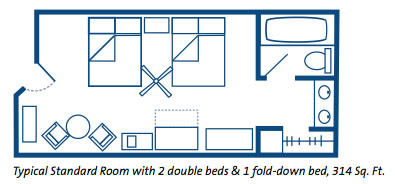 Valet dry cleaning and laundry service is available for pickup from your room. Coin-operated self-service laundry facilities are located throughout Disney's Port Orleans Resort – Riverside.
Located at the Main Lobby in Colonel's Cotton Mill building, the concierge can help you purchase Disney Theme Park and Disney Water Park tickets, make dining reservations and secure show seats.
Disney's Port Orleans Riverside Resort is also participating in a pilot program to allow dogs to stay with their families in select Disney World Resort Hotels.
Disney's Port Orleans Riverside Resort Royal Rooms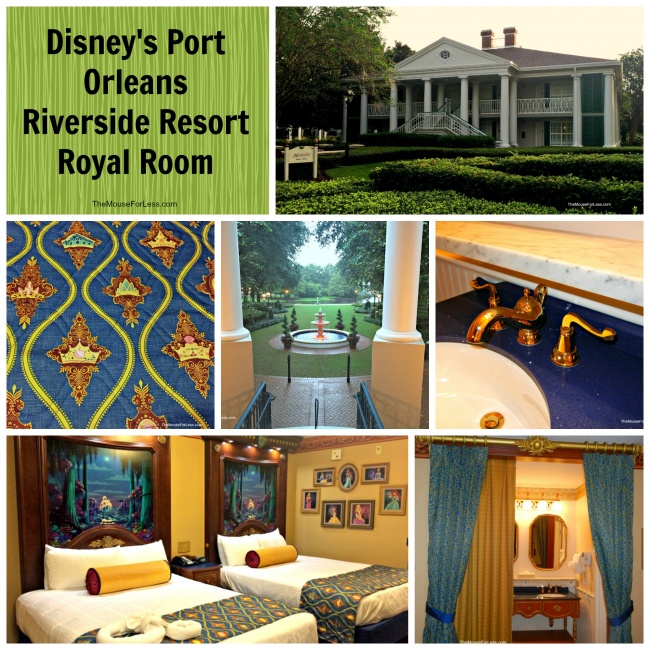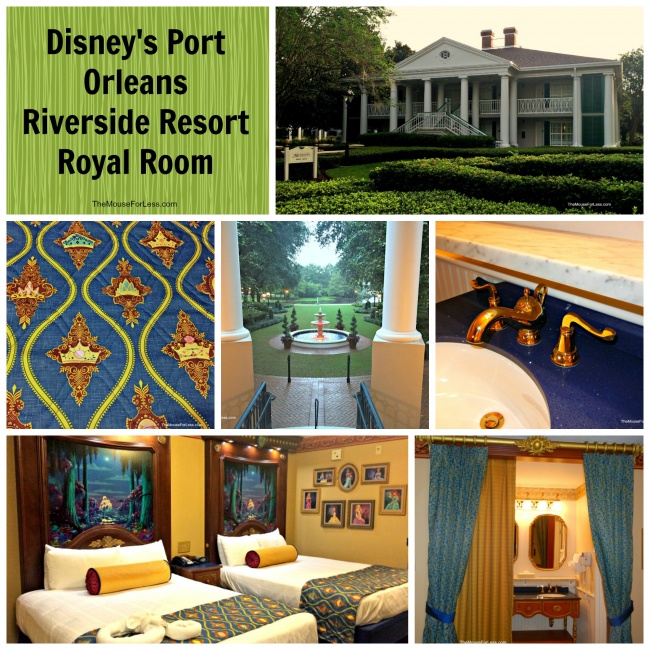 Royal Guest Rooms have opened in the Magnolia Bend section at Port Orleans Riverside (Oak Manor and Parterre Place buildings). Rooms include ornate beds that feature headboards with fiber-optic special effects, and gold and crystal accents. Guests also can enjoy artwork and special mementos left by Tiana's royal friends and watch "fireworks" swirl as they recline in ornate beds, curl up in custom linens and more. It is majesty and fun, rolled into one. Each of the 512 Royal Guest Rooms sleeps up to four guests in two queen beds.
Disney's Port Orleans Riverside Resort Dining Options
Boatwright's Dining Hall along the riverfront for home-style favorites in a table service setting.
Riverside Mill Food Court for quick service dining options.
River Roost Lounge for appetizers and specialty drinks
Muddy Rivers Pool Bar for drinks and snacks
Pizza Delivery by Sassagoula Express Pizza Delivery: 4pm to 11:30pm
Nearby Port Orleans French Quarter food court, Sassagoula Floatworks (10-15 minute walk)
Refillable mugs are available for purchase at the Riverside Mill Food Court.
Sponsor: Save money on Disney dining, by ordering drinks, snacks and other items that are delivered to your Disney Resort. Garden Grocer has over 5000 products including milk, baby care items, breakfast items and even beer and wine.


Disney's Port Orleans Riverside Resort Recreation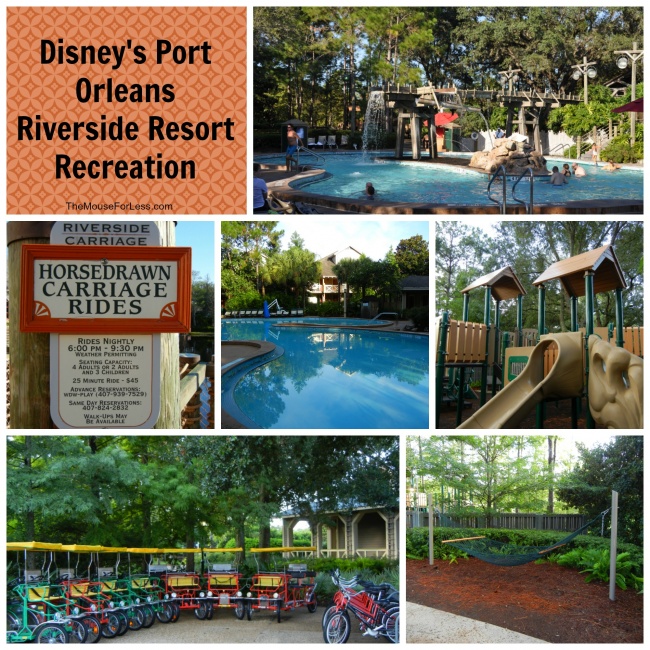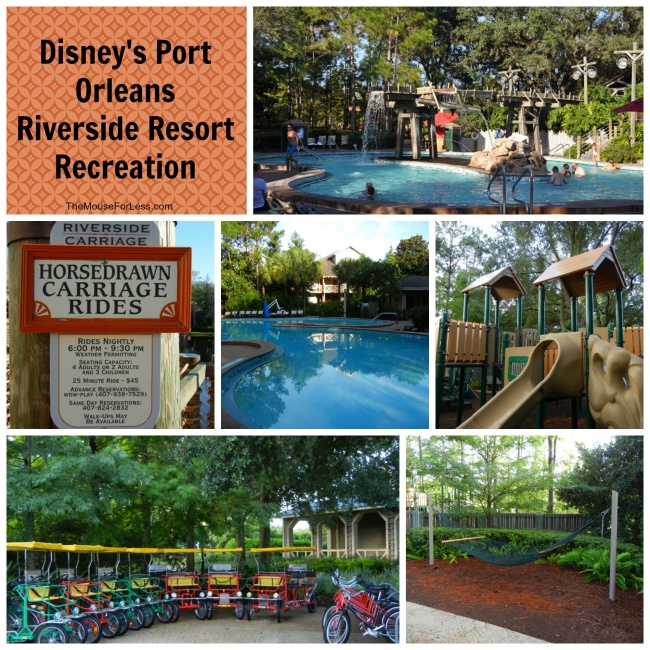 Ol' Man Island feature pool with slide
Wading pool
Hot tub (spa)
Five 'quiet' pools
Medicine Show Arcade
Playground
Walking/Jogging Trail
Family fishing hole (catch & release only)
Carriage rides
Bike rentals
Movies Under the Stars
For a fun and more relaxing way to spend a day during your visit to Walt Disney World, each resort hosts Poolside Activities each day from 1:30 – 7:00 p.m.. Pool hours and lifeguard availability vary by pool. Activities and programs are subject to change. Although the activities vary by day and by resort, examples of what you might find include trivia, arts and crafts, dance parties, games, bingo, and more.
Disney's Port Orleans Riverside Resort Pool and Recreation
Disney's Port Orleans Riverside Resort Shopping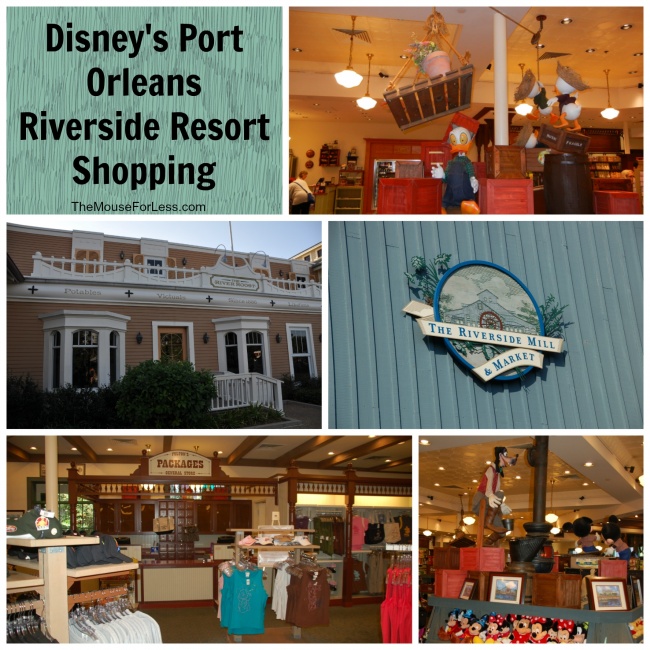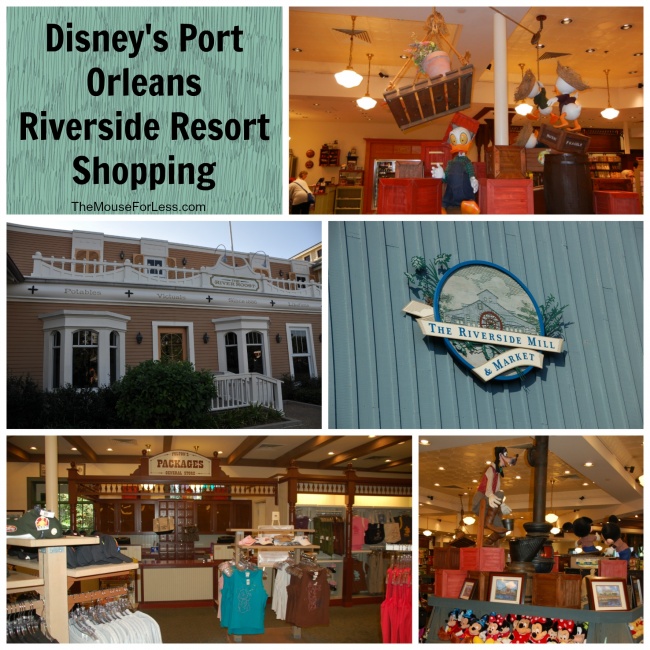 Fulton's stocks Disney character apparel and souvenirs as well as Port Orleans logo merchandise. You can also find snack foods, beverages (including adult beverages), magazines and books, and other general sundries.
Look at all your vacation photos by visiting the Photopass page. These professional pictures can make a great souvenir for home!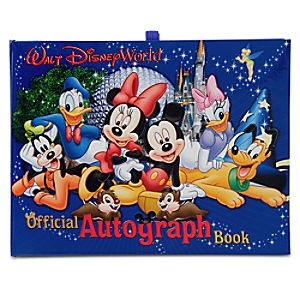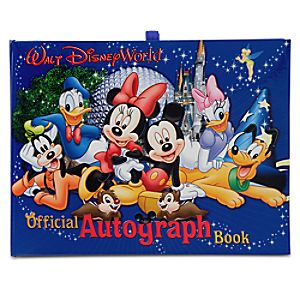 Save money and buy official Disney Park merchandise and souvenirs before you leave home. 
Disney Shopping
has autograph books, character plush, travel accessories and many  items that will make your vacation even more magical.  Shop before you leave home to save time and money!
Disney's Port Orleans Riverside Resort Transportation
Overnight Self-Parking
Effective January 10, 2023, there will no longer be any parking fees for resort guests at Walt Disney World. See our Walt Disney World Parking Information page for prices and details.
Disney's bus service is available to and from this resort to theme parks, water parks, plus Disney Springs. There are four bus stops, located at the guest services building and around the resort perimeter. There is bus and boat transportation to Disney Springs. The boat launch is located at Dixie Levee marina.
Transportation Times Between Port Orleans Riverside and Disney Destinations
These times are approximate, provided to give you an idea of average travel times. Please plan on up to a 20 minute wait for Disney transportation in addition to walking time to resort or theme park transportation stops.
Magic Kingdom – 14 minutes by bus, 29 minutes by car (with transfers)
Epcot – 18 minutes by bus, 20 by car
Disney's Hollywood Studios – 15 minutes by bus, 20 by car
Animal Kingdom – 20 minutes, 20 by car
Disney Springs – 18 minutes by bus, 20 minutes by boat, 12 by car
Blizzard Beach Water Park – 22 minutes by bus, 15 minutes by car
Typhoon Lagoon Water Park – 18 minutes by bus, 14 minutes by car

Disney's Port Orleans Riverside Resort Childcare
***Disney has closed its three Children's Activity Centers located at Disney's Animal Kingdom Lodge, Disney's Polynesian Village Resort and Disney's Yacht & Beach Club Resorts.  As well the Pixar Play Zone that was located at The Contemporary Resort has closed.  The Walt Disney World Dolphin will still offer a Children's Activity Center option and you do not have to be a guest at that resort to use the Children's Activity Center.***
While not on-site child care facility, however Kid's Nite Out, in-room child care, is available at all resorts for children 6 months to 12 years old. Reservations may begin as early as 6:30 a.m. and/or may begin as late as 11:00 p.m., Services are available 24/7.  
The Walt Disney World Dolphin will still offer a Children's Activity Center option and you do not have to be a guest at that resort to use the Children's Activity Center.  Camp Dolphin
Disney's Port Orleans Riverside Resort VIP Top Tips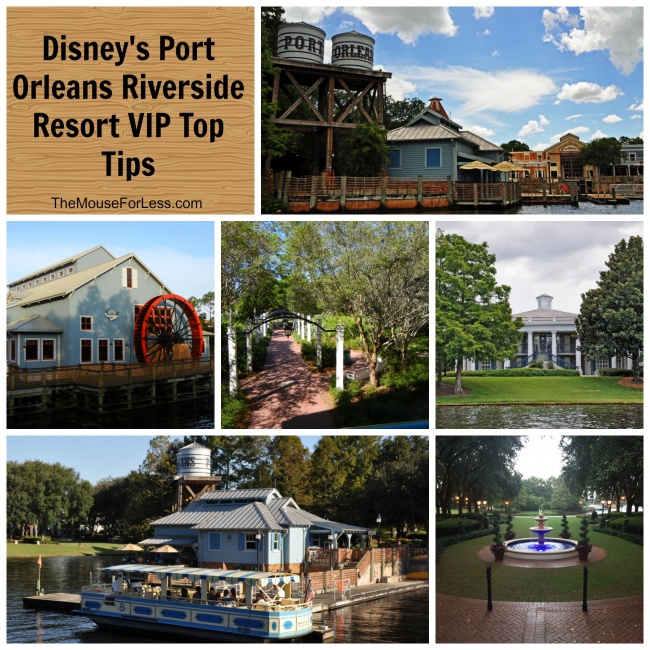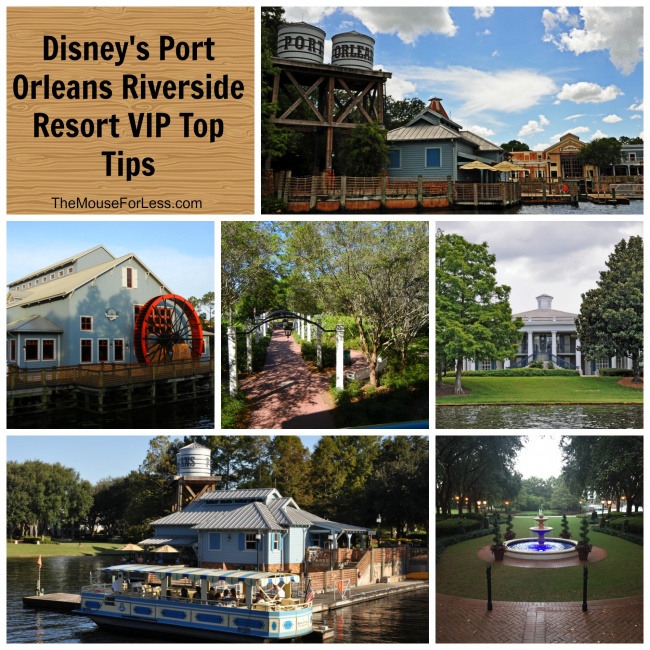 This section is sponsored by the Disney experts at The Magic for Less Travel, Authorized Disney Vacation Planner
My family of five has stayed at Port Orleans Riverside and we love it! The murphy bed is so cute! But it does have a drawback…there are not many drawers or places to put your luggage in those rooms for five. My suggestion: bring hangers. There was no luggage rack and only a few hangers, three small drawers, and some open space in the sink and nightstand area. Also, consider bringing a pop-up hamper that folds flat for your dirty clothes so you won't have to play musical suitcases to dig for your clothes every morning.
The quiet pools at Port Orleans Riverside are nice, especially when the main pool is crowded.
There are boats from Port Orleans Riverside to Disney Springs. In addition to being a convenient form of transportation, it is a scenic boat ride especially in the evening.
The Royal Guest Rooms are a nice upgrade and nicely themed. There are so many little details in these rooms. From the faucets shaped like Aladdin's lamp to the note from Princess Tiana on the table, these rooms are super themed. Plus you get the fireworks in the headboard.
YeHaa Bob Jackson at River Roost Lounge at Port Orleans Riverside is very entertaining; the later show is a bit racier.
Cane pole fishing is available at Port Orleans Riverside.
Preferred rooms are assigned to the Alligator Bayou section of the resort.
Be sure to enjoy the atmosphere after dark; it's lit and really does feel like you are "there." Also the boat ride after dark is a nice option when things aren't too busy.
There is a walkway between the two Port Orleans resorts (Riverside and French Quarter).
You can pool hop between the two resorts' main pools.
Check the resort map. Your closest bus stop may be behind your outer building vs. walking to the main building.
While room requests are not guaranteed, ask for a corner room. The extra window brings in more sunlight and appears more spacious.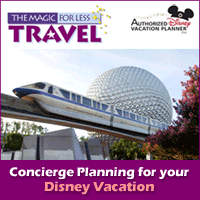 Looking for a discounted rate for your Disney Vacation? Let The Magic for Less Travel, an Authorized Disney Vacation Planner, work for you. Their concierge services are always provided free of charge, and The Magic for Less Travel will help you find the best published or unpublished discount for your vacation. Already have a vacation booked directly with Disney? Contact The Magic for Less Travel to see if they can help you find a lower rate.
GET A FREE QUOTE NOW!