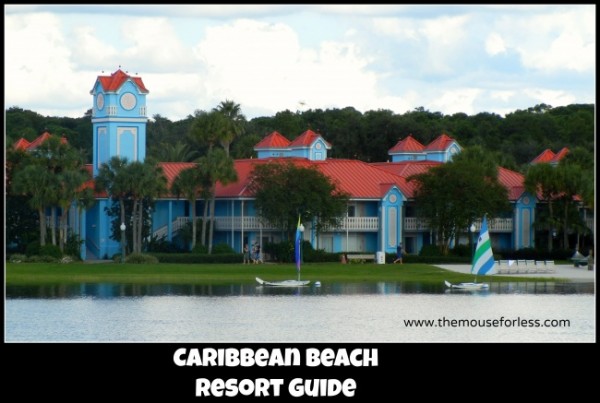 Caribbean Beach Resort
900 Cayman Way
Lake Buena Vista, FL 32830-1000
Telephone: (407) 934-3400
Fax: (407) 934-2736
Refurbishment   Theme   Rooms   Dining   Recreation   Shopping
Transportation   Childcare   Resort Rates   Resort Map   Reviews
Activities   Top 10 Resort Tips   MFL Tips   Photos
Moderate Resort Classification
Located in the Epcot resort area
Check In: 3:00 p.m. / Check Out: 11:00 a.m.
Conveniently located amid Epcot, Disney's Hollywood Studios and Downtown Disney lies the lush tropical getaway location of The Caribbean Beach Resort. This moderate priced resort offers all the high quality Disney amenities you would expect at a price that let's you relax, mon! Clean and comfortable Disney-styled tropical island surroundings gives this resort a laid-back, easy-going atmosphere. Enjoy traditional island foods, stroll sandy beaches or shop island marketplaces to the call of exotic birds. Be transported to a place where soft island breezes past through the colonial styled buildings. Each island complex is bright, airy and colorful with access to a 45-acre lake and sandy beaches. Everything's cool at the Caribbean Beach Resort.
Caribbean Beach, like all Disney resorts, is smoke-free. Designated outdoor smoking areas are indicated on the Resort Map.
Resort Refurbishment
Check our Rehabs and Closures schedule for any refurbishments or work taking place at the Caribbean Beach Resort during your visit.
Resort Theme
Caribbean Beach Resort has a tropical island theme.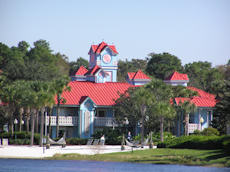 Resort Rooms
This resort's 2112 rooms are spread among six 'islands': Aruba, Barbados, Martinique, Jamaica, Trinidad North and Trinidad South. Each island has a distinctive color, its own pool, and laundry facilities.
Preferred Location: Martinique and Trinidad North (close to Old Port Royale pool, dining and shops)
Water View rooms have views of the Barefoot Bay or a pool.
Standard View rooms look out onto the resort grounds.
Additionally, there are more than 350 pirate-themed rooms—awash with pirate ship beds, buccaneer accessories and swashbuckling décor—available (located in Building 38 in Trinidad South). There is an extra charge to stay in one of these specially decorated rooms. Prefer an ocean theme? The standard room decor at the Caribbean Beach Resort is themed to the clownfish of the animated movie "Finding Nemo".
Standard Guest rooms: Maximum 2-4 Guests (some accommodate 5)
Most rooms have two queen-size beds (Pirate rooms have double beds)
A limited number of rooms with king-size beds are available.
Disabled-accessible rooms are available.
Curtain between vanity area and sleeping area
In-room pizza delivery
Irons and ironing boards
Coffee maker and set-up
Alarm clock
Ceiling fan
Hairdryers
In-room refrigerators
In-room wall safes
Dual line phones with voicemail
Satellite TV with Disney Programming
Complimentary wireless Internet (Wi-Fi) (click link for specific details)
Convenient self-parking
Laundry facilities (located near the feature pool)
Valet dry cleaning and laundry service is available for pickup
Pak-n-Play Cribs available upon request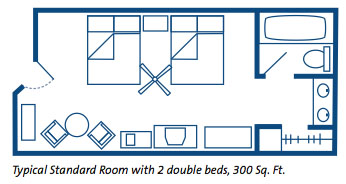 Coin-operated self-service laundry facilities are located throughout Disney's Caribbean Beach Resort. Valet dry cleaning and laundry service is available for pickup from your room.
Concierge Desk – Found in both the Custom House and at Old Port Royale, the concierge can help you purchase Disney Theme Park and Disney Water Park tickets, make dining reservations and secure show seats.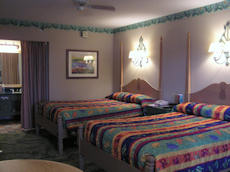 Resort Dining
Shutter's at Old Port Royale for American lunch and dinner with a Caribbean twist in a table service setting
Old Port Royale Food Court at Old Port Royale for quick service dining options
Banana Cabana Pool Bar
Blue Runner Pizza Delivery
Refillable mugs are available for purchase at the Shutter's at Old Port Royale Food Court for $15.49 plus tax.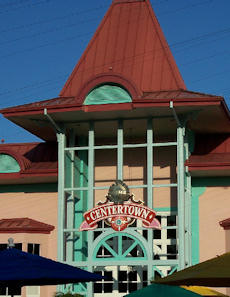 Old Port Royale
Resort Recreation
Old Port Royale Spanish fortress-themed feature Pool with slide and zero-depth entry, waterfalls, water cannons, and 2 hot tubs (spa)
Wading pool
Playgrounds
Six 'quiet' pools
Beaches (swimming is prohibited; hammock naps encouraged)
Fishing
Goombay Games Arcade
Jogging/Walking trail
Volleyball courts
Bike and surrey bike rentals
Nightly "Movies Under the Stars" at the main pool at Old Port Royale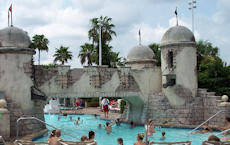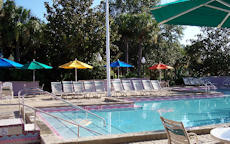 Both family and quiet pools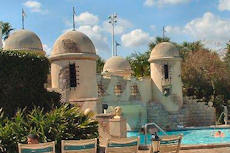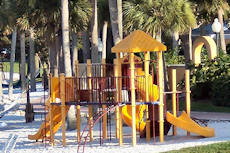 Pool and playground for the kids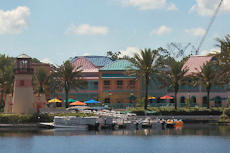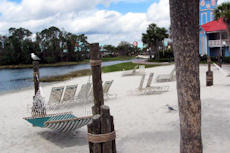 Relaxing beaches and marina
Resort Shopping
Calypso Trading Post & Straw Market stocks Disney character apparel and souvenirs as well as Caribbean Beach logo merchandise. You can also find snack foods, beverages (including adult beverages), magazines and books, and other general sundries.
Resort Transportation
Disney's bus service is available to and from this resort. There are seven bus stops, one for each 'island' as well as a Old Port Royale Towne Center stop. There is also an internal resort bus service, to carry guests between their 'island,' Old Port Royale and the Customs House guest registration building.
Transportation Times Between Caribbean Beach and Disney Destinations
These times are approximate, provided to give you an idea of average travel times. Please plan on up to a 20 minute wait for Disney transportation in addition to walking time to resort or theme park transportation stops.
Magic Kingdom – 20 minutes by bus, 37 minutes by car (with transfers)
Epcot – 18 minutes by bus, 18 by car
Disney's Hollywood Studios – 15 minutes by bus, 15 by car
Animal Kingdom – 22 minutes, 17 by car
Downtown Disney – 24 minutes by bus, 10 by car
Blizzard Beach Water Park – 18 minutes by bus, 12 minutes by car
Typhoon Lagoon Water Park – 19 minutes by bus, 8 minutes by car
Resort Childcare
No on-site child care facility. In-room child care is available at all resorts.
Resort Rates
Caribbean Beach Resort Photo Gallery
Click photos for larger image or slide show
Looking for a discounted rate for your Disney Vacation? Let The Magic for Less Travel, an Authorized Disney Vacation Planner, work for you. Their concierge services are always provided free of charge, and The Magic for Less Travel will help you find the best published or unpublished discount for your vacation. Already have a vacation booked directly with Disney? Contact The Magic for Less Travel to see if they can help you find a lower rate.

GET A FREE QUOTE NOW!
Tips From TheMouseForLess Members
TheMouseForLess Interesting Facts about the Resort
First moderate resort built. Largest rooms of the Moderate resorts. – Sara King
Martinique section is 1st bus pick up. You almost always get a seat. – Carol Lindsey
Because the resort is so large, there are multiple bus stops – one for each "island". – Jennifer from NH
There is a jogging track around the lake in the middle of the resort. – Heather Gray
This resort has a pool in each island and a main pool at Old Port Royale complete with 2 water slides in the big pool and a kids area with a pirate boat, dumping bucket and 3 small slides for the kids. – Erica Bolding
TheMouseForLess Room Request Tips
Pirate rooms…they are fabulous! Especially if you have kids in tow. Try to get a room near Old Port Royale if you dont want to be far away. Alot of the island areas are further from the Old Port Royale and you will have to either walk, which will get tiresome after walking in the parks all day, or take the internal shuttle. – Erica Bolding
Ask for a room in Martinique or Trinidad North to be near the Food Court, Shutters restaurant, gift shop and main pool. – Marie Lemmon
We were in Barbados and it was great. We were the last bus to be picked up and the first to be dropped off. – Katie Morris
Martinique for sure!! Just a short walk to Old Port Royale(Main Pool, food, store, arcade, marina, etc.). We loved #24 right near the quiet pool, but that is extra $, due to it being a Preferred section, but building #22 is right next door and is a standard rate. They are also just steps away from a bus stop too! – Michele Boyer
We didn't mind the walking and wanted a more quiet room so we requested the Aruba or Jamaica areas across the lake and found that we slept very quietly without normal hotel noise interruptions that we experienced at the value resorts. – Christy Russell
To be away from the noise, ask for Trinidad South, the remotest building. Aruba and Jamaica are also excellent choices if you'd prefer to be in a quieter area, but want to be close to everything at the same time. It's like a suburb! – Jennifer from NH
Request a corner room; they seem larger and more windows. – Carol Lindsey
TheMouseForLess Hidden Treasures
While we there in September 09, my husband and sons (7 & 5) were waiting on me right outside Old Port Royale one morning. A Cast Member approached them and asked if they would like to open the lake for the day. We got a chance to ride the boat and chase the pirate off the lake for FREE. The boys received pirate hats, eye patch and sword. It was a great way to start our day! Disney Magic at its best! – Savanah
The hammocks on the beach will make you feel like you are in paradise. – Sara King
Play the steel drums inside the gift shop. Also, you can send someone a coconut from this resort. – Stacey Cain
You get a good view of fireworks from Martinique Beach. – Carol Lindsey
Caribbean Cay, the island in the middle of the lake, has lots of little hidden statues that your kids can "discover". – Heather Gray
Caribbean Cay is a great place to walk and see the sights. You can also see some birds and even maybe an alligator by the bridge in the water. – Michele Boyer
Not only is Caribbean Cay daily pathway to and from Old Port Royale if you are staying in Aruba or Jamaica, but it also has picnic tables, hammocks and covered pavilions with bench swings and makes a great place for a picnic lunch. Just choose one of the pathways off the beaten track and pick your spot. – Kathy K.
We loved renting one of the bicycles built for 4. We are also big Pirates of the Caribbean fans, so the displays in the gift shop were fun for us to see. The pool at Old Port Royale has different activities during the day, such as scavenger hunts and cannonball competitions – Carol Lively
TheMouseForLess Tips for Romance
We stood on our balcony and caught the fireworks show from one of the nearby resorts. Also the ambiance of this hotel at night is gorgeous. Low lighting, heavy foliage, taking walks – it's just gorgeous! – Christy Russell
Grab a drink, snack, or picnic type lunch from your room or the food court and have a nice romantic time by the beach. Snuggle up with your sweetie in one of the hammocks. – Sara King
Grab a drink from the Banana Cabana and relax on the hammocks you'll feel like your on a real island! – Stacey Cain
Book the kids on Pirate Cruise at the resort and have some quiet time (wink) at the room. – Carol Lively
The hot tub is almost secluded at night from bypassers going from the lobby to their rooms. – Shay
TheMouseForLess Tips for Families
The Pirate Adventure is offered at the marina by the main building. For an extra charge, your kids can take a "pirate" ship sailing on the lake and search for buried treasure. They are also served lunch while out. – Heather Gray
Use the laundry room, it's spotless. We only took 1/2 the luggage/clothes and did 2 loads of laundry. The laundry is located right next to the quiet pool, so you can swim or relax while doing laundry. Don't forget to bring your room keycard to get in the laundrymat. Also, the room is bigger than the value resorts, and the curtain that divides the sink area from the beds makes it feel that much bigger and easier for families to dress with privacy. – Carol Lively
The food court has a real festive Caribbean feel to it. They have combo meals for the kids which come in a beach pail & shovel. There is also a stand set up which has an artist doing Caricatures, for a fee of course. It's a fun thing to do after eating if you're not rushing off to the parks. My son had his done and he still talks about it. – Dina McKenna
This was a great resort for families. The kids loved the pool. The food court was a great theme and had lots of choices for everyone. There was a lot of pirate stuff in the gift shop and my 8 yr old son and 3 yr old daughter loved it. The room comfortably fit 2 adults, 2 children and 1 infant. – Katie Morris
If you go onto the beaches when Epcot is doing Illuminations, you can relax on a hammock and enjoy the fireworks too! It's very relaxing. The kids even watched them while playing on the playground with friends they made. Try the surrey bikes for a great fun filled time with your family. We never laughed so hard! It was hot out and the 2 times around was a little tiring, but I wouldn't have traded the moments for anything. My kids still talk about it and play the video we took while riding. – Michele Boyer
TheMouseForLess Tips for Large Travel Groups
Caribbean Beach is a great resort for large groups because the resort is so large itself. You can all bunk together or bunk in separate buildings, but still be within walking distance of each other. – Jennifer from NH
Make use of the food court….they offer a lot of types of foods, so everyone in your group is sure to find something that they like to eat. – Heather Gray
TheMouseForLess Tips for Guests with Special Needs
Ask for a room on the first floor in Martinique or Trinidad North for easiest access to everything. – Marie Lemmon
This resort is big and spacious. It's longer to walk to the food court/gift shop area, and to get to the lobby you have to take a shuttle bus. Also, there are no elevators for 2nd level rooms. If you need quicker/shorter distance access to hotel support areas, you might want a different hotel. Though the bus pickups aren't far to walk to – there are several at this resort versus just the one big one at the value resorts. – Christy Russell
There's an internal bus shuttle that can bring you from building to building, including Old Port Royale. – Jennifer from NH
Larger rooms here than other moderate resorts. May need to ask for a ground level room and/or one near Old Port Royale or a bus stop. – Sara King
TheMouseForLess Tips for WDW Newbies
This is a huge resort, with a lot of rooms. If you want to be able to get a seat on the bus, request a room in a village that is one of the first two stops on the bus route; otherwise, you'll probably end up standing, and it can be uncomfortable because they really pack the people on those buses. – Heather Gray
Always ask for help. The Cast Members are more than willing to help you, especially if they know you're new. Don't hesitate to ask for a certain "island". They'll go out of their way to get you a room that's available if you show up before check-in time. – Jennifer from NH
If Old Port Royale pools are too busy, there is always a pool in the area near the island you are staying that is MUCH quieter. USE DISNEY TRANSPORTATION! It will save you alot of $ on gas trying to drive in and out of those parks everyday if you are driving. Also, it can get Sweltering HOT in the summer months…take bottles of frozen ice water (if you have a fridge or freezer) and take them with you to the parks. You can also freeze Go-Gurts for your kids. Also, if going out at night make sure you bring some sort of bug repellent. I used Bug Off bracelets and put on the arm and one on the leg of my child to keep bugs away. Scope out your parade spots EARLY! Use fastpass as often as you can. – Erica Bolding
When you check in request to be as close to Old Port Royale as possible. I've done it twice and got great room locations without paying the price of a preferred room. – Stacey Cain
Get up very early and go to the parks. We would come back to the CBR and take a break at lunch time and would almost never wait in line at the food court or for a table. It was deserted and quite relaxing at that time. – Carol Lively
Call bell services to come and get you if you are leaving via Magical Express because luggage isn't allowed on the internal buses. – Heidi Hoffman
Make sure to leave extra time for bus travel, it is a big resort and takes a while to get around. – Michele Boyer
Beware of credit card scammers! Several scams have been perpetrated on unsuspecting tourists staying at hotels or resorts in the Orlando area in recent years, including Disney resorts. The first involves a phone call to your resort room in which you are informed that there is a problem with the credit card info you provided the hotel; you are then asked to give your card information again, including name and address. If you receive such a call, inform the caller that you will talk to the front desk personally about the problem and hang up. If you are convinced the call may be legitimate, call the front desk from your resort phone or visit the front desk to inquire. The second scam involves flyers left on your resort room door advertising cheap pizza for delivery. Those who call the number and give the requested credit card info with their order soon find that not only does no pizza arrive, but a huge string of unauthorized purchases show up on their credit card.
TheMouseForLess Tips for Budget Travelers
If you aren't able to get to the beach, this resort makes you feel like you are at the beach. There is a beach area all around the lake with sand and hammocks. Our kids building sand castles and playing in the water as it lapped in. Swimming in the lake is not allowed. – Christy Russell
Asking for a room upgrade when you first check in might just get you a corner room or a water view without having to pay extra. – Jennifer from NH
If you are on the dining plan, use your snack credits in the gift shop for bagels, cream cheese, donuts, milk for coffee etc. You can store it in the room fridge and take advantage of the coffee pot in the room for a continental style breakfast. We didn't feel the need to spend money on refillable mugs, between the free coffee in the rooms and having the fridge in the room to chill water bottles to take with us to the parks. We are not picky about bottled water, so it was fine for us to chill the tap water in the fridge for the next day. – Carol Lively
Each room comes with a refrigerator, so you can bring your own soda/milk/juice and still keep it cold. – Heather Gray
Worth the extra money from a value. Nice rooms and big enough for the family. 2 sinks are great for getting ready in the morning. – Michele Boyer
TheMouseForLess Tips for Luxury Travelers
Unlike the value resorts, moderates have a sit-down restaurant and are probably a better choice if you would like to have relaxing meals at your resort. – Carol Vandiver.
Save money on the hotel and spend it on a special event like Cirque Du Soleil – Carol Lively