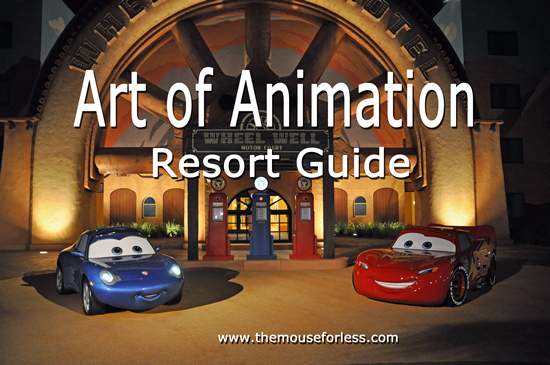 1850 Animation Way
Lake Buena Vista, FL 32830-8400
Telephone: (407) 938-7000
Fax: (407) 938-7070
Refurbishment   Theme   Rooms   Dining   Recreation   Shopping
Transportation   Childcare   Resort Rates   Resort Map   Reviews
Activities   Photo Gallery   Top 10 Resort Tips   MFL Tips   Photos
Value Resort Classification
Located in the Disney's Hollywood Studios resort area
Check In: 3:00 p.m. / Check Out: 11:00 a.m.
Disney's Art of Animation Resort invites you to become a part of your favorite animated films. Each one of the Disney's Art of Animation Resort 3-story buildings designed to make you feel like you are part of one of 4 beloved animated films. Kids and kids at heart can romp through one of the 4 courtyards—one courtyard for each film—where there are icons and sculptures to interact with and play around. The resort features room types for almost every party size and preference—including 1,9284 themed standard rooms or family suites. This resort is adjacent to Disney's Hollywood Studios theme park and ESPN Wide World of Sports Complex.
Art of Animation Resort, like all Disney resorts, is smoke-free. Designated outdoor smoking areas are available.
Resort Refurbishment
Check our Rehabs and Closures schedule for any refurbishments or work taking place at the Art of Animation Resort during your visit.
Resort Theme
Disney animated films: The Lion King, The Little Mermaid and Disney·Pixar's Finding Nemo and Cars.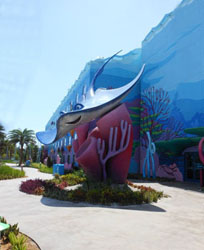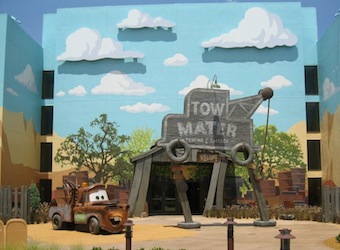 Resort Rooms
1,984 Rooms in all
The 864 rooms within The Little Mermaid buildings are sea-inspired with an eye towards value. Little Mermaid building has outside walkways. Square footage in the standard rooms is 277 sq feet.
The 1,120 family suites within The Lion King, Cars and Finding Nemo buildings exclusively feature suites which accommodate up to six guests. The Finding Nemo, Cars and Lion King buildings all have interior hallways. Square footage in the family suites is 565 sq. feet. Family suites include:
• 2 separate bathrooms
• A master bedroom
• Mini-kitchen with microwave, compact refrigerator & coffee maker
• 2 Flat panel TVs
• 3 separate sleeping areas within the living space, which includes an "Inovabed"—an impressive piece of furniture that transforms from a generously sized dining or work table to a comfortable double bed in seconds, Queen-size bed and double-size sleeper sofa.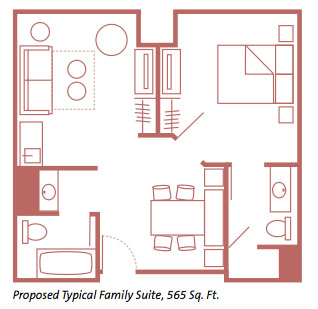 Standard Rooms accommodate four (4) people, plus a child under 3.
Handicap accessible rooms feature wheelchair-accessible bathrooms and rooms designed for the hearing impaired.
Room views overlook the parking lot, courtyard or pool area
Standard rooms have exterior hallways
Stairs and elevators are available
Standard room features two double beds or King bed
Flat panel TV with Disney Programming
Voice mail
Complimentary wireless Internet (Wi-Fi) Pack 'n Play Playard Available
Hairdryer
In-room Safe
Iron and Iron Board
Beverage Cooler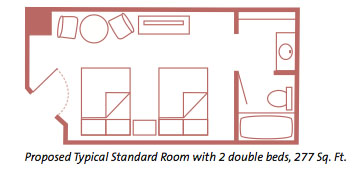 Located at the Main Lobby in the Animation Hall building, the concierge can help you purchase Disney Theme Park and Disney Water Park tickets, make dining reservations and secure show seats. An ATM Machine located in the lobby of Animation Hall.
Guest Laundries are located at each pool area (Cars, Finding Nemo, The Little Mermaid). Guest Laundry is cashless and uses the Guest Key to the World card to charge back to room account.
Pay telephones and house phones are located in Animation Hall and on the first floor of every Guest building. All Guest buildings have an ice machine on every floor.
Self serve business center is available in Animation Hall including computer stations, printers, and fax.
Resort Dining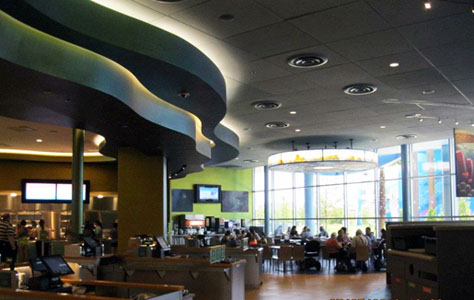 Landscape of Flavors Food Court
Pop Art Pizza Delivery
The Drop Off Pool Bar (located in the Finding Nemo courtyard by the feature pool)
Rapid-Fill (refillable) Mugs are available for purchase at the Landscape of Flavors Food Court and The Drop Off Pool Bar for $15.49 plus tax.
Resort Recreation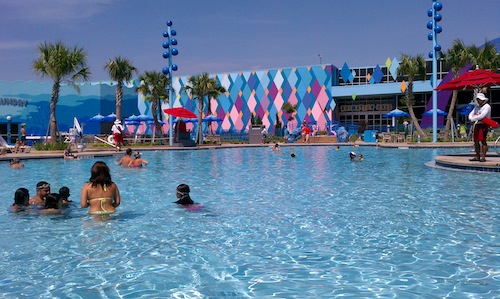 Three pools – the main Big Blue Pool and 2 quiet pools, including the Flippin' Fins Pool in The Little Mermaid courtyard and the Cozy Cone Pool in the Cars courtyard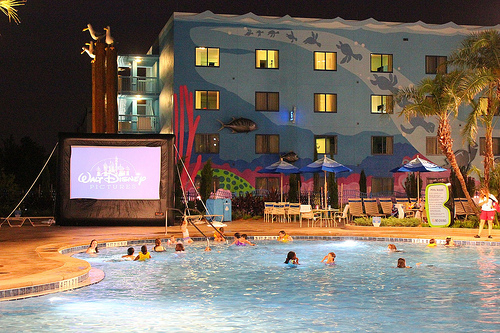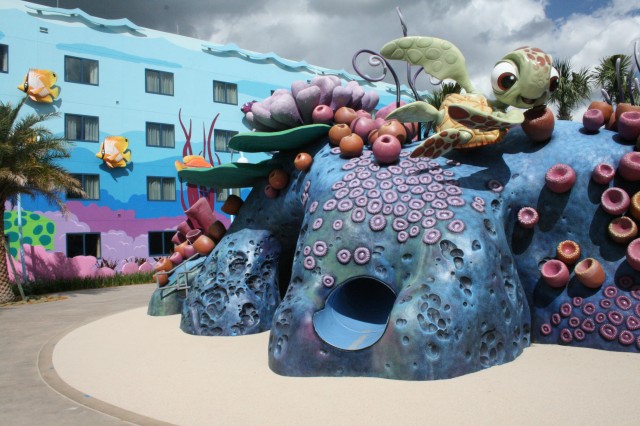 Righteous Reef playground – Finding Nemo courtyard
The Boneyard playground – The Lion King courtyard
Schoolyard Sprayground water play area – Finding Nemo courtyard.
Pixel Play Arcade in Animation Hall
1.38-mile Jogging Trail
Nightly movies by the Big Blue Pool
Resort Shopping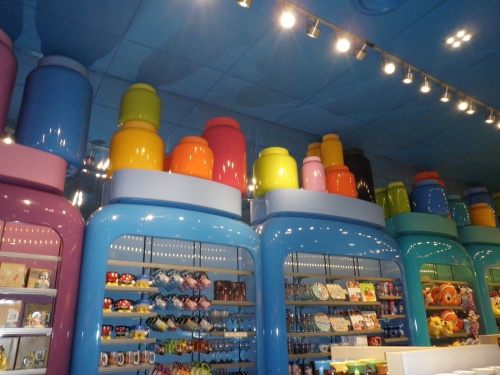 Located in Animation Hall, the Ink and Paint Shop is the place to browse for Disney merchandise and vacation necessities. A Character Artist wil be on hand for custom sketches. There will also be pre drawn sketch art available. Package pick up counter for guest to conveniently pickup the items they have purchased in the parks.
Resort Transportation
Disney's bus service is available to and from this resort at Animation Hall.
The resort has its own dedicated bus and does not share with Pop Century.
Inside Resort Airline Check-In area with dedicated entrance in Animation Hall.
Transportation Times Between Art of Animation and Disney Destinations
These times are approximate, provided to give you an idea of average travel times. Please plan on up to a 20 minute wait for Disney transportation in addition to walking time to resort or theme park transportation stops.
Magic Kingdom – 24 minutes by bus, 31 minutes by car (with transfers)
Epcot – 20 minutes by bus, 19 by car
Disney's Hollywood Studios – 18 minutes by bus, 18 by car
Animal Kingdom – 22 minutes, 18 by car
Downtown Disney – 20 minutes by bus, 15 by car
Blizzard Beach Water Park – 19 minutes by bus, 11 minutes by car
Typhoon Lagoon Water Park – 20 minutes by bus, 13 minutes by car
Resort Childcare
No on-site child care facility. In-room child care is available at all resorts.
Resort Rates
Art of Animation Resort Photo Gallery
Click photos for larger image or slide show
Looking for a discounted rate for your Disney Vacation? Let The Magic for Less Travel, an Authorized Disney Vacation Planner, work for you. Their concierge services are always provided free of charge, and The Magic for Less Travel will help you find the best published or unpublished discount for your vacation. Already have a vacation booked directly with Disney? Contact The Magic for Less Travel to see if they can help you find a lower rate.

GET A FREE QUOTE NOW!
TheMouseForLess Resort Tips
The Art of Animation resort is priced higher than other resorts in the "Value" category. This is due to the host of amenities and features not found at other Value resorts. You can read about a few of them below.

The Check-in desk is different from other resorts, with new "pod" style check-in desks replacing the typical long check-in counter. Each island has 2 check-in stations each that allow resort cast members to come around the desk and interact with the guest if they should need to. There are 18 pod-style front desk stations in all.

Pencil drawings of Ariel, Lightning McQueen, Nemo and Simba adorn the entryway of the resort, and a cleverly created chandelier composed of animation storyboards enhance the modern lobby. Occasionally you can catch an artist sketching in the lobby. The work is also displayed on a TV screen.

Each section of Art of Animation Resort is sized as if the guest were one of the characters. In Little Mermaid, you are Sebastian and everything is sized accordingly. In Cars, you are Lightning McQueen, etc. Also, in the Little Mermaid section, all the fish are swimming toward Ariel and Neptune but are swimming away from Ursula.

The lobby has a very large kids' room to keep the kiddies entertained with movies while mom and dad check-in to the resort. Guests can also take a drawing class every day Thursday through Monday at 11 a.m., 2 p.m. and 5 p.m. There is no charge and instruction and materials are provided. Your work may be selected as "Artist of the Day" and put on display!

As guests wait to board Disney buses at the front of the resort to take them to the theme parks, easels with paper and pencils are provided in the area, along with instructions for how to draw basic Disney characters, to help keep them entertained.

The resort's marquee measures 46 feet, six inches, making it the largest freestanding marquee at Walt Disney World Resort. (Incidentally, it's 18 inches taller than the famous "HOLLYWOOD" sign in Los Angeles, Calif.).

Door locks feature RFID proximity sensors that allow guests to simply wave their Key to the World card near the door rather than sliding the card into the lock. The same technology is used at the Big Blue Pool. A fence surrounds the entire pool area, and guests are required to tap an active hotel key card to enter.

There's enough space in the resort's family suites for the entire family to chill out, spread out, and feel like they are part of the story. Get this – the table even folds down to reveal a comfy bed that sleeps two with 2 LED reading lights.

With an area of 11,859 square feet, the "Big Blue Pool" feature pool at the Finding Nemo wing of the resort is the largest swimming pool at Walt Disney World Resort outside of the water parks. It is also the only Value resort pool to feature zero entry and wet and dry play areas.

The Big Blue Pool has a unique feature that allows guests to hear Marlin, Dory, Crush, Squirt, Mr. Ray, and Bruce and other "Finding Nemo" characters carrying on a conversation while under water. In between the underwater conversations, Disney pipes in upbeat surf and island music. Sit and relax on under the giant jellyfish. Warning you just may get wet! To find the pool rules, just look for the oversized pair of swimming googles.

Guests staying on the top floors of the "Finding Nemo" wing can get a spectacular panoramic view of the pool.

At night, a large inflatable screen is set up at the Big Blue pool. Disney and Pixar films are viewable from the pool deck lounge chairs and from in the pool.

To get to the "Cars Wing," you follow Route 66 – a winding path leading to Ornament Valley and the small town of Radiator Springs where you will find a courtyard sprinkled with tourist stops, , including Tow Mater's Tow & Salvage, the Wheel Well Motel, and Sally's Cozy Cone Motel.

The Cars pool has 8 "Cone-shaped" Cabanas, which are complimentary on a first come, first served basis. In addition to shade, the cabanas include four deck chairs and a small table. You can even have pizza delivery to them.

A convenient breakfast cart is located by the Flippin' Fins pool in the Little Mermaid section. In the morning you can select from a variety of grab-and-go items and bypass the crowds at the Landscape of Flavors foodcourt.

The Boneyard playground in the Lion King area is really more of a "photo op" area than a playground. There are none of the usual swings, slides and apparatus you would expect to find. Kids can enter a small cave, but signs warn that there should be no "climbing on the rocks" and there really isn't much else for kids to do there.

Because Art of Animation Resort shares its pizza delivery with Pop Century Resort, the room numbers at this resort are a little odd. Rooms start on the 5th floor; you can't have have a room 3101 at AoA since Pop has one, so it's 3501.

At theLandscape of Flavors food court, there's lots of attention on "better-for-you" options and everything is made fresh as you order! For those with allergies, there's vegan, gluten-free, soy-free, dairy-free, kosher desserts from BabyCakes NYC.

Want to do a little wandering? Right across hour glass lake is Pop Century and there's a bridge to connect you. Wander on over, check out their food court and the retro theming.

There seems to be an issue with cell phone service at this resort. Some guests are reporting that they were unable to get a signal in either the rooms or the hallways.