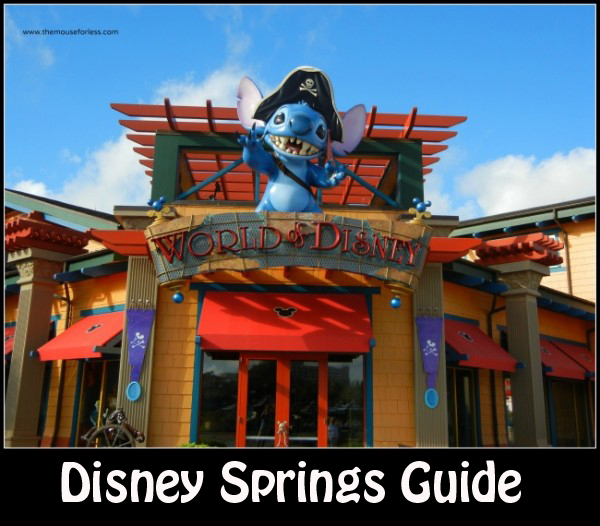 About Disney Springs – Downtown Disney Disney Springs – Downtown Disney Map
West Side The Landing Marketplace
Latest Developments    Disney Springs Photo Gallery
General Disney Springs – Downtown Disney Info
About Disney Springs – Downtown Disney
Disney Springs, formerly known as Downtown Disney, is located at the Walt Disney World Resort and is full of dining, entertainment and shopping opportunities. Entertainment at Disney Springs takes place throughout the day and into the night with a wide array of acrobatic artistry, art, theater, live music, special events, boating, and fountains for children to play in. Additionally, there are some great backdrops for family photos in and around Disney Springs. Admission and parking are complimentary.
Back in March 2013, Disney officially announced Disney Springs an updated shopping, dining, and entertainment district. Disney's goal with this expansion is to create a welcoming, comfortable space where families can relax, be entertained, wander in and out of unique and distinctive shops, or enjoy a world-class dining experience.
The Disney Springs area will welcome guests with a new gateway featuring a signature water tower and grand entry in the upcoming Town Center, which is oriented around a series of bubbling natural springs. The Town Center will be encompassed by three additional neighborhoods – The Landing, Marketplace and West Side. Each neighborhood will have its own distinct feel.
The Town Center offers a sophisticated mix of shopping and dining along with a promenade where guests can relax, refresh and reconnect. Town Center will be built with a Spanish style architecture, drawing from a rich history of explorers that landed in Florida centuries ago.
The colorful and thriving commercial district called The Landing includes inspired dining and beautiful waterfront views, featuring an older look with rustic buildings that look like they've been around for decades.
The West Side provides an exuberant atmosphere with lively entertainment, along with a more industrial feel.
The family-friendly Marketplace continues to delight guests of all ages by combining new experiences, such as an over-the-water pedestrian causeway, along with classic Disney favorites, including an expanded World of Disney store.
Like all Disney theme parks and attractions, Disney has anchored the entire experience around a story that gives Disney Imagineering the ability to deliver on a legendary place. The story of Disney Springs begins at the new Town Center, which is oriented around a series of bubbling natural springs that first attracted settlers to the area. Built around one of these natural tourist destinations, Disney Springs grew into a timeless and vibrant place for shopping and dining. It's not unlike many of the urban developments that can be found in other cities today. Disney Springs will tell the story of a town that grew up over time, but lovingly restored and has kept all of its charm and history, and now sits squarely in the modern day.
Disney Springs features an eclectic and contemporary mix of offerings from Disney and other noteworthy brands. From boutique shops to unique flagship anchor stores, guests will be able to explore a variety of shopping and dining experiences and discover offerings unlike any other currently available in Central Florida.
Once totally complete, Disney Springs will expand from 75 to more than 150 shopping, dining and entertainment venues, featuring some of the world's most iconic brands and restaurants. While Downtown Disney officially changed names to Disney Springs on September 29, 2015, the expansion will continue to open in phases and is expected to completed in 2016.  Visit our Disney Springs Expansion Guide for more info or to see photos.
Disney Springs also has an extremely active Twitter  and Instagram presence. Make sure to follow along for the latest updates.
Latest Developments
Recent Openings
Downtown Disney is now officially known as Disney Springs
Morimoto Asia now open
Paradiso 37 expansion now open
The Landing boat dock now open
Jock Lindsey's Hangar Bar now open
Expansion at World of Disney now open
Reduced access in and out of Disney Springs at intersection near Typhoon Lagoon and at Team Disney
Pedestrian bridge near Team Disney now open
Lots L, M & N now open
Disney Springs valet now operating at two locations
Guests will hear new background music including a wonderful blend of contemporary, lounge-style music, setting the mood for fun, adventure, or relaxation.
Work Continues
Pedestrian bridge at Marketplace (near Hotel Plaza Boulevard)
Buena Vista Drive construction
Once Upon a Toy construction, remains open to Guests
Portobello Country Italian Trattoria under refurbishment, remains open to Guests
Town Center
Garage near Marketplace
The Springs
West Side highlines
The Landing
Homecoming: Florida Kitchen and Southern Shine Coming to Disney Springs
Celebrity Chef Art Smith's Homecoming: Florida Kitchen and Southern Shine will showcase farm-to-fork cuisine inspired by the Sunshine State. The menu will feature Southern favorites like homemade pimento cheese, deviled eggs, low country shrimp and grits, and fried chicken. Homecoming: Florida Kitchen and Southern Shine will open in the summer of 2016.
Disney Springs Parking Lots Renamed
The parking lots have been renamed after different types of Florida fruits.  They now are:
Strawberry – O, P, Q
Watermelon – M, N
Grapefruit – L
Mango – K
Orange Garage – West Garage
Lime Garage – East Garage (opening in spring 2016)
Lemon – A
Frontera Fresco Coming in 2016
Celebrity Chef Rick Bayless has announced a new restaurant set to open in summer 2016. Frontera Fresco will feature authentic Mexican food such as hand-crafted tortas, tacos, fresh-made guacamole and classic Mexican braised meat entrees, all prepared with natural, locally sourced ingredients. The table-service restaurant also will serve an extensive selection of margaritas, cocktails, craft beers and wine. Frontera Fresco will be located in Town Center and will seat approximately 200 guests.
The Ganachery Now Open
A brand new chocolate shop opened on December 15 in The Landing section called The Ganachery. This Disney owned and operated venue specializea in custom-blended chocolates and feature flavors from around the world, including handmade ganache, bonbons and other sweet treats developed by Disney Chocolatiers. The Ganachery will also give Guests a chance to participate in tastings as well as purchase treats to enjoy immediately or take home to savor. Chocolatiers are on site making fresh ganache daily and offer tastings for guests as well. The custom dark and milk chocolate blends feature fine fair trade ingredients such as cocoa beans from Brazil, Peru, and Dominican Republic; vanilla beans from Madagascar.
"The NBA Experience" Coming to Disney Springs
The Walt Disney Company and the National Basketball Association (NBA) have announced plans to develop "The NBA Experience at Walt Disney World Resort" at Disney Springs. This expansive, one-of-a-kind destination will feature hands-on activities that put families and guests of all ages right in the middle of NBA game action. Guests will enjoy immersive NBA video productions and numerous interactive experiences, as well as a restaurant and a retail store. Currently, there is no projected opening date.
Disney Announces 13 New Retailers and Restaurants for Disney Springs
As Downtown Disney continues to transform into Disney Springs, Disney as announced 13 new tenants will join a diverse mix of retailers and restaurants between now and 2016. These tenants will be located throughout Town Center and The Landing.
Retail:
Zara: One of the world's largest fashion retail groups, Zara is known for its men's, women's and children's clothing and accessories, and its ability to expertly interpret current fashion and style trends, delivering original designs to the consumer in a matter of weeks.
Tommy Bahama: This iconic island lifestyle brand includes island-inspired sportswear, denim, and swimwear for men and women in luxuriously soft silks and cottons, richly woven textures and eclectic prints.
Lilly Pulitzer: This authentic American resort wear brand will offer their clothing and accessories, optimistic outlook, and happy prints to those who've loved the brand for years and new Lilly Girls out there.
UNIQLO: This retailer manufactures and sells casual apparel that featuring the Japanese values of simplicity, quality and longevity.
PANDORA: Building on its existing relationship with Disney Parks, this popular jewelry brand offers classic yet modern charm bracelets, along with necklaces, rings and earrings, as well as a line of exclusive Disney-themed jewelry.
UGG: Recognized as a premium lifestyle brand, UGG offers men's, women's and kid's footwear as well as loungewear, outerwear, home products, cold weather accessories and handbags.
L'Occitane en Provence: This international skincare and beauty line celebrates the culture and beauty of Provence, France.
Edward Beiner: A leading eyewear designer, purveyor and retailer, Edward Beiner offers the world's most original, authentic and innovative designer, fashion and high performance eyewear.
Dining:
Edison: Inspired by The Edison venue in Los Angeles, this lavish "Industrial Gothic"-style restaurant, bar and nighttime destination is themed to a 1920s-period power plant, recalling an exuberant era of invention and imagination. It will feature classic American food and craft cocktails. With a range of themed areas to explore, The Edison will have The Lab performance space, The Ember Parlour, Telegraph Lounge, The Patent Office, The Tesla Lounge, The Radio Room, Waterfront Patio, and more. Live entertainment will include contortionists, DJs, a cabaret and more. "The Landing" will welcome The Edison in 2016.
Sprinkles: The world's first cupcake bakery, as named by Food Network and others, serves up handcrafted cupcakes, slow churned ice cream and homemade cookies. Their innovative Cupcake ATM satisfies sweet-toothed epicureans 24/7.
Blaze Fast-Fire'd Pizza: Blaze Fast-Fire'd Pizza is a modern day "pizza joint" known for its custom-built artisanal pizzas, freshly made salads, blood orange lemonade and s'more pies. The fast-casual restaurant features an interactive assembly-line format that allows guests to customize their pizza, choosing from over 40 fresh, artisanal toppings – all for one price. The pizzas are "fast-fired" in a blazing hot open-flame oven and ready to enjoy in just 180 seconds.
Planet Hollywood Redesign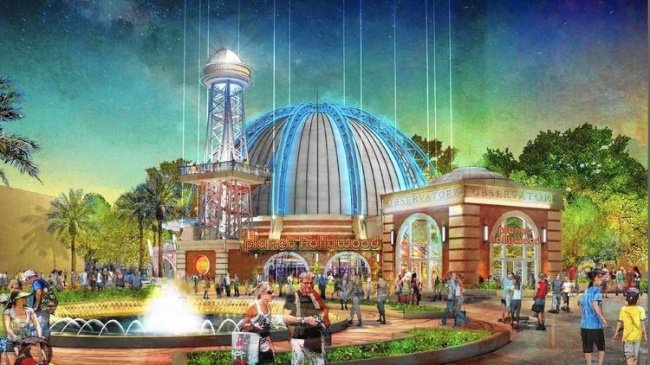 Planet Hollywood will be getting a redesign to fit in with Disney Springs theme. Gone will be the giant globe. In its place will be an early 1900s observatory. A brick exterior will cover the current blue exterior. The changes will also include an expanded outdoor seating area and bar called Stargazers, which will also bring live entertainment to Planet Hollywood.
A new menu is also in the works for the restaurant, which will be renamed Planet Hollywood Observatory. While the Hollywood memorabilia will remain, the ceiling will be transformed into a planetarium with stars and constellations.
Beginning in January 6, 2016, Planet Hollywood will close for approximately 6 months. It will reopen in the summer of 2016 as Planet Hollywood Observatory.
STK Orlando to Open
STK Orlando, an upscale modern steakhouse with a chic lounge, is being brought to life by the ONE Group. The restaurant will feature two dining floors, including a main level and the only rooftop dining venue in Disney Springs, plus a lounge that will feature a DJ who is on hand to create an electric vibe. Menu items will include steak, as well as Parmesan Truffle Fries, Lil BRG's, Shrimp Rice Krispies, Sweet Corn Pudding, and Jump Lump Crab Salad. This restaurant will open in The Landing in Fall 2015.
Disney Springs Conceptual Art Photo Gallery
View the slide show to learn interesting facts about each area of Disney Springs.
General Disney Springs – Downtown Disney Information
Guest Services
Guest Services at Disney Springs area is located in Disney Marketplace. Services include guidebooks for guests with disabilities, distribution of handheld captioning devices, wheelchair, ECV & stroller rentals. Hours are from 8:30 a.m. to 11 p.m. on Sunday – Thursday and 8:30 a.m. to 11:30 p.m. Friday and Saturday.
ECV, Wheelchair & Stroller Rentals
Electric Convenience Vehicles (ECVs), Electric Standing Vehicles (ESVs), wheelchairs and strollers are available for rent at the Guest Relations building in Disney Springs Marketplace. The ECV rental fee of $50 per day. The wheelchair rental fee is $12 per day. The fee to rent a stroller is $15 per day for a single-passenger stroller (double strollers are not available). All Disney Springs rentals include a $100 refundable credit card deposit is required per unit rented at the Disney Springs area. The rented unit must be returned to the original rental location to receive a credit card deposit refund.
Automated Teller Machines (ATM) & Credit Cards
An ATM presented by Chase can be found:
• Near the House of Blues restaurant
• Near Starbucks on the West Side
• Inside the World of Disney Store
• Near the Once Upon a Toy shop
• Near Marketplace Snacks
Visa, American Express, Diners Club Card, Discover, JCB International, AND MasterCard are accepted at Disney Springs stores. Guests with charging privileges can also use their MagicBands. Traveler's checks and cash are also accepted.
Merchandise Shipment
For guests staying at a Disney Resort hotel, purchases made at Disney Springs shops can be delivered to the Guest's room prior to checkout. Purchases made at Disney Springs shops can also be shipped home via UPS or FedEx.
Valet Parking
Valet parking at Disney Springs sees prices starting at $10 for the first 2 hours. The maximum cost for valet parking is $20 for 3 or more hours. Please note: Payment will be collected at time of pick-up; gratuity is not included in the cost. Valet parking is available in front of Cirque du Soleil on Disney's West Side.
If you have a Tables in Wonderland membership, valet parking is free with a dining receipt.
Bus Transportation, Driving & Parking
Transportation to and from the Disney Springs area is complimentary and offered as one of the benefits to Guests staying at a Disney Resort hotel. Currently, the only bus stop at Disney Springs is found at the Downtown Disney Marketplace. Marketplace bus service runs from 8:00 a.m until 2:00 a.m. Once Disney Springs is completed in 2016, a new single location for the bus transportation service will replace the current bus stop.
For Park Guests choosing to drive to Disney Springs, complimentary self-parking is also available. With the current construction taking place, a few of the former parking lots have been closed. The current parking details are:
Parking and Pathway Developments
The parking lots at Disney Springs have been renamed.  The lots are now named after different types of Florida fruits.  They are:
Strawberry – O, P, Q
Watermelon – M, N
Grapefruit – L
Mango – K
Orange Garage – West Garage
Lime Garage – East Garage (opening in spring 2016)
Lemon – A
Parking closures: Lots A-G
Guest parking will remain available in other locations including:
Parking lots O, P, Q
New parking garage on the West Side
Team Disney, Casting and SunTrust (during peak times)
Speedway Gas Station lot (during peak times)
Entrances 1 and 2 are closed for vehicular traffic. Guests may continue to use Entrance 3 (across from Team Disney) and Entrance 5 (across from Disney's Typhoon Lagoon Water Park) to access the property. Hotel Plaza Boulevard, Entrance 1 (across from Casting/SunTrust) and Entrance 3 (across from Team Disney) are the only crosswalks available for pedestrian traffic.
Guests will not be able to enter/exit through Bridge 2 (near Raglan Road) to access the Pleasure Island/The Landing area. The only access into the Pleasure Island/The Landing area will be through Bridge 1 (by Riverboat Square) and Bridge 5 (formerly Bridge 4; main walkway between Pleasure Island and the West Side).
In addition, the pedestrian boardwalk along the waterway near Paradiso 37 has reopened.
The first parking garage, The West Garage, has opened at Downtown Disney. This garage is located on the West Side and features five stories with approximately 4,000 spaces. In addition, above each space are lights which indicate if a spot is full or not. (Green means the space is available to park in, red means the spot is full. Also, there are some spots with a blue light which indicates that it is a handicapped spot.) The garage will remain complimentary for guests to utilize.
To see a map with directions to Disney Springs, click here.
Disney Springs Ferryboat Schedule
Disney Springs Internal Water Shuttle – 10:30 a.m. – 2:00 a.m.
Dock-to-dock service between Marketplace and West Side. Runs approximately every 20 minutes. The last guest pick-up is at 1:30 a.m. Look for Red flags and signs.
Disney's Port Orleans Resorts – 10:00 a.m. – 11:30 p.m.
Departs Marketplace Dock approximately every 20 minutes. Look for Yellow flags and signs.
Disney's Old Key West & Saratoga Springs Resorts – 10:30 a.m. – 11:30 p.m.
Departs West Side Dock approximately every 20 minutes. Look for Blue flags and signs for Disney's Saratoga Resort & Spa and Green flags and signs for Old Key West.
Other Useful Information
• Proper dress is required at Disney Springs area. Shirt and shoes must be worn at all times.
• With the exception of service dogs for Guests with disabilities, pets are not permitted in the Disney Springs area.
• Baby changing stations are located in the restrooms.
For additional Disney Springs information, call 407-WDW-2NITE.
---
TheMouseForLess Tips
My family LOVES Disney Springs. My kids are older now (11 and 14) and would just as soon go to Disney Springs than to any of the parks!
The one thing we do on every trip is to eat at Rainforest Cafe. Yes, it's crowded and a bit over-priced on the food, but we ate there on our first trip and we have on every trip since. We drive to Disney, so we usually get there a day or so before we have to check in at Disney…Rainforest Cafe is our way of "welcoming" ourselves to our vacation! (One hint…check here for souvenirs…you can usually find some pretty good bargains. They offer a lot of sales).
If you are on Disney's Dining Plan, be sure to check out Wolfgang Puck Express. Great food, but a bit pricy….becomes a really good deal on the dining plan, as it is a counter service credit!
As for the best time to go…when the parks are open, during the week, there seems to be less crowds. In the evenings the stores can be wall-to-wall people. During the day, it isn't nearly as crowded. We always go during the day for our shopping, but we like to spend at least one evening as well, just for the general atmosphere. Grab a snack at Goofy's and sit outside and people watch. I can't think of many other places I would rather be!
Our favorite stores are World of Disney for general souvenir shopping, Goofy's Candy Company (spend your snack credits here…great stuff for the trip home), and my absolute favorite is Disney's Days of Christmas….I could spend hours here! The Lego Store is one that has kind of moved from our favorite list…again, with my kids being older we don't spend quite as much time here, but when they were younger we put our time in for sure! ~ Stephanie R.
---
Ohh we love spending some time in Disney Springs – if we have MYW ticket pluses usually combined with a trip to Disney Quest.
Places to Eat: the Earl of Sandwich is a favorite. The choice is great and they are pretty filling. We love to grab a table – inside or out depends on the heat – and take the weight off for a while. Its easy to chill out here and build up the strength for more shopping. And of course you can grab an ice cream at Ghiradelis for dessert – yummy.
Shopping: The Christmas Shoppe is a must. But you have to have a contingency plan for the hubby and kids :O) I can spend hours in here just looking and trying to decide which is really hard so I have to be able to send the hubby off to elsewhere because he is not quite as thrilled as I am. So I send him to the Pin Traders store.
World of Disney is great for just about everything but its huge and you will lose your other half so have a plan on where and what time to meet – unless of course you both have cells. Make sure you have your camera-it's a good place to take photos in all those huge hats that they sell.
The Mr Potato Head stand is available at Once Upon a Toy and seems to have different items to other stores. You can buy the box but if there is just one or two pieces you need they do sell them to you separately.
LEGO statues – of course you have to take those pictures. And if you have kids and they need a break there is a play area where they can lose themselves for a while.
Weather: There is not much shelter at Disney Springs, so if it looks like rain make sure you take those poncho's with you in the bag. ~ Wendy H.
.
---
We love Disney Springs, and no trip to the World is complete without a stop there! There is something for everyone, and if you have a day with no park tickets, we have no trouble spending the better part of a day here.
If we go down without annual passes, and have a special event party to go to, knowing we can get into MK at 4:00 p.m., we get up and dressed at a leisurely pace and head to Disney Springs right around 9:00 a.m. or 9:30 a.m., as things are opening up. This is our favorite time to go, because you can get a parking space! You'll find that in the evening or over the weekend, parking here can be as challenging as pulling your kidney through your nose 😉
The kids LOVE the Lego playground – even the 7 year old, who I thought was getting too old for Legos. She loves to build and race cars, walk around the different Lego stations to see what the pieces are, and she could easily spend an hour or more here, without exaggeration. The little one – 3 years old – plays on the playground itself, doing the slide, hiding in the house, etc.
When they have completely exhausted their mother, we head over to The World of Disney store. Far and away the best store anywhere on the planet, you can spend a LONG time brow beating your husband (oops! Did I post that outloud??) into making more room in the car for the ride home so you can buy more Mickey stuff. Seriously, there is something here for everyone, and even the littlest among you will enjoy just gazing upwards at the fabulously themed store.
My favorite shop in Disney Springs is the Christmas shop, and while Jim usually takes the girls to check out pins or ride the carousel, I spend more time than I should admiring each and every ornament. We have a tradition of picking up one stuffed animal to add to our collection on our annual holiday trek to the World, and I make sure I check out each and every item here to make sure I find just the perfect plush character. Oh, who am I kidding – I know that the Radko ornaments are not stuffed, but I have to handle them all anyway – you can't not look at everything here!
One of the best bargains on Disney property is the Earl of Sandwich in Disney Springs, and we almost always head here for lunch. Two people can easily split a sandwich here, and my daughter loves the Earl's Lemonade – a blend of Earl Grey tea and lemonade. Thank goodness for the fridge and microwave at the DVC properties, because I always come back with leftovers from lunch here.
We make one final stop at Basin on every trip. I often grab one of the pre-made gift baskets to keep in my closet at home for last minute hostess gifts or teacher gifts, and we always buy the chamomile soap for our youngest daughter, who has sensitive skin. If it's a warm day and we have free time, the girls make a few passes through the fountain to get soaking wet!
If we're coming here for an evening of browsing, we love Raglan Road for dinner – especially the live entertainment; and there's nothing like a little dessert at Ghiradelli
The one not so hidden gem – our kids will stand for 30 minutes waiting to be spit on by Stitch outside of the World of Disney shop – they love it, and it's so much fun to watch!
Disney Springs is a must see on our Walt Disney World vacations! ~ Anna S