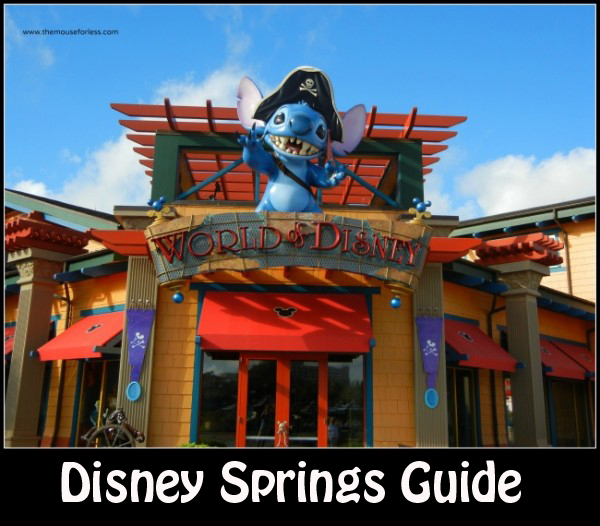 About Disney Springs – Downtown Disney Disney Springs – Downtown Disney Map
West Side The Landing Marketplace Town Center
Latest Developments    Disney Springs Photo Gallery
General Disney Springs – Downtown Disney Info
About Disney Springs – Downtown Disney
Disney Springs, formerly known as Downtown Disney, is located at the Walt Disney World Resort. Disney Springs has it all: dining, entertainment and shopping opportunities. Entertainment at Disney Springs takes place throughout the day and into the night. Guests will find a wide array of acrobatic artistry, art, theater, live music, special events, boating, and fountains for children to play in. Additionally, here you find some great backdrops for family photos in and around Disney Springs. Admission and parking are complimentary.
Back in March 2013, Disney officially announced the changes to Downtown Disney. With this expansion, Disney creates a welcoming, comfortable space. Here families can relax, enjoy the entertainment, wander in and out of unique and distinctive shops, and enjoy a world-class dining experiences.
The Disney Springs area welcomes guests with a new gateway featuring a signature water tower and grand entry featuring bubbling natural springs in the Town Center. The Town Center joins three additional neighborhoods – The Landing, Marketplace and West Side. Each neighborhood has its own distinct feel.
The Town Center offers a sophisticated mix of shopping and dining along with a promenade. Here guests can relax, refresh and reconnect. Town Center features Spanish style architecture, drawing from a rich history of explorers that landed in Florida centuries ago.
The colorful and thriving commercial district called The Landing includes inspired dining and beautiful waterfront views. Buildings feature an older, rustic look that feels like they've been around for decades.
The West Side provides an exuberant atmosphere with lively entertainment, along with a more industrial feel.
The family-friendly Marketplace continues to delight guests of all ages by combining new experiences, such as an over-the-water pedestrian causeway, along with classic Disney favorites, including an expanded World of Disney store.
Story Behind Disney Springs
Like all Disney theme parks and attractions, Disney has anchored the entire experience around a story. The story of Disney Springs begins at the Town Center, which is oriented around a series of bubbling natural springs that first attracted settlers to the area. Built around one of these natural tourist destinations, Disney Springs grew into a timeless and vibrant place for shopping and dining. It's not unlike many of the urban developments found in other cities today. Disney Springs tells the story of a town that grew up over time, but lovingly kept all of its charm and history, and now sits squarely in the modern day.
Disney Springs features an eclectic and contemporary mix of offerings from Disney and other noteworthy brands. From boutique shops to unique flagship anchor stores, guests will be able to explore a variety of shopping and dining experiences and discover offerings unlike any other currently available in Central Florida.
Disney Springs also has an extremely active Twitter  and Instagram presence. Make sure to follow along for the latest updates.
Latest Developments
D-Living Open in Town Center
D-Living is a new store that features a wide assortment of Disney-themed products that change throughout the seasons. In every room at this new store, Guests will discover a charming selection of Disney-inspired housewares, decor, and furnishings.  D-Living will be found adjacent to UNOde50 in Town Center.
New Disney PhotoPass Studio At Disney Springs
The brand new Disney PhotoPass Studio has opened in the Marketplace. Guests can choose to get their portrait takenagainst a standard background or a virtual background that places your family inside some of your favorite Disney scenes. The Disney PhotoPass Studio also features new viewing stations so that you can preview, purchase, and print your vacation memories that have been linked to your My Disney Experience Account. Photos taken at the Disney PhotoPass Studio will be linked to your My Disney Experience account and are included as a part of Memory Maker. Guests need not make reservations for the Disney PhotoPass Studio.
The Polite Pig Announced for Town Center
The Polite Pig, a new sister restaurant of popular Winter Park eatery, The Ravenous Pig, will open in Town Center at Disney Springs in spring 2017. Serving lunch and dinner, The Polite Pig will feature a variety of wood-fired smoked and grilled items. The new venue will also introduce an innovative beverage program offering all drinks on tap – including beer, wine and cocktails.
Chef Art Smith's Homecoming Now Open
Celebrity Chef Art Smith's restaurant Homecoming: Florida Kitchen and Southern Shine is now open and showcases farm-to-fork cuisine inspired by the Sunshine State. Chef Art Smith's Homecoming features classic Southern fare in a casual, family-friendly setting, and overlooks The Spring. The table service location offers menu items including Art's Fabulous Fried Chicken, Shrimp & Grits, Fried Catfish, Momma's Mac and Cheese and Shine Cake. Homecoming also serves grab-and-go items including Fried Chicken and Chopped Pork sandwiches. Homecoming is open Sunday through Thursday until midnight and Friday and Saturday until 1 a.m.
Coca-Cola Store Orlando Now Open
The Coca-Cola Store Orlando has officially opened to Guests in the Town Center section. The Coca-Cola Store Orlando is designed to showcase Coca-Cola branded merchandise, as well as entertaining experiences and is modeled after a 1920s Coca-Cola bottling plant. The store celebrates the history of Coca-Cola with a brick exterior that gives a nod to the brand's heritage while the glass-accented entry pays tribute to the iconic Coca-Cola green glass bottle. On the inside, guests will be welcomed by a 30-foot-wide blown-glass chandelier crafted from repurposed Coca-Cola bottles The store features an assortment of Coca-Cola branded merchandise, as well as a rooftop beverage bar where Guests can choose from a variety of Coca-Cola flavors from around the world. Finally beginning in August, Guests will be able to meet and hug the famous Coca-Cola Polar Bear.
Frontera Cocina Now Open
Frontera Cocina, a new contemporary Mexican dining experience developed by renowned chef Rick Bayless, is now open. At this table-service restaurant, dishes include Oaxacan Red Chile Chicken, Salsa Verde Shrimp Enchiladas Suizas and freshly made salsa and guacamole. Frontera Cocina also includes a quick-service window outside the restaurant, offering on-the-go tacos, chips and guacamole, and a variety of alcoholic and non-alcoholic beverages. Frontera Cocina opens daily from 11:00 a.m. to 11:00 p.m.
Fulton's Crab House to See Refurbishment
Fulton's Crab House has closed to undergo refurbishment. When it reopens this spring, the reimagined restaurant will be renamed as Paddlefish and will feature a new interior reflecting a modern yachting theme. Also coming this spring are new spaces such as a rooftop lounge overlooking Disney Springs, outdoor waterfront bar and private dining areas. The new menu will continue to focus on fresh seafood and steaks.
Bibbidi Bobbidi Boutique Has a New Location
Bibbidi Bobbidi Boutique moved from its location at World of Disney into a new and expanded location near Once Upon a Toy in the Disney Springs Marketplace
"The NBA Experience" Coming to Disney Springs
The Walt Disney Company and the National Basketball Association (NBA) have announced plans to develop "The NBA Experience at Walt Disney World Resort" at Disney Springs. This expansive, one-of-a-kind destination will feature hands-on activities that put families and guests of all ages right in the middle of NBA game action. Guests will enjoy immersive NBA video productions and numerous interactive experiences, as well as a restaurant and a retail store. Currently, there is no projected opening date.
Disney Announces New Retailers and Restaurants for Disney Springs
Disney announced new tenants will join a diverse mix of retailers and restaurants. Look for these upcoming tenants.
Edison: Inspired by The Edison venue in Los Angeles, this lavish "Industrial Gothic"-style restaurant, bar and nighttime destination is themed to a 1920s-period power plant, recalling an exuberant era of invention and imagination. It will feature classic American food and craft cocktails. With a range of themed areas to explore, The Edison will have The Lab performance space, The Ember Parlour, Telegraph Lounge, The Patent Office, The Tesla Lounge, The Radio Room, Waterfront Patio, and more. Live entertainment will include contortionists, DJs, a cabaret and more. "The Landing" will welcome The Edison in 2016.
Planet Hollywood Redesign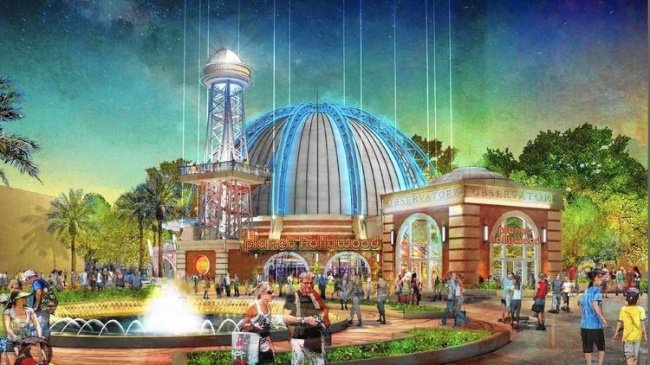 Planet Hollywood will be getting a redesign to fit in with Disney Springs theme. Gone will be the giant globe. In its place will be an early 1900s observatory. A brick exterior will cover the current blue exterior. The changes will also include an expanded outdoor seating area. The bar area called Stargazers, which will also bring live entertainment to Planet Hollywood.
A new menu is also in the works for the restaurant, which will be renamed Planet Hollywood Observatory. While the Hollywood memorabilia remains, the ceiling will be transformed into a planetarium with stars and constellations.
Beginning in January 6, 2016, Planet Hollywood will close for approximately 6 months. It will reopen in the spring of 2017 as Planet Hollywood Observatory.
Disney Springs Conceptual Art Photo Gallery
View the slide show to learn interesting facts about each area of Disney Springs.
General Disney Springs Information
Guest Services
Guest Services at Disney Springs area is located at the Welcome Center in Town Center. Services include guidebooks for guests with disabilities, distribution of handheld captioning devices, wheelchair, ECV & stroller rentals. Hours are from 8:30 a.m. to 11 p.m. on Sunday – Thursday and 8:30 a.m. to 11:30 p.m. Friday and Saturday. Lost and Found items are sent to the Welcome Center.
ECV, Wheelchair & Stroller Rentals
Electric Convenience Vehicles (ECVs), wheelchairs and strollers are available for rent at the Guest Relations building in Town Center. The ECV rental fee of $50 per day. The wheelchair rental fee is $12 per day. The fee to rent a stroller is $15 per day for a single-passenger stroller (double strollers are not available). All Disney Springs rentals include a $100 refundable credit card deposit is required per unit rented at the Disney Springs area. Return the rented unit to the original rental location to receive a credit card deposit refund.
Automated Teller Machines (ATM) & Credit Cards
ATM presented by Chase locations:
• Near the House of Blues restaurant
• Near Starbucks on the West Side
• Inside the World of Disney Store
• Near the Once Upon a Toy shop
• Near Marketplace Snacks
Visa, American Express, Diners Club Card, Discover, JCB International, AND MasterCard are accepted at Disney Springs stores. Guests with charging privileges can also use their MagicBands. Stores also accept traveler's checks and cash.
Merchandise Shipment
For guests staying at a Disney Resort hotel, purchases made at Disney Springs shops can be delivered to the guest's room. Purchases made at Disney Springs shops can also be shipped home via UPS or FedEx.
Valet Parking
Valet parking at Disney Springs sees prices starting at $10 for the first 2 hours, while the cost  caps at $20 for 3 or more hours. Please note: Payment will be collected at time of pick-up; gratuity is not included in the cost. Valet parking is available in front of Cirque du Soleil on Disney's West Side.
If you have a Tables in Wonderland membership, valet parking is free with a dining receipt.
Bus Transportation, Driving & Parking
Transportation to and from the Disney Springs area is complimentary and is a benefit of staying at a Disney Resort. Disney Springs features only one central bus terminal found near the Town Center, in between the Orange and Lime Garages. Bus service runs from 8:00 a.m until 2:00 a.m.
For Park Guests choosing to drive to Disney Springs, complimentary self-parking is also available. The current parking details are:
Parking and Pathway Developments
The parking lots at Disney Springs are now named after different types of Florida fruits.  They are:
Strawberry – O, P, Q
Watermelon – M, N
Grapefruit – L
Mango – K
Orange Garage – West Garage
Lime Garage – East Garage
Lemon – A
Parking closures: Lots A-G
Guest parking will remain available in other locations including:
Parking lots O, P, Q
New parking garage on the West Side
Team Disney, Casting and SunTrust (during peak times)
Speedway Gas Station lot (during peak times)
The pedestrian boardwalk along the waterway near Paradiso 37 has reopened.
The two parking garages are open at Disney Springs. These five story garages feature approximately 4,000 spaces. In addition, above each space are lights which indicate if a spot is full or not. (Green means available space, red means full. Also, the blue light indicates a handicapped spot.) The garages will remain complimentary for guests to utilize.
To see a map with directions to Disney Springs, click here.
Disney Springs Ferryboat Schedule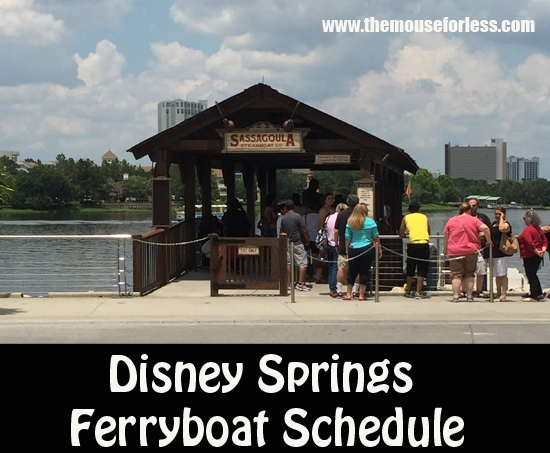 Disney Springs Internal Water Shuttle – 10:00 a.m. – 11:30 p.m.
Dock-to-dock service between Marketplace, the West Side, and The Landing. Runs approximately every 20 minutes. The last guest pick-up is at 11:30 p.m. Look for Red flags and signs.
Disney's Port Orleans Resorts – 10:00 a.m. – 11:30 p.m.
Departs Marketplace Dock approximately every 20 minutes. Look for Yellow flags and signs.
Disney's Old Key West Resorts – 10:00 a.m. – 11:30 p.m.
Departs The Landing Dock approximately every 20 minutes. Look for Green flags and signs for Old Key West.
Disney's Saratoga Springs Resorts – 10:00 a.m. – 11:30 p.m.
Departs The Landing approximately every 20 minutes. Look for Blue flags and signs for Disney's Saratoga Resort & Spa.
Other Useful Information
• Proper dress is required at Disney Springs area. Shirt and shoes must be worn at all times.
• With the exception of service dogs for Guests with disabilities, pets are not permitted in the Disney Springs area.
• Baby changing stations are located in the restrooms.
For additional Disney Springs information, call 407-WDW-2NITE.
---
TheMouseForLess Tips
General
As for the best time to go, when the parks are open, during the week, there seems to be less crowds. In the evenings the stores can be wall-to-wall people. During the day, it isn't nearly as crowded. Go during the day for shopping, but also consider spending  at least one evening there as well, just for the atmosphere. Grab a snack at Goofy's, sit outside and people watch.
If you have a day with no park tickets, we have no trouble spending the better part of a day here.
There is one not-so-hidden gem. Our kids stand for 30 minutes waiting to be spit on by Stitch outside of the World of Disney. They love it – it's so much fun to watch!
Dining
If you are on Disney's Dining Plan, be sure to check out Wolfgang Puck Express. Great food that becomes a really good deal on the dining plan, as it is a counter service credit!
Earl of Sandwich is a favorite. The choice is great and the options are pretty filling. We love to grab a table – inside or out depending on the heat – and relax for a while. It's easy to chill out here and build up the strength for more shopping. And of course you can grab an ice cream nearby at Ghiradelli for dessert – yummy.
If we're coming here for an evening of browsing, we love Raglan Road for dinner – especially the live entertainment; and there's nothing like a little dessert at Ghiradelli 🙂
Shopping
World of Disney is a favorite for general souvenir shopping. Goofy's Candy Company becomes a great place to spend your snack credits for snacks for the trip home. An absolute favorite is Disney's Days of Christmas.
World of Disney is great for just about everything but it's huge and you will lose your other half so have a plan on where and what time to meet. While shopping, make sure you have your camera. It's a good place to take photos in all those huge hats that they sell.
LEGO statues – of course you have to take those pictures. And if you have kids who need a break, check out the play area where they can lose themselves for a while. The kids LOVE the Lego playground.
Make a stop at Basin. I often grab one of the pre-made gift baskets to keep in my closet at home for last minute hostess gifts or teacher gifts. We always buy the chamomile soap for our youngest daughter, who has sensitive skin. If it's a warm day and we have free time, the girls make a few passes through the fountain to get soaking wet!
Save
Save
Save
Save
Save
Save
Save
Save
Save
Save
Save