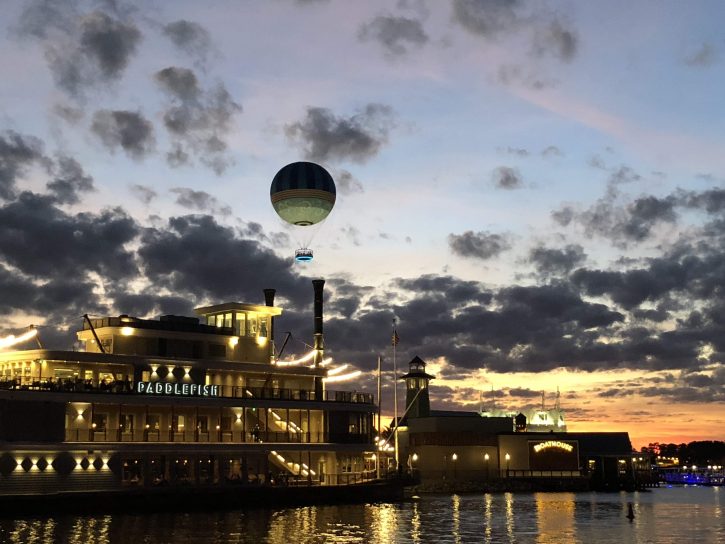 About Disney Springs – Downtown Disney Disney Springs – Downtown Disney Map
West Side The Landing Marketplace Town Center
Latest Developments    Disney Springs Photo Gallery
General Disney Springs – Downtown Disney Info
About Disney Springs – Downtown Disney
Disney Springs, formerly known as Downtown Disney, is located at the Walt Disney World Resort. Disney Springs has it all: dining, entertainment and shopping opportunities. Entertainment at Disney Springs takes place throughout the day and into the night. Guests will find a wide array of acrobatic artistry, art, theater, live music, special events, boating, and fountains for children to play in. Additionally, you find some great backdrops for family photos in and around Disney Springs. Admission and parking are complimentary.
The Disney Springs area  features a signature water tower and grand entry featuring bubbling natural springs in the Town Center. The Town Center joins three additional neighborhoods – The Landing, Marketplace and West Side. Each neighborhood has its own distinct feel.
The Town Center offers a sophisticated mix of shopping and dining along with a promenade. Here guests can relax, refresh and reconnect. Town Center features Spanish style architecture, drawing from a rich history of explorers that landed in Florida centuries ago.
The colorful and thriving commercial district called The Landing includes inspired dining and beautiful waterfront views. Buildings feature an older, rustic look that feels like they've been around for decades.
The West Side provides an exuberant atmosphere with lively entertainment, along with a more industrial feel.
The family-friendly Marketplace continues to delight guests of all ages by combining new experiences, such as an over-the-water pedestrian causeway, along with classic Disney favorites, including an expanded World of Disney store.
Story Behind Disney Springs
Like all Disney theme parks and attractions, Disney has anchored the entire experience around a story. The story of Disney Springs begins at the Town Center, which is oriented around a series of bubbling natural springs that first attracted settlers to the area. Built around one of these natural tourist destinations, Disney Springs grew into a timeless and vibrant place for shopping and dining. It's not unlike many of the urban developments found in other cities today. Disney Springs tells the story of a town that grew up over time, but lovingly kept all of its charm and history, and now sits squarely in the modern day.
Disney Springs also has an extremely active Twitter  and Instagram presence. Make sure to follow along for the latest updates.
Latest Developments
Summer House Opening Later This Year
Later in 2023, Guests will be able to dine at Summer House on the Lake. This restaurant will give off beach house vibes and Guests will be able to enjoy a California-inspired menu featuring simple, sustainable ingredients. Dishes will include things from pizza and pasta to fresh salads and sandwiches. Plus, the restaurant will offer an exclusive Summer House Rosé along with a selection of wine, beer, handcrafted cocktails and non-alcoholic drinks. In addition, Guests will also be able to enjoy The Cookie Jar, a dessert-focused market within this space serving up freshly baked cookies and house-made pastries.
Corkcicle Location Opening
Corkcicle is coming to Disney Springs! Corkcicle creates innovative insulated drinkware, coolers and accessories. This kiosk will be Corkcicle's first-ever retail location. The Corkcicle location will open later this spring.
Salt & Straw Now Open
A brand new innovate and delicious ice cream location called Salt & Straw is now open on the West Side.
Everglazed Donuts & Cold Brew Now Open
There is a brand new coffee and donut dining establishment open called Everglazed Donuts & Cold Brew. Everglazed offers Guests both classic donut options, as well as incredible gourmet creations. They also specialize in cold brew coffee. Finally, if you're looking for some savory bites, Everglazed has you covered too courtesy of a wide array of sandwiches and different waffle fry options.
M&M'S Orlando Now Open
Guests are now able to stock up on their favorite candy at the brand new M&M'S Orlando. This new store is completely state-of-the-art and even includes immersive experiences for Guests to enjoy. The new M&M'S Orlando store is located on the West Side near the NBA Experience.
Cirque du Soleil New Show
A new show called Drawn to Life and is themed around Disney storytelling has debuted. More details about this show can be found here.
General Disney Springs Information
Guest Services
Guest Services at Disney Springs area is located at the Welcome Center in Town Center. Services include guidebooks for guests with disabilities, distribution of handheld captioning devices, wheelchair, ECV & stroller rentals. Hours are from 8:30 a.m. to 11 p.m. on Sunday – Thursday and 8:30 a.m. to 11:30 p.m. Friday and Saturday. Lost and Found items are sent to the Welcome Center.
ECV, Wheelchair & Stroller Rentals
Electric Convenience Vehicles (ECVs), wheelchairs and strollers are available for rent at the Guest Relations building in Town Center. The ECV rental fee of $50 per day. The wheelchair rental fee is $12 per day. The fee to rent a stroller is $15 per day for a single-passenger stroller (double strollers are not available). All Disney Springs rentals include a $100 refundable credit card deposit is required per unit rented at the Disney Springs area. Return the rented unit to the original rental location to receive a credit card deposit refund.
Kingdom Strollers is the top choice for families traveling to Orlando, Disney, and surrounding areas! Kingdom Strollers provides premium stroller & crib rentals delivered straight to your Orlando theme park resort, hotel or vacation home free of charge. Book your stroller as soon as you book your vacation for best selections!
Automated Teller Machines (ATM) & Credit Cards
ATM presented by Chase locations:
• Near the House of Blues restaurant
• Near Starbucks on the West Side
• Inside the World of Disney Store
• Near the Once Upon a Toy shop
• Near Marketplace Snacks
Visa, American Express, Diners Club Card, Discover, JCB International, AND MasterCard are accepted at Disney Springs stores. Guests with charging privileges can also use their MagicBands. Stores also accept traveler's checks and cash.
Merchandise Shipment
For guests staying at a Disney Resort hotel, purchases made at Disney Springs shops can be delivered to the guest's room. Purchases made at Disney Springs shops can also be shipped home via UPS or FedEx.
Valet Parking
Valet parking at Disney Springs sees prices starting at $10 for the first 2 hours, while the cost  caps at $20 for 3 or more hours. Please note: Payment will be collected at time of pick-up; gratuity is not included in the cost. Valet parking is available in front of Cirque du Soleil on Disney's West Side.
Bus Transportation, Driving & Parking
Transportation to and from the Disney Springs area is complimentary and is a benefit of staying at a Disney Resort. Disney Springs features one central bus terminal found near the Town Center, in between the Orange and Lime Garages. Bus service runs from 8:00 a.m until 2:00 a.m.
For Park Guests choosing to drive to Disney Springs, complimentary self-parking is also available. The current parking details are:
Parking and Pathway Developments
The parking lots at Disney Springs are now named after different types of Florida fruits.  They are:
Strawberry – O, P, Q
Watermelon – M, N
Grapefruit – L
Mango – K
Orange Garage – West Garage
Lime Garage – East Garage
Lemon Garage
The two parking garages are open at Disney Springs. These five story garages feature approximately 4,000 spaces. In addition, above each space are lights which indicate if a spot is full or not. (Green means available space, red means full. Also, the blue light indicates a handicapped spot.) The garages will remain complimentary for guests to utilize.
To see a map with directions to Disney Springs, click here.
Disney Springs Ferryboat Schedule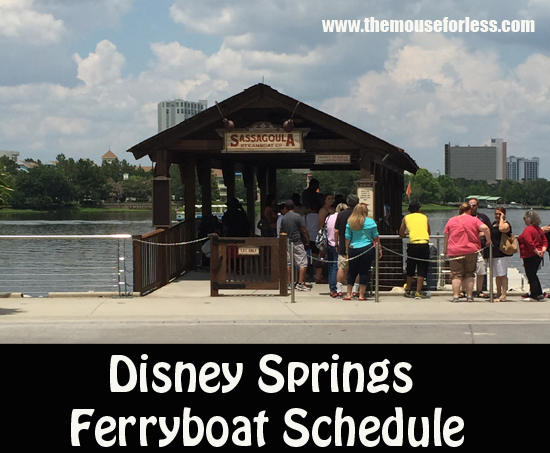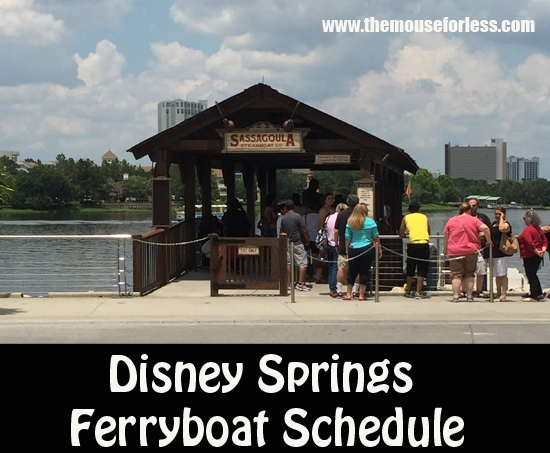 Disney Springs Internal Water Shuttle – 10:00 a.m. – 11:30 p.m.
Dock-to-dock service between Marketplace, the West Side, and The Landing. Runs approximately every 20 minutes. The last guest pick-up is at 11:30 p.m. Look for Red flags and signs.
Disney's Port Orleans Resorts – 10:00 a.m. – 11:30 p.m.
Departs Marketplace Dock approximately every 20 minutes. Look for Yellow flags and signs.
Disney's Old Key West Resorts – 10:00 a.m. – 11:30 p.m.
Departs The Landing Dock approximately every 20 minutes. Look for Green flags and signs for Old Key West.
Disney's Saratoga Springs Resorts – 10:00 a.m. – 11:30 p.m.
Departs The Landing approximately every 20 minutes. Look for Blue flags and signs for Disney's Saratoga Resort & Spa.
Other Useful Information
• Proper dress is required at Disney Springs area. Shirt and shoes must be worn at all times.
• With the exception of service dogs for Guests with disabilities, pets are not permitted in the Disney Springs area.
• Baby changing stations are located in the restrooms.
For additional Disney Springs information, call 407-WDW-2NITE.
---
TheMouseForLess Tips
General
As for the best time to go, when the parks are open, during the week, there seems to be less crowds. In the evenings the stores can be wall-to-wall people. During the day, it isn't nearly as crowded. Go during the day for shopping, but also consider spending  at least one evening there as well, just for the atmosphere. Grab a snack at Goofy's, sit outside and people watch.
If you have a day with no park tickets, we have no trouble spending the better part of a day here.
There is one not-so-hidden gem. Our kids stand for 30 minutes waiting to be spit on by Stitch outside of the World of Disney. They love it – it's so much fun to watch!
Dining
Earl of Sandwich is a quick favorite. The choice is great and the options are pretty filling. We love to grab a table – inside or out depending on the heat – and relax for a while. It's easy to chill out here and build up the strength for more shopping. And of course you can grab an ice cream nearby at Ghirardelli for dessert – yummy.
If we're coming here for an evening of browsing, we love Raglan Road for dinner – especially the live entertainment; and again, there's nothing like a little dessert at Sprinkles cupcake bakery 🙂 With the many new restaurants at Disney Springs there are a ton of dining options. New favorites include Art Smith's Homecomin' and The Boathouse.
Shopping
There is a multitude of stores at Disney Springs! World of Disney is a favorite for general souvenir shopping. Goofy's Candy Company is a great place to spend your snack credits for snacks for the trip home. An absolute favorite is Disney's Days of Christmas. The Marketplace Co-op always has some fun finds, and there are many upscale shopping locations where it is fun to just browse.
World of Disney is great for just about everything but it's huge and you will lose your other half so have a plan on where and what time to meet. While shopping, make sure you have your camera. It's a good place to take photos in all those huge hats that they sell.
LEGO statues – of course you have to take those pictures. And if you have kids who need a break, check out the play area where they can lose themselves for a while. The kids LOVE the Lego playground.
Make a stop at Basin. I often grab one of the pre-made gift baskets to keep in my closet at home for last minute hostess gifts or teacher gifts. We always buy the chamomile soap for our youngest daughter, who has sensitive skin. If it's a warm day and we have free time, the girls make a few passes through the fountain to get soaking wet!
Entertainment
Disney Springs offers live entertainment through the afternoon and evening. It can be fun to explore the shops, enjoy some chocolate from the Ganachery, and listen to the music. There are professional performers, but also sometimes high-school music groups come and perform near World of Disney.
Several of the restaurants and bars at Disney Springs offer live entertainment in the evening and night. STK and The Edison are two of the largest. If you are looking for nighttime entertainment you can find some good food and fun around Disney Springs.
For the whole family, check out Splitsville where you can bowl and eat, a great rainy day activity. You could also see a movie at the AMC theater. There are more fun things to check out like the amphicars and the Characters in Flight hot air balloon. All of the entertainment options make Disney Springs a great place to spend a non-park day, and you can do it all without a park ticket.