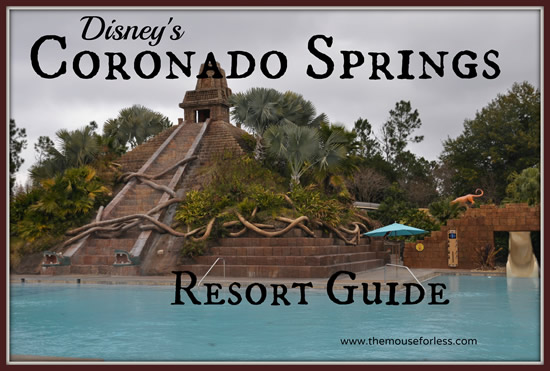 Coronado Springs Resort
1000 West Buena Vista Drive
Lake Buena Vista, Florida 32830-1000
Telephone: (407) 939-1000
Fax: (407) 939-1001
Refurbishment   Theme   Rooms   Dining   Recreation   Shopping
Transportation   Childcare   Resort Rates   Resort Map   Reviews
Activities   Top 10 Resort Tips   MFL Tips
Moderate Resort Classification
Located in the Animal Kingdom Resort Area
Check In: 3:00 p.m. / Check Out: 11:00 a.m.
Coronado Springs is a moderately priced Disney resort. This resort has 1,967 rooms and suites which are situated in three villages around 15-acre Lago Dorado Lake. Coronado Springs is also very popular with conventions. It has a 95,000-square-foot Convention Center that includes a 60,214 square-foot Ballroom, as well as a full-service Business Center. The Ballroom can accommodate 5,000 for a sit-down dinner or 6,500 meeting-style seats. There is also a 20,000 square-foot Junior Ballroom.
Coronado Springs, like all Disney resorts, is smoke-free. Designated outdoor smoking areas are indicated on the Resort Map.
Resort Refurbishment
Check our Rehabs and Closures schedule for any refurbishments or work taking place at the Coronado Springs Resort during your visit.
Resort Theme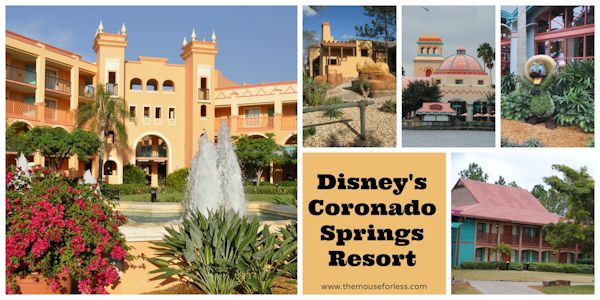 Coronado Springs has an American Southwest – Northern Mexico theme.
Resort Rooms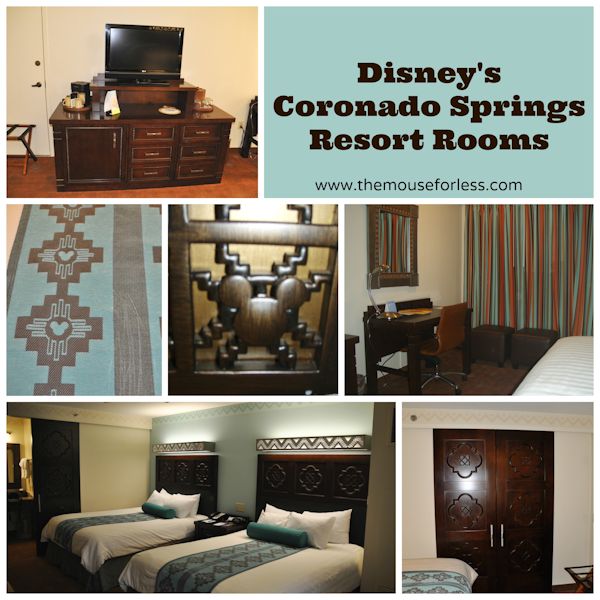 1,967 rooms include:
The Casitas: 3-story buildings adjacent to the Conference Center
The Ranchos: 2 and 3-story pueblo-style buildings
The Cabanas: 2-story buildings near El Centro facilities
Standard Guest rooms: Maximum 2-4 Guests
Water View or Standard View are available
Suites: Maximum 4-6 Guests
Most rooms have two queen beds
A limited number of rooms with king-size beds are available.
Disabled accessible rooms are available
In-room pizza and meal delivery
Nonsmoking rooms available
Irons and ironing boards
Coffee makers
Hairdryers
In-room refrigerators
Pak-n-Play Cribs available upon request
In-room safes
Dual line phones with voicemail
Cable TV with Disney Programming
Complimentary wireless Internet (Wi-Fi) (click link for specific details)

Coin-operated self-service laundry facilities are located throughout Disney's Coronado Springs Resort. Valet dry cleaning and laundry service is available for pickup from your room.
Located at the Main Lobby, the concierge can help you purchase Disney Theme Park and Disney Water Park tickets, make dining reservations and secure show seats.
Resort Dining

Cafe Rix in El Centro for breakfast, lunch and dinner
Las Ventanas for breakfast and lunch
Rix Lounge in El Centro for a specialty cocktail or a quick bite
Pepper Market in El Centro for quick service dining options
Maya Grill for dinner at a table service setting
Siestas Pool Bar for drinks and food near the pool
Laguna Pool Bar and Grill for sandwiches, snacks and drinks
Limited Room Service
Refillable mugs are available for purchase at the Pepper Market.
Resort Recreation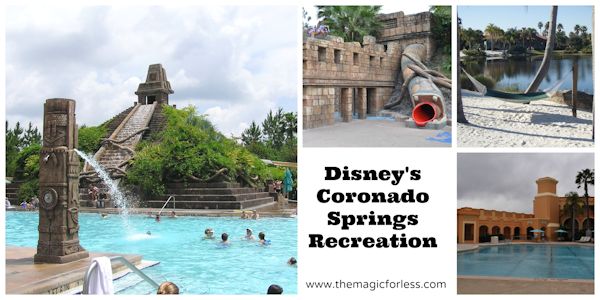 · Three 'quiet' pools located in the Casitas, Ranchos and Cabanas areas
· Dig Site main pool and large hot tub (spa)
· La Vida Health Club
· Arcades: Jumping Beans at El Centro and Iguana at the Dig Site
· Explorer's Playground with large sand box at the Dig Site
· Casa de Belleza beauty and hair treatments
· Jogging Trail
· Volleyball Court
· Bike Rentals
· Nightly "Movies Under the Stars" at the Lost City of Cibola Feature Pool
Resort Shopping
Panchito's Gifts and Sundries stocks Disney character apparel and souvenirs as well as Coronado Springs logo merchandise. You can also find snack foods, beverages (including adult beverages), magazines and books, and other general sundries.
Resort Transportation
Disney's bus service is available to and from this resort. The bus locations are:
Bus Stop 1: El Centro
Bus Stop 2: Casitas
Bus Stop 3: Ranchos
Bus Stop 4: Ranchos and Cabanas
Transportation Times Between Coronado Springs and Disney Destinations
These times are approximate, provided to give you an idea of average travel times. Please plan on up to a 20 minute wait for Disney transportation in addition to walking time to resort or theme park transportation stops.
Magic Kingdom – 17 minutes by bus, 37 minutes by car (with transfers)
Epcot – 17 minutes by bus, 18 by car
Disney's Hollywood Studios – 16 minutes by bus, 16 by car
Animal Kingdom – 15 minutes, 12 by car
Downtown Disney – 25 minutes by bus, 18 by car
Blizzard Beach Water Park – 12 minutes by bus, 6 minutes by car
Typhoon Lagoon Water Park – 25 minutes by bus, 12 minutes by car
Resort Childcare
No on-site child care facility. In-room child care is available at all resorts.
Resort Rates
 Looking for a discounted rate for your Disney Vacation? Let The Magic for Less Travel, an Authorized Disney Vacation Planner, work for you. Their concierge services are always provided free of charge, and The Magic for Less Travel will help you find the best published or unpublished discount for your vacation. Already have a vacation booked directly with Disney? Contact The Magic for Less Travel to see if they can help you find a lower rate.

GET A FREE QUOTE NOW!
Tips From TheMouseForLess Members
TheMouseForLess Interesting Facts about the Resort
The hot tub-largest on property! – Jane Scherer
The food court at this resort is very unique with different "stations" and not like the traditional food courts. I found the food to be a bit more expensive than regular food court fare, but much better quality. – Allyson
CSR is so beautiful!!! The low profile (only three or four levels) allows the structure to slip into the scenery perfectly. Each cluster of rooms either looks over a courtyard, quiet pool, fountain, flowers or the big lake, so it feels like your room is part of a neighborhood inside a larger village. – Lorene
TheMouseForLess Room Request Tips
The cabanas section 9b closest to el centro. Easy walk to food court and pool area- close to bus stop too. – Jane Scherer
We have stayed at this resort twice. Since our first stay when we have requested the Casitas section, which is near Bus Top #2 and the bus stops there 1st. You are almost guaranteed a seat. We found Bus Stop #1 which is at the main building that houses the food court to be more crowded. – Dina McKenna
We liked "casitas #5" on ground floor b/c it's quiet, only a short walk over the bridge to the pool, close to the lake path for catching the bus to the parks in the morning (we had a stroller & kids) in front of the lobby, while we used bus stop #2 (?) b/c it was the first stop "back home" when we left the parks in the evening. Near the same bus stop is the laundry & exercise room, so stay on the parking lot side of the resort & walk on the pavement instead of zig-zagging thru the corridors. – Lorene
TheMouseForLess Hidden Treasures
CS has a couple of Quiet Pools. Take the time to walk the grounds and different areas where rooms are located. Some of the little courtyards have beautiful fountains and topiaries. There is a topiary of the Three Caballeros in 1 of the sections. – Dina McKenna
Swinging in the hammocks near the lake is so relaxing. – TinaMarie Krasner
The food served at the pool is very good. You don;t have to go all the way to the Pepper Market. – Jane Scherer
All the little places to sit, relax, listen to the birds, & observe the moment. While at CSR you could forget about "doing Disney" & just absorb the "siesta spirit" in the lush landscaping. We felt connected to nature, the sunrise, nighttime beauty, & rhythm of living south of the border. – Lorene
TheMouseForLess Tips for Romance
A nice walk through the many walkways, the grounds are beautiful and a late night relaxing dip in the hot tub is nice as well. Strolling along the "beach" is very nice. – TinaMarie Krasner
Spend some time in the hammocks by the lake and have drinks after dark at the lakeside Laguna Bar. The light from the candles dancing off the water is beautiful. – Jane Scherer
Having breakfast or a late night drink at the little cafe on the water. – Lorene
TheMouseForLess Tips for Families
The Pool area and playground are great and it has a water slide. There is also a game room at the pool area. – Dina McKenna
Rent a surrey bike or a paddle boat and use on the lake for some non-park fun. – Allyson
There is lots of sand for kids to play with on the beach area. – TinaMarie Krasner
Our 3y & 5y kids were excited by the "dig site" near the pool b/c they "found" artifacts in the sand. The water was warm & we ended ups staying all day. It felt like we were on another mini vacation & no one missed the parks that day. It was the perfect break to avoid sensory overload & just play w/out a schedule. – Lorene
TheMouseForLess Tips for Guests with Special Needs
Request handicap rooms close to the front of the resort. The walk to the bus stop isn't that bad if you are in one of the first buildings. And they have an "internal" shuttle if you need it. – TinaMarie Krasner
This resort has rooms that are a bit larger than the value resorts, may be easier to fit a wheelchair or walker inside. – Allyson
Having a ground floor room facing the parking lot made easy access in & out of the room. There were also golf carts on the grounds appeared to shuttle guests by special arrangement. Please call to confirm this b/c it is only my observation, not something we actually did. The entire resort was quiet, but I'm not sure how this would change if several conventions were booked at the same time. I do not know if the restaurants make dietary or allergy meals available w/out prior notice. – Lorene
TheMouseForLess Tips for WDW Newbies
If you are a coffee drinker/soda drinker get the refillable mugs. It's priced reasonably and you have a great souvenir when you get home. – TinaMarie Krasner
For as large as the resort is, it still has an intimate feel because everything is centered around the lake. – Jane Scherer
Unlike the similarly large Caribbean Beach Resort, there is no internal bus that circles the resort. If you get in Ranchos section, you're a 10- to 15-minute walk from El Centro, the main building. There are bus stops going to the parks and Downtown Disney in each section, however. – Emily
This was our first trip to WDW as parents. We had a lot of unique conditions that made our experience "magical" in the practical sense (low crowds, unseasonally warm weather for November but NOT crazy hot, free dining promotion, good price on airline tickets, etc.), but the best decision was to get help from a TMFL agent!!! They have so much training & personal experience, it took all the stress off me "knowing" how to get the best ADRs, & finding ways to maximize my budget. Our "once in a lifetime trip" was so successful my DH is starting to think we should go one more time before the kids get too busy w/school. To be honest, he wasn't "sold" on going the first time, but w/all the awesome The Magic For Less Travel service before we even got on the plane, to be perfectly coordinated w/the Disney Magical Express, Coronado Springs Resort & all the Parks… made it all so heavenly. – Lorene
TheMouseForLess Tips for Budget Travelers
When hunting for food, consider the Pepper Market. Right outside is a great area for seating, with lot's of tables, comfortable chairs and umbrellas for shades. Another great alternative for sandwiches and salads is the La Tienda convenience store. Everything is very fresh and you may find exactly the same thing here all ready to go that you would have to wait for at the food court. – Rachel Brewer
Although we traveled off season for my son's birthday, CSR had a lot of value for the money b/c of the completely refurbished rooms, it was VERY quiet, the theme & care that was taken to get all of the details right contributed to the overall relaxed atmosphere. In any other place on the planet "budget" can also mean less quality. Disney has a lot invested in getting guests to come back, so w/a TMFL agent helping you get the most for your money, don't overlook the moderate resort category completely. My DH was concerned about paying $250 more when we were finalizing our booking, but once he arrived at CSR he never questioned our TMFL agent's recommendation. We had ADRs at Ohana / Polynesian (deluxe category) & I wanted to check out the resort b/c we have several friends that only stay at the Poly for the easy monorail ride to MK… DH was not interested & couldn't wait to get back to our quieter & less busy CSR. – Lorene
TheMouseForLess Tips for Luxury Travelers
CS has some suites which you can't find at the other moderates. Of course they cost more. – Dina McKenna
Coronado Springs is the only moderate resort with an on-site a hair salon, 24 hour health club and room service. – TinaMarie Krasner
The Maya Grill is a very nice restaurant for dinner. – Allyson