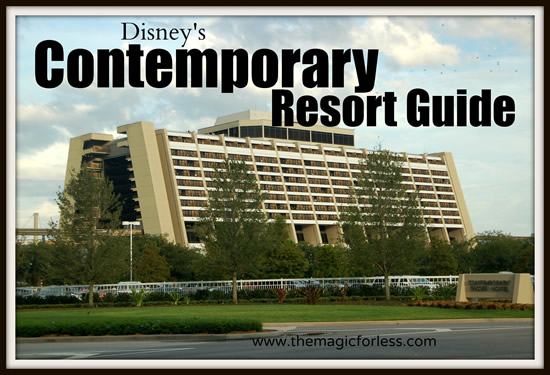 4600 N. World Drive
Lake Buena Vista, 32830
Phone: (407) 824-1000
Fax: (407) 824-3539
Refurbishment   Theme   Rooms   Dining   Recreation   Shopping
Transportation   Childcare   Resort Rates   Resort Map   Reviews
Activities   Top 10 Resort Tips   MFL Tips
Deluxe Resort Classification
Located in the Magic Kingdom resort area
Check In: 3:00 p.m. / Check Out: 11:00 a.m.
The Contemporary Resort is currently undergoing a transformation. Although the resort was opened in 1971, the rooms received their latest update in 2006, complete with contemporary colors and flat screen TVs.
The Contemporary, like all Disney resorts, is smoke-free. Designated outdoor smoking areas are indicated on the Resort Map.
Resort Refurbishment
Check our Rehabs and Closures schedule for any refurbishments or work taking place at the Contemporary Resort during your visit.
Resort Theme
Contemporary Resort is themed as a modern resort.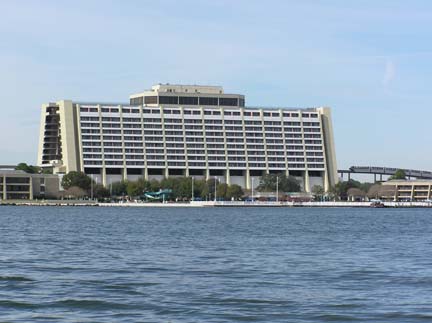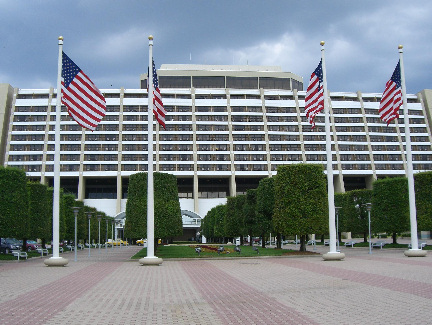 Resort Rooms
There are two sections of this resort, the garden wing, and the better known tower rooms. The garden wing is a shorter section of the resort near Bay Lake. The standard room sleeps 5 with two queen beds and a daybed in each room. The garden rooms offer both standard and garden views. The tower rooms offer either Magic Kingdom views or Bay Lake views. There are also a variety of suites available in each section of the resort.
655 Guest Rooms
Disabled accessible rooms available
Building offers elevators and interior corridors
Alarm Clock
Balcony/Patio
Ceiling Fan
Coffee Maker & Setup
Complimentary wireless Internet (Wi-Fi) (click link for specific details)
DVD Player (available in all Club Level Guest rooms)
Robes (available in all Club Level Guest rooms)
Microwave (available in all Club Level Guest rooms)
Alarm Clock with CD Player (available in all Club Level Guest rooms)
Hair Dryer
In-Room Wall Safe
Iron and Board
Mini-Refrigerator
Table & Chairs
Telephone
Cable TV with Disney Programming
Voice Mail
Vanity Area

Other Services:
Self service laundry facilities
Valet laundry service
Business Center
Convention/meeting space
Salon/barber services
Valet parking
Concierge assistance at Disney's Contemporary Resort is available to Resort hotel Guests seven days a week from 7:00 a.m. to 10:00 p.m. Located in the main lobby, the concierge can help you purchase Park tickets, make dining reservations and secure show seats, among other services.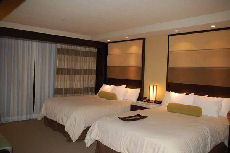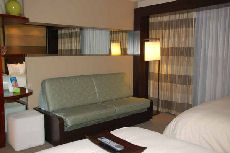 Resort Dining
Two Quick Service locations
Contemporary Grounds Coffee Bar
Contempo Cafe
Lounges
Two Pool Bars
Three Full Service restaurants:
California Grill
Chef Mickey'sCharacter Dining
The Wave
In-Room Dining: 24 hours
Refillable mugs are available for purchase at the Contempo Cafe for $15.49 plus tax.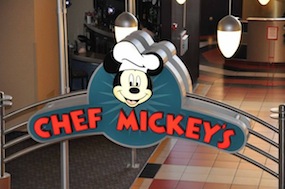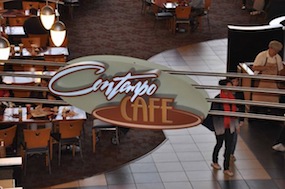 Resort Recreation
2 Pools
Feature Pool: 6500 sq ft which includes a 17-foot high curving slide. The smaller Bay Lake Pool is a round, quiet pool which is shallow on the outside and deeper in the center. Lifeguards at the feature pool are on duty from 9 a.m.-11 p.m.
Interactive water fountains
2 whirlpool spas
Children's playground
The Game Station Arcade fourth floor of the Contemporary Tower; smaller arcade near the pool.
Tennis Courts
Shuffleboard and Bocce Ball Courts
Marina/boat rental (open 11 a.m.-6 p.m.)
Water cruises
Water sports
Fishing
Beach area
Volleyball
Jogging trail
Olympiad Fitness Center
Barbecue Pavilion
Massage/spa services
Nightly Disney movies under the stars on the lawn near the Sky Way Bridge
Electrical Water Pageant view
Pool Side Cabanas:
There are 4 poolside Cabanas for rent located in the four corners of the Bay Lake Pool. Cabanas include 2 chaise lounge chairs, 2 chaise beds, locking cabinet, DVD Player (upon request), LCD TV with cable, ipod docking station, mini-frig w/complimentary sodas & water, and complimentary fruit basket. Morning (10 am-2 pm) or Afternoon (3 pm-7pm) rentals cost $100 per session. All day rental is $185. Maximum accommodation is 6 people. Private dining and massages are available upon request at an additional cost.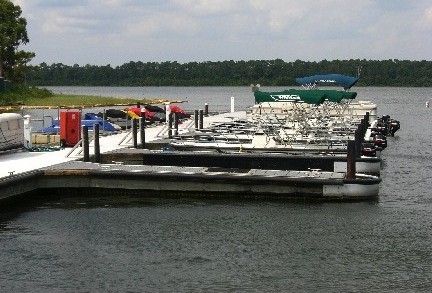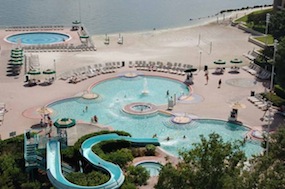 Resort Shopping
Fantasia stocks Disney character apparel and souvenirs as well as logo merchandise. You can also find a large assortment of Disney pins
Concourse Sundries & Spirits stocks carries newspapers, magazines, snacks, spirits, and health and beauty items.
Bayview Gifts offers homewares, art collectibles, jewelry, clothings watches and assort chocolates and fudge.
Caricature Connection artists create delightful, souvenir caricatures.
Resort Transportation
Disney's monorail service is available to the Magic Kingdom and via transfer to Epcot. The monorail station is on the 4th floor of the resort. Disney's bus service is available to and from this resort to Animal Kingdom, Disney's Hollywood Studios, Epcot, Downtown Disney and the water parks. The bus locations are to the right of the lobby as you exit the hotel. A walking path to the Magic Kingdom is also available as you walk past the bus stops.
Transportation Times Between Contemporary Resort and Disney Destinations
These times are approximate, provided to give you an idea of average travel times. Please plan on up to a 20 minute wait for Disney transportation in addition to walking time to resort or theme park transportation stops.
Magic Kingdom – 12 minutes by walking, 19 minutes by monorail
Epcot – 22 minutes by monorail, 22 minutes by car
Disney's Hollywood Studios – 22 minutes by bus, 23 minutes by car
Disney's Animal Kingdom – 25 minutes by bus, 20 minutes by car
Downtown Disney – 30 minutes by bus, 19 minutes by car
Blizzard Beach Water Park – 24 minutes by bus, 18 minutes by car
Typhoon Lagoon Water Park – 25 minutes by bus, 20 minutes by car
Resort Childcare
In-room child care is available at all resorts.
Resort Rates
Looking for a discounted rate for your Disney Vacation? Let The Magic for Less Travel, an Authorized Disney Vacation Planner, work for you. Their concierge services are always provided free of charge, and The Magic for Less Travel will help you find the best published or unpublished discount for your vacation. Already have a vacation booked directly with Disney? Contact The Magic for Less Travel to see if they can help you find a lower rate.

GET A FREE QUOTE NOW!
Tips From TheMouseForLess Members
TheMouseForLess Interesting Facts about the Resort
The monorail runs right through the middle of this resort. – Marie Lemmon.
Check out the mural over the main lobby and see if you can find the 5-legged goat. – Lisa S.
This was the ORIGINAL Disney Resort, though at the time, I think it was merely a "Hotel". It was built using the newest high tech construction techniques, building a frame and inserting prefinished rooms by crane into slots in each side. The dedication was hosted by Glen Campbell, very big at the time, and Bob Hope, always big! – Jud
For the "Resort" monorail, the stop order is Magic Kingdom, Disney's Contemporary Resort, the Transportation and Ticket Center, Disney's Polynesian Resort, and Disney's Grand Floridian Resort and Spa. So when the Magic Kingdom closes those staying at the Contemporary will be the first to get off! They'll have a much longer trip in the morning, however, when they'll board first and the MK is the last stop! ~ Bea
TheMouseForLess Room Request Tips
For tower rooms, everything is pretty much centralized. One thing I noticed was that the monorail wasn't as noisy as I thought it would be. I only heard it when I actually listened for it. The biggest noise problem for me was Chef Mickey's, especially at 7am. For quieter rooms, request to be on the highest floor and as far away from Chef Mickey's as possible. – Jennifer Henry
Anything with a theme park view is awesome – you can see the fireworks every night! – Lisa S.
I think the tower – Magic Kingdom view is the best choice. If you can get an odd number room in that booking category, your bed will face the castle. – Naomi
TheMouseForLess Hidden Treasures
The big metal mouse ears outside and in the back of the resort is a great place to take pictures. We do this every year to see how the kids have grown. In the evening, you can watch the water parade from there as well. – Marie G
The "Flying Balconies" up on the top floor outside the California Grill and on the other side are accessible to California Grill Guest and offer great overviews of the Magic Kingdom and are also a favored viewing spot for the MK Fireworks. There is also a publicly accessible outside balcony at the north end of the 4th floor concourse, though this might be closed during the renovations currently going on. – Jud
Loved the stand to put your camera on to take a timed family picture at the Mickey sculpture in the back of the resort. – Naomi
Be sure to catch the Electric Water Pagent on Bay Lake at the back of the resort! The light parade floats by the Contemporary Resort at 10 p.m. ~ Bea
TheMouseForLess Tips for Romance
Rent a boat and checkout the wedding chapel. The California Grill restaurant is very romantic; be sure to get a window seat for the fireworks. – Marie G
TheMouseForLess Tips for Families
This is a great resort for those with children. It is incredibly easy to get around and the Contemporary is a central hub. You can walk to the Magic Kingdom, ride the monorail directly from the hotel to Epcot, or take a boat to Fort Wilderness to pet animals. Chef Mickey's is our kids favorite restaurant. Whether we stay there or not we always go there to eat. The pool is great for adults and kids. The beach is nice too. – Marie G
My son is a picky eater and does not like green stuff in his food. This means that he doesn't like sauce on his pizza. If you talk to a person at the pickup location for food at the Contempo Cafe just after ordering, they will special make the pizza with no sauce. – Naomi
TheMouseForLess Tips for Large Travel Groups
There are 2-bedroom suites available on the concierge level in the tower that will accommodate 10 people.
TheMouseForLess Tips for Guests with Special Needs
As with all Disney resorts, all rooms are now non-smoking. All buildings offer elevators and stairs with interior corridors. The Contemporary does offer accessible rooms, and if you think you'll need one, ask for it. I don't think the standard room bathrooms are too accommodating for those that may need a little more space to maneuver safely. – Jennifer Henry
TheMouseForLess Tips for WDW Newbies
The best thing about staying at the Contemporary is the simple fact of you are in walking distance to the main entrance of the Magic Kingdom, that is the entrance under the train station, not the ticket and transportation center. – Bruce
I LOVE the walking path to the Magic Kingdom. In my opinion, this is the most important reason to choose this resort! – Naomi
It's faster to walk to the Magic Kingdom than to take the monorail – the monorail goes clockwise so there are stops at the TTC, the Polynesian, and the Grand Floridian before getting to the MK. The good news is that at the end of a long day the Contemporary is the first stop on the way out of the MK. – Lisa S.
The area behind the resort is also publicly accessible and is a nice close-by, quiet area for a break from a busy morning at the Magic Kingdom. Lounge chairs and tables are there to sit and relax and enjoy the peaceful environment by the lake. – Jud
Beware of credit card scammers! Several scams have been perpetrated on unsuspecting tourists staying at hotels or resorts in the Orlando area in recent years, including Disney resorts. The first involves a phone call to your resort room in which you are informed that there is a problem with the credit card info you provided the hotel; you are then asked to give your card information again, including name and address. If you receive such a call, inform the caller that you will talk to the front desk personally about the problem and hang up. If you are convinced the call may be legitimate, call the front desk from your resort phone or visit the front desk to inquire. The second scam involves flyers left on your resort room door advertising cheap pizza for delivery. Those who call the number and give the requested credit card info with their order soon find that not only does no pizza arrive, but a huge string of unauthorized purchases show up on their credit card.
TheMouseForLess Tips for Budget Travelers
I find that WDW often offers great reduced prices for this resort. We have stayed there during Memorial Weekend twice and both times paid about 1/2 price. Once we wanted reservations at a moderate resort, which was booked and Disney offered the Contemporary for $20.00 more a night than the moderate. – Marie G
If you book your room separately from buying your tickets you can get a Annual Pass and that will allow you to get the dining plan and get a discount on your room or other tickets. – Diana Riconda
Use the Disney transportation whenever possible – but if you have your own car and must drive, just show the paper that you got when you checked in and you won't have to pay for parking at any park. – Lisa S.
TheMouseForLess Tips for Luxury Travelers
If you're looking for an extra treat, definitely stay on the concierge level. The Contemporary Atrium Club is a great place to relax, meet up with family or just stop by for a quick snack. I found the staff extremely helpful and friendly. Make sure to grab a beverage and snack in the evening and enjoy the Magic Kingdom fireworks from the balcony, complete with piped in music! – Jennifer Henry
Make sure to make a reservation for dinner at the California Grill on the 14th floor of the resort during the presentation of Wishes. The view, food and service are phenomenal! – Mike Corbo