1701 Buena Vista Drive
Lake Buena Vista, FL 32830
Telephone: (407) 939-5000
Fax: (407) 939-7333
  Rooms   Dining   Recreation   Shopping Transportation   Childcare   Resort Rates  Resort Map

  Top 10 Resort Tips   VIP Tips
Value Resort Classification
Located in the Animal Kingdom resort area
Check In: 3:00 p.m. / Check Out: 11:00 a.m.
At Disney's All Star Sports Resort, gigantic football helmets, megaphones, surfboards and basketballs team up with value prices to score a winning Walt Disney World vacation. Guests find themselves greeted by bright colors and the whimsy of giant Coke cups big enough to hold a resort swimming pool. In addition, the resort buildings featuring larger-than-life sports icons such as football helmets, tennis ball cans and surf boards. Moreover, the sports theme is continued in guest rooms, which feature sports-themed bedspreads, megaphone light fixtures and artwork depicting sports scenes.
Likewise, check our Rehabs and Closures schedule for any refurbishments or work taking place at Disney's All Star Sports Resort during your visit.
See Current Disney's All Star Sports Resort Rates and Seasons
Disney's All-Star Sports Resort Rooms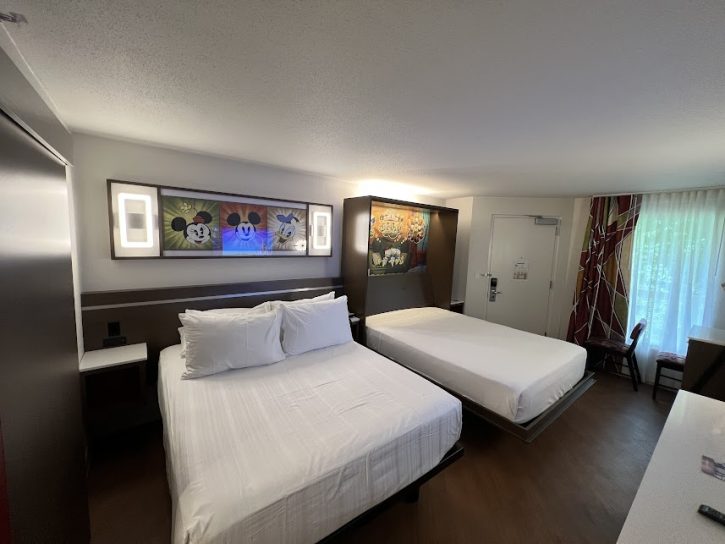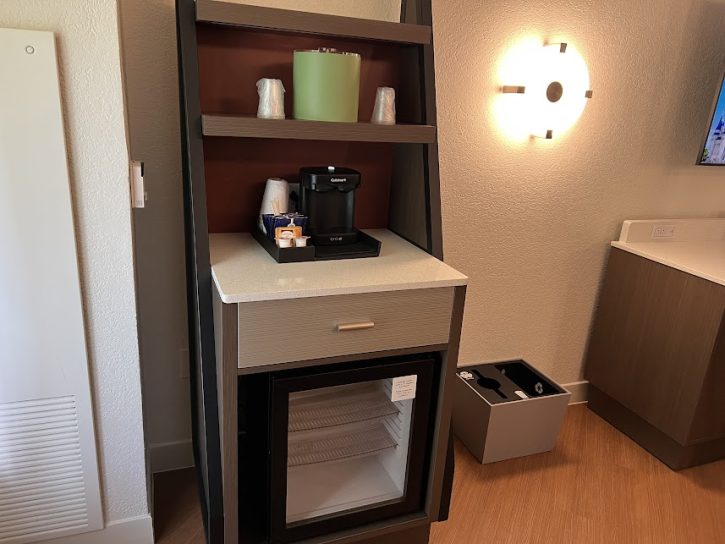 1920 Rooms in all
Preferred rooms are in the Surf's Up section
Rooms will accommodate four (4) people, plus a child under 3
All buildings at Disney's All Star Sports Resort have three levels
Stairs and elevators are available
Room Size is approximately 260 square feet
Room views overlook the parking lot, courtyard or pool area
Rooms have exterior hallways
Handicap accessible rooms include a king-sized bed, along with handrails and roll-in showers
Standard room features two double beds
Single sink area is located outside of bathroom
Beverage Cooler
In-room safe
Small Dresser
Table & Chairs
Pack 'n Play
Alarm Clock
Flat Panel TV – ABC, Disney Channel, Check the TV channel guide for more
Complimentary wireless Internet (Wi-Fi) (click link for specific details)
Iron / Ironing Boards
Hairdryer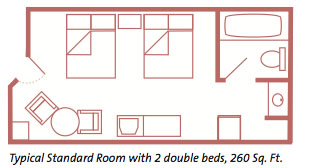 Coin-operated self-service laundry facilities are located throughout Disney's All Star Sports Resort. Also, valet dry cleaning and laundry service is available for pickup from your room.
Located at the Main Lobby in the Stadium Hall building, the concierge can help you purchase Disney Theme Park and Disney Water Park tickets, make dining reservations and secure show seats.
Disney's All-Star Sports Resort Dining Options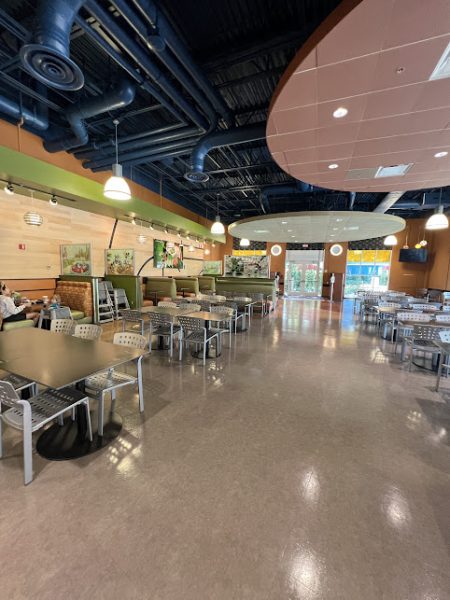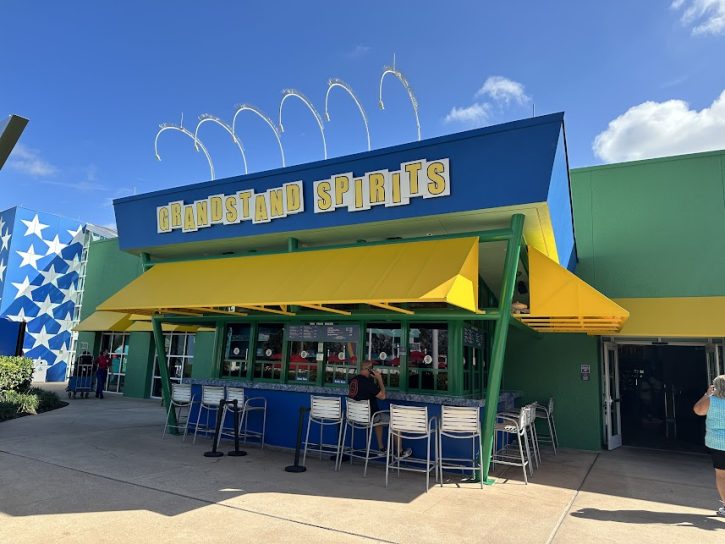 End Zone Food Court
All-Star Pizza Delivery is also available
Grandstand Spirits Pool Bar
Refillable mugs are available for purchase at the End Zone Food Court.
Disney's All-Star Sports Resort Recreation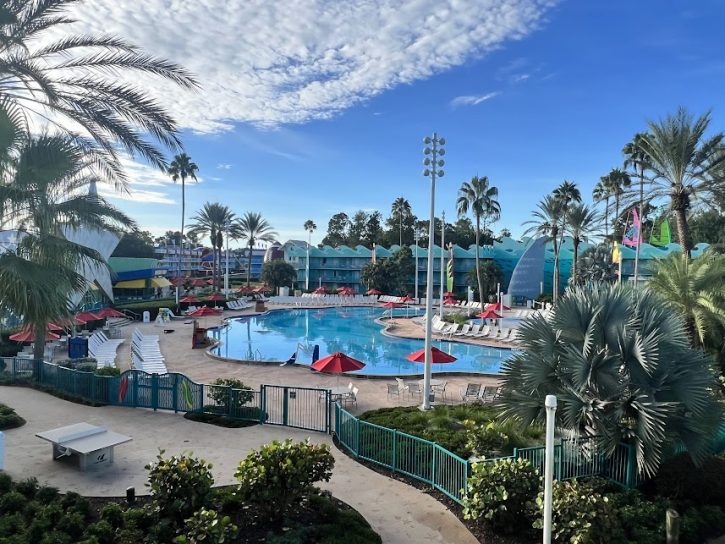 The main Surfboard Bay Pool is located behind Stadium Hall. In addition, the Grand Slam Pool, shaped like a baseball diamond, is in front of the Home Run section.
Towels are not available at the pool, guests must bring their own from the room. Lifejackets are available for use.
A children's play area is located between the two Touchdown buildings.
Game Point video arcade is located in Stadium Hall.
A 1.5-mile jogging trail surrounds Disney's All-Star Resort complex
Movies Under the Stars and poolside activities
Health club facilities are not available.
For a fun and more relaxing way to spend a day during your visit to Walt Disney World, each resort hosts Poolside Activities each day from 1:30 – 7:00 p.m.. Pool hours and lifeguard availability vary by pool. However, activities and programs are subject to change. Although the activities vary by day and by resort, examples of what you might find include trivia, arts and crafts, dance parties, games, bingo, and more.
Disney's All-Star Sports Resort Shopping Locations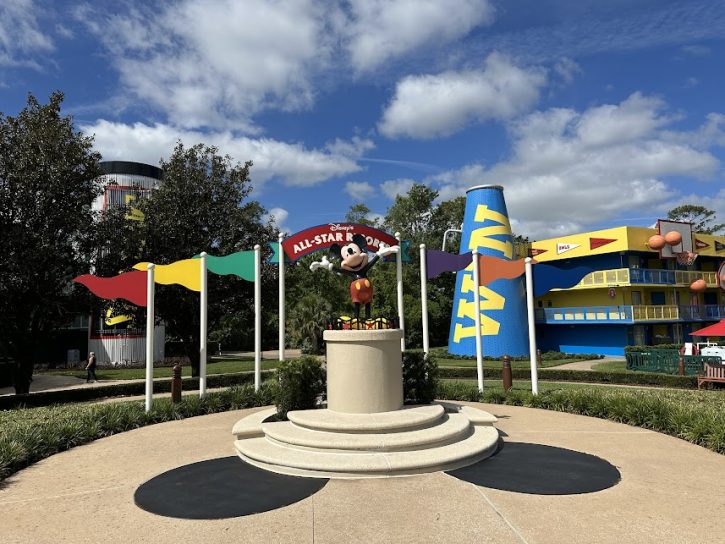 Sport Goofy Gift and Sundries located in Stadium Hall – Souvenirs, clothing and sundries. Consequently, you'll be able to find some resort specific merchandise! From magnets and keychains to t-shirts and backpacks, there's a souvenir for everyone! Furthermore, if you forgot something, you'll be able to pick it up here!
Look at all your vacation photos by visiting the Photopass page. These professional pictures can make a great souvenir for home! 
Disney's All-Star Sports Transportation
Overnight Self-Parking
Self parking at Disney Resorts hotels is complimentary.
Disney's bus service is available to and from this resort to theme parks, water parks, plus Disney Springs.
The bus stop is located at Stadium Hall at the end of the lobby – exit the doors near Sport Goofy Gifts and Sundries.
Transportation Times Between All Star Sports and Disney Destinations
These times are approximate, provided to give you an idea of average travel times. Most importantly, please plan on up to a 20 minute wait for Disney transportation in addition to walking time to resort or theme park transportation stops.
Magic Kingdom – 27 minutes by bus, 33 minutes by car (with transfers)
Epcot – 24 minutes by bus, 18 by car
Disney's Hollywood Studios – 19 minutes by bus, 15 by car
Animal Kingdom – 22 minutes, 11 by car
Disney Springs – 24 minutes by bus, 13 by car
Blizzard Beach Water Park – 21 minutes by bus, 6 minutes by car
Typhoon Lagoon Water Park – 28 minutes by bus, 12 minutes by car
Disney's All-Star Sports Resort Childcare
***Disney has closed its three Children's Activity Centers located at Disney's Animal Kingdom Lodge, Disney's Polynesian Village Resort and Disney's Yacht & Beach Club Resorts.  As well the Pixar Play Zone that was located at The Contemporary Resort has closed.  The Walt Disney World Dolphin will still offer a Children's Activity Center option and you do not have to be a guest at that resort to use the Children's Activity Center.***
While not on-site child care facility, however Kid's Nite Out, in-room child care, is available at all resorts for children 6 months to 12 years old. Reservations may begin as early as 6:30 a.m. and/or may begin as late as 11:00 p.m., Services are available 24/7.  
The Walt Disney World Dolphin will still offer a Children's Activity Center option and you do not have to be a guest at that resort to use the Children's Activity Center.  Camp Dolphin
Disney's All-Star Resorts VIP Top Tips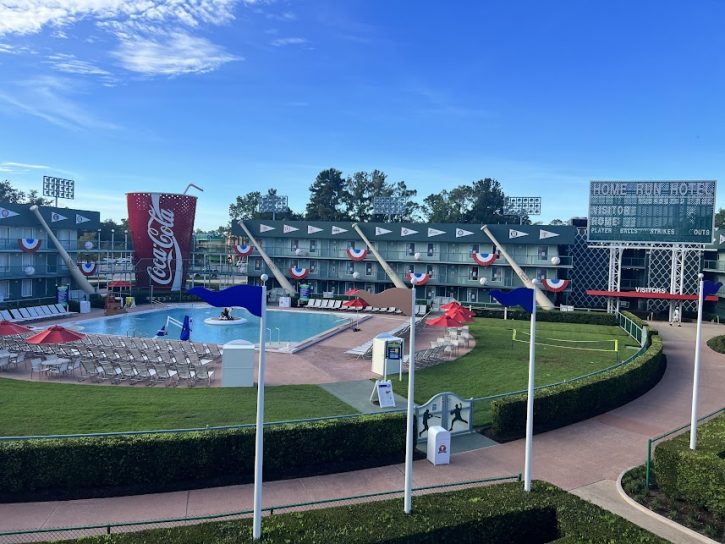 This section is sponsored by the Disney experts at The Magic for Less Travel, Authorized Disney Vacation Planner
When you stay at one of the All-Star Resorts you can use the pools, recreation, and amenities at all the other All-Star Resorts.
Depending on where your room is located, you may be closer to the food court, bus stops, or pool located at another All- Star Resort.
"Preferred room" refers to the location of the room in relationship to buses and food; it's the same room regarding size and bedding as in the rest of the resort.
The in-room fridge is more like an electric cooler and not likely to be cold enough for safe food storage (which is 40 degrees F or lower). Many times you can keep your food and beverages colder with a cooler and ice. Ice machines are available from the elevator areas.
When visiting the pool, you need to bring your in-room towels as there are none at the pools in the Value resorts. Contact Housekeeping early in your trip for extras so you're not waiting for dry towels when you're tired.
There's a McDonald's within a short distance of the All-Star Resorts (0.5 – 1.2 miles away, depending on the resort).