While there are many accommodation options in the Orlando area, The Mouse For Less highly recommends staying at one of the official, on-site Walt Disney World Resorts.  There are many on-site benefits that allow guests to get the most from their vacation.
Getting the Best Value for Your Disney Buck
Value Rates & Dates Resort Categories & Added Value
While all guests likely have a vacation budget, it is also important to consider "value" and not just cost when planning your vacation.  In other words, sometimes the least expensive options is not the option that will provide guests with the best value.  Sometimes hidden costs, transportation times, inadequate amenities, and a "lack of magic" make other choices less appealing.
Disney "Value" Rates, Dates, and Value Resorts
One of the ways that you can stay on-site and still save money is bey taking advantage of Disney's Value Dates.  Disney resorts are least expensive during off-peak times of the year. Termed by Disney as "Value" dates or "Value" season, reserving a Walt Disney World room during off-peak times can cost up to 40% less than during holidays and other busier times of the year. In addition to the overall lower prices during off-peak times, Disney is much more likely to offer special promotions, such as Free Dining, during slower periods, reducing the cost of your vacation even further. Just don't expect to see any special offers or promotions from Disney during the week of Thanksgiving or from Christmas through New Years Eve!
Room rates for Disney resorts are not based solely on "seasons," however, and Disney has added additional factors to be considered when calculating the best dates and rates for your stay. Disney hotel rates vary not only by seasons, but also by days of the week. Guests may pay a higher weekend rate on Friday and Saturday nights than during the rest of the week. To make things even more complicated, just because the first day of a trip starts in "Value" season, it doesn't mean guests will automatically pay Value Season rates for the entire length of their stay. Room rates could increase if the season switches at any point during the length of your vacation. The general rule of thumb when looking for the least expensive room rates at Disney is stick to Value Resorts and plan your complete stay to fall within a Value Season. When it comes to Walt Disney World resort rates, seasons in increasing order of costs are Fall, Regular, Summer, Peak, and Holiday. Visit our resort section for more information and rates at Walt Disney World Resorts.
TheMouseForLess Tip: For a complete analysis of the best time to plan your visit, read our Choosing Vacation Dates Guide.
Disney's Value Resorts All Star Resorts and Pop Century Resort are the least expensive on-site Disney-owned hotels.  It's even better when you realize according to Frommer's Travel Guide, the average, non-discounted hotel rate for the Orlando area is higher than the value on-site Disney-owned hotels.
Disney Value Resorts can accommodate four people plus one child under 3 (Pack 'n' Play Cribs are available).
For larger families, Disney has Family Suites at All-Star Music Resort as well as Art of Animation Resort. Value Family Suites can accommodate up to six guests plus one child under 3 and come equipped with a kitchenette with microwave, small refrigerator (4.3 cu. ft), and coffee pot for simple in-room food preparation. There are two-full bathrooms with sink and vanity outside of bath/toilet area. The bedroom has a queen bed and the living area a full-size pullout sofa, plus convertible twin ottoman & convertible twin chair sleepers (for a total of 4 sleep surfaces).
For comparison purposes, the price of the an All Star Family Suite is about $30 more than for two Standard Value Resort rooms and approximately the same price as two Preferred Value Resort rooms (located closer to food courts and Disney bus stop). Reserving two Value Resort rooms will offer more space and will accommodate a larger family or group (8 plus 2 children under 3), but without the ability to prepare light microwaved meals. Connecting resort rooms are available but can not be guaranteed unless the number of children outnumbers the adults. For example, if there are two adults and three children with two rooms, you're guaranteed connecting rooms if requested. But if there are three adults and two children, you can request connecting rooms, but it's not guaranteed. There is an extra charge of $10 per person per night for more than two adults staying in any Value Resort room. At the present time, up to six adults can stay in an All Star Music Family Suite at no additional charge.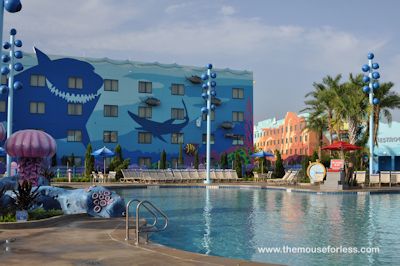 Art of Animation Resort is categorized as a "Value" resort and features both standard rooms and family suites that sleep up to 6. These family suites are slightly higher than the family suites available at the All-Star Resorts. Amenities at this resort surpass other Disney hotels in the Value category and include: Interior hallways in all but the "Little Mermaid" building; one of Disney's largest pools with underwater sound; an extensive food court on a par with sit-down restaurants; and extensive theming in every room!
Pricing on all of the All-Star Resort standard rooms are the same at each resort, with Pop Century and Art of Animation Resort standard rooms running slightly higher. However, tax on Pop Century and Art of Animation rooms is only 12.5%, slightly less than the 13% guests will pay at the All Star Resorts and Family Suites. Additionally discounts, when offered, are seldom available for the All Star Music Family Suites and frequently available for Value Resort rooms, making them even more economical. In the end, which option works out least expense for a larger group—two Value resort rooms or a Family Suite—will depend on several factors, including the number of people in your party and how many are adults (18 and over), location of the Value Resort, meal budget, and discounts that can be obtained.
TheMouseForLess Recommendation for Best Value Resort: Goes to Pop Century for its eye-popping iconic sculptures, extra amenities not found at the All Star Resorts, bus transportation that isn't shared with other resorts and convenient location between Downtown Disney and Disney's Hollywood Studios.
TheMouseForLess Recommendation for Best Resort For Family of 5: Goes to Port Orleans Riverside Resort for its two-story faux-log guest houses of Alligator Bayou that have pull-down beds, allowing families of five to comfortably stay in one room, while offering a host of amenities and recreational opportunities you just won't find at a Value Resort. To see the room capacity for other resort rooms, see our Room Occupancy Guidelines page.
Other Resort Categories and Added Value
There are three other classes of resorts offered by Disney: Moderate resorts, Deluxe resorts and Deluxe Villa resorts. Deluxe Villa resorts may have limited availability.  accommodations consist of studios and one-, two- and three-bedroom units. Each include some sort of kitchen or kitchenette for cooking, an in-room washer & dryer for one-bedroom units and above, and are often offered at a discount during one of Disney's special promotions.
Along with the price increase on room rates and other fees, each class of Disney resort offers an upgrade in amenities for guests to enjoy. It's difficult to put a "value" on dining and recreation opportunities, time spent traveling from your resort to the parks, bathroom space, privacy options, noise factors, and just plain luxury. What is important to one individual may be negligible to another. For example, a family of four with two large adults, may find that even with the savings offered at a "Value Resort," the sleeping conditions in a regular full-size bed just won't work. Each family will need to discuss and have some idea of what these "value factors" are worth to them when budgeting for a resort.
Value Resorts go a long way in minimizing cost, but they also offer the least square footage (260 sq ft.) in terms of room space, are often busy with children and noisy, offer bland room views, don't have queen-size beds, and are located farther from the parks and thus require longer commuting times.
While Value resorts offer only food courts and limited room service delivery (mainly pizza) as dining options, Moderate, Deluxe and Deluxe Villa resorts each have at least one sit-down restaurant on property. All classes of resorts offer a gift shop and arcade, with the Deluxe and Deluxe Villa resorts typically having several specialty shops. Value resorts also differ in recreational opportunities. While each Value resort has several swimming pools, only Moderate, Deluxe and Deluxe Villa resort pools have pool slides. Moderate, Deluxe and Deluxe Villa resorts also offer other recreation, such as bicycle rental, water craft rental, hot tubs and more. These vary by resort. For example, Disney's Port Orleans Riverside Resort, a Moderate resort, offers all of the amenities just mentioned, as well as themed princess rooms, horse and carriage rides, a fishing pond, and boat transportation to Downtown Disney. What sets the Deluxe and Deluxe Villa resorts apart from all others is the number and caliber of dining opportunities, as well as on-site spas, health club facilities, kids clubs and children's' activities and programs, tennis courts, room service, valet parking, dry-cleaning services, concierge's desk, spectacular views and a host of other upscale amenities.
Pricing is also more varied at Moderate, Deluxe and Deluxe Villa resorts, with the offering of various views, room types, suites and preferred locations. For the most part prices at the Moderate resorts are similar, except for the Coronado Springs Resort which also offers various levels of suites not available at the other Moderate resorts. Coronado Springs Resort is also the only moderate resort that offers a hair salon, 24 hour health club, room service and convention center. Prices at Deluxe and Deluxe Villa resorts can also be vastly different dependent upon the convenience of location. Those resorts located on the monorail route at the Magic Kingdom and in the Epcot area, within walking distance of both Epcot & Disney's Hollywood Studios parks, being the most expensive.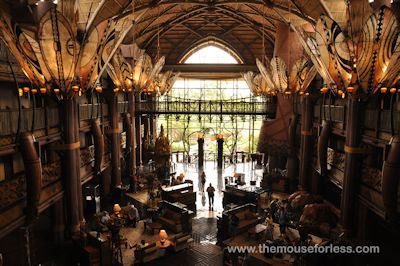 The Wilderness Lodge Resort and Animal Kingdom Lodge Resort offer the best value in pricing in the Deluxe Resort category, but are less conveniently located and will eat up more vacation time when relying on Disney Transportation. Fees for more than two adults in a room runs $15 per person per night at Moderate resorts and $25 per person per night at Deluxe resorts. Disney's Deluxe Villa resorts do not charge for extra adults. There is no charge for children under the age of 18 staying in the room with a paying adult at any of the Disney resorts.
Visit our Resort Guides for a complete list of Walt Disney World resorts, room rates, resort rate seasons, descriptions and amenities. You can also read reviews for each of the Disney Resorts in our Disney Resorts Review section. Visit our Choosing a Disney Resort Guide for step-by-step help in choosing your Disney Resort.

To see all current discounts on Walt Disney World rooms and vacation packages, visit our Current Code Page. Booking incentives, discount checking, and expert advice can lower the cost of staying at a Disney resort even more. To see all of the benefits of booking your vacation with an Authorized Disney Vacation Planner, visit our Disney Travel Agent page.
TheMouseForLess Tip: While good prices can sometimes be obtained on Disney hotels and resorts through discount sites like Expedia, these are generally the same prices that are available with Disney's current specials. Also, extras like the Dining plan and/or park tickets can't be added to your reservation. Once you've booked, current Disney discounts and promotions can not be applied to lower prices or change reservations when special room discounts or package offers like Free Dining are released. Lastly, unlike booking through Disney or a Disney specialized travel agency, your room will be charged in full to your credit card immediately and a minimum $25 cancellation penalty will apply. In general, sites like Expedia, Priceline, etc, are better used to find last minute deals on Downtown Disney hotels or off-property hotels.
The Great "On-Property vs. Off-Property" Debate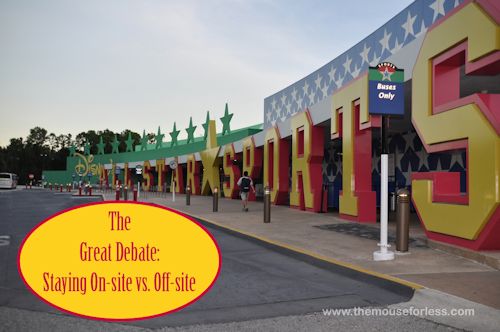 The Magic Factor Transportation Issues & Disney Perks Bigger Condos, Cheaper Rooms
There are a number of factors to consider when making the decision to stay at a resort on Disney property versus an Offsite Hotel. Sometimes what seems like a good deal at first turns out to have more fees or costs than simply the per-night room charge.
"The Magic" Factor
The story goes: One day while strolling through Disneyland, Walt Disney saw a Frontierland cowboy walking through Tomorrowland. Walt was disturbed by the sight and felt it ruined the Magic. When he made the decision to build a second park, he vowed that problems such the cowboy and view of area businesses from the Disneyland park would be overcome at his new park. Walt Disney World Resort was created with this philosophy in mind. From the Utilidors running under the Magic Kingdom that house utilities, garbage disposal, wardrobe, costuming, locker rooms, offices, break rooms, two employee cafeterias, and a computer control room, to out-of-the-way access roads and invisible areas for delivery trucks and the detailed theming of resorts and restaurants, all of Walt Disney World Resort is a stage meant to immerse visitors in the magic.
Tucked away in the midst of undisturbed greenery surrounding its borders, Walt Disney World is comprised of 47 square miles of theme parks, water parks, restaurants, Disney-themed resorts, lakes, recreation, unique shopping options, spectacular entertainment, once-in-a-lifetime experiences and sports venues meant to lock the outside would out. There are those who swear that the freedom from sights such as fast food establishments, blinking neon signs, billboards, and the hustle and bustle of everyday working life truly does transport one for a brief time into a magical world of make-believe. Being huge Walt Disney World fans ourselves, we happen to agree. But to be fair, we'll examine both sides of the issue of staying on property vs. off.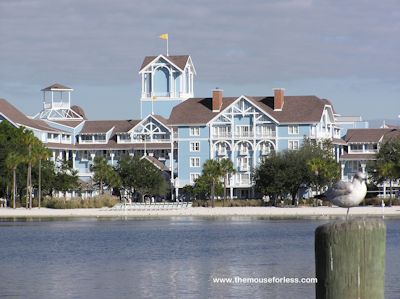 Transportation Issues and Disney Perks
While staying off-property can cut the cost of a hotel room in many cases, there are several factors that should be considered in choosing one. Some hotels supply free shuttle transportation to and from Disney parks, but many do not. Others contract through Mears Transportation for shuttle transportation and pass the cost on to hotel guests. Some provide no transportation options at all. Hotels located on International Drive in Orlando offer transportation to and from Universal Studios, Sea World and Wet 'N' Wild, but many do not offer complimentary transportation to the Disney theme-parks.
Even if free transportation to the Disney theme parks is available, it's often limited and can cut into park time or keep visitors at the park all day. The least expensive off-property hotels and motels usually don't have any transportation at all, so the cost of renting a car and/or gasoline will also need to be considered. Vacation planners should also consider that Orlando traffic can get very congested, burning even more time and fuel. Once on Disney property, guests will pay additional parking fees, adding to a mounting total. Theme park parking is free for Disney resort guests, and with resort-theme park transportation running about every twenty minutes (beginning an hour before park opening and ending an hour after) Disney guests can easily return to their resorts for an afternoon nap or swim and return later in the day. Additionally, there are a few perks available only to those staying on Disney property, such as additional hours in the park, that will maximize the value of Disney room costs. Walt Disney World guests can make credit card charges using their MagicBands, have purchases sent back to their resorts, and purchase the Disney Dining Plan or sometimes get it Free.
There are also select non-Disney-owned and/or off-property hotels, such as the Swan and Dolphin hotels, Downtown Disney hotels and Good Neighbor hotels, that can be booked directly through Disney with limited packages including a few Disney extras. Such hotels may be able to take advantage of a few limited Disney perks such as Extra Magic Hours, package delivery from parks to resorts, and free parking. These perks will vary for hotels or hotel groups. Click the individual links above to discover the Disney perks for each. The rule of thumb is if a hotel can be booked through Disney, it will have some type of transportation to and from Walt Disney World theme parks available to guests, either for free, or in a few cases, for a fee.
If you're flying, Disney has eliminated the need to secure transportation from the airport to your Disney resort. Magical Express is one of the more recent money-saving amenities offered to guests staying at the Walt Disney World Resort. The service provides baggage transfer and handling, transportation for your entire party from Orlando International Airport (MCO) to your resort (one way or round trip available). All free of charge! Only guests of Disney-owned resorts may use Magical Express. A reservation is required prior to arrival at the airport. Call Walt Disney World Reservations at 407-934-7639 or Magical Express directly at 407-939-6244 when you book online to reserve Magical Express transportation. For select airlines, airport check-in is also available from Disney-owned resorts. You can check your luggage and receive your airline boarding pass right at your resort hotel.
For information on getting around Disney and to area attractions with or without a car, visit our Car Rental page.
Even if an off-property hotel does offer shuttle service to area theme parks, guests may still have to secure transportation from and to the airport. Mears operates a desk on the lowest level (level) of terminals A & B and offers transportation for individuals and families traveling from Orlando International Airport to the local Orlando resort areas. A round trip fare can be reasonable at $21 for adults (less for children 4 – 11 and kids under 3 free) staying at a hotel on International Drive and $46 for those staying in Kissimmee. Travel time, however, can be slow and waits between shuttles can be long. Mears Transportation shuttles stop at a number of hotels along a given route; not good news if your hotel is at the end of the line. For a complete list of Mears Transportation's shuttle pricing click here and input your destination. Reservations should be 24 hours in advance and can be made online or by calling (407) 423-5566.

Private transportation can be arranged from a number of Orlando transportation companies via Towncars, SUVs and private limos. Most can transport up to 6 guests for a one-price charge. Private transportation companies provide round trip transportation to and from Orlando International Airport, as well as from resorts and hotels to area attractions. Click here to see a complete list of exclusive TheMouseForLess discounts on private transportation.
Bigger Condos, Cheaper Rooms
Other than Disney Vacation Club properties, which can accommodate larger groups, traveling with groups of five, six or more (depending on the Disney resort) can often require renting more than one Disney hotel room. Read our Room Occupancy Guidelines for Walt Disney World resorts. Off property vacation homes and condos can represent a savings for larger groups or several families splitting costs. Many are available with 3 or 4 bedrooms and private pools, spas, and full balconies. Most charge some sort of "cleaning" fee in addition to the weekly rental rate. For a listing of vacation homes and condos in the Orlando area, that offer TheMouseForLess Readers a discount, visit our Lodging Discount page. Additionally, deals on off-property hotels and resorts offer a wide variety of pricing and frequent last minute deals. Reasonable restaurant choices abound in the Orlando area and many offer "kids eat free" deals you won't find at Walt Disney World. See our dining tips for restaurant discounts and coupons. If you're traveling with a pet, there are hotels throughout the Orlando/Kissimmee areas that allow pets to stay in your room. While Walt Disney World will board your pet during your stay, pets are not allowed to stay in guests' rooms at Disney hotels.
One final word about about staying on-property vs. off-property. Just because there are discounts offered on a multitude of hotels, resorts, and properties surrounding the Walt Disney World Resort, it doesn't necessarily mean they are all good deals or good values. Reserving through an automated booking site could result in a hotel that's just plain unpleasant, with infrequent refurbishments, poor service and less than desirable cleanliness and horrible transportation options.  All of the Disney resorts and non-Disney owned hotels located on Disney property (Downtown Disney Area and the Swan and Dolphin) are of superior or very good quality.  the services of a Disney Specialized Travel Agency to book your hotel. Often special discounts such as AAA, senior citizen, and others can still be applied through a travel agency and agents are very familiar with properties in the area. A Disney Specialized travel agent will be able to give you the inside scoop on each, suggest off-property hotels, and provide free rate quotes upon request with no obligation to reserve.
When shopping for a truly budget hotel off-Disney property, be particularly careful. Vacationers are on their own with many of these lodgings as they do not book with travel agents and most agencies would NOT recommend them. There are some less-than-desirable hotels in the Orlando area and on US Hwy 192 in Kissimmee with little or no security. These include the "condo" and "all suite" hotels at around for a low price. You get what you pay for, and be wary of what you get at these discount lodging locations.