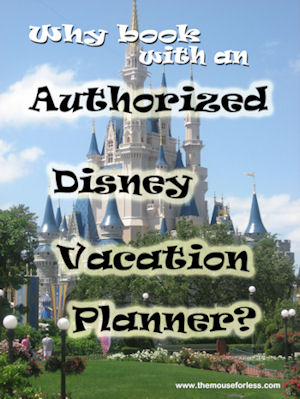 The Benefits of Working With an "Authorized Disney Vacation Planner"
Working with an Authorized Disney Vacation Planner
There are so many reasons to use a Disney travel specialist when planning your Disney vacation.  A professional, knowledgeable agent can help you through the sometimes confusing process of planning a vacation.  In addition, a travel agent can add value to your vacation.  They can help show you were to splurge and where to save.  They can make resort, dining and other recommendations that will enhance your vacation.  They can help you travel like a VIP by sharing tips, tricks and and other first-hand information. In addition, some agencies  monitor the release of Disney discounts daily to ensure their guests are receiving the best price.  Since popular resorts often have limited availability within Disney's special promotions, this could be an important factor in getting the discount for the resort and dates you want.
Not All Disney-Specialized Travel Agencies are Equal
Not all Disney-specialized travel agencies are equal, though. Disney works closely with a group of agencies that it has given a special designation as "Authorized Disney Vacation Planners." These agencies are not only Disney's top booking and selling agencies, but they also have specialized knowledge of Walt Disney World, Disney Cruise Line, Disneyland and Adventures by Disney vacations.
TheMouseForLess recommends our sponsor agency, The Magic For Less Travel – with over a decade of experience booking Disney Travel. The Magic for Less Travel is not just an Authorized Disney Vacation Planner, but one of only six agencies in the country to receive Disney's highest designation as a Platinum Level Earmarked Agency. Their travel consultants specialize in Disney vacations with graduates from the Disney College of Knowledge.  In  addition, their agents have experienced the parks, stayed at the resorts, eaten in the restaurants and taken the Disney cruises. Most importantly, agents of The Magic For Less Travel are hand-picked based on their love of Disney Destinations, among other qualifying factors. Agents of The Magic For Less Travel want your vacation to be magical!
Disney Discount Monitoring and Special Services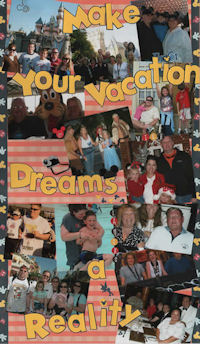 When special Walt Disney World discounts or promotions are released, The Magic For Less Travel will automatically apply a qualifying discount to a reservation whenever possible – even after the reservation has been booked. If several discounts are released at once or are available for the same time period, The Magic For Less Travel will compare all discounts to see which will save the most money on your reservation. If you have a current reservation and you've been hoping for a special Disney promotion, such a Free Dining, The Magic For Less Travel will secure the discount if your dates and resort are available and then notify you via email with the good news. There is virtually nothing you have to do once you've booked, other than check your email inbox for a something magical as happened notification that your vacation price as been lowered.
Complimentary Concierge Services & No Fees!
There is never a fee to use The Magic For Less Travel's services, and answers to your questions or a free "no-obligation" quote are just an email away. Each client will work one-on-one with an agent matched to his or her destination needs. Your travel consultant will monitor your reservation for available discounts until the time of travel, make suggestions and Advance Dining Reservations for Disney restaurants, prepare a personalized itinerary for your vacation, and help maintain your level of excitement with the regular delivery of Magical Tips. All aspects of your vacation will be handled by your agent – it's like having you own Disney Concierge service.
Special Booking Incentives – Combine with Disney Discounts to Save More!
Special booking incentives are another benefit to booking through The Magic For Less Travel that you won't get when reserving a room or package directly through Disney. Such incentives add value to your vacation dollar. The Magic For Less travel offers a number of special booking incentives throughout the year. Booking incentives are available for Walt Disney World, Disneyland, Disney Cruise Line and Adventures By Disney vacation packages.
While Disney will not allow guests to stack its special promotions (e.g., Free Dining with a Walt Disney World room discount or a Disney Rewards Visa Onboard Credit with a discounted Florida Resident cruise rate), clients of The Magic For Less Travel can combine Disney's discount and promotional vacation packages with an exclusive booking incentive from The Magic For Less Travel to save even more. If Disney releases a "Kids Sail Free" promotion on select cruises, that's already a great deal! Imagine combining that special promotion with The Magic For Less Travel's "Up to 5% of Your Cruise Price" onboard credit offer. You can see how the savings begin to stack up!
Those with vacations already reserved directly through Disney can still take advantage of the special booking incentives and discount monitoring offered by The Magic For Less Travel by transferring their Disney reservation. Everything stays the same, including your Disney reservation number, and payments continue to be made directly to Disney. Simply TRANSFER to The Magic For Less Travel any existing reservation made directly through Disney that is within 30 days of the initial booking and has not yet been paid in full. For more information about how to transfer an existing Disney reservation, and to learn what incentives may be available for your vacation, contact The Magic For Less Travel. Walt Disney World resort reservations must be transferred within 30 days of the date they were first made.
Vacation Protection
In addition to being an "Authorized Disney Vacation Planner," The Magic For Less Travel is a fully insured agency, a member of CLIA and IATAN and is a California registered seller of travel. For most reservations, credit card payments are made directly to Disney, to car rental agencies and to other suppliers booked on behalf of clients. Credit charges will show on your card statement as charges by Disney or other suppliers. You will also receive a Disney reservation number. This is great news for Disney Visa card holders looking to take advantage of the Disney Visa's "zero interest for six months" offer.
Once a reservation is booked and the client travels, The Magic For Less Travel receives a small commission from Disney or other suppliers. There is no cost to you for using their services or added risk to your reservation. Additionally, The Magic For Less Travel never maintains credit cards information online or after a client makes final payment and such information is available only to your one-on-one travel consultant and no one else.
For additional information about services offered by The Magic For Less Travel for Walt Disney World and other Disney destinations, visit their web site Service Plus page OR sign up to receive Travel Promotions & Discount Announcements exclusively from TheMouseForLess.

For even more savings and Disney travel planning ideas, subscribe to our MFL Magically Speaking news letter OR join the discussions on our Facebook Group or over at the TheMouseForLess Yahoo Group. You'll have fun chatting and sharing Walt Disney World and Disneyland trip planning ideas from Disney veterans, and enjoy exclusive MFL savings on Car Rentals, SeaWorld, Busch Gardens, and more when you join.
Deals from Disney: What You Should Know
Based on the need to fill rooms, Disney offers a variety of discounts and special promotions throughout the year for Walt Disney World Resort hotel rooms and vacation packages. These discounts come in the form of strategically released promotions available to the General Public, Florida residents, and occasionally, Canadians and other regional residents. Additionally, there may be special discounts available for active and retired Military, AAA members, Disney Visa card holders, Walt Disney World annual pass holders and other groups.
While Disney's vacation planning web site can help locate current rates and promotions, don't expect Disney to go out of it's way to inform you about special discounts before or after your reservation is booked. Some special promotions such as Disney Visa specials, aren't even advertised on Disney's web site. Even if you use the resources available on the Internet to locate Disney's most recent promotions and specials and do the work of booking your vacation yourself, there's no guarantee that the rate you book today will be the best possible rate available before you travel. Disney may release a special promotion after your vacation is booked that could be applied and lower the cost of your vacation. You'll have to locate and apply any new discount yourself on the day it is released – often requiring that you spend hours on the phone to change your existing reservation or risk losing out on what can often be limited availability. If you are not keeping abreast of discounts, you could miss out on saving hundreds of dollars.
While guests can switch from one Disney promotion to another without penalty, discounts and promotions from Disney can not be stacked. You must choose the one that will work best for you and your traveling party's needs or check all that might apply for the best discount. For example, Free Dining at the Value resorts is often a better deal than room discounts at the Value resorts, whereas a room discount at a Deluxe resort can sometimes be a better deal than the Free Dining promotion. There are also other factors to consider, such as traveling during "Regular" season vs. "Peak" season when both rates are offered within the same discount or promotional period. Prices for Disney's special promotions and discounts can and do vary, dependent upon your date of arrival, even when staying at the same resort. Add to the mix that a promotion at one category of Disney resort may not be nearly as good as another category (e.g., 15% off at a Value resort vs. 25% off at a Moderate resort) and it gets complicated.

Each category of Disney Resort offers an added level of benefits and amenities that could make or break a vacation. To learn more about your options, visit our Know Your Options Before You Go page.

For information on the latest discount codes and Disney specials visit our Current Disney Codes and Discounts page.