Walt Disney World Resort Benefits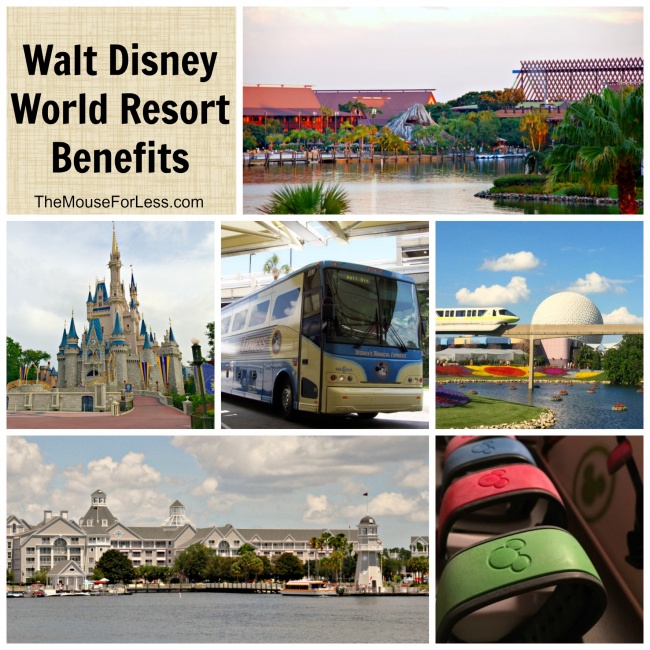 The benefits to staying at a Walt Disney World Resort are endless. To see all benefits scroll through the list and check out all Disney Resorts have to offer.
Location Theme  Extra Magic Hours  MagicBands FastPass+
Dining Plan Magical Express Transportation Parking
Package Delivery Room Charging Airline Check-In
Location
Walt Disney World is huge. We are talking 47 square miles huge. It is twice the size of Manhattan huge. Walt Disney World Resort means the closer you are to the action.  If you are going to play in the magic shouldn't you stay in the magic?
Theme
Each Walt Disney World Resort boasts its own unique theme. There are a range of themes and something is sure to interest everyone. The attention to detail, whether a guest is in a value room or a deluxe suite, is something that makes an on-site Disney stay stand out from a regular hotel room. The Value Resorts feature huge and over the top icons and pool areas. For example, at All Star Sports there is sports equipment fit for a giant throughout the resort. The theming only gets more inspired as you move up to a Deluxe Resort. Consider a stay at the incredible Animal Kingdom Lodge with an African Savannah where guests can view animals anytime of day.
Extra Magic Hours
Guests staying at a Disney resort are able to take advantage of Extra Magic Hours. Guests can either enter a park one hour before opening or stay up to two hours after park closing, depending on the schedule. Check the times for the parks participating in the program each day.
Complimentary MagicBands
Guests staying onsite at a Walt Disney World Resort receive a complimentary MagicBand for each Guest in their party.  Use these bands to open your resort door, charge your meals and purchases to your room, link your PhotoPass photos to your account, and even access your tickets when you enter the parks.  They are the ultimate in convenience and make your vacation planning even more exciting.  MagicBands are available in seven different colors and each member of your party can choose their own color.
Early Access to Fastpass+
All guests at Walt Disney World have the benefit of using the Fastpass+ service which allows guests to reserve ride times and skip the wait. Only Guests staying in a Walt Disney World Resort have the added benefit of booking Fastpass+ reservations 60 days in advance. This is a big benefit for on-site Walt Disney World Resort Guests because non-resort guests book Fastpass+ only 30 days in advance.
Disney's Dining Plan
While all restaurants on-site are open to anyone regardless of their accommodations, the Disney Dining Plan is not. Available only to guests staying at a Disney resort, there is a plan to satisfy each family's dining needs. The Dining Plan is one of the major benefits of staying at a Walt Disney World resort. Check out all that the range of Disney Dining plans have to offer. A Disney Dining Plan creates the opportunity for guests to check out many of Disney's fantastic restaurants. Guests of a Disney resort also have the benefit of booking all dining reservations for their trip at 180 days out from the first day of the trip, whereas guests not at a Disney resort book at 180 days from each day of the trip.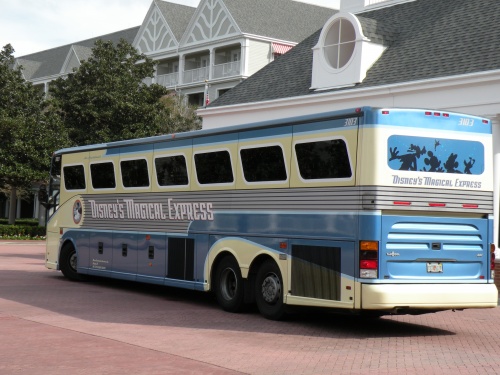 Disney's Magical Express
On-site Guests who fly in to Orlando International Airport have the option of using the free Magical Express service. This service will have your bags transported directly to your room without having to stop at baggage claim. Guests board a coach bus to be dropped off at the front door of their resort hotel. And on the way home, guests and their bags are transported back to the airport again. Depending on the airline, guests can even check their bags at the resort and retrieve them at their destination airport. It bears repeating: all of this is free to guests staying onsite. No rental cars, looking for directions, or worrying about parking.
Transportation
Walt Disney World Resort Benefits allow guests unlimited (and FREE!) use of all Disney transportation. And Disney will make sure that you get where you need to go. Motor coach, ferryboat and monorail services are available to take you throughout Walt Disney World Resort. Some resorts are even close enough to walk to certain Theme Parks.
Free Parking
If you do choose to drive while on Disney property, guests staying at a Disney resort are entitled to free parking at the theme parks.  This is a big savings!
Resort Package Delivery
Did you find that most amazing souvenir at the parks, but don't want to carry it with you all day? No problem! Guests can select resort package pick-up when paying for their purchase. Items are delivered directly to their resort (usually the gift shop there) to be retrieved once your park touring is done for the day.
Room Charging
Guests staying at a Walt Disney World resort receive MagicBands either a few weeks before their trip or upon arrival. MagicBands are a great commodity for all guests at Disney, but are especially among the specific Walt Disney World Resort Benefits. If a credit card is on file, guests can charge purchases directly to the room, no matter where they are on Disney property. They can also access their Dining Plan credits this way. A MagicBand provides access to souvenirs, food, fastpasses and even opens the door back at the room. How convenient!
Resort Airline Check in
This convenient service lets you check your bags at your Disney resort before heading home.  Simply go to the resort airline desk, check in for your flight, and give them your bags. You can find complete details on Disney Resort Airline check in here.
All the Magic, all the time. As you can see, staying on-site offers a great deal of flexibility. There are so many Walt Disney World Resort Benefits. At every turn, Disney cast members work hard to make your stay memorable. Without the hassle of traveling off property, guests can have everything they need right at their finger tips. The magic of Disney for an entire vacation could be the best benefit of all!