Super Bowl 51 – February 5, 2017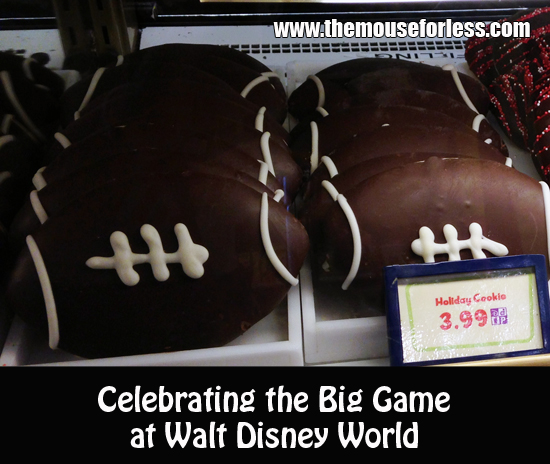 The 50th annual Super Bowl will be held on February 7, 2016 at San Francisco 49ers' new Levi's Stadium.
Walt Disney World guests can watch the Super Bowl from the comfort of their in-room TVs or visit a variety of locations across Walt Disney World property, including many bars and lounges at Disney Springs and at Walt Disney World resorts. Special "Big Game" parties or menus will also be offered at select locations. Stop by your resort's concierge desk to learn the details of Big Game Day viewing at your resort.
Additional 2017 information will be added as it becomes available
ESPN Club Seats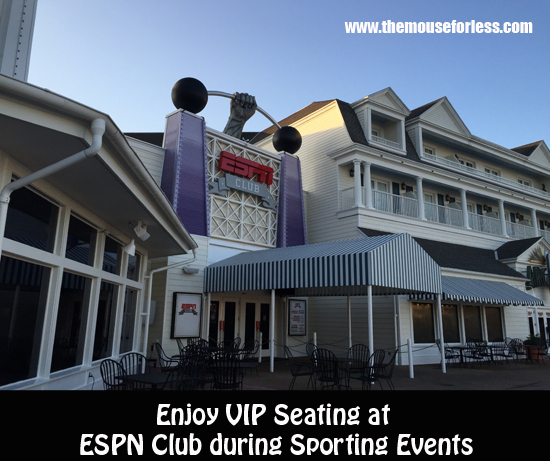 The ESPN Club is located on the Boardwalk in the Epcot resort area and now offers a VIP seating option during football games. VIP seating costs $50 per person, which is actually a commitment to a minimum expenditure of $50 on food, beverage or merchandise while you watch your game (tax and tip not included. While you can reserve seating to the game of your choice approximately two weeks in advance, ESPN Club typically takes Super Bowl reservations in advance! There may be an upcharge for the Big Game.
To make VIP reservations, call the ESPN Club directly at 407-939-1177 between 11:30 a.m.-1:00 a.m. There is no charge for children under the age of 3. Tables in Wonderland, Annual Passholders or Disney Vacation Club discounts are not available for VIP Seating. Reservations can be made up to 180 days in advance.
Other info you might want to know about ESPN Club game viewing:
VIP Seating is the only way to make reservations for a select game at ESPN Club.
VIP game viewing is on a theater sized TV in the main dining area, though many other smaller TVs are situated around the room.
VIP Seating is reserved on a per game basis – meaning it is limited to the duration of your selected game.
If you would like to watch a particular game at ESPN Club without reservations, you will need to know where to sit. You may call or stop by in advance on game day to get information about which TV sets will show your game (sets are all numbered) and where they are situated. To have a good chance at viewing your game, be sure to line up at least 1-1/2 hours in advance of kick-off.
Super Line Up at Rix Lounge at Coronado Springs Resort
Rix Lounge typically celebrates the big game with great food and super drink specials! Rix Lounge also has had trivia, raffles each quarter and other activities in the past.
"Super Bowling" Spectacular at Splitsville Luxury Lanes
Splitsville Luxury Lanes at Disney Springs West Side is hosting special Super Bowl party. The second floor and balcony bar has been reserved for anyone who wants to roll in and rock out during the Big Game.
Additional Football Fun at Walt Disney World
Enjoy a delightful football shaped treat found at many of the confectionery shops located around property.
Resort Guests looking to watch Super Bowl 50 this Sunday may visit the lounge area or food court in their resort. The game is also available on in-room television channel 10.
Additional information for 2016 will be added as it becomes available.