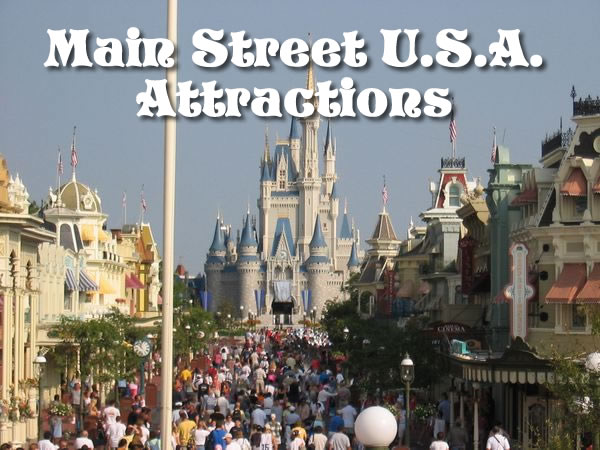 Magic Kingdom's Main Street U.S.A. takes you back to the familiar Main Street of any small town U.S.A., where you see and feel the innocent good ole' days in the early 20th century America. Here at Walt Disney World's Magic Kingdom, Main Street U.S.A. was inspired by Walt Disney's childhood in Marceline, Mo. and is complete with horse-drawn trolley and vintage barbershop. Main Street, U.S.A. at the Magic Kingdom is divided into three areas: Town Square, the actual Main Street, and the Central Plaza. There is always something exciting happening on Main Street so be sure to spend some time here! In addition to the plentiful shopping and dining experiences on Main Street you will find the following attractions:
Main Street U.S.A. Attractions
City Hall
Many guests have walked past the City Hall located to the right of the Main Entrance turnstiles in the Town Square of Main Street, U.S.A., but did you know that this City Hall is more than just for show and there are many services available at? Following services are available upon request:
Walt Disney World Information including tours, programs, as well as services for Guests with Disabilities
Times Guides
Disney Dining Reservations and Resort Reservations
Messages can be left/retrieved for separated parties
Lost Guests
Guidemaps available in English, French, German, Japanese, Spanish, and Portuguese
Disney Show Translators- EARS to the World in French, German, Japanese, Spanish and Portuguese
Foreign Currency exchange
Ticket Media Information, Sales & Adjustments including Annual/Seasonal Pass and Special Event Tickets
Assistance with Guest Situations
Internet assistance (limited availability)
Printing of Boarding Pass
Guests using wheelchairs or ECV can use the wheelchair accessible ramp located on the left of the City Hall.
Main Street Vehicles
Hop aboard one of these vintage vehicles on an one-way trip from Town Square to the Central Plaza or from the Central Plaza to the Town Square. You can take a ride in one of four public transportations: an old-fashioned Horse-Drawn Street Car pulled by a horse. Hop on a Jitney – an early open top automobile. Feel what it is like to ride a vintage fire truck in a replica of the very first fire trucks, or look down the street from the top of the Omnibus, a gas-powered, 2 story bus modeled after a 1920 New York City double-decker. These vehicles are most often running in the mornings, so if you see them going down the street be sure to check them out!
There is no height or weight restrictions, and these vehicles are slow moving, but be aware that riders must transfer from wheelchair or ECV.
Walt Disney World Railroad
"Welcome Aboard the Walt Disney World Railroad, please remain seated and keep your hats, arms, feet and legs inside the train at all times…" Listen to the train conductor make the announcement prior to departing on this 20 minute journey around Walt Disney World. This train ride offers three stops within Walt Disney World: Main Street, U.S.A., Fantasyland and Frontierland. You will never have to wait long for your next train as there are trains scheduled to arrive at each station every 4 – 10 minutes throughout the day.
Did you know that there are four restored, working narrow-gauge trains that you can ride, all four originally built between 1916 and 1928. The four trains are: Walter E. Disney, named after Walt Disney; Lily Belle, named after Walt's wife; Roy O. Disney, named after Walt's brother, and Roger E. Broggie, named after an original Imagineer who led the railroad project at WDW.
The Walt Disney World Railroad can be accessed by wheelchair. However, guests with motorized scooter or ECV must transfer to an available wheelchair to board the train. Disney's show translator and handheld captioning can be used on this attraction.
Town Square Theater (Meet Mickey Mouse and Tinker Bell)
Unlike the Disneyland version of the Town Square Theater, the Town Square Theater at Walt Disney World is used as a meet and greet location for Mickey Mouse and Tinker Bell.
Meet Mickey Mouse in his rehearsal room. He is always ready to give you a hug and pose with you for a photo shoot. He may welcome you to see what kind of magic tricks he has up his sleeves!
When meeting Tinker Bell you will shrink down to the size of a fairy and use a magical portal to be transported to Tinker Bell's Magical Nook to meet Tinker Bell.
This attraction is accessible by wheelchair and ECV.
Harmony Barber Shop
Did you know that there is a real, working barber shop on Main Street U.S.A. that is perfect for getting your child's first haircut and to have that bit of magic added to your trim? All the stylists working at the Harmony Barber Shop are licensed Cosmetologists by the State of Florida, services include adult haircut, baby's first haircut and child haircut. No shampoo service is available.
It is recommended that you make a reservation for this experience and reservations can be made up to 180 days in advance by calling (407) WDW-PLAY.
Although you can visit the Harmony Barber Shop in a wheelchair/ECV, to receive a haircut you must transfer from your wheelchair/ECV.
Read about Baby's First Haircut in Bridget's blog.
Read more about the Harmony Barber Shop on the MFL Blog.
Parades
Main Street U.S.A. is the host for two different parades each day. These include the amazing Festival of Fantasy Parade and the interactive Move it! Shake it! Dance and Play it! parade. Both of these parades are great ways to see characters and enjoy the atmosphere of the park!
Fireworks
Main Street is the premier viewing location for Happily Ever After, the nighttime fireworks spectacular at Magic Kingdom. Here you can watch as the sky is lit up with beautiful fireworks, and be sure to pay close attention as Tinker Bell flies over the Magic Kingdom!
Main Street U.S.A. Entertainment
Beyond parades and fireworks Main Street is home to some fantastic live entertainment. There are the Dapper Dans, a barbershop quartet that you can't miss. In addition to the Casey's Corner pianist, the hilarious Citizens of Main Street, and the Main Street Philharmonic band. Not to mention the live castle forecourt stage performance, Mickey's Royal Friendship Faire, featuring Rapunzel, Tiana, Anna and Elsa! Also be sure to watch the 5:00 flag ceremony where a veteran is honored each day. For more information, check out some of the entertainment available on Main Street on Naomi's blog.
Shops on Main Street
If nothing else appeals to you, be sure to walk through the shops on Main Street. The Main Street Emporium is a massive collection of all things Disney. On the other side of the street check out the glass blowers creating amazing artwork and the other shops that feature some amazing bits of Disney merchandise. Be sure to check out the old-fashioned phone on the wall of one of the shops, pick up the receiver and hear a conversation from the turn of the century!
Dining
Main Street U.S.A. is home to several places to grab a bite to eat including Tony's Town Square Restaurant, the Plaza restaurant, Casey's Corner, the Plaza Ice-Cream Parlor, the Confectionary, and of course Starbucks!
Photographs
Everyone who visits Magic Kingdom wants that family picture in front of Cinderella Castle. There are Photopass Photographers lining Main Street all waiting to take your picture. I would recommend investigating the benefits of Memory Maker, but if this service isn't for you, the photographers will take pictures with your camera.