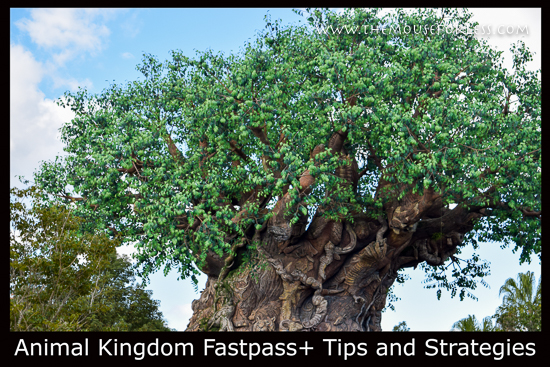 Animal Kingdom Fastpass+
FastPass+ (FP+) is a great system that lets you reserve up to 3 attractions or entertainment experiences in advance for each day of your Walt Disney World vacation. You can find out more details about the FP+ system, including when and how you can make your reservations,  in our FastPass+ Guide.
FP+ Attractions at Disney's Animal Kingdom Tips for using FP+ at Disney's Animal Kingdom
FP+ Attractions
Currently, FP+ is available for the following Animal Kingdom rides, shows, and experiences:
The Jungle Book:Alive with Magic!
Meet Favorite Disney Pals at Adventurer's Outpost (Mickey and Minnie meet and greet)
Tips for using FP+ at Disney's Animal Kingdom
Unlike Epcot and Disney's Hollywood Studios, Animal Kingdom does not have any tiers for FastPass selection, so you can choose any three attractions you would like. Here are a few tips to help you decide which three experiences you will choose.
General Strategy
If you and your group are up for anything and just want to experience all that the park has to offer, the attractions for which Animal Kingdom Fastpass+ will save you the most time are generally Dinosaur, Expedition Everest, Kali River Rapids, and Kilimanjaro Safaris. If you plan on arriving right when the park opens, you can head straight to one of these and use FP+ on the others.
Groups with Small Children
When visiting the Animal Kingdom with small children, Kilimanjaro Safaris should still be your first Animal Kingdom Fastpass+ selection, but after that your best bet is probably the Adventurer's Outpost and then either Festival of the Lion King of Finding Nemo – The Musical. If you will be staying into the evening, you might want to get a Fastpass for The Jungle Book: Alive with Magic, to ensure a space to see it. However, this show is presented at 9 and 10:30 pm, so choosing it would limit your ability to add additional FP+ after your initial three.
Thrill Seekers
For thrill seekers visiting the Animal Kingdom, Expedition Everest is definitely your first choice (bonus tip: schedule this FP+ first and then head straight there when the park opens and you can ride twice back to back). Dinosaur is a natural second choice, and then Kali River Rapids. If you don't want to get wet, you could substitute Primeval Whirl for Kali River Rapids.
Shows
Animal Kingdom features several fantastic shows, and you may choose to schedule one with a FP+ reservation. If you do so, there are a few things you need to know as you are planning the rest of the day.
First, the FP+ time listed for the show will be your arrival time, not the show time. For example, you may have FP+ time of 10:35am-10:50am for Festival of the Lion King. This means you need to arrive between those times and will get seating for the 11am show. The show then lasts 30 minutes, so even though your FP+ time ends at 10:50, you will be busy until 11:30am.
Second, this shorter FP+ time allows you to schedule your FP+ closer to each other, or finish your third FP+ earlier, thus allowing you to schedule additional FastPasses more quickly.
Looking Ahead
Jungle Book: Alive with Magic is a limited engagement nighttime show for the summer of 2016 at the Animal Kingdom. This attraction will begin entertaining guests on May 28th. Fastpasses can be reserved as of May 21st. It is assumed that this show will be replaced by Rivers of Light sometime in the fall of 2016. As more Animal Kingdom begins to stay open later into the evening, fastpass strategies may change. Keep checking back for updates!
Visit our FastPass+ Guide for more details on FastPass+, and great MouseForLess tips on how to use utilize this  tool to its fullest. Visit our MyMagic+ to get information about using MagicBand during your park visit.