Epcot| World Showcase (France)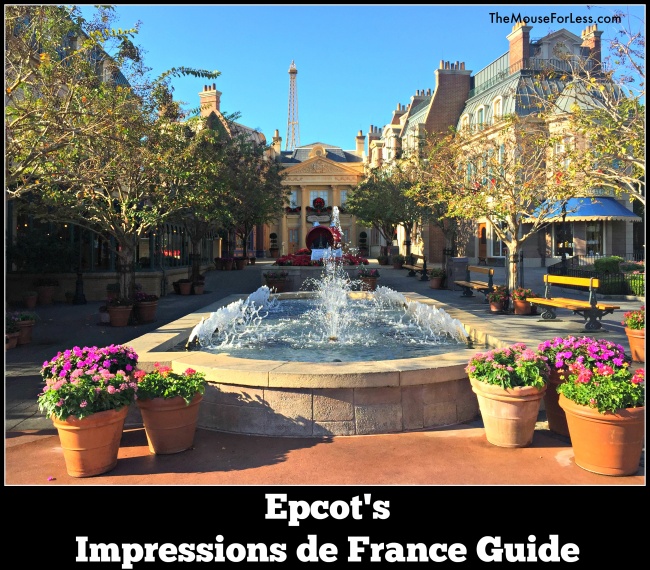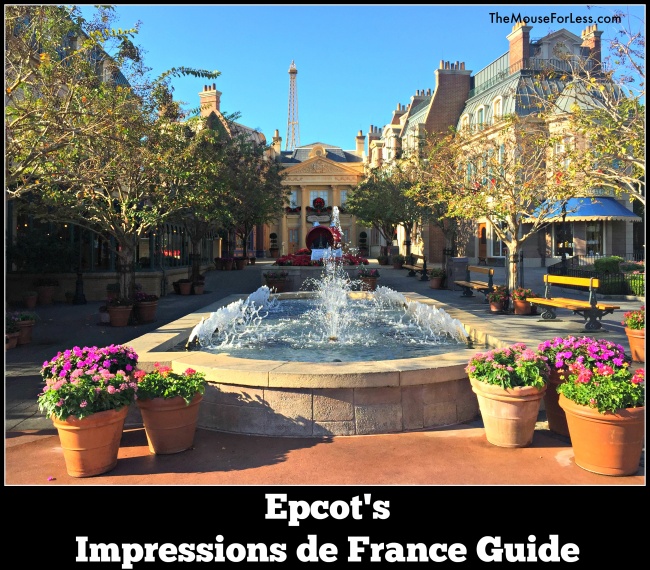 Description Ride Information Restrictions Location Fun Facts Top 5 Tips
Impression de France Description
Enjoy this serene French travelogue, an Epcot classic, inside the Palais du Cinéma.
Ride Information
Opening Day: October 1, 1982
Type of Ride: Travelogue film
Age Recommendation: All ages, though adults will likely enjoy it more
Duration of Ride: 18 minutes
Typical Queue Time: None; shows typically commence every 30 minutes
Single Rider Line: No
Chicken Exit Available: Yes
Baby Swap Available: No
Type of Vehicle: Theater seats
Type of Restraint: None
Attraction Open During Early Theme Park Entry: No. See our Early Theme Park Entry page for more information.
Ride Photo Available For Purchase: No
Ride Restrictions
Height Requirements: None
Flash Photography or Video Allowed: No
Location
Shopping: Guests can shop among several locales in the France Pavilion. Colognes, perfumes, and bags pervade "Plume et Palette"; more fragrances in addition to cosmetic goods are offered at "La Signature"; apparel and kitchen goods are sold at "L'Esprit de Provence"; and "Souvenirs de France" is the spot to purchase general French merchandise, such as guide books, models of the Eiffel Tower, and apparel.
Dining/Refreshment: Several dining options are offered in the France Pavilion. At Chefs de France, guests can enjoy a table service lunch or dinner in a casual setting; menu items for lunch include French soups, salads, cheese, flatbreads, fish, chicken, and sandwiches; and dinner brings salmon, short ribs, steak, and duck. Located one floor above Chefs de France, Monsieur Paul, which was known as "Bistro de Paris" from its 1984 debut until 2012, serves escargot, mussels, lobster, snapper, scallops, chicken, duck, and beef in an upscale setting at dinner only. Diners at either Chefs de France or Monsieur Paul can opt for a prix fixe menu, which includes a choice of an appetizer, an entrée, and a dessert, in place of the regular a la carte offerings. From Epcot's opening day, October 1, 1982, until 1997, the France Pavilion featured a third table service restaurant, "Au Petit Café," which was an outdoor, sidewalk café next to Chefs de France. Au Petit Café was thereafter enclosed into the Chefs de France building.
Guests craving snacks or desserts can satisfy their desires at either the L'Artisan des Glaces ice cream parlor or the Boulangerie Patisserie les Halles bakery, which serves soups and sandwiches in addition to its pastries. Finally, wine, beer, and champagne samplings are available at Les Vins de Chefs de France.
Restroom: Facilities convenient to Impressions de France are situated in the new section of the France Pavilion, heading toward Remy's Ratatouille Adventure.
Smoking Location: Smoking is permitted in designated smoking areas only. Disney parks are smoke free.
Impressions de France Fun Facts
Did you know?
Impressions de France is housed in the Palais du Cinéma, which is based on a theater in Fontainebleau. A gargoyle statue, which is a replica of the creature that guards the Notre-Dame Cathedral, is situated in the theater's lobby.
Impressions de France is narrated by Claude Gobet.
Save for a conversion of the film to digital projection in 2011, Impressions de France is the only Epcot attraction to have remained unaltered since the park's opening day, October 1, 1982. Considering World Showcase attractions, the opening day film in the China Pavilion, "Wonders of China," was replaced by the current Reflections of China film in 2003; the original O Canada! film in the Canada pavilion was replaced by an updated flick of the same name in 2007; and the "El Rio del Tiempo" boat ride in the Mexico Pavilion was replaced by the more whimsical Gran Fiesta Tour Starring The Three Caballeros in 2007. The American Adventure show in the American Adventure Pavilion has remained largely unchanged, but the concluding montage of recent events is periodically updated.
In terms of static content, Impressions de France is the longest-running theater attraction at any Disney theme park. Walt Disney's Carousel of Progress, Walt Disney's Enchanted Tiki Room, Hall of Presidents, and The Country Bear Jamboree, all at the Magic Kingdom, debuted before Impressions de France but have undergone content and music changes over the years.
As opposed to Reflections of China and O Canada!, where guests stand throughout the presentations, Impressions de France offers seating. Reflections of China and O Canada! cannot realistically offer seating because those films are projected onto screens totaling 360 degrees, a circle. Impressions de France is projected onto five screens totaling only 200 degrees.
The enchanting score of Impressions de France was the work of Buddy Baker, who was named a Disney Legend in 1998. In addition to developing original tunes, Baker studied centuries of French classical music to locate superior numbers, by Claude Debussy, Camille Saint-Saëns, François-Adrien Boieldieu, Jacques Offenbach, Maurice Ravel, Erik Satie, and Paul Dukas, to complement the film's visual sequences. Baker conducted the final amalgamated score with the London Symphony Orchestra.
Among 46 sights featured in Impressions de France are: the cliffs at Étretat in Normandy; horsemen and hunting dogs in the Cheverny Forest; Chambord in the Loire Valley; Vézelay Village and a church interior; horsecart riding through Riquewihr Village in Alsace; a marketplace in Bouvron in Normandy; a wine harvest at Monbazillac Vineyard; the Cognac cave; Versailles; Castle Beynac in Dordogne Valley; a forest near Château Montpoupon; bicyclists; Bugatti race cars in Cannes; hot air balloons; the French Alps; a small church in Brittany; a wedding reception at a Brittany farmyard; Villefranche near Nice; a cove at Calanque Cliffs near Cassis; a pier near the Carlton Hotel in Cannes; a rooftop restaurant overlooking Cannes harbor at night; railway tracks in the hills of Chaporoux; the Gare du Nord train station in Paris; Champs-Élysées and the Arc de Triomphe; a boat on the Seine River in Paris; Notre-Dame Cathedral; the Louvre; and the Eiffel Tower.
Benjamin Franklin, the cohost of the American Adventure attraction in the nearby American Adventure Pavilion, was in France when the first hot air balloon ascended in 1783.
Not having debuted until 1992, Disneyland Paris was never considered for inclusion in Impressions de France.
Top 5 Tips for Impressions de France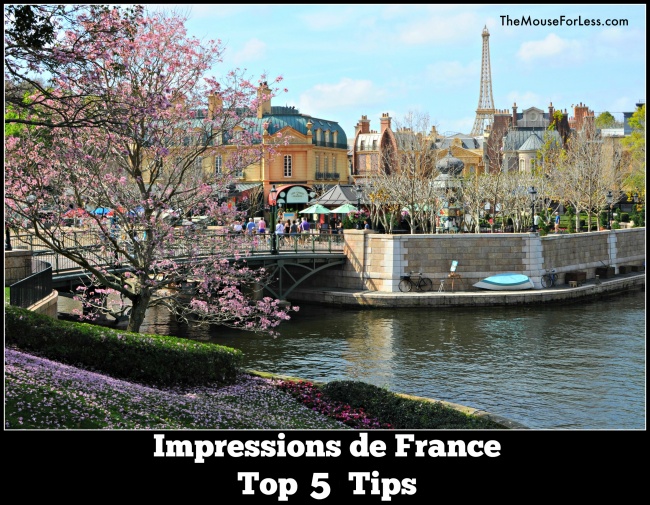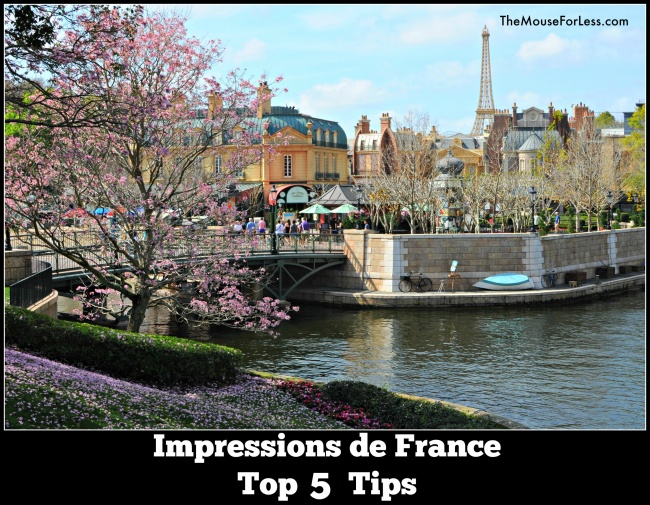 Because of its longevity and the involvement of Disney Legend Buddy Baker, Impressions de France is a must see attraction for Disney history buffs.
See Impressions de France at your convenience after the bulk of World Showcase opens at 11AM. Shows generally commence every 30 minutes.
Guests staying at one of the Epcot-area resorts—the Boardwalk Inn, the Yacht Club, the Beach Club, the Swan, and the Dolphin—may want to consider viewing Impressions de France prior to exiting the park through the adjacent International Gateway turnstiles.
Prepare to hear some excellent music.
Consider viewing some Disney movies set in France, such as Bon Voyage! (1962), The Aristocats (1970), Herbie Goes to Monte Carlo (1977), Beauty and the Beast (1991), The Hunchback of Notre Dame (1996), and Ratatouille (2007), prior to your visit.