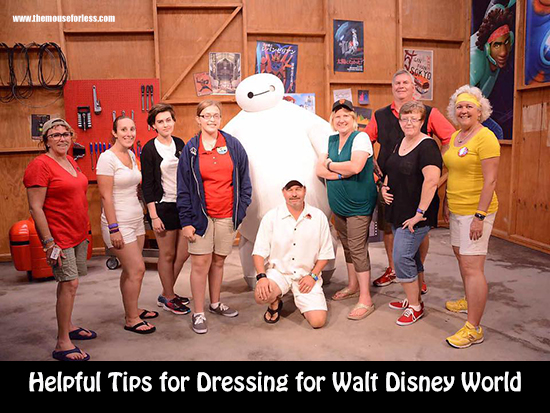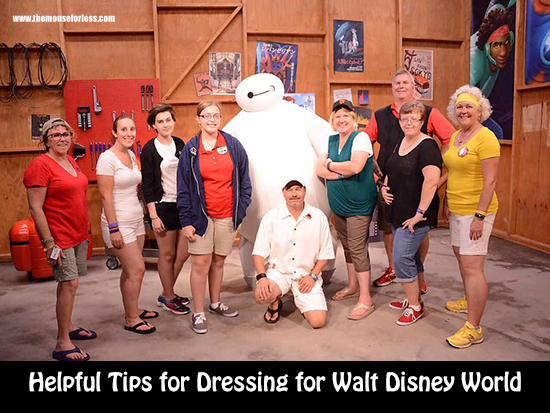 There is often a lot of discussion about the proper attire when dressing for Walt Disney World. There are a lot of variables that can make the decision about what to pack quite challenging. However, with these tips, you will be cute for all of those vacation pictures and still comfortable for your peace of mind.
General Tips    Shoes    Disney Bound     Accessories     Costumes
General Tips
When dressing for Walt Disney World there are several things to take into consideration:
Method of Travel – Are you flying to Disney World? Driving? The way you get to the happiest place on earth may affect what you are able to pack. If you are flying, there are often strict guidelines and limitations to what you can bring on the plane. Even if you are driving there is often limited space in your vehicle. Be aware of the limitations that your method of travel brings to your packing situation.
Season/ Weather – Some people find it surprising that it is not always sunny and warm in Florida, but in reality it can sometimes be quite chilly and it rains frequently. It is important to take into consideration the weather that is likely during your trip. In the summer it can be unbearably hot, and there is nearly always an afternoon rain shower. However, in the winter it may get cold, especially at night, so do not be surprised to find that you may need a jacket, even in Florida.
Comfort – You will likely be doing a lot of walking around Walt Disney World, and uncomfortable shoes and clothing can make your day miserable. Shoes will be discussed further on, but be sure to wear clothing that is suitable to a lot of walking. Also be aware of what types of attractions you plan to experience. If your family plans to get soaked on Kali River Rapids, you may be walking around in wet clothing. This can be really nice on a hot day, but if this is something that concerns you it may be beneficial to have a poncho or a change of clothes.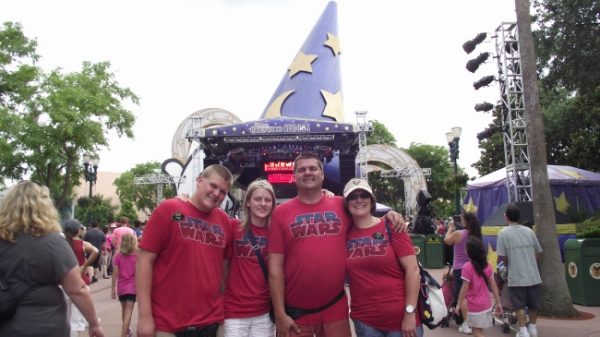 Matching with the family is a way to add cuteness!
Cuteness! – It is so much fun to embrace your inner child at Walt Disney World and wear an awesome accessory or even dress like your favorite character. This is so much fun and you will likely get a lot of positive attention for your creative outfit. Just remember that Disney has a few rules for how guests may dress.
Rules – Walt Disney World has a few rules regarding the way that guests can dress while visiting the parks. Be sure your super cute and adorable outfit aligns with the rules.
Signature Dining – If you plan to eat at a signature dining restaurant be aware that some of these establishments ask that patrons dress a little nicer than the norm. Some of these restaurants include: Artist Point, California Grill, Citricos, Flying Fish, Jiko, Narcoossee's, Shula's Steakhouse, Todd English's bluezoo, and the Yachtsman Steakhouse. As Walt Disney World's fanciest dining establishment, Victoria and Albert's has a more restrictive dress code than any other signature dining at Walt Disney World.
Shoes
"All you really need is the right pair of shoes" –Cinderella
As previously mentioned, you will likely do a LOT of walking while at Walt Disney World. For some people this is no different than their normal activity level, but many guests arrive unprepared for the toll on their feet. The best type of shoes to wear on a Walt Disney World vacation is a much debated topic. This makes a lot of sense because everyone has different feet! It is a Walt Disney World policy that everyone wears shoes at all times. The best type of shoe to wear when dressing for Walt Disney World is the shoe that makes you most comfortable.
Sandals
Many people prefer to wear sandals when dressing for Walt Disney World because of how hot it can be in Florida. As an added benefit, you get to show off your toenails, which are likely painted with a cute Disney theme! Sandals can be a great choice for your vacation as they will keep your feet cool and will dry quickly if they get wet. However, some worry that sandals do not offer enough support for the amount of walking that a Disney vacation entails. Sandals that you find comfortable will likely be perfectly fine for Disney park touring. A few brands that are recommended include: Chaco, Teva, Skechers, and Keens.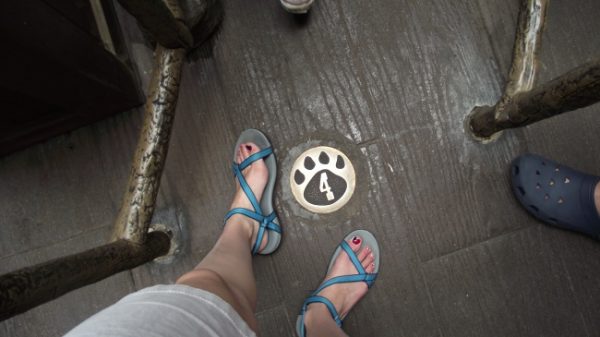 Sandals can be a great choice when dressing for Disney World!
Shoes
While there are many people who prefer sandals, there are also many who would rather wear comfortable shoes. This is especially a more common choice in the cooler months. One benefit of wearing shoes is that you can wear an insert for even more added comfort and support. Wearing shoes will protect your feet and will likely have more cushion than a sandal. Just as with sandals, when choosing the best shoe for your Disney vacation be sure to choose a shoe that you know is comfortable for your unique foot.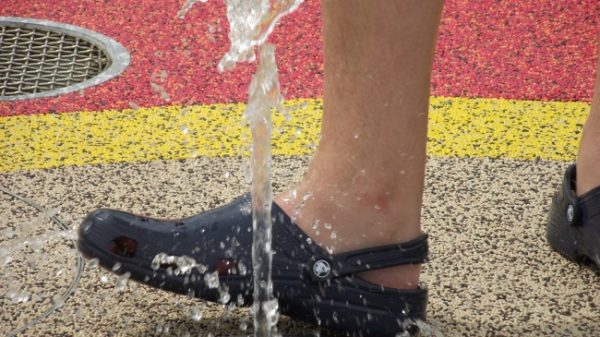 Tips
Wear a shoe that is well broken-in.
If you have no choice and end up wearing a newer shoe, many people suggest using mole skin to prevent blisters.
Bring more than one pair of shoes with you on your trip. By doing this you will be able to switch between shoes throughout your trip and will also have a choice if you find that one pair is unsuitable for walking around the parks.
If you end up in the parks with blisters, the First-aid stations in each park will provide you with band-aids.
If you are touring the water parks it is a great idea to bring a pair of cheap flip-flops or a pair of water shoes to protect your feet from the hot concrete when you are not on the slides.
Disney Bound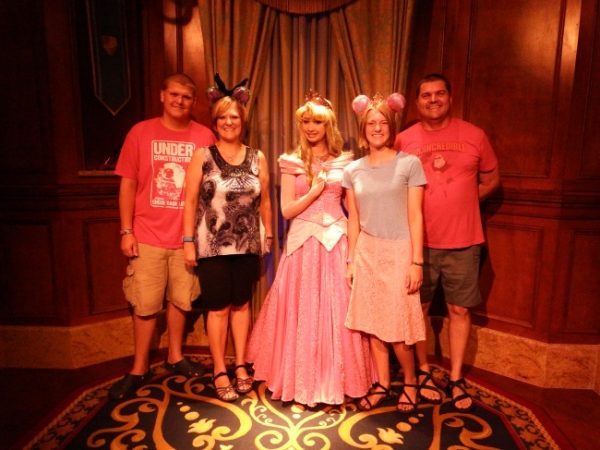 Disney Bounding as Sleeping Beauty and Maleficent
A new popular trend at Walt Disney World is wearing outfits that are reminiscent of favorite Disney characters. This trend was begun by Leslie Kay and now Disney inspired outfits can be found all over Pinterest and other sites. Disney Bounding involves wearing regular clothes and combining them in ways that are themed to look like various Disney characters and even Disney Parks attractions. There are many benefits to Disney Bounding, especially when you may meet the character you are dressed as for the day. This trend is something fun that anyone can do to make dressing for Walt Disney World even more magical!
Accessories
When dressing for Walt Disney World there are a ton of Disney accessories available! Of course, the most famous is a set of mouse ears! There are so many options now with mouse ears that you can buy them from the parks in nearly any form. If you prefer to own a unique pair of mouse ears you can make your own or order them from websites like Etsy. Some people worry that they may be too old to enjoy the fun of wearing mouse ears, but that is not something to be concerned over! It is not unusual to see people of all ages wearing mouse ears and celebrating the joy of being a kid at heart when at Walt Disney World.
In addition to the classic mouse ears, there are many other Disney accessories. Young and old princesses alike often wear crowns to draw attention to their royalty. There are many Disney themed hats that are fun to wear. Not to mention the jewelry, sunglasses, and other accessories that are available around the parks.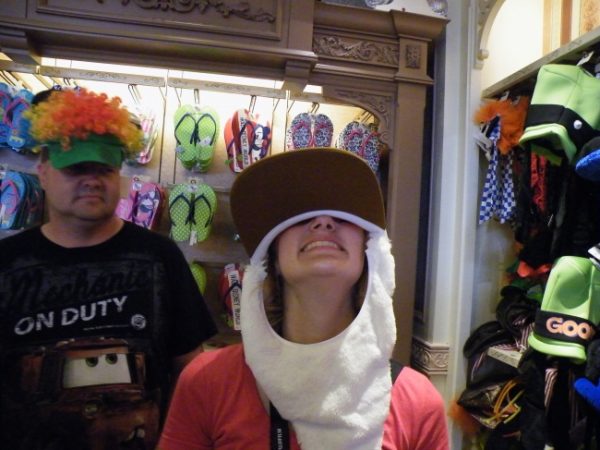 There are fun hats to be found throughout Disney World!
One last accessory that nearly every Walt Disney World park guest will be wearing is a MagicBand. These accessories are functional! MagicBands can open your resort room door, be synced to your credit card, and even be used for your Lightning Lane entry. Resort guests will receive a solid colored MagicBand, but there are also patterned and character themed MagicBands for sale as well. Some people even decorate their own with temporary tattoos, stickers, and more.
Costumes
Dressing for Walt Disney World can be made even more fun when you are dressing up as a character! This is especially popular at special events such as Mickey's Not So Scary Halloween Party and RunDisney races. Many children love to dress up for the parks, as being dressed for the magic just adds to the immersion in fun! It is especially common to see kids dressed up for character dining, and Bibbidi Bobbidi Boutique. Dressing up is lots of fun, but it is important to remember the rules that are in place at the Walt Disney World parks pertaining to costumes in the parks.