You've decided! You're going to Walt Disney World for your next vacation. But what are the best tips to help you save up for the trip? While some suggestions are clear (who hasn't put loose change away in a piggy bank before?), others aren't always so obvious (like joining TheMouseForLess Facebook Group, with members eager to help fellow Disney fans save money.) Here are some fantastic money-saving tips that we think will help make raising funds for the trip just a little easier.
Use a Disney Authorized Vacation Planner
Based on the need to fill rooms, Disney offers a variety of discounts and special promotions throughout the year for Walt Disney World Resort Rooms and Vacation Packages. These discounts come in the form of strategically released codes. If you are not keeping abreast of discounts, you could miss out on saving hundreds of dollars.
While you can do the footwork of finding these discounts yourself, the more straightforward solution is to utilize a Disney-specialized travel agent to make sure you don't miss out on any savings. Not all Disney-specialized travel agencies are equal, though. Visit our Authorized Disney Vacation Planners page to learn more about what sets these Disney-specialized travel agencies apart.

Planning a Walt Disney World Vacation?
For a Free no-obligation quote, contact our sponsor,
The Magic For Less Travel
. The Magic For Less Travel is an Authorized Disney Vacation Planner and has been helping guests plan magical vacations since 2002. Receive the best prices and free travel planning services. Their fee-free services will help you save time, money, and stress while planning a vacation designed around you and your needs!
Purchase Disney Gift Cards for Special Occasions
Since Disney vacations are often planned well in advance, Disney gift cards are the perfect way for saving money for Disney. They're the perfect option to give to the kids (or yourself) for special occasions such as birthdays, graduations, weddings, anniversaries, and holidays.
Disney gift cards can be used for purchases at participating locations at Walt Disney World Resort, Disneyland Resort, aboard Disney cruises, and on DisneyStore.com. Disney Gift Cards can be used in the parks to buy merchandise, meals, recreational activities, pay for room charges at Disney-owned hotels, park tours, theme park admission tickets and annual passes (some restrictions may apply).
Often, many retail and grocery stores will sell Disney Gift Cards. You can check your local stores such as Walgreens, Kroger, Target, Walmart, and more.  With a little time and planning, you can save money purchasing Disney Gift Cards. One option is to buy gift cards when they are discounted for store sales, like Black Friday.
You can also choose to order your Disney Gift Cards online at DisneyStore.com. There are two different options that will work at Disney destinations — the Disney gift card, featuring a choice of your favorite characters to appear on the front, and the personalized gift card, which allows you to include a personal photo and message and specialized 5×7 card carrier of your choice. Both of these options are available in $25 increments, up to $150 plus denominations of $200, $250, $300 and $500.
Sign up for a Disney Visa Rewards Card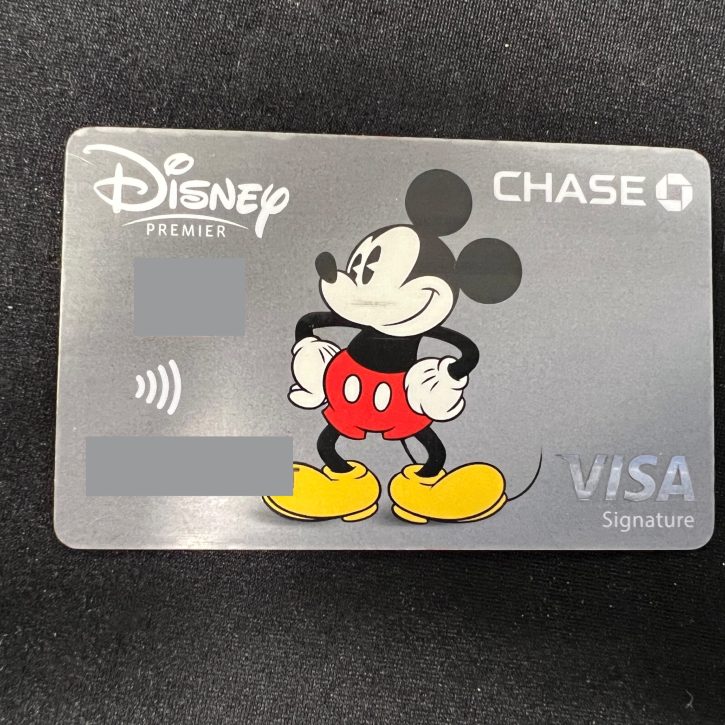 The Disney Rewards Visa Card from Chase Bank is Disney's official reward credit card. As such, it offers cardholders a variety of Disney discounts, theme park perks, special promotions, advance vacation booking opportunities, and more. While not the best rewards card available, it does present certain advantages for those who enjoy visiting Disney often or for those planning and saving money for Disney far in advance. To learn more, visit our Disney Rewards Visa Card page.
Invest in a Disney Guide Book
A good Walt Disney World guide book can help plan your vacation and help to make choices that work well with your budget, helping to with saving money for Disney. Here are a few that guide books that TheMouseForLess recommends:
Birnbaum's Walt Disney World – This is the official guide book to Disney. In addition to a wealth of planning information, this book is also a source of valuable coupons. Previous editions have come with plenty of discount coupons that include select Walt Disney World tours, restaurants, shops, recreation, and more.
Unofficial Guide Walt Disney World – This is probably the most comprehensive Disney guide book available on the market and gives very objective opinions, showing both the good and the bad.
TheMouseForLess has compiled a complete selection of Disney Guide books or visit your local library and read a current one for free.
Discounts on Visit Orlando
The Orlando/Orange County Convention and Visitors Bureau has great deals for Orlando area listed on their web site; there are area restaurants, attractions, hotels, and rental cars. A list of area discounts can be found on the website.
Save on Memory Maker or Disney PhotoPass
Disney's PhotoPass and Memory Maker photography services allow park guests to have great high-resolution photos taken by Disney photographers using state-of-the-art digital equipment at some of the parks' most picturesque locations. Even better, your photos can be accessed, shared, and ordered online.
While Disney's PhotoPass service is free in the parks, keep in mind that it is not necessarily cheap to purchase these photos online. There are several discounts that can make buying your PhotoPass photos a little more affordable, though. Often the most effective way to save on those family photos is to pre-order a photo package.
To learn more, Disney PhotoPass, Memory Maker, and more visit our PhotoPass and Memory Maker pages. There, you'll also find money-saving tips and how to get a special discount offer when you pre-order Memory Maker.
Join TheMouseForLess Facebook Group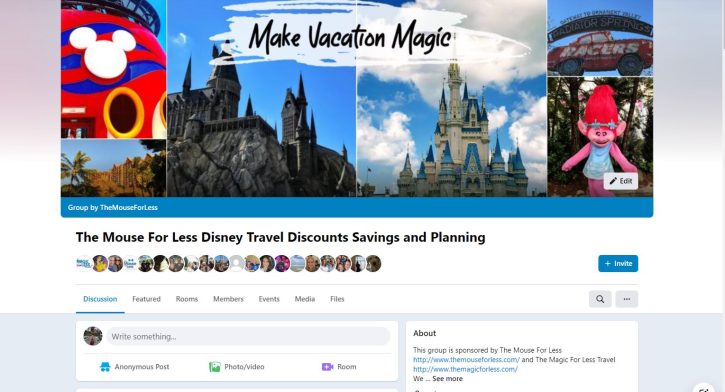 Get all your vacation planning questions answered by our veteran members and group moderators on our Facebook discussion group. Our group covers all Disney Destinations and vacations such as Walt Disney World, Disneyland, Disney Cruise Line, Disneyland Paris, Disneyland Hong Kong, Tokyo Disneyland, Shanghai Disney, Aulani – A Disney Resort and Spa, Disney Vacation Club, plus share money-saving ideas and tips. To learn more or to join, click here.
Subscribe to The Mouse For Less Newsletter
If you are thinking about a Walt Disney World Resort, Disneyland or Disney Cruise Line vacation, you'll want to subscribe to our free and informative newsletter, The Mouse For Less Newsletter, and receive email alerts about special money-saving promotions to Disney destinations.  To subscribe, click here and enter your email address.
Know how to Find Discounts
You can locate savings throughout TheMouseForLess.com web site. If you are planning a Walt Disney World, Disneyland, Disney Cruise Line, or Universal Resort Orlando vacation, the absolute best place to start is on our Current Code page. Other great places to check are the following pages:
If you're planning to take multiple trips to Walt Disney World, make sure to check out this page, full of great tips for saving money for Disney to consider for when you want to plan to go back to Walt Disney World soon.
Tips From TheMouseForLess to Save for Your Trip
Accruing cash for your vacation is just a matter of creativity. Here are a few ideas from MFL Group Members:
If you use coupons or purchase something on sale, take the difference between the regular price and what you saved, round it up to the nearest dollar, and put that amount into your savings account. ~ Joan F.
Look for rebates. I enlist family members to help. When I find an item we all could use, I purchase it for everyone and fill out the rebates. If it's an item that I could use several of, I submit a rebate for each family member. So instead of 1 check for $3.50, I would get 3 x $3.50. ~ Dorothy B.
Any money that I take out of the family checking account for carry-around cash, if not spent by the next payday, goes into my Disney savings account. ~ Dorothy B.
I try to put a little bit of money every week on a Disney gift card. Instead of buying coffees 2 or 3 times a week, I put it on a card. The last time we went to Disney, I had saved around $500. That was a pretty good chunk of our food budget. ~ Becky in Illinois
We have a continuous "trip fund" savings account. In it goes any rebate and taste test checks, money from pop cans in for recycling, and the collected loose change from the end of each day. We'll also put in part of our tax refunds, have a garage sale, take any old books and videos we don't want any more to HalfPrice Books who'll buy them from us. ~ Shannon
Last year when I was planning a family trip, I started buying Disney Gift Cards about a year before the vacation. I bought one for each of my kids, their significant others, and my grandson, and once a month, I added money to one of the cards. By the time we went, they each had enough money to spend on whatever they wanted. It was easier to spend a small amount each month rather than giving out cash while on vacation. ~ Debra B
As soon as we know, we will be taking a Disney vacation; we begin saving all of our quarters and pennies for the pressed penny machines. Pressed pennies are fun, inexpensive Disney souvenirs for our children. The kids help with the savings by earning quarters and finding pennies wherever we go. It's a small savings, but it gets the children involved and teaches them to save, too. ~ mablawson
Toiletries Items–after you have planned your vacation dates, throw in one or two items with your grocery list if you shop someplace like Wal-mart. It helps you stay organized and buying one of two items each time you get groceries; you won't have such a big list of items to buy before your vacation. Also, Big Lots and Dollar General…a lot of times they get big sales on name-brand items, and you really get a deal on toothpaste, toothbrushes, or deodorant…all things you need to take on vacation with you. ~ Heidi H.