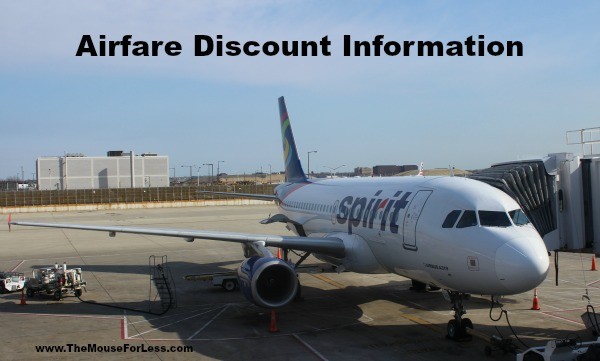 Airfare Deals  Name Your Price Options  Avoiding Baggage Charges  Other Airline Charges  Tips From Readers
Airfare Discount Information – Getting the Best Airfare Deals
Many families are feeling the pocket-draining effects of air travel costs. Not only are the airfares increasing, but what is included in the airfare is decreasing. Just planning for the airfare is not enough. Airfare Discount Information is essential for saving on your transportation costs. Families need to factor in separate charges such as baggage. Some airlines charge for charging for bottled water, soft drinks, and snacks. However, with a little ingenuity and some insider tricks and tips, you'll enjoy the benefits of left-over spending money for your vacation extras, instead of it being spent on unnecessary airline fees.
What should you do to save money on airfare? Here's a quick list of the most important airfare discount information, tips, and tricks that will leave change jingling in your pocket.
Use the Internet. It is your friend. By exploring the possibilities on sites such as Travelocity, Expedia, and Orbitz, you can find the latest airfare discount information to make booking a flight easier. Travelocity's Fare Watcher is a nice feature that allows you to pick a destination, and receive notifications when fares change. Do keep in mind that these sites, while significant contenders in the booking industry, don't have an all-inclusive list of airlines. Many only check the better-known airlines and often forget the smaller, and usually cheaper, airlines. Southwest, a low fare leader the is often the only airline flying a route nonstop, doesn't participate in Travelocity, Orbitz, or Expedia.
Travelocity
From this page, you enter your airports, and you can choose to search "nearby airports for lower fares" by checking the appropriate boxes. You then choose either specific dates and/or times or choose flexible dates and times within certain dates. You then enter the number of passengers and the flight class of your choice. Finally, you can choose to search all airlines or only the airlines of your choice. When you are done, click "Search now," and you are finished. If the price is your main concern, be as flexible with times, dates, airports, and airlines as possible.
Orbitz
Enter your cities or airport code. You can also choose to search airlines within a certain distance from the airport of your choice. Then enter your travel dates and times (choose "anytime" for the lowest fares). For possibly lower fares, check the "Search with bonus days" option. This option searches one day before and one day after the requested dates for lower fares. Then enter the cabin class and the number of stops you prefer. Finally, indicate the number of people traveling and click "search." Your search page will return with your choices. Choose a specific flight price or airline for more choices. You may also choose to list the flights by lowest price, departure times, or shortest flights.
Expedia
Enter your cities or airport codes. Then enter your travel dates and times you wish to depart. If you are flexible, choose "anytime" for possibly cheaper flights. Then enter the number of passengers traveling, and the flight class and airline of your choice. Expedia can also search for non-top flights, and flights with few change penalties, and with no advance purchase restrictions. When the search results return, you can choose to list them by departure time, arrival time, lowest price, or shortest flight.
Other, smaller aggregators may also offer some relief from the rising cost of airfare. Before you fly, check out these websites. They may make your trip more affordable than you think and provide valuable airfare discount information.
Kayak searches 140 travel sites at once and finds the cheapest fares and airfare discount information, including the discount airlines JetBlue and Spirit. Clicking on fare will book it directly through the airline. There are no fees for using this site. Kayak also displays the fare history for domestic and international flights, allowing you to see whether your fare is headed in an upward or downward direction.
ITA Software searches every airline except Southwest based on the parameters you use. Tickets cannot be purchased directly from ITA Software, however, and you must use the info you find to purchase on the airline's web site.
Bing offers 7-day fare predictions for more than 75 cities. If you're flying within the U.S. or Canada, use this site to help decide whether the time is right to buy. Enter your itinerary, and the site will advise you either to book now or to wait, depending on whether the fare is expected to rise or drop (predictor is in the upper left of the page). Bing also offers a Fare Guard service, for an additional fee, that will protect you if the price drops after you book.
Yapta compares airline prices for most airlines, but not all. Southwest fares are not tracked on this site. Yapta's price drop alerts track flight fares and lets you know when to book your flights to get the best value. If the price of an airline ticket you bought drops below what you paid, Yapta will alert you when you're eligible for a refund from the airline.
BookingBuddy lets you compare online agencies (Expedia, Orbitz, Travelocity) against individual airline sites; aggregators (Hotwire, Sidestep) against each other; Hotels.com against Priceline. You'll also find a few sites you've probably never heard of, including Mobissimo. Booking Buddy even searches discount airlines (JetBlue and Southwest) that aren't loaded in every electronic reservation system.
Don't forget to visit the airlines' websites as often these have special deals, airfare discount information, and sales that can be found nowhere else. Most airline web sites allow you to sign up for email notification of deals that often have special promo codes that aren't offered anywhere else. Airfarewatchdog.com keeps a list of links for signing up for email alerts and special promotions.  Airline web sites are also the best last chance to get that elusive seat that seems sold out everywhere else. Southwest, Allegiant Air, Alaska, JetBlue, and others post their best fares ONLY on their web sites.
Sign up for sites that list low airfares on all airlines, as well as promo code airfares, and will send you personalized alerts. While alerts can be helpful in locating cheap fares, be careful how you use them. Many web site alerts notify bargain hunters based on price only. Some people prefer to fly non-stop routes, but connecting can be cheaper. To make sure you don't miss low fair non-stop fares, choose an alert service that allows you to specify nonstops only alerts.
If you are a Twitter user, follow airline tweets. Click on their links to sign up: Southwest, American, Delta, and particularly, JetBlue and United, which post low fares not seen elsewhere. You can also get travel airfare Twitter alerts from Fly.com specifically for Orlando fare deals as soon as they come out. Fly.com's Twitter account claims to alert you of exclusive fares and airfare discount information, usually only known to insiders.
Discount airlines are often a good choice when looking to cut back on airfare costs. Having little frills, these airlines believe in getting you there. If meals and extra niceties are not on your priority list, you may be better off with a discount airline such as JetBlue, Southwest, Spirit, Allegiant Air, and Westjet (Canada). There are others, and you are encouraged to explore all options before you choose. Some may offer more than others for very little difference in price. Note that small airlines sometimes have only one flight per day in many markets, and they frequently will not reroute you on another airline if your flight is canceled or delayed.
Buy your ticket online. As with most businesses, airlines offer incentives that could save you money if the ticket is purchased online instead of at the counter — most airlines except Southwest charge for booking airline tickets on the phone. Fees are typically $15 to $25.
Purchasing your ticket in the early part of the week may bring savings as many sales are introduced during the first days of the week rather than the end of the week. Most airlines launch fare sales on Tuesdays and Wednesdays. Since this is not foolproof, it might be worth watching the airlines for a couple of weeks to find the normal times for discounts and to recognize a fare that is below average when you see it.
If you are going to purchase tickets early, then optimize your savings by purchasing 2-8 weeks in advance. Airline ticket prices typically go up 21 days, 14 days, 7 days, and 3 days before departure dates, so try to beat these windows if possible. Buying tickets for more than eight weeks won't help you since the airlines won't know what airfare discount information and specials will be announced for your flight time then. Therefore, tickets sold more than 8 weeks in advance will be at the current rate and not at a special rate. Airlines don't generally refund the difference if your flight is discounted after the purchase has been made. The only time this is not beneficial to you is if you are traveling during peak times, such as Spring Break, Thanksgiving, or Christmas, because fares often go up significantly during peak travel dates. Again, not foolproof as in recent years, some holiday fares dropped dramatically.
Flying midweek will get you cheaper fares. The cheapest days are usually Tuesdays, Wednesdays, and believe it or not, Saturdays. If you're flexible about the day you fly, you could save up to 50% on airfare costs. You can save even more if you are willing to fly the red-eye flights instead of during the day. Booking the earliest possible flight can sometimes save money.
Also, adjusting your dates of travel by just a day or two can save hundreds, especially if you're buying for more than one person.
If you don't mind connecting flights, you could save as much as 65% on ticket prices. It isn't the most convenient way to fly, but it may be worth it to you to save some money. The rule doesn't always hold true, though, due to PFCs (passenger facility charges) at airports in some cities that can substantially increase fares on connecting flights. You'll have to compare and see.
Take advantage of frequent flyer miles through airline programs or the use of Airline Credit Cards. If you fly a lot or use the credit card as your primary card, you could rack up enough points for a free ticket in no time. If you sign up for an airline's frequent flyer program or the airline newsletter, some airlines will generate a "one time only" promotional code that you can use to get a discount when you book.
If you are going to be renting a car, consider flying into an airport outside of Orlando rather than into Orlando International (MCO; about 20 miles). Sanford (SFB; about 40 miles) or Tampa (TPA; about 60 miles) are the closest to Walt Disney World and Universal Orlando. Also, consider Melbourne (MAA; about 65 miles) and Daytona Beach (DAB; about 70 miles) International Airports. These may be options for Disney Cruise Line if the price is right. Check the difference in price against the cost of gas for the drive into your destination. Since a typical taxi fare from the Sanford Airport to an Epcot Resort will run about $200 plus tip. You can calculate an estimated taxi fare from the Sanford airport to your destination using Yellow Cab's (owned by Mears) fare calculator. Just pick the landmark nearest to your resort.
Reserve each airfare separately; if more than one person is flying, this tip may save you money. Airlines often only have a certain number of seats available at the best-advertised rate. This means that if there are only three seats left at the rate you want and you are a family of four, your bulk purchase of four tickets will all be charged at a higher rate. Airlines don't sell split ticket rates from the same purchase. You could save a bundle by booking each one individually.
Book your vacation for August and September instead of traditional vacation months like June and July. Many airlines, as well as resort destinations, lower their rates during this time of year to encourage late season traveling. If you realize that the month will not change the location and attractions at your destination of choice, then planning a late-season vacation could save you hundreds of dollars.
Many airlines and booking agents offer last-minute deals on their web sites, typically Tuesday through Saturday. You can find them for American Airlines, Delta Airlines (Tuesday to Friday), Southwest, and others.
Ask about your ability to change or cancel your flight if you need to. Even if you get sick, you cannot assume you will get a refund. Most discount tickets now are non-refundable but can be applied toward the purchase of other tickets on the same carrier. You must usually pay an administrative charge and any difference between the fares for the old and new flights when you do this. Southwest airlines is one of the few that will allow you to make changes to your ticket after the purchase with no additional fees. Read the fine print of each airline's airfare discount information before purchasing to see if a future discount could be applied to your booking.
Airlines don't guarantee their schedules, and you should plan for this when putting together your trip. If there's a mechanical problem with the plane or circumstance other than the weather, you might be better off trying to arrange another flight for longer delays. It is sometimes easier to make such arrangements from a cell phone (pre-program the airline number in) than at a ticket counter. If you find a flight on another airline, ask the first airline to endorse your ticket to the new carrier; this could save you a fare increase. If you are delayed, you can also ask the airline staff if they will pay for meals. Airlines charging very low fares often do not provide any amenities to stranded passengers. Others may not offer amenities if the delay is caused by bad weather or something else beyond the airline's control. Contrary to popular belief, airlines are not required to compensate passengers whose flights are delayed or canceled. To learn more about your rights as a passenger, visit the Aviation Consumer Protections Flyers Rights page.
If you have frequent flyer miles, especially for several airlines, and would like to know which airline has seats open for FF mile bookings or upgrades, there is an effortless way to find out. ExpertFlyer has real-time seat maps on over 100 airlines and can give you this airfare discount information, including waitlist information, and send you alerts if something becomes available. It's a paid service, but you can try it out for a free 5-day trial. With a free account, you can set up one Seat Alert at a time. Once you've booked your flight with any online service or with the airline, when your Seat Alert arrives, you can contact them to change your seat assignment to switch to the preferred seat.
Finally, when you find a good airline deal, buy it! Airfares change often, and that great price may not be there tomorrow or even a few hours later. You might also consider searching for fares throughout the day, several times a day. Airlines adjust the number of seats available at different fare levels, and seats at the lowest fares sell quickly. While the general airfare discount information stays the same, the deals can change quickly
Airfare Discount Information – Name Your Price Options
If you don't mind which carrier you fly or the time, check out sites like Priceline and Hotwire that have "name your own price" options. You won't know which airline you're flying until after purchase, but these sites can get you cheaper airfare, especially at the last minute. The downside is with all of the extra fees airlines are charging, a more affordable ticket won't always mean a cheaper flight. Especially if you're charged for curbside check-in, 1st and 2nd bag, non-alcoholic beverages and passenger facility charges, and domestic passenger segment fees are applied to connecting flights.
Priceline
Input your travel destination and dates and the number of travelers and the amount you want to pay, along with your credit card information. Priceline then searches for an airline willing to sell seats at the price you requested. If Priceline finds tickets at your price, they immediately charge your credit card and purchase those tickets. The tickets purchased through Priceline cannot be changed, transferred or canceled. You choose the dates you want to travel, and the airlines will choose flights and times. Priceline says you will travel between 6 am and 10 pm and arrive by 12:30 am the next day (for domestic travel). There is also a chance you will have to make one or two connections with layovers of up to 3 hours to reach your final destination (each way). Tickets issued through priceline.com are not eligible for Frequent Flyer miles or upgrades and other airfare discount information. If a bid is rejected, you must wait for 24-hours to increase your bid for the same flight.
Hotwire
Enter your cities and travel dates. You then have several choices and can eliminate red-eye flights and also planes that are not "jets." Hotwire then returns with a price that is available for flights on those dates. You do not know the carrier, and you do not know the flight times. You have one hour to either purchase those tickets or not. Hotwire does not immediately charge a credit card for the flights. After that hour, the search has "expired," and the flights are no longer available for you to purchase. Once a search expires, a search with the same search preferences cannot be conducted until 48 hours later. Tickets purchased on Hotwire are not available for upgrades or frequent flyer miles.
SkyAuction, unlike Priceline and Hotwire, auctions off tickets using a "second bid" scheme, much like eBay. The best strategy here is to bid the maximum you're willing to pay. If you win, you'll pay just enough to beat the runner up regardless of what your maximum was. On the positive side, descriptions of what you are buying are quite clear, and you can see the competing bids. If you need a specific number of tickets, be sure to make your bid "all or nothing." Also, make sure to check the service charge for each ticket and calculate that into what you will pay. Finally, be sure you know the price of average fares for the tickets you want since bids often go up above published fares.
Airfare Discount Information – Avoiding Baggage Charges
Airlines haven't begun weighing passengers with their luggage and charging by the pound yet, but most are charging fares for both you and your baggage. Many popular airlines now charge passengers for the first checked bag. Check-in luggage fees per person are typically $20 – $25 for the first bag and $30 – $45 for the second, paid each way upon check-in. Make sure to factor this in when comparing airfares. For example, if Southwest has a fare of $198 round-trip and US Airway has one for $158, and you are checking two bags. Southwest actually has the lowest fare because Southwest charges nothing for the first two checked bags, whereas US Airway would charge you an additional $80 each way for two bags. Here are a few tips that can help in this situation.
Consider flying airlines without baggage fees. JetBlue and Southwest may have a lower bottom line even if there's a cheaper fare on another airline because of luggage fee factors.
When choosing clothing to pack, consider packing only those items that can be mixed and matched to make an entire wardrobe from a few simple pieces.
Visit the resort laundry facility while at your destination. This may not seem like a load of fun, but by doing a couple of loads during your vacation, you can save on luggage fees. Combine a day by the resort pool with a laundry day. The laundry facilities at most resorts are located close to the pool. If you are doing laundry during your trip, you can pack detergent tabs or sheets to save on purchasing it there.
Put your bulkiest items in those special vacuum bags to reduce their size and roll your clothes when packing. They take up less room and wrinkle less as well. Most hotels will lend you a vacuum with a hose to repack for your trip home.
Ship dry goods and toiletries to your destination ahead of schedule. Disney hotels will accept packages if your reservation can be confirmed. Goods you may consider shipping are toiletries, feminine hygiene products, sunblock, baby wipes, diapers, food goods, or other lightweight necessary items that are odd-shaped and difficult to pack. Use this list of resort phone numbers to call for specific resort shipping information.
Take only those items that you will truly have to use. Disney resorts supply hairdryers and small soaps, shampoos, and conditioners. If going for seven days, don't pack for nine. Most people overpack and create a higher cost than necessary. Rule of thumb: if it isn't essential for your survival on your vacation, leave it behind.
If you will have a rental car, consider purchasing items at your destination. Cans of baby formula and diapers can be purchased at a local store at the same prices they can be anywhere else.
Backpacks aren't just for kids. Since a regular size backpack counts as a "personal" item, fill it with extra items and pack your empty purse.
Choose the lightest weight luggage you can find. Most airlines have a weight limit of 50 pounds on each bag. The lighter the luggage, the more you can pack. Just remember that airlines also have restrictions on luggage size. Visit the airline's web site to find their specific size requirements and measure each side of your packed bag. We suggest investing in an inexpensive luggage scale with a tape measure. We found a luggage scale on Amazon.com for good prices.
Most Disney merchandise shops will ship within the U.S. Purchase all your souvenirs from one location, we recommend the World of Disney Store at Downtown Disney, and ask about the cost of shipping items home. It may be cheaper than some airline's overweight charges or the fee for an extra checked bag. Overweight charges can sometimes be expensive, ranging from $50 on most airlines to $100 (Delta and American), and depending on space available and capacity, some airlines can refuse to accept them altogether.
Other Additional Airline Charges
Baggage fees aren't the only charges airlines have initiated or increased recently. Some airlines are charging for preferred seats located in aisles, next to windows, or that offer extra legroom. Other airlines have begun charging members of their frequent flyer (FF) clubs a fee to book their free tickets online. Fees have been added for watching TV, shortened security lines and boarding early. Even once, complimentary non-alcoholic beverages and snacks now sometimes come with a charge. Finding the cheapest fares and airfare discount information for a family can be tricky. As much as you may hate paying a fee for checking your first bag, the airline charging the fee may still offer the best overall price. Free onboard amenities like free seat-assignment, snacks, meals, beverages, and entertainment may make paying a few extra dollars for baggage worth it. Before booking your flight, take a few minutes to total up the actual cost of flying and search for airfare discount information for that specific airline.
Here are some popular Airlines flying into Orlando International Airport:
Most airlines now have cashless cabins where payment for drinks or snacks will only be allowed by credit or debit card. For those who do not have a credit or debit card, some airlines will allow you to buy in-flight coupons or vouchers which must be purchased before you get on the plane. Check with your airline representative at the ticket counter or gate, so you know how to pay for a drink or snack. More and more, airlines are holding specific seats such as aisle and window seats for those willing to pay extra. If you are a family traveling together who would like to sit together, it would be wise to purchase your seats at least two months in advance and pay extra for adjoining seats if need be. Southwest Airlines has open seating, so any family who checks in right at the 24 hour advance time should be in an early enough boarding group to get seats together. If you would prefer to pay to guarantee your seating, Southwest's priority boarding fee is one of the lowest in the industry. Also, if you purchase seats through Expedia, Orbitz, and Travelocity, be aware that airline reservation systems won't hold a seat requiring a fee. Passengers should confirm selections with the airline for specific airfare discount information and charges.
Lastly, with some airlines charging fees for even water, consider bringing an empty water bottle through security and filling it before boarding. Bring along your own snacks if your airline charges.
Airfare Discount Information & Tips From TheMouseForLess Readers
Southwest has no cancel fee, baggage fee, or change your flight fee. They also give you a complimentary beverage. You can also purchase gift cards at grocery stores and Walgreens. After you fly about 12 round trips, you get complimentary alcohol drink coupons.
Jet blue has nice wide seats. They also have TV's on the back of all the seats. If your flight is delayed and you answer the customer service e-mail with your opinion, they give you a gift certificate towards your next flight.
I bought my kids Earplanes from Walgreens for our flight, but they are available at most drugstores. They reduce pressure changes doing flights that kids often complain about and worked great for us.
Southwest sells early boarding. With EarlyBird Check-in, you'll receive a better boarding position that is confirmed for your trip. Since you're boarding earlier, there will be more open seats and overhead bin space from which to choose. The best EarlyBird Check-in boarding positions will be assigned 36 hours prior to scheduled departure time to Business Select and Rapid Rewards A-list members. Customers are eligible to purchase EarlyBird Check-in up until 25 hours prior to the flight's scheduled departure time. For more info on their airfare discount information, visit Southwest's web site.
Airfare Discount Information is always changing. Sometimes being loyal to a particular airline will provide better discounts if you fly enough.