Disney's Hollywood Studios | Animation Courtyard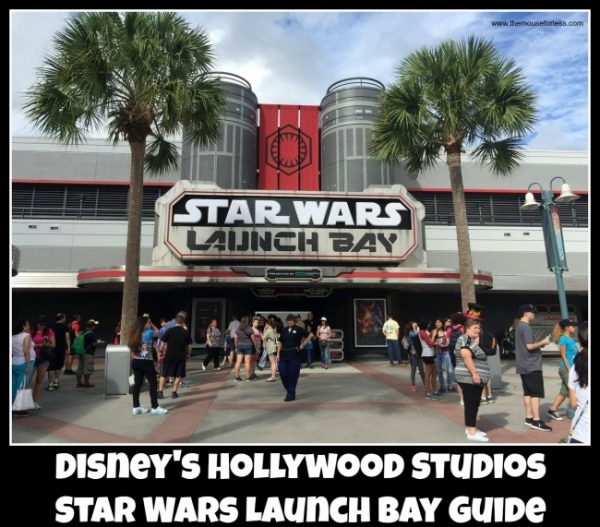 Description Ride Information Restrictions Location Fun Facts Top 5 Tips
Description
The Star Wars Launch Bay is the primary location for fans to celebrate all things Star Wars. In this multi-sensory space, guests can experience a queue adorned with special concept artwork; interact with beloved Star Wars characters; tour galleries featuring memorabilia and replicas of large-scale Star Wars artifacts, including ones from Star Wars: The Force Awakens; and have the ability to purchase special Star Wars merchandise. You'll also now be able to see new props from Rogue One including a Shortrooper Blaster, Director Krennic's Imperial Shuttle, a Death Star model, a U-wing gunship, and more.
In addition, the central portion of the Star Wars Launch Bay houses three elaborate character meet-and-greets, each with its own queue. Guests can choose among meeting Chewbacca at a rebel base, Kylo Ren at a First Order bunker, and the loveable droid, BB-8.
Ride Information
Opening Day: December 4, 2015
Type of Ride: Walk-through gallery
Age Recommendation: All ages
Duration of Ride: Unlimited
Typical Queue Time: None, but waits of up to one hour are possible for the meet-and-greets.
Single Rider Line: No
Chicken Exit Available: Yes
Baby Swap Available: No
Type of Vehicle: None
Type of Restraint: None
Attraction Open During Early Theme Park Entry: No. See our Early Theme Park Entry page for more information.
Ride Photo Available For Purchase: No
Ride Restrictions
Height Requirements: None
Flash Photography or Video Allowed: Yes
Location
Shopping:  Guests can purchase a wide array of Star Wars-based merchandise, including sculptures, movie prop replicas, and autographed memorabilia, at the "Launch Bay Cargo."
Dining/Refreshment: Around the corner from Star Wars Launch Bay, guests can enjoy a table service lunch or dinner in a classic Hollywood setting at the Hollywood Brown Derby.
Restroom: Facilities are located outside Star Wars Launch Bay.
Smoking Location: Smoking is permitted in designated smoking areas only. Disney's Hollywood Studios smoking areas can be found on our Walt Disney World Designated Smoking Areas page.
Star Wars Launch Bay Fun Facts
Did you know?
Star Wars Launch Bay replaced "The Magic of Disney Animation," which had contained various tours and exhibits since the then Disney-MGM Studios opened in 1989. The attraction lost much of its luster after Disney closed its Florida animation studio, which had housed animation for films such as Mulan (1998), Lilo and Stitch (2002), and Brother Bear (2003), in 2004.
Star Wars Launch Bay commences with a nine-minute film featuring interviews highlighting production of Star Wars films and the upcoming Star Wars expansion to Disney's Hollywood Studios.
Star Wars Launch Bay features assorted replica props and models from the numerous Star Wars films in addition to Anakin's actual pod racer from The Phantom Menace (1999) and an actual Endor speeder bike from Return of the Jedi (1983).
After passing through the meet-and-greets, guess can experience the Cantina. This setting is a fun place to explore and take photos near elements of the cantina, such as a holochess table. Holochess is a game seen in Star Wars.
Along the way, guests will see the "Celebration Gallery," which features  iconic ships from throughout the Star Wars saga, such as the Rebel Alliance and the Imperial Navy fleet; and the "Preview Gallery," which offers guests exclusive looks at replicas of props, artifacts, and memorabilia from the latest movies in the saga, starting with Star Wars: The Force Awakens. The items on display include costumes, ship models, droids and artwork.
A Star Wars Launch Bay is also housed in the former Innoventions building in Tomorrowland at Disneyland Park.
Top 5 Tips for Star Wars Launch Bay
Star Wars Launch Bay is a must-experience attraction for Star Wars fans.
Be prepared for long queues at the character meets. Disney Visa Card holders can use a separate line to meet Kylo Ren from 11:00 a.m. to 4:00 p.m.
Guests who do not wish to view the introductory film can proceed directly to the other exhibits by informing a Cast Member at the entrance.
Take in the immersive details throughout the attraction.
Take some photographs.