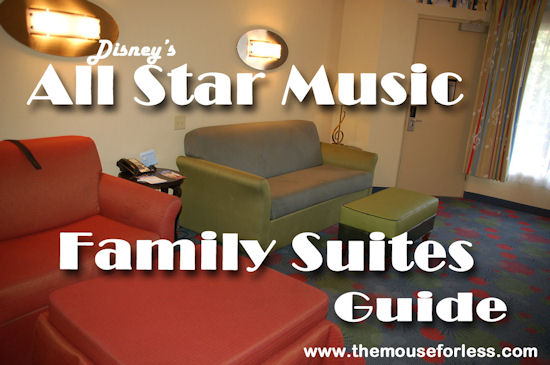 1801 Buena Vista Drive
Lake Buena Vista, FL 32830
Telephone: (407) 939-6000
Fax: (407) 939-7222
Refurbishment   Theme   Rooms   Dining   Recreation   Shopping
Transportation   Childcare   Resort Rates   Resort Map   Reviews
Activities   Top 10 Resort Tips   MFL Tips
Value Resort Classification
Located in the Animal Kingdom resort area
Check In: 3:00 p.m. / Check Out: 11:00 a.m.
The Family Suites are located within Disney's All-Star Music Resort, the musically themed resort that doesn't "miss a beat". Families will enjoy the whimsy of this resort, along with modest rates based on season. Boldly greeting guests at this resort are giant banjos, guitars, trombones, conga drums and maracas. The 192 Family Suites are located in the Calypso and Jazz sections. Disney's All-Star Music Resort is located near Disney's Animal Kingdom and Blizzard Beach Water Park.
All-Star Music Resort – Family Suites, like all Disney resorts, is smoke-free. Designated outdoor smoking areas are indicated on the Resort Map.
Resort Refurbishment
Check our Rehabs and Closures schedule for any refurbishments or work taking place at the All-Star Music Family Suites during your visit.
Resort Theme
Part of the All-Star Resort Complex
Musically themed buildings featuring larger than life trumpets and trombones (Jazz Inn), maracas and bongo drums (Calypso).
Family Suite Accommodations
All Suites measure 520 square feet
Up to six guests (plus one child under three)
Master bedroom: queen bed, TV armoire with 27" flat screen TV, night tables, small chair and desk
Family room: full-size pullout sofa, convertible twin ottoman & convertible twin chair sleepers (3 separate sleepers), TV armoire with 27" flat screen TV, small dining table with chairs
Kitchenette with microwave, small refrigerator (4.3 cu. ft) and coffee pot and cabinet space
Two-full bathrooms with sink and vanity outside of bath/toilet area
Privacy curtains between bathrooms' vanity area and main rooms
Disabled-accessible rooms are available
In-room pizza delivery
Irons and ironing boards
Hairdryers
In-Room Wall Safe
Alarm Clock
Dual line phones with voicemail
Satellite TV with Disney Programming
Complimentary wireless Internet (Wi-Fi) (click link for specific details)
Convenient self-parking
Pak-n-Play crib available upon request
Coin-operated self-service laundry facilities are located throughout Disney's All-Star Music Resort. Valet dry cleaning and laundry service is available for pickup from your room.
Located at the Main Lobby in the Melody Hall building, the concierge can help you purchase Disney Theme Park and Disney Water Park tickets, make dining reservations and secure show seats.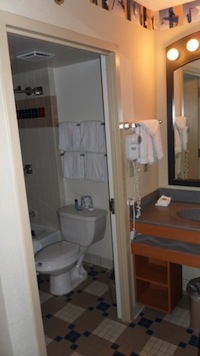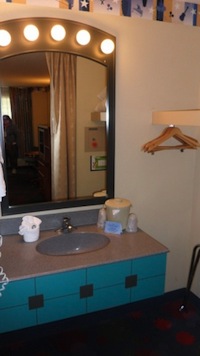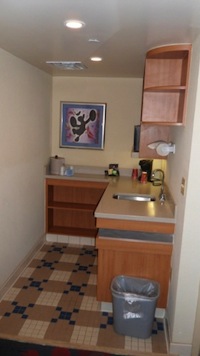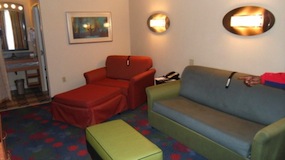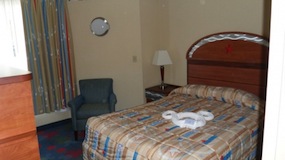 Resort Dining
Intermission Food Court
All-Star Pizza Delivery is also available
Singing Spirits Pool Bar
Rapid-Fill (refillable) Mugs are available for purchase at the Intermission Food Court for $15.49 plus tax.
Resort Recreation
· Two pools – the main guitar-shaped Calypso Pool located behind Melody Hall, and the grand piano-shaped Piano Pool located between the Broadway and Rock Inn sections.
· Towels are not available at the pool, guests must bring their own from the room
· Lifejackets are available for use
· A children's play area is located between the Calypso and Jazz Inn sections
· Note'able Games video arcade is located in Melody Hall
· A 1.5-mile jogging trail surrounds Disney's All-Star Resort complex
· Nightly "Movies Under the Stars" at the Calypso Pool
· Health club facilities are not available.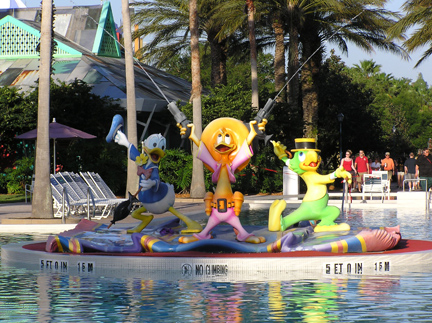 Resort Shopping
Maestro Mickey located in Melody Hall – Souvenirs, clothing and sundries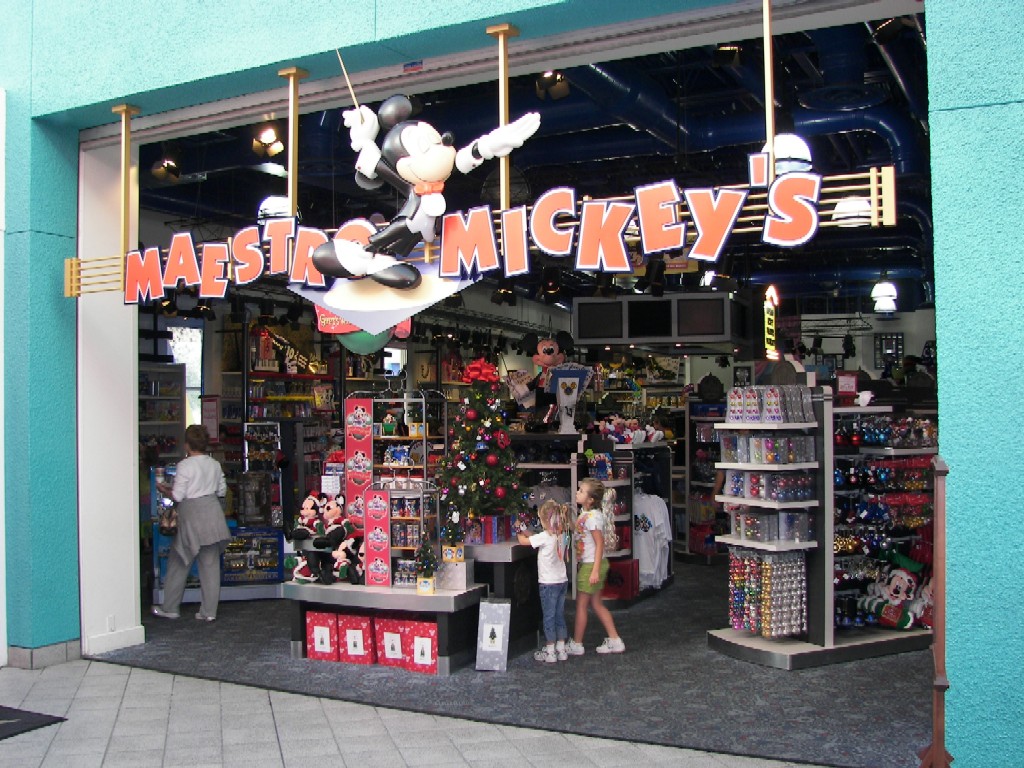 Resort Transportation
Disney's bus service is available to and from this resort
Bus stop is located at Melody Hall at the end of lobby – exit the doors near Maestro Mickey's
Transportation Times Between All-Star Music and Disney Destinations
These times are approximate, provided to give you an idea of average travel times. Please plan on up to a 20 minute wait for Disney transportation in addition to walking time to resort or theme park transportation stops.
Magic Kingdom – 25 minutes by bus, 36 minutes by car (with transfers)
Epcot – 22 minutes by bus, 19 by car
Disney's Hollywood Studios – 17 minutes by bus, 16 by car
Animal Kingdom – 20 minutes, 12 by car
Downtown Disney – 28 minutes by bus, 14 by car
Blizzard Beach Water Park – 22 minutes by bus, 7 minutes by car
Typhoon Lagoon Water Park – 25 minutes by bus, 13 minutes by car
Resort Childcare
No on-site child care facility. In-room child care is available at all resorts.
Resort Rates
Looking for a discounted rate for your Disney Vacation? Let The Magic for Less Travel, an Authorized Disney Vacation Planner, work for you. Their concierge services are always provided free of charge, and The Magic for Less Travel will help you find the best published or unpublished discount for your vacation. Already have a vacation booked directly with Disney? Contact The Magic for Less Travel to see if they can help you find a lower rate.

GET A FREE QUOTE NOW!
Tips From TheMouseForLess Members
TheMouseForLess Interesting Facts about the Resort
Tends to be quieter than Sports and Movies, attracting more adults. The rooms were redone in recent years and have hair dryers, Mickey soaps and shampoo, and a privacy curtain for a dressing area. – Sandra Givens
TheMouseForLess Hidden Treasures
Small garden near Broadway on the side closest to Movies. Sit and sip coffee there or at the picnic tables near Country, where you may see lizards and even the odd armadillo. – Sandra Givens
The photo opportunities are great. We have a great one of the boot in the cowboy section. It looks like it is stomping on my kids. – Amanda D
TheMouseForLess Tips for Romance
For seclusion from others, try the farthest building in the back. They are usually quieter there. – Raven Williams
In the late evening, pick up a cocktail at the bar, then stop and smell the roses at the fountain in front of the Jazz buildings. Very NoLa! – Sandra Givens
I wouldn't recommend this resort for romantic getaways as it is often noisy and filled to the brim with small children. – Venus Windmiller
TheMouseForLess Tips for Families
If your little one needs a life jacket, don't bring one with you. They are available in multiple sizes by the pool. Also don't bring pool toys. Many families at the end of their vacation left them at the pool. – Renee Walker
TheMouseForLess Tips for Large Travel Groups
Get a suite here. They are quite nice. I was skeptical and thought 2 regular rooms would be better, but we were upgraded to a suite in May and it's really nice having the kitchenette. There is plenty of room for 5 in this suite. – Stefanie in MA
TheMouseForLess Tips for Guests with Special Needs
Make this request for any special need when you book your reservation. Call one-week prior to make sure your request is prominently listed on your form. If you find out when you check in your special need request has not been honored, ask to talk to a supervisor at the front desk. This has happened to me a few times. Once I talk with a supervisor and point out the request was on my original form, they reassign me to a room that meets my needs. – Raven Williams
TheMouseForLess Tips for WDW Newbies
The check out is great, if you don't have any charges to your room there is nothing to do and if you do have charges they will send you an itemized statement of all your charges and you still don't have to go up front unless you don't agree with the charges. It's great!! – Amy McKnight
Check in early for best room selection. Walk around and look at the huge icons on each building. Visit the other All-Stars and enjoy their icons too. Try to guess the squirt pattern of the Three Caballeros fountain in the guitar pool. Take fewer clothes than you think you need and wash a load while you take a swim. Bring quarters! Movies has a larger food court if you want some variety. – Sandra Givens
Put on your sunscreen! The bus stop has no cover and can be hot on a sunny day. – Renee Walker
Beware of credit card scammers! Several scams have been perpetrated on unsuspecting tourists staying at hotels or resorts in the Orlando area in recent years, including Disney resorts. The first involves a phone call to your resort room in which you are informed that there is a problem with the credit card info you provided the hotel; you are then asked to give your card information again, including name and address. If you receive such a call, inform the caller that you will talk to the front desk personally about the problem and hang up. If you are convinced the call may be legitimate, call the front desk from your resort phone or visit the front desk to inquire. The second scam involves flyers left on your resort room door advertising cheap pizza for delivery. Those who call the number and give the requested credit card info with their order soon find that not only does no pizza arrive, but a huge string of unauthorized purchases show up on their credit card.
TheMouseForLess Tips for Budget Travelers
The toiletries in the gift shop are overpriced. Double check your personal care items before you leave home. –Green Family
Both code discounts and AAA discounts on room only reservations can be booked through your The Magic For Less Travel Agent.
TheMouseForLess Tips for Luxury Travelers
None of the value resorts include full-service restaurants. But if you have a car and are looking for a nice sit down meal the try a short drive to Coronado Springs Resort to dine at Maya Grill or Animal Kingdom Lodge for dinner at Boma or Jiko.