What to Know Before you Go to Walt Disney World
Official WDW Policies Preparing and ArrivingVisiting the Parks Dining at Walt Disney World
Whether you a Lifetime Guest of the theme parks or you are planning your first trip, there are new things that every traveler should be aware of – the things you need to "know before you go".  The Parks and Resorts main goal is the safety and well being of not only their cherished guests, but also of their irreplaceable employees.  Being informed and prepared is the best way to insure a great vacation and positive memories for a lifetime.
This page is designed to give you the best start at that magical trip! As more information is released, this page will be updated to reflect the most current information.  Don't want to go it alone? The agents at the Magic for Less Travel would love to be of assistance, and at no additional cost to you!
Also, if you are just getting started, also be sure to check out our Walt Disney World Vacation Planning page for more tips, tricks and advice.

Planning a Walt Disney World Vacation?
For a Free no-obligation quote, contact our sponsor
The Magic For Less Travel
. The Magic For Less Travel is an Authorized Disney Vacation Planner and has been helping guests plan magical vacations since 2002. Receive the best prices and free travel planning services. Their fee-free services will help you save time, money, and stress while planning a vacation designed around you and your needs!
Know Before You Go – Official Walt Disney World Policies
For the official policies and procedures straight from Disney, visit the Disney World Policies  & Procedures page.
Preparing and Arriving
As you get ready for your trip, here are a few things to keep in mind
My Disney Experience App and Linking Reservations
More and more, a trip to Walt Disney World means spending some time on the My Disney Experience app. Make sure you download the app in advance, and then check that all of your tickets, packages, and reservations and properly linked.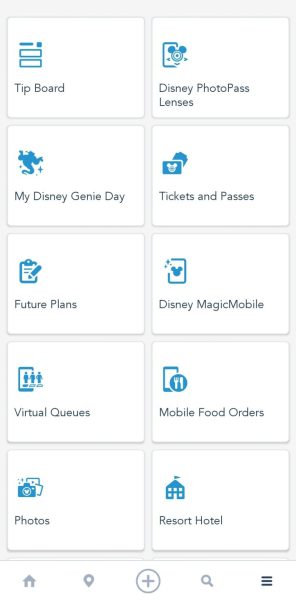 Linking these is really easy in the app. you just click the three lines in the bottom corner, and then select either "Tickets and Passes" or "Resort Hotel." Choosing either of those will bring you to a page where you can link anything you would like, and it also gives you a few options to do so, using either the camera on your phone, tapping (for Magic Bands) or typing in the confirmation numbers.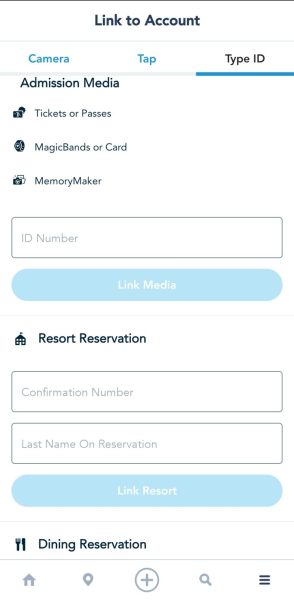 Many of the reservations you make will automatically appear in your account, but it is always best to double check in advance, so you can either link them or fix other issues before your vacation.
Getting To Walt Disney World
Whether by plane, car, train, or bus, there are many ways to arrive at the Walt Disney World Resort. As you prepare for your vacation, visit our transportation section to explore these options and help make your decision.
Checking in to your Hotel
If you are staying at one of the on site Disney Resort Hotels, check-in time is 3:00pm for most resorts, and 4:00pm for Deluxe Villas (i.e. DVC resorts). If you have your resort reservation linked in My Disney Experience, you can start the check in process up to 60 days before you arrive. This includes opting into the "Direct-to-Room" service, which allows you to get notification of when your room is ready, and even go there without having to go to the front desk at all.
Whether you check in via the app or the desk, you are able to enjoy your resort hotel, including pool areas, as soon as you arrive. You are also able to store any luggage with Bell Services, usually located in the main lobby near the check-in desk. Bell Services can deliver your luggage to your room after it is ready, and they can also hold your luggage on your check-out day, so you can keep enjoying the resort after you leave your room.
Visiting The Parks
To visit the theme parks, there are a few things you need to know before you go.
Park Reservations
First, in addition to a ticket, every guest ages 3 and over now needs a park reservation via the "Disney Park Pass" system. Currently, each guest can select one park per day. It is a good idea to book your reservation as soon as possible, however you are able modify your reservations at any time, as long as there is availability for your desired park.
Currently, Annual Passholders do not need a park pass reservation to enter a park after 2pm, with the exception of weekend visits to the Magic Kingdom.
Note: starting January 9th, 2024 theme park reservations will no longer be required for date based tickets. For other ticket types (i.e. Annual Passes), more information will be shared leading up to that time.
Park Hours
Park hours at the Walt Disney World theme parks are usually initially set a few months in advance of the day, but are often adjusted for a variety of reasons, such as an earlier opening time for anticipated large crowds. For the most up to date hours, be sure to check your My Disney Experience app leading up to your trip.
In general, this is a guide to how the theme park hours:
Disney's Animal Kingdom usually is the first to open and the first to close each day. In the summer these hours might look like 8:00am to 7:00pm, where in the winter opening might shift to 9:00am.
Disney's Hollywood Studios is often the second park to open each day, usually 30 minutes after Animal Kingdom. Each day, the park officially closes at the listed start time of the final Fantasmic show, so if you are in that show you get to stay in the park even later! A representative day at Disney's Hollywood Studios would be 8:30am to 9:00pm, with a Fantasmic showing at 9:00pm.
Epcot is often has the most predictable hours of the four theme parks, with a pretty standard operation of 9:00am to 9:00pm each day. An important note is that while some of the World Showcase restaurants and attractions are available right at park opening (such as Akershus Royal Banquet Hall and Remy's Ratatouille Adventure), the bulk of that area, including any festival booths, usually do not open until 11:00am.
Magic Kingdom has the highest variability of all the theme parks. It often will open as early as 8:00am and can sometimes not close until midnight. A representative day at the Magic Kingdom might be a 9:00am opening and a 10:00pm closing. A few important notes though:
Early and Extended Hours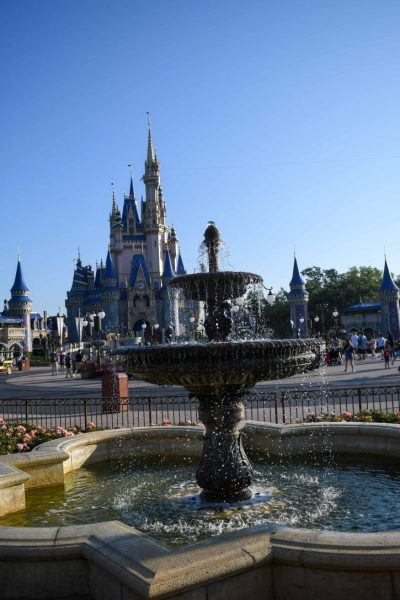 Guests staying in certain hotels have the opportunity to take advantage of extra time in the parks, in two specific ways.
First there is Early Theme Park Entry. This allows guests staying in Disney hotels, and certain partner hotels, to get into every park 30 minutes early every day. 30 minutes might not sound like a lot, but if you see all the people waiting to enter right before official park opening, you will know just how much time you can save by utilizing those 30 minutes. Check out all the details on our guide.
Next there are Evening Extended Hours. These are only open to Disney Deluxe, Deluxe Villa, and a few other select partner hotels. They allow eligible guests to stay up to 2 additional hours after park closing. They are more limited than the Early Entry as they only happen at select parks a few times a week. Currently, that usually looks like one night at the Magic Kingdom and one night at Epcot. You can find more details and the full schedule here.
Park Hopping
Guests with a "Park Hopper" benefit included with their tickets can currently visit a second park after 2:00 pm. To see if the park you wish to hop to has availability, you can call (407) 560-5000. The Walt Disney World app will also show current park hopping hours at each park. Guests do NOT need a reservation for any park they hop to later in the day.
Water Parks
Disney's Typhoon Lagoon water park is currently open. Disney's Blizzard Beach water park is closed for refurbishment at this time.
Face coverings are not permitted while experiencing water slides or for guests who are in the water.
Currently, park reservations are not required to visit a water park.
Dining at Walt Disney World
Mobile Ordering, Check-In and More
Mobile ordering is available at many locations across Walt Disney World, but in and out of the Theme Parks. Using the My Disney Experience app, guests can order ahead at many locations and then simply pick their food up. The fastest way to start a Mobile Order is to hit the big "plus" sign on the bottom of the app, and then click "order food." You can sort by what is available instantly, what is near your location, or you can find a specific location.
Please note, due to the volume of guests using mobile order, those wishing to utilize this service might need to place their order well in advance (i.e. make a 1PM lunch order at 10 AM). It can be helpful to keep an eye on the available pick-up time for your restaurant of choice.
Additionally, guests can check in for reservations, join a "walk up" list for table service locations, and view restaurant menus, all through the app.
Dining Reservations
Currently, guests can make reservations for dining up to 60 days in advance. Guests with a Disney Resort hotel reservation can also make reservations for up the length of their stay (up to 10 days) 60 days in advance of their first day.
For harder to get or more specific reservations, it is recommended to make those as soon as possible, and if staying on site start toward the end of your trip with those difficult reservations. However, you can keep checking leading up to your vacation, as many locations will have availability change even up to that specific day.
Dining Plans
Disney dining plans are not available at the moment. However, for Walt Disney Travel Company packages including a Disney Resort hotel starting on or after January 9, 2024, dining plans can be added.
Transportation
On Site Transportation
Buses, monorails, boats, and the Disney Skyliner are all currently operational. Check the "transportation" section of the My Disney Experience app to find specific locations, or view the "resort hotel" section to see estimated pickup times from your hotel.
Park to park transportation is also available, beginning each day just before the start of Park Hopper hours at 2:00 pm.