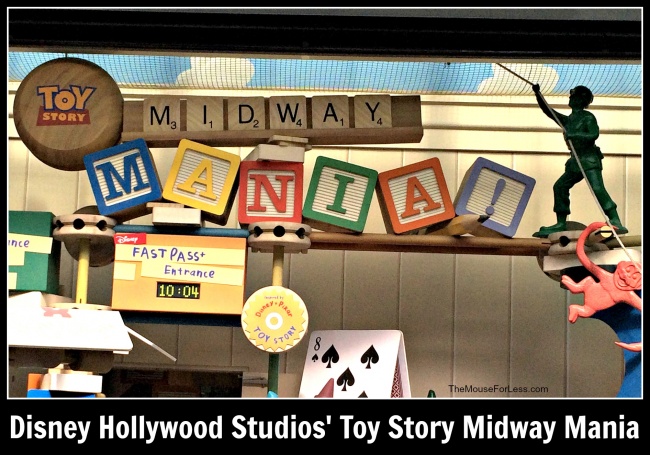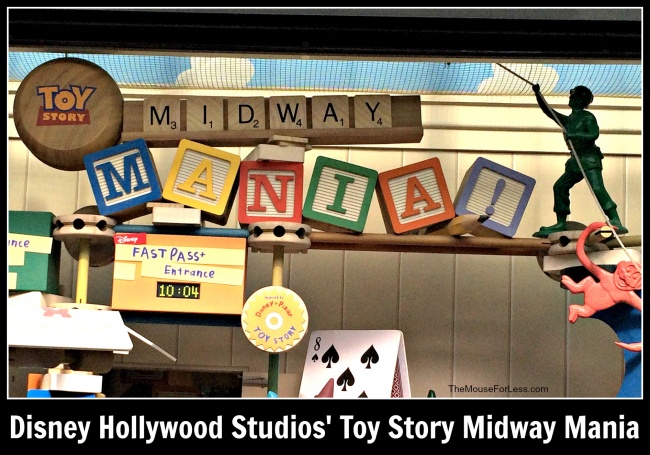 At Toy Story Midway Mania, guests enjoy virtual games in a carnival-like atmosphere with friends from Disney and Pixar's Toy Story series, especially Toy Story (1995), Toy Story 2 (1999), and Toy Story 3 (2010).
Ride Information  Restrictions  Location  Fun Facts  Top 5 Tips
Ride Information
Opening Day: May 31, 2008
Type of Ride: Virtual arcade dark ride
Age Recommendation: All ages
Duration of Ride: About 6 minutes
Typical Queue Time: Very long; usually upwards of one hour, even on slower days
Single Rider Line: No
Chicken Exit Available: Yes
Baby Swap Available: No
Type of Vehicle: Carnival ride tram
Type of Restraint: Lap bar
Attraction Open During Early Theme Park Entry: Yes. See our Early Theme Park Entry page for more information.
Ride Photo Available For Purchase: No

Planning a Walt Disney World Vacation?
For a Free no-obligation quote, contact our sponsor
The Magic For Less Travel
. Services are provided free of charge and their expert planning advice will help you make the most of your vacation time and money.
Ride Restrictions
Height Requirements: None
Flash Photography or Video Allowed: No
Location
Shopping: Across from Toy Story Midway Mania, guests can purchase a variety of related items: Buzz Lightyear, Woody, Jessie, and Mr. Potato Head action figures; mugs; water bottles; and Lotso plush dolls in addition to apparel, and more.
Dining/Refreshment: Toy Story Land's Woody's Lunch Box offers totchos, sandwiches, and more. Furthermore, the Sci-Fi Dine-In Theater Restaurant and The Hollywood Brown Derby, and a counter service restaurant, ABC Commissary, are situated nearby. Hollywood Brown Derby is an upscale establishment with offerings such as a huge Cobb salad, lamb, short ribs, salmon, beef, pork, and grapefruit cake—yellow cake with grapefruit icing—for both lunch and dinner. Conversely, the Sci-Fi Dine-In Theater offers a more whimsical meal in an old-time drive-in movie setting with most tables modeled after cars. Lunch and dinner offerings include a variety of burgers; Reuben and turkey sandwiches; ribs; and milkshakes. ABC Commissary, for its part, offers a limited menu of sandwiches, burgers, and salads.
Restroom: Facilities convenient to Toy Story Midway Mania are located behind Woody's Lunch Box.
Smoking Location: Smoking is permitted in designated smoking areas only. Disney parks are smoke free.
Fun Facts
Did you know?
Toy Story Midway Mania is themed after carnival games, such as darts and ring toss, which one might find on a classic boardwalk.
On Toy Story Midway Mania, guests don 3-D glasses and shoot at virtual targets, both mobile and stationary, for points using string-operated cannon. Point totals vary depending on the target. During the ride, five Toy Story-based game segments appear: "Hamm & Eggs," "Rex & Trixie's Dino Darts," "Green Army Men Shoot Camp," "Buzz Lightyear's Flying Tossers," and "Woody's Rootin' Tootin' Shootin' Gallery." "Rex & Trixie's Dino Darts" replaced a game called "Bo Peep's Baaa-loon Pop" in May 2010 as Disney updated the attraction in anticipation of Toy Story 3 (2010). The "objects" thrown at the targets include hardboiled eggs, darts, baseballs, rings, and suction-cup-tipped darts. Each game lasts about thirty seconds. A practice section involving pie tossing precedes the official games.
The games occur along three tracks, the first two debuting with the attraction and the third added in May 2016.
Toy Story Midway Mania adjusts gameplay based on performance, so the better you do, the harder the games will become.
The game incorporates 4D effects such as water spray and air bursts.
Following the games, riders see their score and accuracy rate, and receive a virtual "prize." Riders see the high scores for the hour, day, and month also.
The ride vehicles spin between games such as to face the appropriate screen. Each ride vehicle holds four guests, two facing forwards and two facing backwards. While in the vehicle, riders do not see the other riders behind them.
Guests using a wheelchair ride in designated vehicles.
Toy Story Midway Mania features an elaborate, colorful, whimsical queue, while operating under the assumption that guests have shrunk to toy size. Themed like Andy's room, the queue includes crayons, blocks, playing cards, a Candy Land board, a View-Master reel, giant dice, a Scrabble board, a Chutes and Ladders board, and a drawing of Buzz Lightyear and Woody. In addition, the queue features a six-foot animatronic Mr. Potato Head that interacts with guests in real time.
The Mr. Potato Head animatronic utilizes technology similar to that featured on Epcot's Turtle Talk with Crush and the Magic Kingdom's Monsters, Inc Laugh Floor. Incidentally, Pixar films provide the basis for these three attractions.
Toy Story Midway Mania is Walt Disney World's second arcade-type ride, after the Magic Kingdom's Buzz Lightyear Space Ranger Spin, which debuted in 1998 and is also based on Toy Story.
For its first three months of operation, Toy Story Midway Mania incorporated a single-rider queue. It was removed in August 2008 because of inefficiency.
Toy Story Midway Mania replaced "Who Wants to Be a Millionaire – Play It!," a theme park version of the long-running game show, which is still airing in syndication. Who Wants to Be a Millionaire—Play It! operated from 2001 to 2006.
Located on Pixar Place, Toy Story Midway Mania anchors the upcoming Toy Story Land.
Toy Story Midway Mania is the second attraction at Disney's Hollywood Studios to "shrink" guests. The other was the "Honey, I Shrunk the Kids: Movie Set Adventure" playground, which operated during the 1990 to 2016 timeframe. The latter attraction, based on Honey, I Shrunk the Kids (1989), closed during the the Star Wars and Toy Story expansions.
Toy Story Midway Mania was the seventh attraction at Walt Disney World to utilize 3D following "Magic Journeys," "Captain EO," Muppet Vision 3D, "Honey, I Shrunk the Audience," It's Tough to be a Bug, and Mickey's PhilharMagic. Magic Journeys played at Epcot from 1982 to 1986 and at the Magic Kingdom from 1987 to 1993. Captain EO played at Epcot from 1986 to 1994 and again from 2010 to 2015; while Honey, I Shrunk the Audience played at Epcot during 1994 to 2010. In addition, two 3D attractions, "Star Tours – The Adventures Continue" and Disney & Pixar Short Film Festival at Epcot, joined the lineup during 2011 and 2015, respectively.
Other versions of Toy Story Midway Mania are located at Disney's California Adventure and Tokyo DisneySea.
Hidden Mickeys:
A Hidden Mickey is formed by three circles enclosing images of Mr. Potato Head, Slinky Dog, and Bullseye near the loading dock.
Sponsored Ad: Learn more about Hidden Mickey details and location throughout Walt Disney World in A Field Guide to Walt Disney World's Best Kept Secrets
.
Top 5 Tips for Toy Story Midway Mania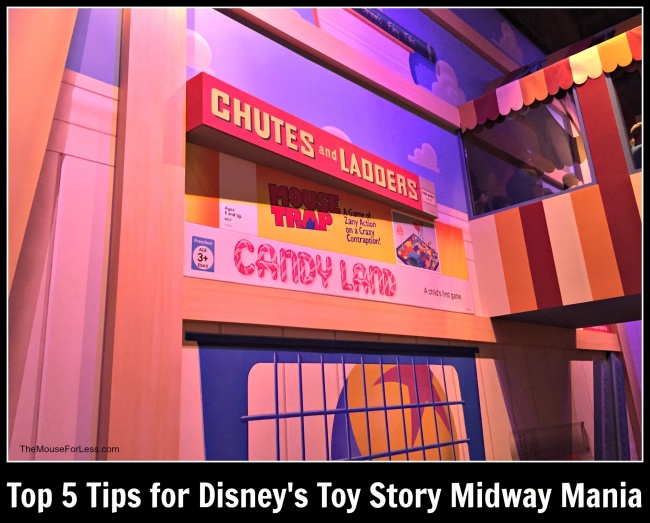 With its friendly theme and relatively tame motion, Toy Story Midway Mania is among the best rides for young children at Disney's Hollywood Studios.
Consider watching the Toy Story films before your visit such as to better appreciate this attraction.
Take in the details during the time in the queue.