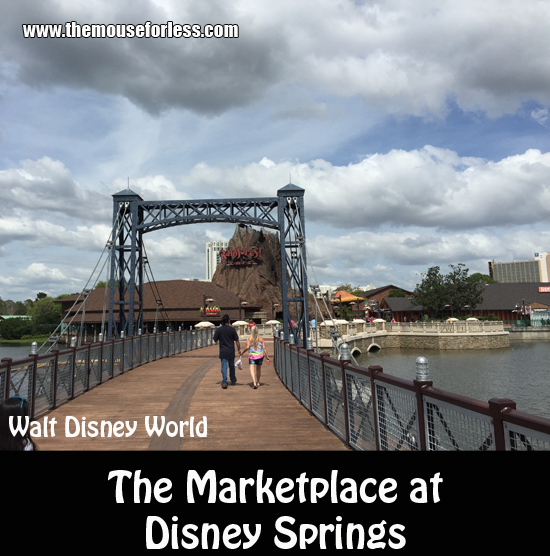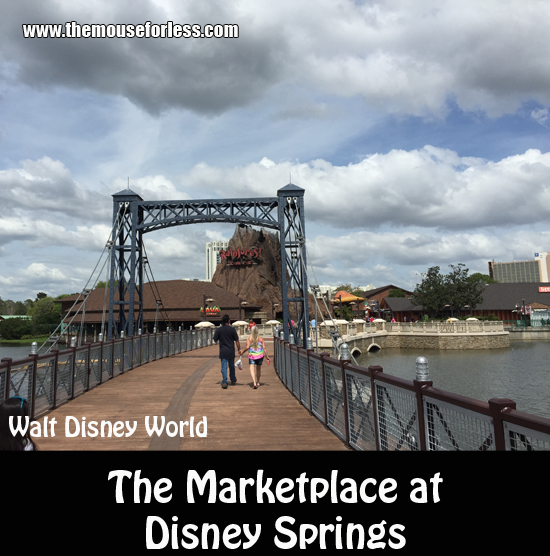 DTD Map West Side The Landing Town Center Disney Springs Guide
Welcome to the Marketplace at Disney Springs. The Marketplace section offers guests a wide variety of shops sure to please everyone. Also available at Marketplace at Disney Springs are fun entertainment options and several casual dining options.
Special Announcements for Marketplace at Disney Springs
Sunshine Churro Open
Sunshine Churro carts can be found on both the Marketplace side and on the West Side. These carts serve up a variety of classic and gourmet churros. Flavors include things like watermelon, salted caramel, strawberry cheesecake, fruity cereal, and cookies and cream. You can even try churros dipped in milk chocolate or chocolate-hazelnut spread.
The Dress Shop Now Open in Marketplace Co-Op
The Dress Shop, a brand new boutique will open in the Marketplace Co-Op is now open. This area sells whimsical dresses and apparel that feature Disney designs, such as The Haunted Mansion, Snow White and the Seven Dwarfs, Orange Bird, Tower of Terror, Minnie Mouse, and more.  Dresses run from XS to XL, with select dresses running up to 3-XL.
New Disney PhotoPass Studio At Disney Springs
The brand new Disney PhotoPass Studio has opened in the Marketplace. Guests can choose to get their portrait takenagainst a standard background or a virtual background that places your family inside some of your favorite Disney scenes. The Disney PhotoPass Studio also features new viewing stations so that you can preview, purchase, and print your vacation memories that have been linked to your My Disney Experience Account. Photos taken at the Disney PhotoPass Studio will be linked to your My Disney Experience account and are included as a part of Memory Maker. Guests need not make reservations for the Disney PhotoPass Studio.
Artist Signings and Merchandise Events at Marketplace Locations
For more information about events, visit www.ArtofDisneyParks.com.
Marketplace at Disney Springs Entertainment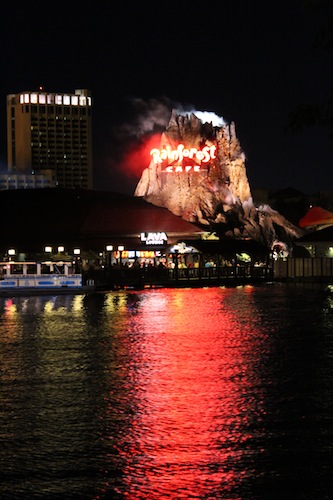 Rainforest Cafe Volcano Show – Nightly Beginning at Dusk
Rainforest Cafe's outdoor theming features a brand new volcano with a dramatic new show. The new volcano includes elements such as fire, LED lava flow, steam and sound effects to create a volcanic eruption. During daylight hours, the volcano merely smolders and spews steam, but beginning at dusk, the volcano erupts every half hour in a fiery show for guests in the Marketplace.
Classic Carousel – 9:30 a.m. – 11:00 p.m.; 11:30 p.m. Fri & Sat
This beautiful carousel was handcrafted in Italy and features, 2 carriages, 19 horses and a spinning tea cup. The carousel plays music and is illuminated at night. Guest must either be 42 inches to ride alone or be accompanied by an adult. Little ones pay $2 to ride, parents are free.
Marketplace Train Ride – 9:30 a.m. – 11:00 p.m.; 11:30 p.m. Fri & Sat
Miniature train ride for small children to enjoy. Little ones pay $2 to ride, parents are free.
Water Splash Zones
There are to areas at Disney Springs Marketplace that feature fountains for young ones to play in. The largest is located between Once Upon A Toy and Earl of Sandwich and the smaller on is near the back entrance to Disney's Days of Christmas shop. There is no cost to use the areas and benches are available for parents to sit and watch. Nearby bathrooms are convenient for changing, just remember to bring along towels and a change of clothing.
Marketplace Waterside Stage & Other Entertainment
The place for live entertainment, this dock side stage is home for Disney Performing Arts Friday through Sunday. Look for a family-friendly dance party with DJ at the Marketplace nightly from 7:00 pm to 10:00 pm. on the Waterside Stage Monday through Saturday and on the Fountain Stage on Sunday nights. Live music can also be found most afternoons through early evening at the Margarita Bar.
Marketplace at Disney Springs Dining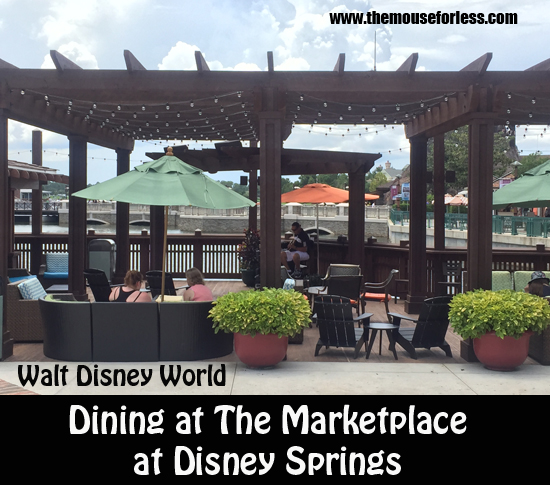 Marketplace at Disney Springs features several casual dining options along with great places for a snack or a quick treat. The restaurants below can be found at Marketplace at Disney Springs.
4 Rivers Cantina Barbacoa Food Truck
Joffrey's Smoothies
Marketplace at Disney Springs Shopping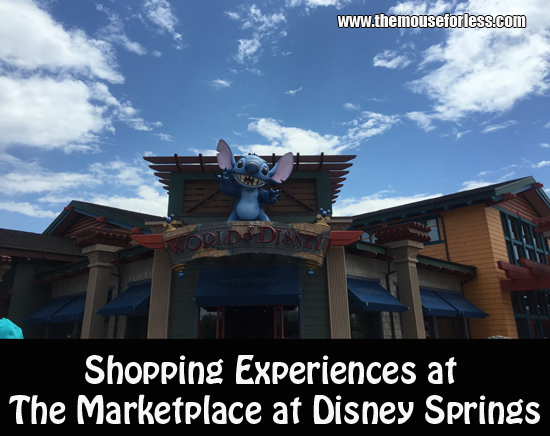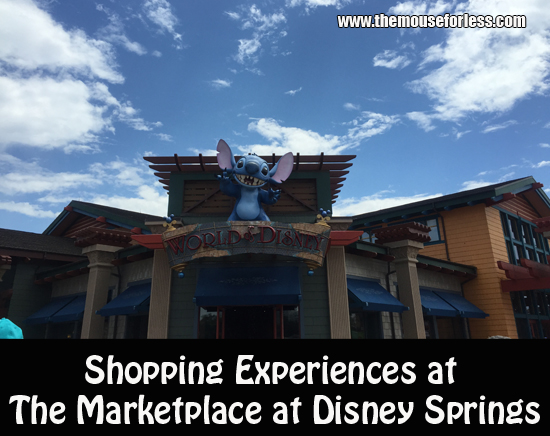 Arribas Brothers – Crystal specialty shop; See craftsmen at work
Art of Disney – High-quality art portraying Disney characters and reasonably priced poster reproductions of Magic Kingdom attractions.
Basin – Products for Bath and Body such as homemade soap, bath salts, facial masks & more. Try your hand at preparing custom soy candles or your own bath salts!
Bibbidi Bobbidi Boutique – A magical salon owned by the Fairy Godmother and operated by Fairy Godmothers-in-training where young princesses can purchase such options as hair up-do, nail polish, make-up, and a total package including Disney princess costume and photos.
Disney's Days of Christmas – Whimsical and collectible Disney ornaments, stockings & decorations
Disney PhotoPass Studio – Have your family portrait taken
Disney's Pin Traders – Buy or swap pins with other guest and cast members.
Disney's Wonderful World of Memories – Photo albums, Stunning Stationery and Scrapbook Materials; also look for the new Create Your Own Ears Hat Boutique.
Goofy's Candy Co. – With a Party Room for celebrating birthdays (call 407-WDW-BDAY for reservations) and an interactive show kitchen, this shop has nearly any kind of sweet treat or snack you can imagine. Look for the Turkey Leg Rice Krispies Treats! Plus, there is a Create-Your-Own snack station. This is the place to spend those left over Disney Dining Plan snack credits before leaving for home!
Lefty's, The Left Hand Store – This kiosk sells items made specifically for left-handed people – things such as scissors, notebooks and other items.
LEGO Store – Features an outdoor Play Zone with giant Lego creations, along with every imaginable Lego toy. Inside kids can make creations from bins of Legos and race them on an outdoor slope or design Lego structures and play games on a bank of computers. This is also a great place for photo opportunities.
Marketplace Co Op – Composed of six shops that showcase new and innovative Disney retail concepts
Once Upon a Toy – Fill a box with Mr. Potato Head body and parts for one price or build your own Lightsaber; every Disney themed toy imaginable. Additionally, the Droid Factory is now available at Once Upon a Toy. This means that collectors no longer need to pay the entrance fee to Hollywood Studios to get the Build-A-Droids.
Rainforest Cafe Retail Village – Unique Toys, Souvenir Gifts and Clothing
Star Wars Trading Post – Gear up for intergalactic adventures of the Star Wars kind—shop must-have merchandise, gifts and other goodies!
Swings n' Things – hammocks
Dino-Store at T-REX – Pan for treasures or shop for prehistoric gifts in this Dino-Store.
Tren-D – A clothing and novel accessories store described as "Minnie Gets Funky", geared to women in the 18-to-35 range. You'll find embroidered handbags, jeweled sunglasses or chandeliers, and hip furnishings.
World of Disney Store – The Largest Disney Character Merchandise Store Anywhere! Divided into Disney-themed merchandise rooms, each tells stories based on classic Disney films.
Assorted Kiosks – featuring balloons, hair wraps, pick-a-pearl, create-your-own keepsakes, caricature artist, personalized Christmas ornaments and more
Marketplace Shopping Hours: 10 am – 11 pm (Sunday – Thursday) and 10 am – 11:30 pm (Friday and Saturday)
Marketplace Dining & Entertainment Hours: 10 am – 1 am (Daily)
(Note: Hours may vary by venue.)