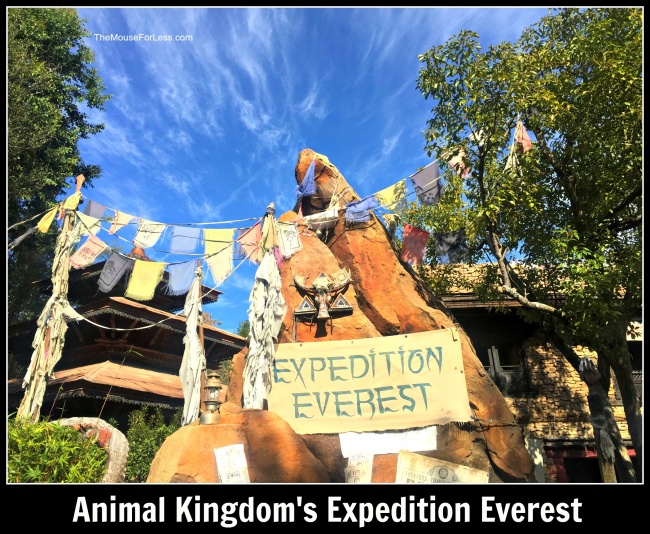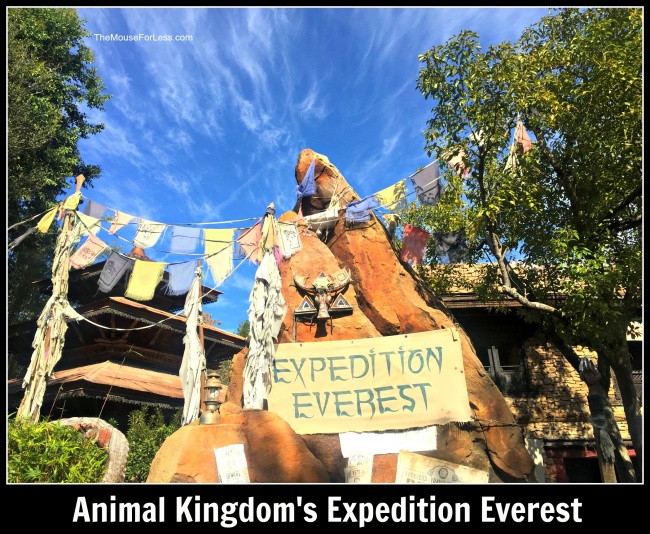 Hop aboard a steam train and enjoy an exhilarating journey through the Expedition Everest Legend of the Forbidden Mountain on this epic roller coaster attraction.
Ride Information  Restrictions  Accessibility  Location  Fun Facts  Top 5 Tips
Ride Information
Opening Day: April 7, 2006
Type of Ride: Roller Coaster
Age Recommendation: Older children and adults
Duration of Ride: About 3 minutes
Typical Queue Time: Moderate to long; typically peaks at about 50 minutes
Single Rider Line: Yes
Chicken Exit Available: Yes
Baby Swap Available: Yes
Type of Vehicle: Roller coaster car
Type of Restraint: Lap bar
Attraction Open During Early Theme Park Entry: Yes. See our Early Theme Park Entry page for more information.
Ride Photo Available For Purchase: Yes

Planning a Walt Disney World Vacation?
For a Free no-obligation quote, contact our sponsor
The Magic For Less Travel
. Services are provided free of charge and their expert planning advice will help you make the most of your vacation time and money.
Ride Restrictions
Height Requirements: 44 inches
Flash Photography or Video Allowed: No
Safety, Accessibility, and Guest Policies
Accessibility: 
Guests must transfer from wheel chairs
Service animals not permitted
Guest Policies: 
Children under age 7 years must be accompanied by a person age 14 years or older.
The seating and restraints on this attraction may prohibit Guests of certain body shapes or sizes from riding
Location
Shopping: Numerous goods relating to the theme of Expedition Everest, including t-shirts, educational books, plush dolls, and on-ride photographs, are available for purchase at the Serka Zong Bazaar gift shop following the attraction.
Dining/Refreshment: Dining options abound in Asia. Guests craving a quick lunch can enjoy dishes such as egg rolls, rice, honey chicken, Korean Stir-fry Barbecue Chicken, and a Teriyaki Beef Bowl at Yak and Yeti Local Food Cafes. Guests preferring a sit down meal should consider making an Advance Dining Reservation for the Yak and Yeti Restaurant. This establishment offers dishes such as chicken wings, pot stickers, egg rolls, rice, wanton soup, lo mein, curry, Korean beef and ribs, sweet and sour chicken, and a Kobe beef burger. The Royal Anandapur Tea Company offers a plethora of tea options in addition to pastries; according to Expedition Everest's story, said tea comes from the village of Serka Zong. Finally, the Anandapur Ice Cream Truck is the place in the Animal Kingdom for soft serve ice cream.
Restroom: Restrooms convenient to Expedition Everest are situated near the Anandapur Ice Cream Truck.
Smoking Location: Smoking is permitted in designated smoking areas only. Disney parks are smoke free.
Expedition Everest Legend of the Forbidden Mountain Fun Facts
Did you know?
Expedition Everest was the second Disney roller coaster to feature an abominable snowman, Matterhorn Bobsleds at Disneyland Park being the first.
On Expedition Everest, the Yeti "destroys" the track, facilitating the coaster's thrilling backwards section.
An amazing animatronic Yeti resides inside the mountain, designed to actually swoop down and terrify riders. Unfortunately, because of technical problems, guests are likely for the foreseeable future to encounter only a stationary Yeti enhanced by lighting effects.
Although Expedition Everest's trains are not powered by steam, a nearby boiler pumps steam to create the effect at the loading area.
Expedition Everest travels at an average speed of 50 miles-per-hour.
In addition to the animatronic, the Yeti is seen as a shadow projection following the coaster's backwards section.
The coaster track of Expedition Everest never touches the actual façade of the mountain. Underlying steel supports the mountain, and forced perspective and the mixing of dozens of different paint colors make the mountain look bigger than it actually is.
The incorporation of the Yeti into Expedition Everest provided the Animal Kingdom with its first mythological creature. Although such creatures were supposed to be featured in an area called "Beastly Kingdom," that area never materialized due to budgetary reasons.
Expedition Everest was Walt Disney World's fourth "mountain" attraction, following Space Mountain, Big Thunder Mountain Railroad, and Splash Mountain, all located at the Magic Kingdom. With Splash Mountain's closure, Expedition Everest is now the third "mountain" attraction.
Expedition Everest is one of two Disney roller coasters to currently feature a backwards section, the other being "Big Grizzly Mountain Runaway Mine Cars" at Hong Kong Disneyland. From 2000 to 2004, Disneyland Park Paris's "Indiana Jones et le Temple du Péril" coaster ran backwards, making it the first backwards coaster in Disney history. The ride has since reverted to a normal, forwards run.
History
Imagineers based Expedition Everest's facade on the Himalayas. Although Mount Everest is seen in the background of the superstructure, the fictional "Forbidden Mountain" serves as the main peak.
Expedition Everest is surrounded by a Himalayan village, Serka Zong. Research conducted by Walt Disney Imagineering in Nepal, China, and Tibet provided the basis for the village. Over 8,000 items, including scissors, egg baskets, animal troughs, and handmade nails, were purchased from natives and are included among the village buildings and Expedition Everest's queue.
According to the attraction's backstory, Serka Zong previously produced massive amounts of tea for transport via train to Anandapur. Due to havoc wreaked by the Yeti, the Himalayan version of the Abominable Snowman, that enterprise closed. Since the Yeti's arrival, the village is the home of "Himalayan Escapes—Tours and Expeditions," which transports tourists to Mount Everest via steam train through the Forbidden Mountain.
Expedition Everest features arguably the most detailed queue in any Disney theme park. Elements of the queue include a ticket office, desolated land, a Hindu temple, a mountaineer supply shop, and also a Yeti museum. While many queues are details, this one features authentic items.
Though it debuted in 2006, Expedition Everest's opening tied to the 50th anniversary celebration for Disneyland in 2005. For that occasion, each of Walt Disney World's four theme parks received a new attraction. Expedition Everest was the only original concept, the other parks received attractions from other Disney locations around the world. The Magic Kingdom received the "Cinderellabration" castle show from Tokyo Disneyland, Epcot received "Soarin'" from Disney's California Adventure, and Disney's Hollywood Studios received the "Lights, Motors, Action! Extreme Stunt Show" from Walt Disney Studios Park Paris. Cinderellabration ended its run in 2006; and Lights, Motors, Action, following a ten-year run, closed in April 2016 due to construction on the lands for Star Wars and Toy Story.
Top 5 Tips for Expedition Everest Legend of the Forbidden Mountain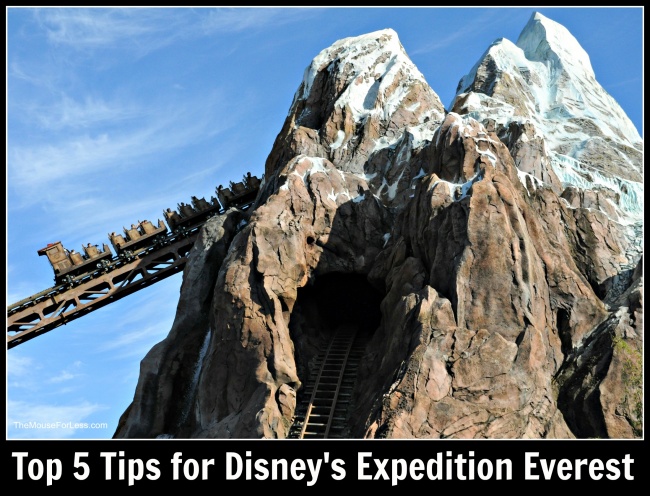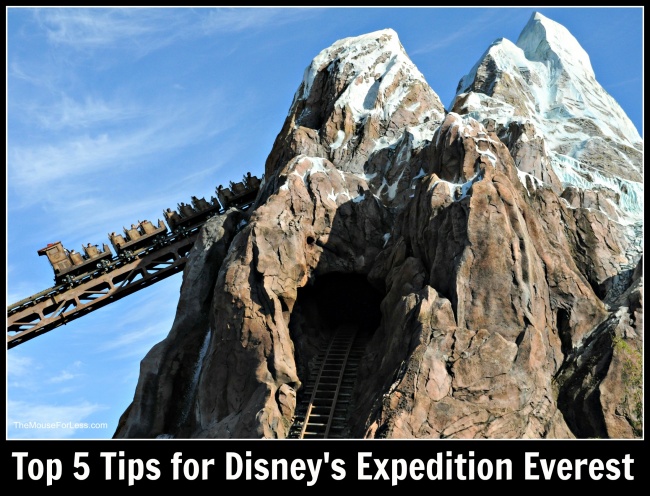 Explore the numerous details and artifacts featured in the queue.
Look around as the coaster ascends its hills. Experience great views of Walt Disney World icons such as Epcot's Spaceship Earth and the Coronado Springs Resort.
Although billed as a "family thrill ride", Expedition Everest best suits older children and adults. The backwards section is especially intense, ranking among the top thrills at Walt Disney World.
This ride goes backwards, which might be intense for little thrill seekers.
Consider purchasing an on-ride photograph.