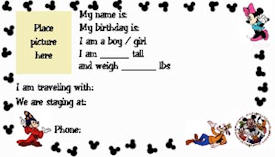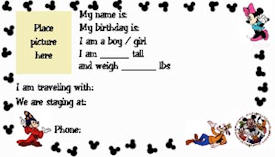 Welcome to The Mouse for Less webpage for Kids Travel ID's.   Use these free downloads in any manner that will help in case any adults get lost on your trip!
Select the kids ID design and click on the title to print. You will need to have either Microsoft Word or the free program Adobe Acrobat Reader to print the pages. Use Avery card/label #8371 (10 cards per sheet) or print on any 8-1/2″ X 11″ paper and cut out the ID's.
Click on the Microsoft Word format below the ID you like if you would like to customize the IDs prior to printing.
Click on the Adobe Acrobat (pdf) format below the ID you like to print the sheet out for completion by hand.
The "Kit" links contain 4 ID's, 4 luggage tags and 2 school/vacation backpack tags.