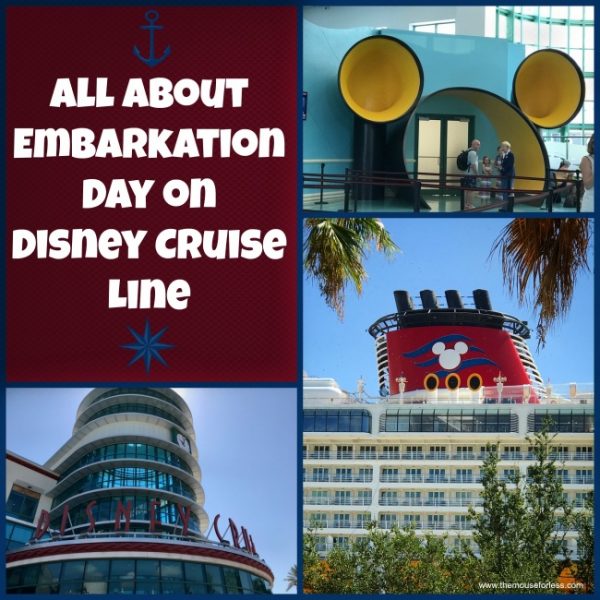 Embarkation Day on Disney Cruise Line is the kick off to an unforgettable vacation at sea! Here you can find all the information you need to know for this first day aboard Disney Treasure, Disney Wish, Dream, Fantasy, Wonder, or Magic. There is much to do before the ship sets sail and the Sail Away Celebration begins!
Check out the incredible offers we have on our Disney Cruise Discounts page and set sail with money in your pocket.

Planning a Disney Cruise Vacation?
For a Free no-obligation quote, contact our sponsor
The Magic For Less Travel
. Receive the best prices, free concierge travel planning & a shipboard credit of up to 5% of your cruise price when you book any new Disney Cruise Line vacation with The Magic For Less Travel
Embarkation Day Terminal Check-In
Disney Cruise Line usually opens their terminal at 11:00 a.m. to begin checking guests in, however when you actually board the ship will depend on your Port Arrival Time. To save time, you can fill out the Port Arrival Check-in form online and bring it with you to ease the registration process. Also make sure you have you DisneyBand+ charged and accessible for boarding.
Luggage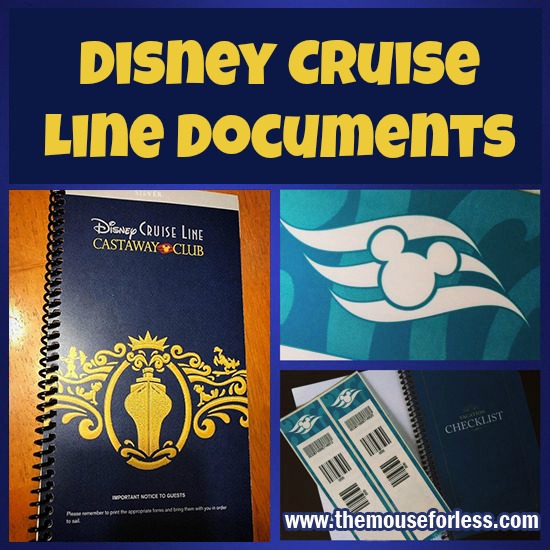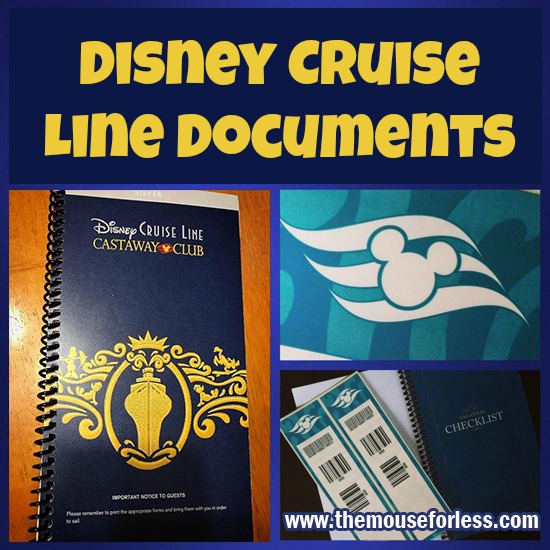 Before your trip you will receive a Guest travel booklet from Disney Cruise Line, this will hold two luggage tags per person. Luggage tags come with your name, ship name, stateroom number, sail date, and reservation number on them, so all you have to do is attach them to your bags. Once you board your luggage will be in your stateroom waiting for you. However, staterooms are usually not ready until about 1:30 p.m., so be sure to put necessities in your carry on.
If you are flying to get to your Port, be sure to obtain your luggage from the airport before leaving. The Orlando International Airport is the only airport that will deliver your luggage directly to the ship.
Sponsor
: Embark on a virtual voyage through our Amazon affiliate storefront and uncover a wide selection of
nautical necessities
to make your cruise getaway smooth sailing.
As an Amazon Associate, The Mouse For Less earns commission from qualifying purchases.
Carry-On
Each guest is allowed 1 carry-on bag plus 1 personal bag ( such as a purse or back pack). You will want to be sure all of your travel documentation is easily accessible in one of your carry on items so you don't lose them in your checked luggage. Because the staterooms are not ready until 1:30 p.m. you will also want to put things like bathing suits, sunscreen, cell phone chargers, etc. into your carry on bags.
On The Ship
Once you board your ship guests are welcome to explore all it has to offer! On embarkation day, while you're waiting for departure there is a welcome buffet at Cabanas to dive in to, or sit down with a menu in the main dining room and order your lunch. If you're just ready to start that vacation fun, go ahead and dive in to any of the deck pools! Guests can also explore the different games and activities aboard the ship.
Staterooms
Staterooms are usually ready about 1:30 p.m., with your luggage waiting for you. For each room you will have a stateroom host or hostess. This person can assist you with needs like ice for your room, baby/small child needs (traveling with little ones), and laundry services.
Sign Up for Activities
When boarding the ship, there are a number of activities you'll want to sign up for on Embarkation Day. These things include:
Safety Drill
Before the ship can set sail a safety drill (compulsory assembly drill) must be completed by all crew and guests. Usually after you have been able to check out your stateroom the captain will come over the loud speaker to instruct you on how to begin the safety drill. Once this is done it is time to set sail!
Sail Away Celebration
As the cruise countdown begins your excitement will build! Then, at the sound of the ship's loud horn you will begin your departure. As confetti and streamers boom into the air the celebration begins. This amazing deck party sets the bar for what is to come on your Disney cruise. Dance with Captain Mickey, Minnie Mouse, and all of their friends.