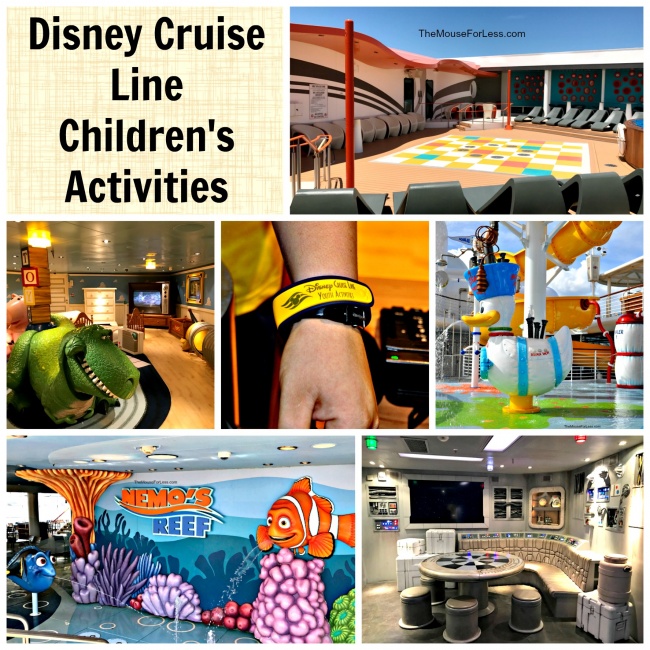 While aboard any of Disney's cruise ships there are an immense number of Children's activities ranging from clubs for relaxation and/or exploration, classic movies on the big screens, and even a nursery for the smallest sailors aboard the ship.
Children can customize their vacation at the youth activities registration desk in the Disney cruise ship terminal (before boarding) or at the Oceaneer Club and Oceaneer Lab onboard.
Disney Cruise Lines pride themselves in providing a safe and fun experience for the whole family. An onboard paging service is available to every child so that they can contact their parent anytime, anywhere. Disney Cruise Lines provides a place where Mom and Dad can relax and enjoy their vacation too!
Youth Clubs  Other Activities  Pools  Theatres

Planning a Disney Cruise Line Vacation?
For a Free no-obligation quote, contact our sponsor
The Magic For Less Travel
. The Magic For Less Travel is an Authorized Disney Vacation Planner and has been helping guests plan magical vacations since 2002. Receive the best prices and free travel planning services. Their fee-free services will help you save time, money, and stress while planning a vacation designed around you and your needs!
Youth Clubs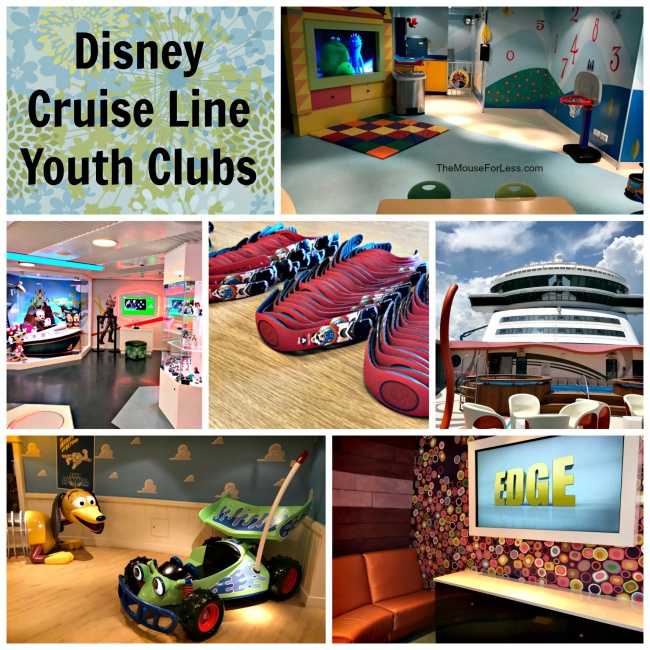 Disney's Oceaneer Club
A child activity center for ages 3 – 12 where there are different areas themed around various topics (like Pixie Hollow) where kids can move fluidly through to experience fun-filled adventures.  The Oceaneer Club has opportunities for kids to enjoy both organized and free play.
Disney's Oceaneer Lab
A place where kids ages 3 – 12 can take part in activities and games, use their imaginations, and learn. Here kids can listen to stories and watch movies, as well as create and explore. The Lab is connected through the Oceaneer Club.
Edge
A tweens-only space that is super vibrant, with large video screens and vivid colors. It lets kids ages 11 – 14 do what they like to do best, such as listen to music, play video games, and partake in fun activities.
Vibe
A teens-only area with an indoor lounge and an outdoor sundeck. This space is perfect for relaxing and spending time with new friends. This trendy space allows teens to sing karaoke, watch movies, take part in dance parties, or even read a book. Guests ages 14 – 17 are welcome here.
It's A Small World Nursery
(Disney Magic, Dream, Wonder, and Fantasy): This space, themed after the Disney attraction, provides care for ages 6 months to 3 years old (1-3 years old for Transatlantic, Hawaii, and Panama Canal itineraries). Counselors are there to provide programs like movie time, story time, and craft projects. There is also a separate area for napping. There is an additional cost-per-hour, per child for the use of the facility and because space can be limited, reservations are required.
Additional Activities
Bibbidi Bobbidi Boutique
Only located on the Disney Fantasy, this special place is where your princesses and pirates can go to get a fun makeover. For all details, you need to know we have 2 pages all about Bibbidi Bobbidi Boutique at Walt Disney World and Disneyland Park. However, when sailing the high seas, the boutique offers exclusive styles to choose from.
Quarter Masters
Aboard the Disney Magic and Disney Wonder, this arcade is the place to go to play some of your favorite video games and air hockey. Guests purchase a playing card which is filled with game credits.
Arr-cade
Found on the Disney Fantasy and Disney Dream, this arcade is the place to go to play some of your favorite video games and air hockey. Guests purchase a playing card which is filled with game credits.
Muppets Adventure Game
This fun caper, featuring the loveable Muppets, can be found on the Disney Fantasy. Guests play this game using the enchanted art that can be found throughout the ship.
Chill Spa
This relaxing spa, found on the Disney Dream, is a rejuvenating area specifically for teens that include facials, body treatments, manicures, pedicures, and more. A parent or guardian must be present with the teen for the entire procedure.
The Midship Detective Agency
Found aboard the Disney Dream, this game uses RFID cards to interact with the enchanted art that can be found throughout the ship.
D Lounge
This family lounge and nightclub can be found on the Disney Dream, Disney Fantasy, and the Disney Magic. It's a spot where the whole family can get together to play games, enjoy live entertainment, and partake in dance parties.
Studio Sea
Found on the Disney Wonder, this is the family lounge where families can enjoy live entertainment, play games, and dance the evening away.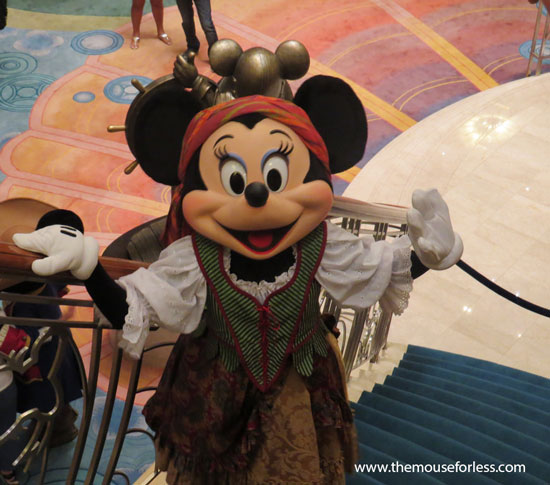 Character Greetings
Character greetings are paramount with Disney, which of course means you'll find them aboard the Disney ships.  Be on the lookout as characters can be found a meeting in their designated spots, as well as just randomly wandering the halls. You never know which Disney character is sailing with you.
Pools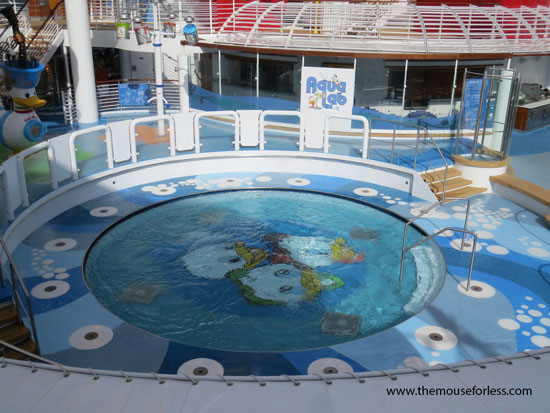 Aboard the Disney ships, there are fantastic pools to delight guests of all ages. The Goofy Pool, which can be found on the Disney Magic and Disney Wonder, The Donald Pool, which is on the Disney Dream and Disney Fantasy, and the Mickey Pool, which is a two-foot pool that contains Mickey's smiling face, along with a fun little slide. There are also adult-exclusive pools
Theatres
Live Shows
Enjoy shows together as a family, at the Walt Disney Theatre, where original, delightful Broadway-caliber musicals are performed.  Each ship has its own unique shows to dazzle the audience.
Movies
First-run Disney movies can be enjoyed in the Buena Vista Theatre (including those that are in 3-D.) In addition, classic Disney movies and shorts can be watched on FunnelVision found by the main pool on the deck.