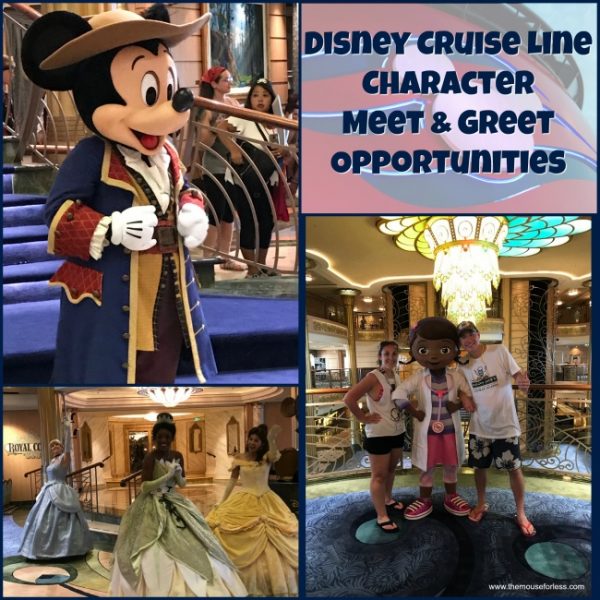 Disney Cruise Line Characters
There are a lot of character meet and greet opportunities on a Disney Cruise. If meeting a lot of characters is a priority for you, it is definitely possible to get to visit with many of your favorite Disney friends. Some character meets are widely advertised and open to everyone, while others require some pre-planning to attend. Characters vary from ship to ship and from cruise to cruise. We have some tips for how to meet some of your favorite characters on board the ship!
General Information Characters Locations
Character Meet and Greets General Information
Listed on your Personal Navigator or on the Disney Cruise Line app will be a schedule of character meets. It is recommended that you show up to the meets a few minutes early (10 minutes should be enough) in order to limit the amount of time you spend waiting in line and to maximize the amount of time you spend meeting characters.
Some character meet and greets are extremely popular. Due to the massive crowds that some characters can attract the more popular character meet events are ticketed. These are FREE tickets, you just have to sign up for them in advance so that you don't miss your favorite character. You can get your tickets by booking through the My Cruise Activities page of your online account. The advanced booking window for character meet and greet tickets varies depending on the Castaway Club level of the guest. Sometimes additional character meeting tickets are available on the first night of the cruise if you visit guest services. A few of these ticketed events include: Marvel characters, Star Wars characters, and Frozen characters.
Another way to visit with characters is to schedule a character breakfast. These are not offered on every cruise. The Disney Junior character breakfast typically offers greetings with Jake from Jake and the Neverland Pirates, Sofia the First, and Doc McStuffins. The Disney VIP Breakfast typically features characters such as Mickey Mouse and Minnie Mouse.
On Disney Cruises the characters often wear unique costumes that they would not be wearing in the parks. For example, you might catch Mickey in a ship's captain uniform, or maybe Minnie in her cutest swimsuit. On a themed night, such as Pirate Night, you may catch these notorious characters dressed up in themed attire. Who doesn't want to take a picture with Goofy dressed as a pirate?! These meets make for some great pictures and the ship's photographers are normally happy to take pictures with your phone or camera in addition to their own camera.
When heading into a character meet check to see whether the characters will be signing autographs. This information may be listed in your Personal Navigator or you can just ask the cast members at the character meet. If the characters are signing autographs and you want a signature, be sure to have your autograph book ready with a pen or marker at hand.
Characters
These are some of the characters that have been on past Disney Cruises. Characters on board may vary across sailings and ships. You never know exactly who may be aboard your Disney Cruise.
These characters can be expected on most Disney Cruises:
Mickey
Minnie
Goofy
Pluto
Donald
Daisy
Chip and Dale
Cinderella
Anna
Elsa
Jake
Doc McStuffins
Sofia the First
These characters are often on special sailings such as Marvel Day at Sea or Star Wars Day at Sea:
Iron Man
Spiderman
Black Panther
Groot
Chewbacca
C-3PO
R2-D2
Darth Vader
Disney Cruise Line Character Meeting Locations
Character meeting locations can vary per sailing and per ship, but here are the common locations for character meet and greets. Check you Cruise Line app or Personal Navigator to be sure you find the right location. You can always ask a cast member as well. Also, keep your eyes peeled, you never know when or where a surprise character encounter may come up!
All Ships:
Lobby Atrium
Gangway
Oceaneer Lab
Oceaneer Club
Disney Dream and Fantasy:
Disney Magic and Wonder:
Goofy's Pool
Deck 4 Midship or Balcony