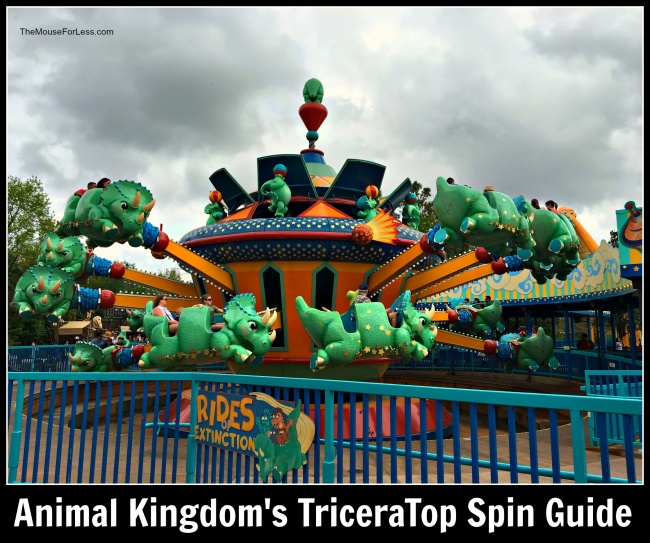 Hop aboard this prehistoric classic!  On TriceraTop Spin, guests of all ages can enjoy a spin on this tame attraction.
Ride Information  Restrictions   Accessibility  Location  Fun Facts  Top 5 Tips
Ride Information
Opening Day: November 1, 2001
Type of Ride: Spinner
Age Recommendation: All ages
Duration of Ride: 1.5 minutes
Typical Queue Time: Short; typically less than 20 minutes
Single Rider Line: No
Chicken Exit Available: No
Baby Swap Available: No
Type of Vehicle: Flying dinosaur
Type of Restraint: Seat belt
Attraction Open During Early Theme Park Entry: Yes. See our Early Theme Park Entry page for more information.
Ride Photo Available For Purchase: No

Planning a Walt Disney World Vacation?
For a Free no-obligation quote, contact our sponsor
The Magic For Less Travel
. Services are provided free of charge and their expert planning advice will help you make the most of your vacation time and money.
Ride Restrictions
Height Requirements: None
Flash Photography or Video Allowed: No
Safety, Accessibility, and Guest Policies
Accessibility: Guests must transfer from wheelchairs
Guest Policies: Children under age 7 years must be accompanied by a person age 14 years or older.
Location
Shopping: Situated near TriceraTop Spin, "Chester and Hester's Dinosaur Treasures" sells assorted souvenirs in a zany setting. This store is themed after a roadside gasoline station that was changed to a roadside gift shop. In the general vein of the Chester and Hester's Dino-Rama subsection of DinoLand U.S.A., Dinosaur Treasures's theme is intentionally tacky.
Dining/Refreshment: Themed as the cafeteria for the nearby Dino Institute—DINOSAUR —Restaurantosaurus serves burgers, sandwiches, hot dogs, and salads. From 2002 to 2007, the park's Donald Duck character breakfast, currently offered at Tusker House, was held at Restaurantosaurus under the name "Donald's Breakfastaurus."
Restroom: Facilities convenient to TriceraTop Spin are located at "Chester and Hester's Dinosaur Treasures" and Restaurantosaurus.
Smoking Location: Smoking is permitted in designated smoking areas only. Disney parks are smoke free.
TriceraTop Spin Fun Facts
Did you know?
TriceraTop Spin was the first attraction to debut in the Chester & Hester's Dino-Rama subsection of Dinoland U.S.A.
TriceraTop Spin features 16 green dinosaur vehicles.
The moniker TriceraTop Spin is a pun, referring both to the Triceratops dinosaur and to a spinning top.
Each dinosaur seats up to four guests, two in the front row and two in the back row.
Respective levers allow guests in the front rows to alter their dinosaur's tilt and guests in the back rows to change their dinosaur's elevation.
The central carrousel features several comets and is topped by a dinosaur.
TriceraTop Spin was the fourth Walt Disney World attraction to feature vehicles flying around a central structure. Dumbo the Flying Elephant, Astro Orbiter, and The Magic Carpets of Aladdin, all located at the Magic Kingdom, are the others. The Magic Carpets of Aladdin also debuted in 2001.
TriceraTop Spin is one of three attractions of its kind to operate at a non-Magic Kingdom-style Disney park. "Flying Carpets Over Agrabah" at Walt Disney Studios Park Paris and "Jasmine's Flying Carpets" at Tokyo DisneySea are the others.
Top 5 Tips for TriceraTop Spin
TriceraTop Spin is a great place for adults and young  children.
Take some photographs of members of your party enjoying the ride.
If you enjoy TriceraTop Spin, consider riding Dumbo the Flying Elephant, Astro Orbiter, and The Magic Carpets of Aladdin at the Magic Kingdom.
Take in the views from the top of the ride.
Consider changing the height or tilt of the vehicles with the levers.